REVIEW: JCB 541-70 Agri Loadall telehandler
---
With its new range of telehandlers, JCB says operators will be able to lift higher, reach further and lift more products faster than any tractor loader can. Steve Kealy searches for telehandler heaven.
JCB is proudly British and has been building agricultural machines for almost 70 years.
Hard work, attention to detail and a marketer's eye for publicity was rewarded with 95 per cent of the United Kingdom owner-operator market and soon JCBs were being sold in 130 countries.
Since the 1970s the JCB range has included telescopic loaders and the company says it makes up about 30 percent of the global telehandler market. It's worth noting JCB makes all its own chassis, engines, transmissions and axles, cabs and booms in-house.
There are 26 models of telehandler built by JCB —not all are available in Australia, but if you really needed a specific model not available locally, they'd get one in for you.
What we're looking at is the new 541-70, the largest of the 'mid-range' machines it now makes.
Although that designation might look like numerical soup, there's a method to the system. The '5' reveals we're talking about a telehandler or Agri-Loadall in JCB-speak; the '41' is its lifting capacity: 4.1 tonnes and the '70' is its maximum lift height: 7m.
CONTENTS
JCB 541-70 engine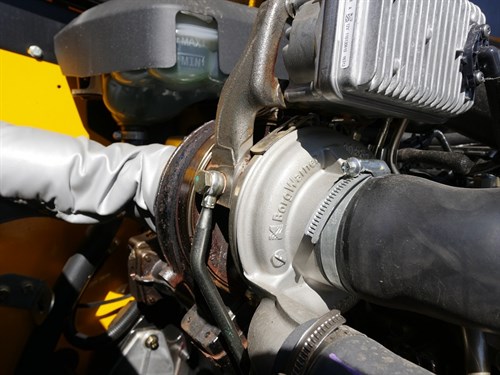 The engine is a 'triple 4'– being 4.4-litre, 4 cylinder JCB design, fitted with a Borg Warner variable-vane turbo and Tier 4 emissions equipment.
In focussing on cutting emissions and load on the engine some extra power has been liberated, which has also cut fuel consumption: win-win.
The engine's lower Tier 4-compliant emissions are achieved without any chemical exhaust treatment; not needing to add any products like urea or AdBluehelps contain running expenses.
Not really an issue in Australia, but the engine's management system can be remapped to run on lower-grade fuels if needed.
On earlier models, hot air vented underneath the engine bay, potentially kicking up dust and debris which increased air filter and radiator maintenance.
A new variable radiator fan only cuts in when needed and saves significant engine power.
JCB 541-70 cab
Making this a new model is several detail improvements to the existing models: the main one is the Tier 4 emissions engine, but others include a 7-speed fan for the cabin heating, ventilation and air-conditioning (HVAC) system, an operator presence switch on the seat to prevent Drive being engaged without an operator at the controls, and a simplified latch on the split cabin door.
The top window section can be latched back 180 degrees and held open. Alternatively, with the windows closed, the cabin can be positively pressurised to limit dust ingress.
Thanks to plenty of headroom and decent adjustment from its air-suspension seat and tilt-adjustable steering column, the Loadall has a good driving position for most shapes of operator, no matter where the seat is.
Views of the raised boom are good, aided by cleverly angled falling object protection structure (FOPS) and rollover protection structure(ROPS) in the roof. All around visibility is impressive, thanks to minimalist screen surrounds and roof supports.
JCB 541-70 controls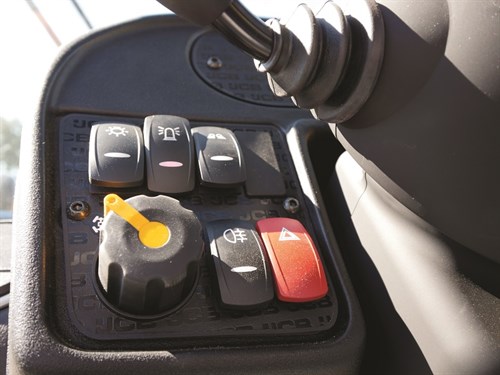 Gear shifting of the 6-speed transmission is now by two buttons on the head of the right-side joystick, instead of the previous rotating stalk to the left of the steering wheel.
The twist grip gear change on the shuttle lever remains, for those that find old habits hard to break.
With transmission controls now on the joystick, transmission dump is controlled by the brake pedal. This allows full engine power to be applied to the hydraulics. The joystick controls the boom too —but it's surprising how quickly it becomes second nature.
There's a new automotive-style instrument cluster and dash layout, with a high-res TFT LCD monitor and JCB's new feature LiveLink—a real-time positional, activity and diagnostic machine-specific upload system that's accessible from any software-equipped PC, tablet or phone.
LiveLink is built in to all new JCBs and uploads data from a number of sensors on the machine to a central secure data-centre.
The system permits remote monitoring of maintenance schedules, fuel consumption, idle and down time and myriad other management control functions that will permit maximum efficiency.
JCB 541-70 servicing and maintenance
Filters and dip-sticks are readily accessible, as is the entire powerplant. There's an extra hydraulic oil tank inside the chassis —greater volume means the oil isn't cycling so fast and can shed heat more easily. Daily maintenance tasks involve about a 10-minute session with a grease gun and fluid-levels checks.
Attention to detail and the experience borne of years of building tough machines to be used in tough environments extends to JCB's use of wax-oil on the boom, not grease.
The wax gives a longer maintenance life and doesn't collect grit that gets dragged down inside the boom, causing damage to internal faces.
JCB 541-70 hydraulics and performance
A regenerative hydraulic system accounts for a fuel saving of 5 per cent alone; in total, JCB claims a 34 per cent reduction in fuel consumption during load placing activities.
There's even an automatic adaptive load-control system to maintain longitudinal stability when lifting loads.
There are three steering modes: 2-wheel (front) for use mostly on the road or firm surfaces, 4-wheel, where the front and rear wheels all steer in for extremely tight turning radii, and Crab, where the front and rear wheels turn in opposite directions for slow speed manoeuvring into tight spots.
Although the Loadall's wheelbase is short the chassis isn't articulated, but the various steering modes give it great access and manoeuvrability in small spaces.
JCB 541-70 Specifications

Make/Model: JCB 541-70
Overall height: 2.49m
Overall width (over tyres): 2.29m
Inside width of cab: 0.94m
Front track: 1.81m
Wheelbase: 2.75m
Overall length to front tyres: 4.38m
Overall length to front carriage: 4.99m
Ground clearance: 0.4m
Outside turn radius (over tyres): 3.7m
Carriage rollback angle: 42.6 degrees
Carriage dump angle:             37.5 degrees
Weight: 7,800kg
Tyres: 445/70 R24
Maximum lift capacity: 4,100kg
Lift capacity to full height: 2,500kg
Lift capacity at full reach: 1,500kg
Lift height:7m
Reach at maximum lift height: 0.48m
Maximum forward reach: 3.7m
Reach with 1-tonne load: 3.7m
Placing height: 6.3m
Engine: 4.4-litre, 4 cylinder, turbocharged
Power/Torque: 81kW @ 2,200rpm / 516Nm @ 1500rpm
Fuel tank: 146 litres
Hydraulic oil tank: 113 litres
Coolant: 23 litres
Look out for the detailed test report in NewFarmMachinery magazine issue 14, on sale October 6. 
Find JCB telehandlers for sale.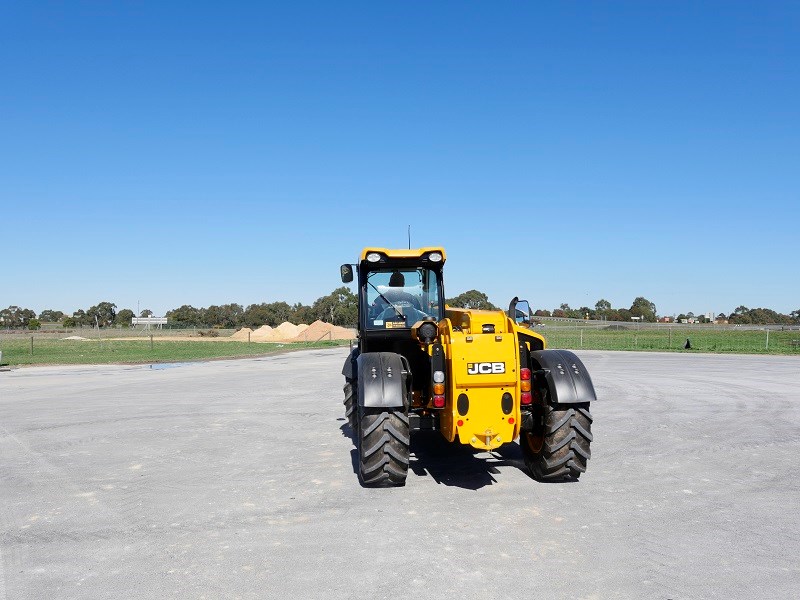 Sideslung cab and engine pod sees the boom central in the chassis.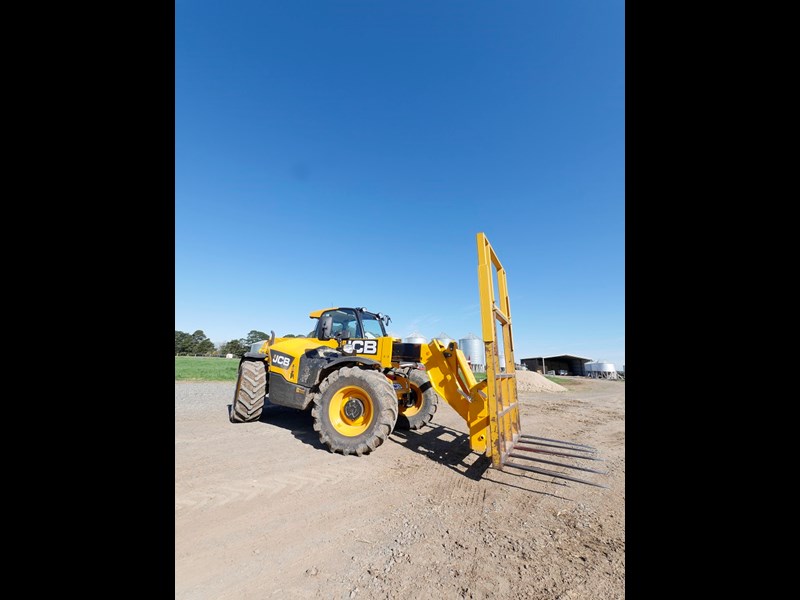 Four-wheel steering helps the machine get into improbably tight places — or out of them.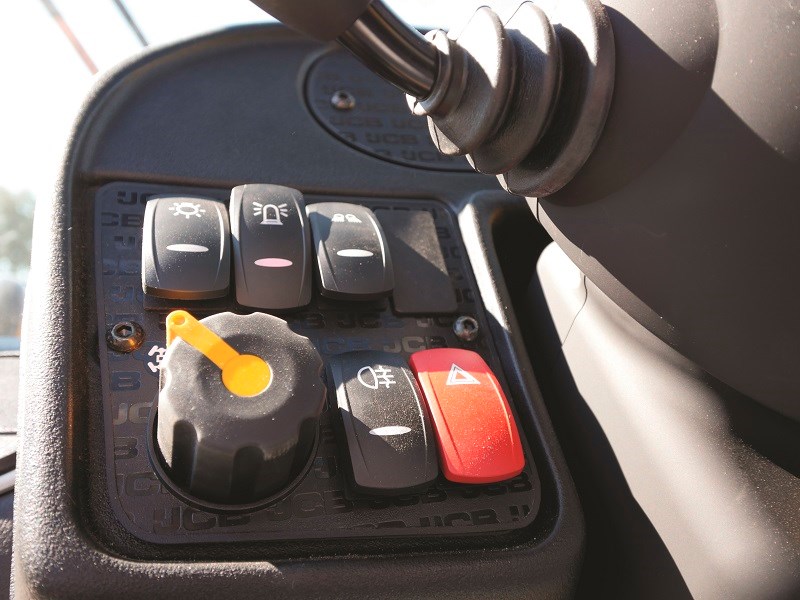 Minor controls are deliberately car-like.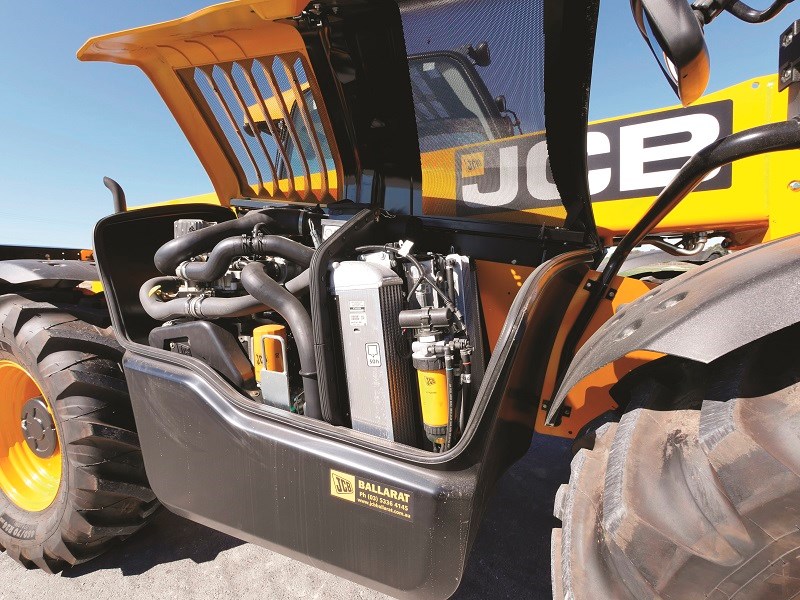 The latest model has new engine pod vents to aid cooling and air-flow.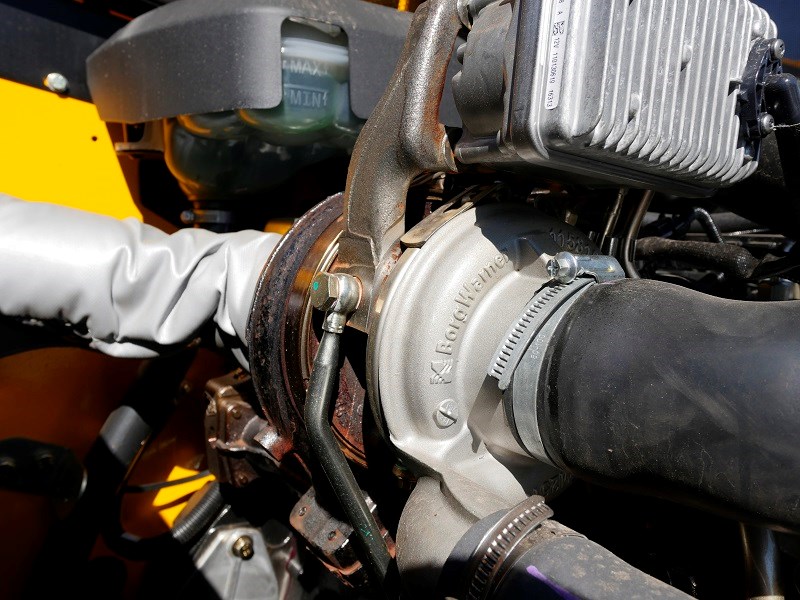 Borg-Warner turbo boosts power from JCB's 444 engine.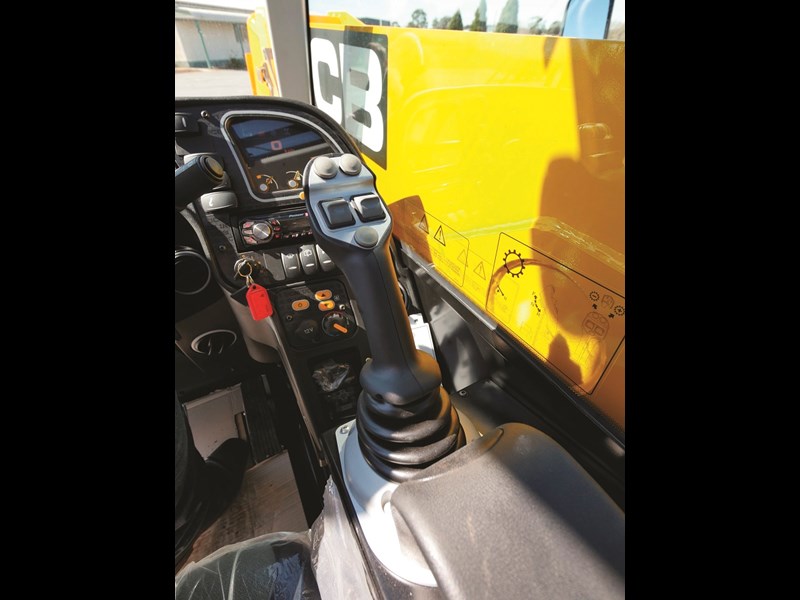 The joystick now controls the transmission as well as the boom.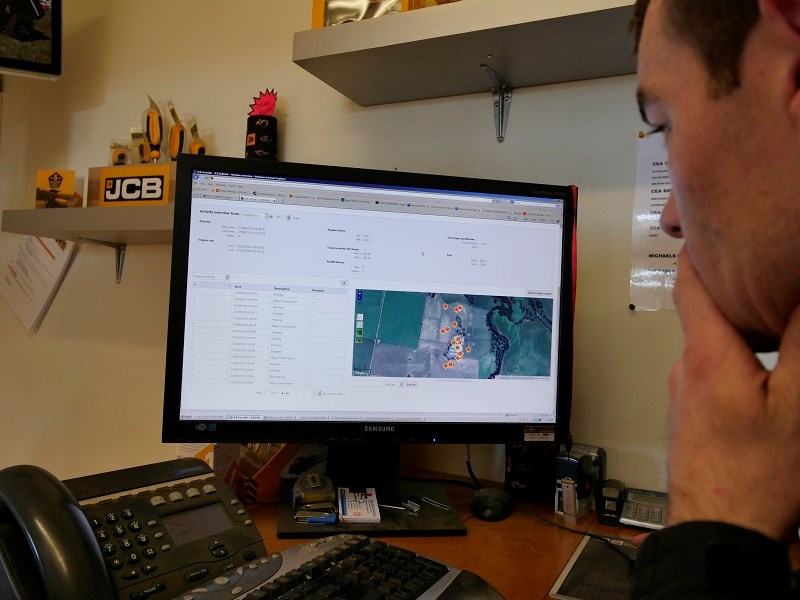 LiveLink allows managers and owners to see what machines are doing and where they are, 24/7 — even from the other side of the world.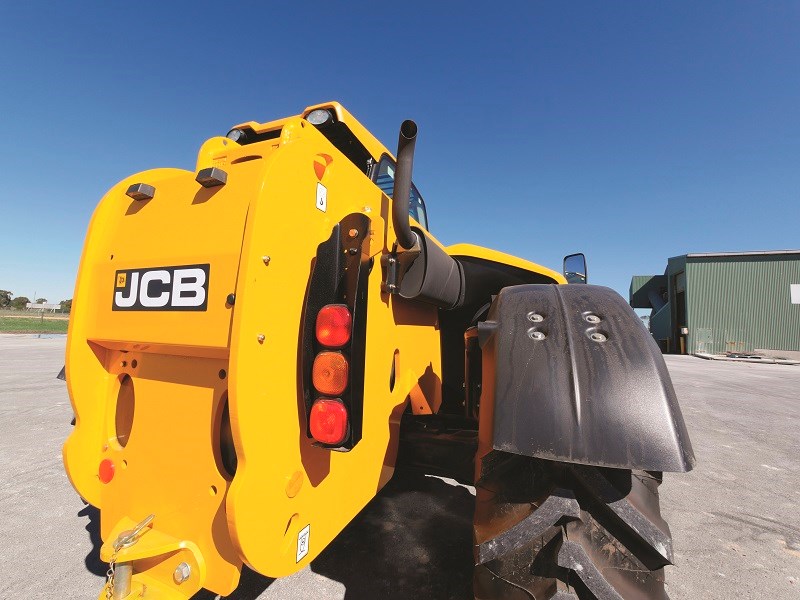 Sprung-loaded road-legal rear light bars can be swung down out of harm's way. The hi-line exhaust keeps heat and noise away from the cab.
Subscribe to our newsletter
Sign up to receive the Trade Farm Machinery e-newsletter, digital magazine and other offers we choose to share with you straight to your inbox
You can also follow our updates by liking us on Facebook. 

Graders For Hire | Cranes For Hire | Telehandlers For Hire | Excavators For Hire