REVIEW: Mahindra Pik-Up dual cab Ute
---
Just how surprising is the Mahindra Pik-Up? Matt Wood goes bush bashing Bollywood style to find out.
My five weeks or so in the Mahindra Pik-Up are eventful to say the least. For a start I am repeatedly bailed up by people asking "so what's it like?" then I am photographed by two Sikh guys driving a Peugeot convertible, and my dog jumps inside once then hops out and refuses to hop back in again.
I definitely get more looks driving it than I have any other vehicle I've had for a long, long time.
Contents
Mahindra Pik-Up: The range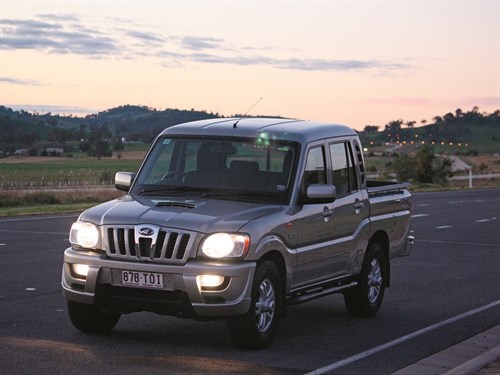 The Pik-Up is dubbed an 'Indian Hummer' by one wag and a 'Punjabi Prado' by another.
Is it any good? It would be easy to point to the price and say you get what you pay for, but that doesn't necessarily mean value in the long-term. However, Mahindra has been making off-road vehicles for quite a long time and has quite a pedigree.
Mahindra's take on the Jeep CJ became quite popular if rather rough and asthmatic country vehicle in rural India. The durability of the brand has made it popular in its home market, performance however has not.
The brand launched its Australian automotive adventure in 2007 with the Pik-Up and since then released the Genio ute and the XUV500 SUV.
Coming in on the tail of the arrival of the tractor brand in Australia, the Pik-Up is clearly pitched at a rural audience.
While the whole range with the possible exception of the XUV500 may be eye wateringly ugly to look at, Mahindra has long traded on a tough, no-nonsense approach to utility vehicles.
The Pik-up is offered in either single cab or dual cab guise and can be specced with either a tub or tray. Just to round out the Pik-Up range is a mine spec version that gets a steel roo bar, galvanised tray, under body protection, canvas and vinyl trim, snorkel and other site appropriate bits and bobs.
I picked up my Pik-Up in Sydney with the intention of taking it for a spin down the Hume Highway to Geelong, Victoria before putting it through its paces in some less forgiving territory.
I took one look at my mist silver ride and involuntarily swallowed, it certainly isn't pretty. Interior styling is even worse and can be best described as what looks like the work of a 1990s boy band after a night on the turps. The seat fabric pattern alone is enough to cause indigestion.
Mahindra Pik-Up Engine and Transmission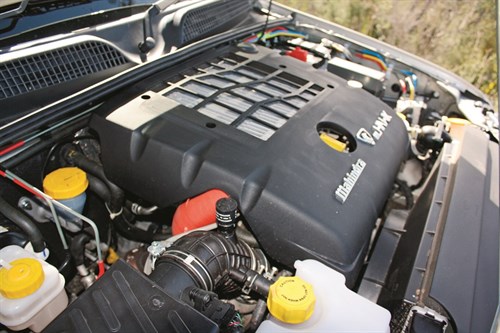 The Pik-Up is powered by a 2.2-litre mHawk turbo-diesel engine that bestows a rather miserly 88kW of power and 280Nm of torque on the driver. The common rail mHawk is the result of a joint venture between Austrian engine maker AVL and Mahindra.
Behind the mHawk donk sits a 5-speed manual gearbox. It's available in both two-wheel and four-wheel drive configurations.
The off-roaders get a 2-speed shift on the fly Borg Warner transfer case and an Eaton diff-lock. Towing is 2.5-tonne braked and the ute itself will carry 1,030kg.
Mahindra Pik-Up Cab and Comfort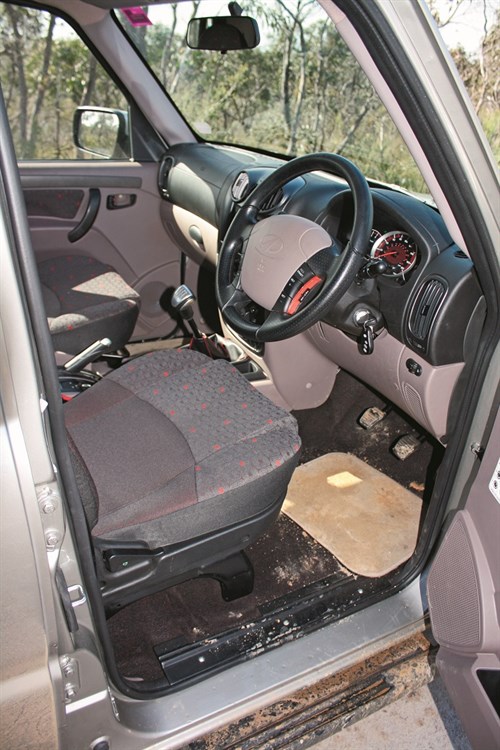 I picked up my Pik-Up in Sydney with the intention of taking it for a spin down the Hume Highway to Geelong, Victoria before putting it through its paces in some less forgiving territory.
I took one look at my mist silver ride and involuntarily swallowed, it certainly isn't pretty. Interior styling is even worse and can be best described as what looks like the work of a 1990s boy band after a night on the turps. The seat fabric pattern alone is enough to cause indigestion.
But then I climb into my Sub-Continental rocket and kick the mHawk into life. The big Indian ute is quite spacious and surprisingly comfortable, the seats are well padded and the upright driving position is well suited to this kind of vehicle.
The engine at idle is also unpredictably smooth and quiet, yes it still has a rough edge but much more civilised than I was expecting.
I grab first gear and hit the road, and that highlights the weak link in the Pik-Up's drive train. The 5-speed transmission is very truck like, working the long shifter between gears feels a little like driving an Eaton Road Ranger but with less gears. You can feel the gears engage as you change.
The standard kit list in the Mahindra belies its $25,990 drive away price. Power steering, remote central locking, power mirrors, air conditioning, cruise control, two air bags, ABS, flow through ventilation for rear passengers, electric windows, fog lights and odd little storage pockets dotted around the cabin make it seem like good value on paper.
On the down side most of the execution feels very dated and a tad flimsy. Some interior plastics are discoloured and the glove box lid feels like it won't be there for the long-haul.
Mahindra Pik-Up On the Road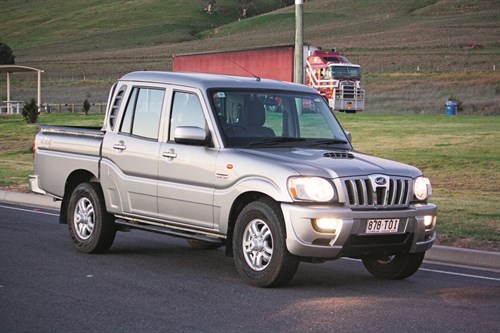 As I motor out of Sydney I am pleasantly surprised at how the big Indian manages the open road. It is more than happy to sit on the 110km/h limit and hills on the climb out of town don't really bother it either.
Added to that is the lack of engine noise, again this is a big surprise.
My 4WD version has a torsion bar front end while the rear rides on no fuss leaf springs. While the rear does clang and bang a bit when empty the front end remains direct and predictable.
The tall dorky profile of the Pik-Up does catch a side wind on the road and it is susceptible to buffeting especially when sharing the road with a B-double or two. It looks like a big ute but at 5,118mm it actually comes in shorter than some of the market favourites.
I do however, have to admit to running out of fuel. A breakdown in communication leads me to believe the ute has a full tank of juice.
The good news is the mHawk is easy to prime up with a pump button mounted on the front of the fuel pump. I also find even though the fuel tank can actually hold 80 litres you can drive a couple of hundred kilometres on nearly empty.
The drive home is much smoother and more economical than I expect as well. Mahindra claims a combined fuel average of 9.1 litres per 100 km. I average 8.8 on the highway.
But while it may have been a pleasant surprise on the highway the real test of the Pik-Up is going to be in the bush. No one is going to buy this ute to go bragging about it at the boat ramp on the weekends.
At this price and spec it's destined for a hard life at work, and it ticks a lot of boxes as a farm ute.
Mahindra Pik-Up Off Road Performance
I take the Pik-Up to one of my usual spots in the bush to see how it compares to some of the competition.
Again the Indian ute surprises me. In fact I'd say off-road this thing is in its element.
The set forward steer axle gives a nice angle of approach however rear overhang from the ute tub tends to be an issue on some obstacles.
While the 2.2-litre donk mightn't be a powerhouse it is happy to push the ute over obstacles that would embarrass some more expensive off-roaders.
Having a diff-lock on hand is handy and grabbing high or low range is easy enough, though it did need the occasional roll back to let go of low range. The good news is it looks much better when covered in mud.
My ute is fitted with side steps and alloy wheels. I'd ditch the alloys as they don't make it look any better though the steps are useful and I'd stick a bar on the front to get a bit of macho happening out front.
Again the only glaring weak link in the drivetrain of the quiet Mahindra is the transmission. It feels old and clunky.
Gearing too is an issue, for a diesel it's actually easy to stall on take-off in 2WD high range, especially when loaded. This also makes it a pain in the butt when reversing a heavy trailer and will keep people riding the clutch rather than selecting low range, which clearly doesn't bode well for clutch life.
A smoother tranny and revised gear ratios would do wonders for the drivability of the Pik-Up. With a bit more grunt on hand the ute could even do with a 6-speed gearbox instead.
Throw a bit of weight in the back and the Pik-Up starts to feel a bit sluggish. It could definitely do with a few more gee gees under the bonnet. But when empty or lightly loaded it does quite alright save a little turbo lag.
Another glaring area of concern when compared to more expensive competitors is the lack of an electronic stability program (ESP) and its three-star ANCAP safety rating.
However, Mahindra Automotive National Sales Manager Russell Thiele says ESP is in the pipeline and will be included in the line-up by the time it is mandated locally.
The Verdict
I shouldn't pick on the ugly load lugger too much, it's actually a very surprising package.
The drivetrain, chassis, and body feel as tough as nails and will probably take a lot of punishment. The interior and items like electric windows and mirrors however don't engender the same confidence.
As a farm option, it's perfectly targeted, keenly priced and backed by a three-year 100,000km warranty. Access to a local dealer is something to be taken into consideration; there are currently 32 dealers dotted around the country and many of them handle tractors as well.
Another consideration is the fact that resale values descend to subterranean levels once the rear bumper passes over the dealership kerb.
But it's an unexpected package for the buyer who wants a tough truck to work hard and doesn't care who sees them doing it.
Mahindra Pik-Up Hits
Smooth performer on the highway
Quiet engine
Keen Pricing
Mahindra Pik-Up Misses
Looks terrible
Dated interior
Clunky transmission
Mahindra Pik-Up double cab 4x4 Specifications
Engine: 2.2-litre turbo-diesel engine
Power/Torque: 88kW/280Nm
Transmission: 5-speed manual (2-speed transfer case on 4WD)
Payload: 1,030kg
Towing capacity: 2,500kg braked.
Price: $25,990 Drive Away
Warranty: 3 years/100,000km
For the full test report, pick up a copy of NewFarmMachinery magazine issue 15 when it goes on-sale from November 3. Otherwise, subscribe to the magazine to never miss an issue.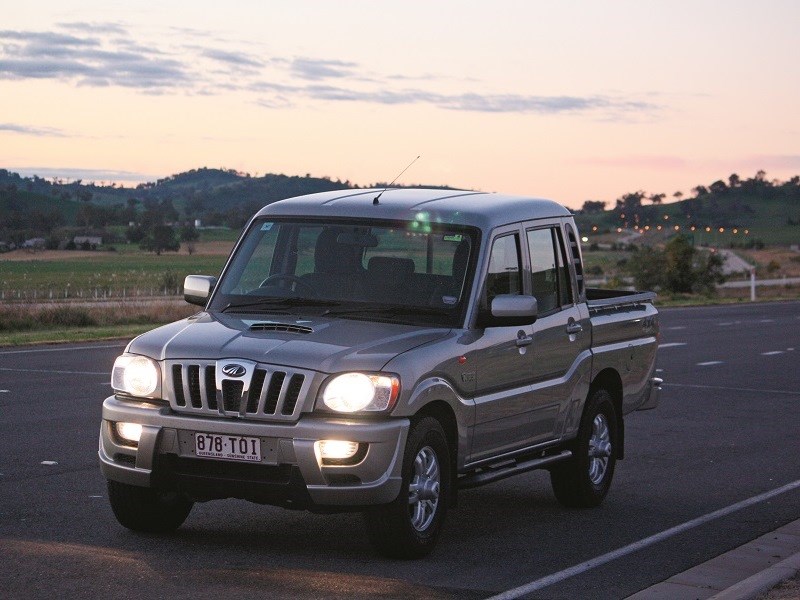 A Riverina sunset still doesn't make the Mahindra any prettier.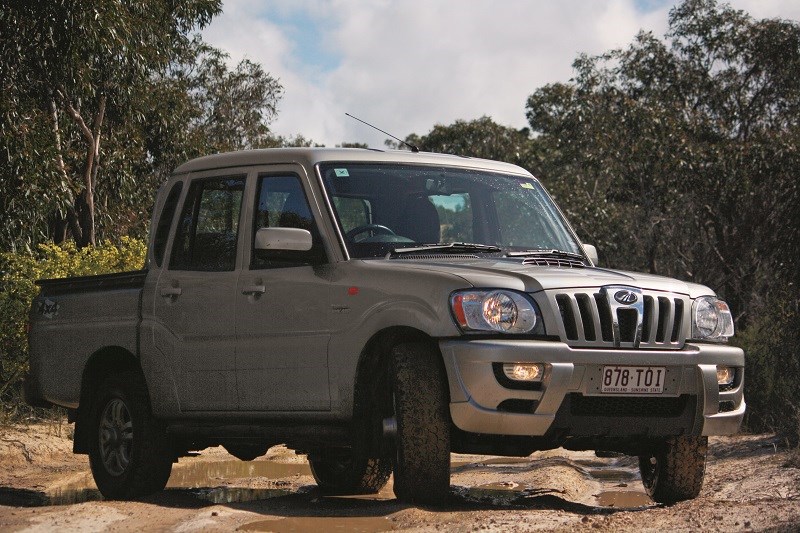 It's actually quite a capable off-roader.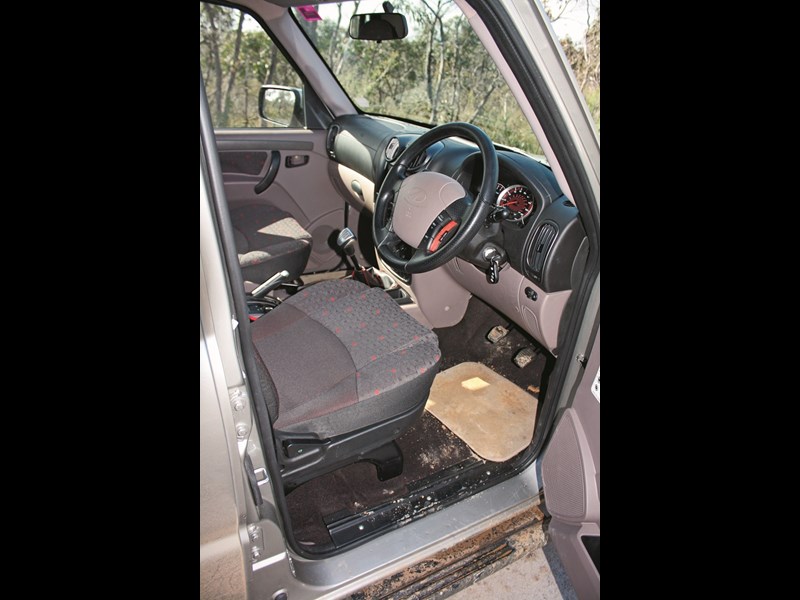 Doors open nice and wide and it's easy to get in and out of.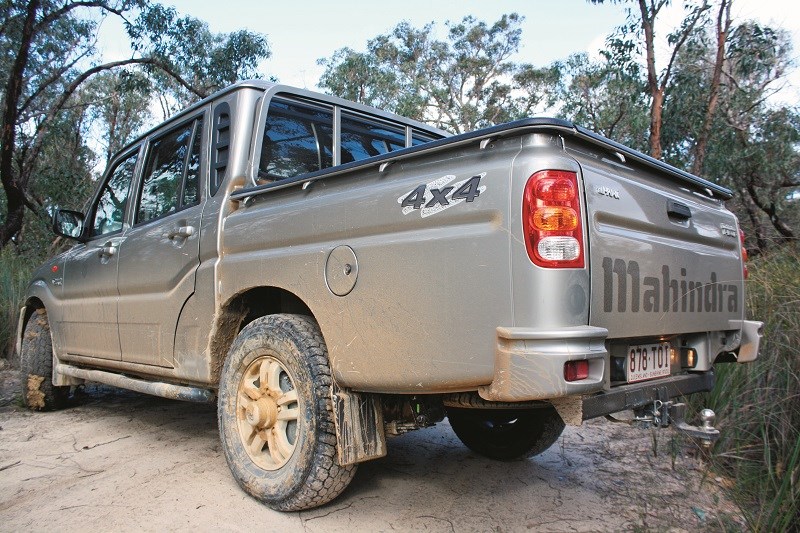 Leaf springs at the rear and torsion bars up front make for a solid platform.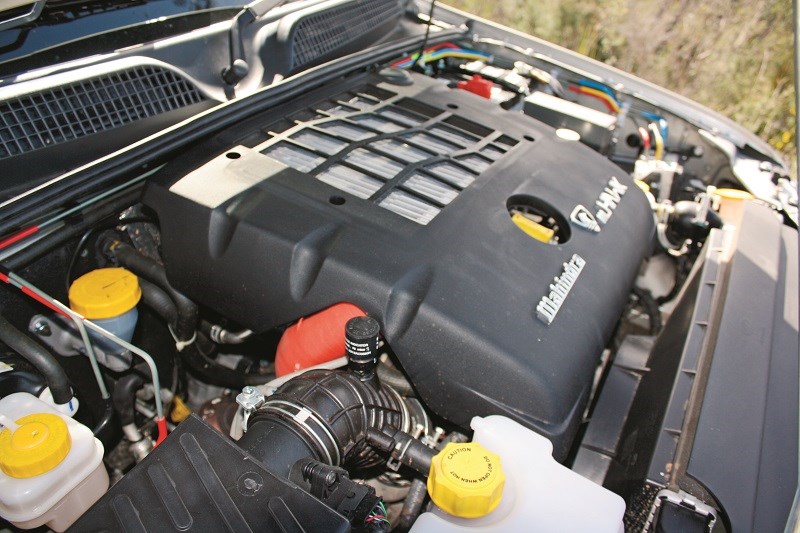 The mHawk engine is quite a smooth, quiet and economic power plant.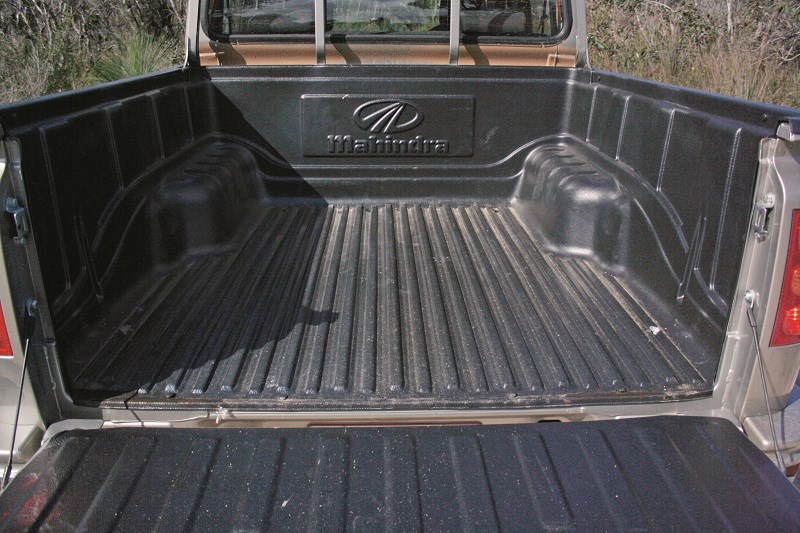 The 1,530mm x 1,520mm tub is quite generous and easy to access.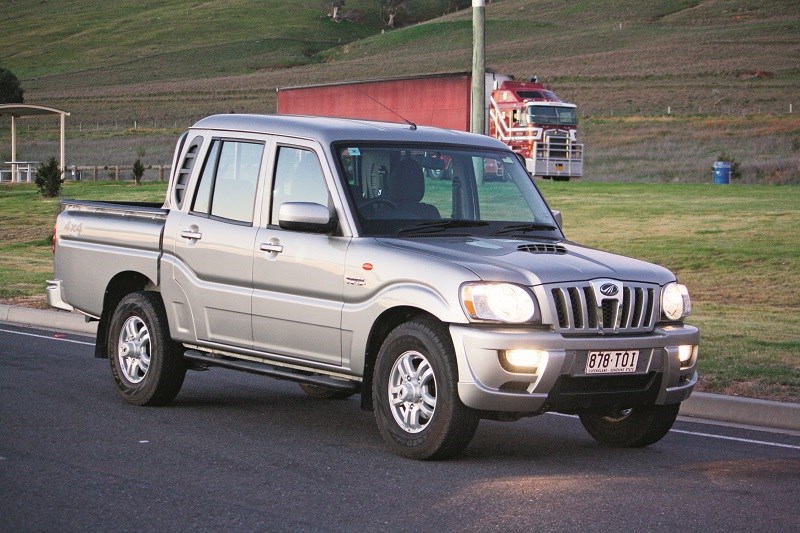 The Pik-Up handled the Hume with ease.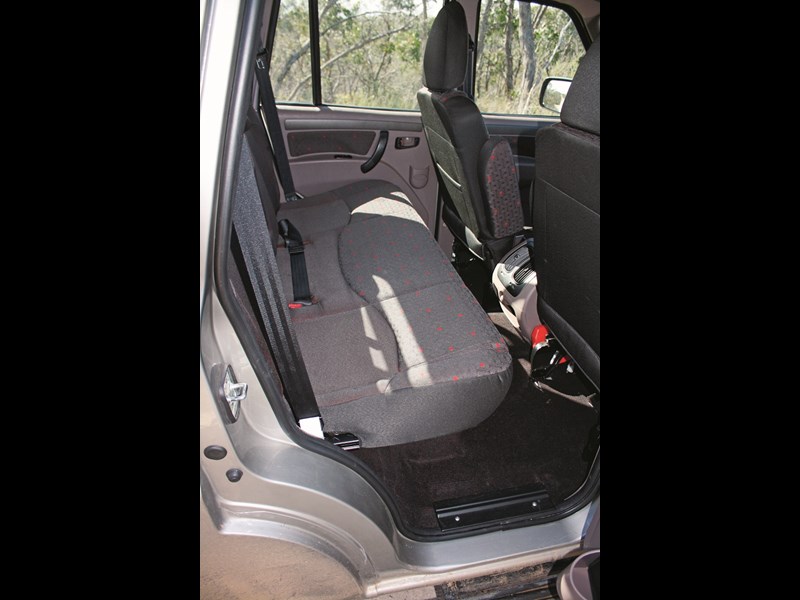 Rear seat passengers are well catered for with plenty of room.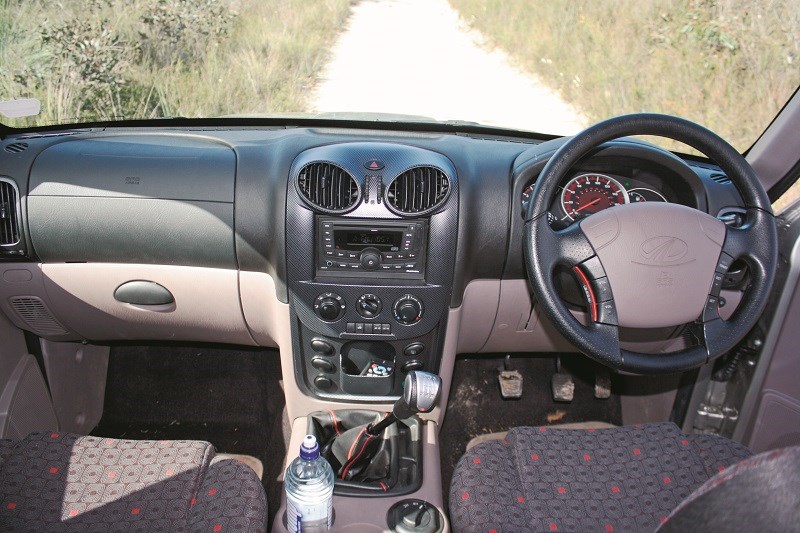 The interior has some questionable styling cues but it all works.

Subscribe to our newsletter
Sign up to receive the Trade Farm Machinery e-newsletter, digital magazine and other offers we choose to share with you straight to your inbox
You can also follow our updates by liking us on Facebook. 

Graders For Hire | Cranes For Hire | Telehandlers For Hire | Excavators For Hire