REVIEW: Mahindra 8560 4WD cab tractor
---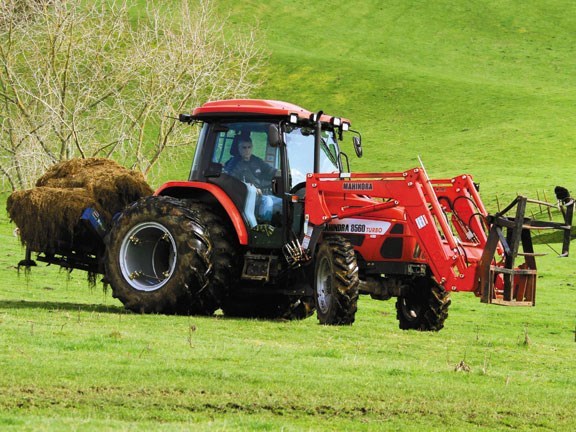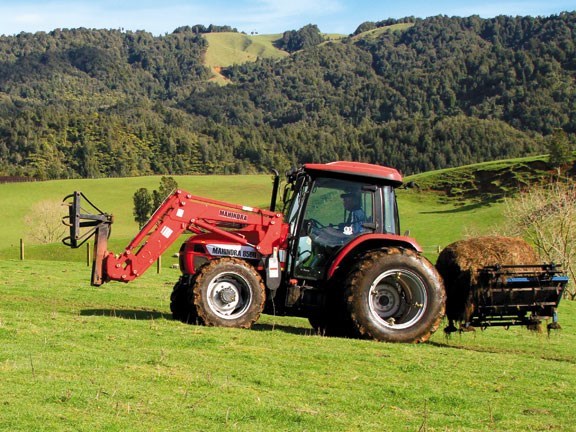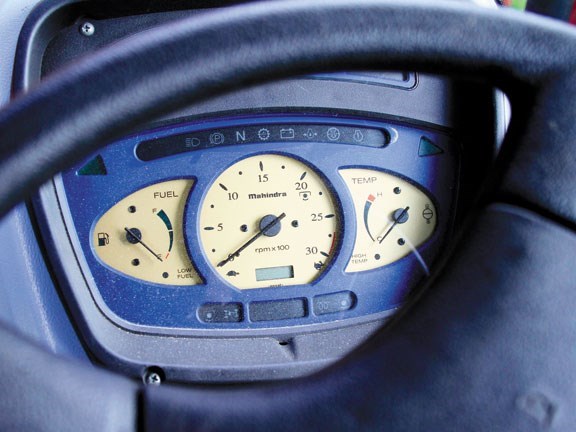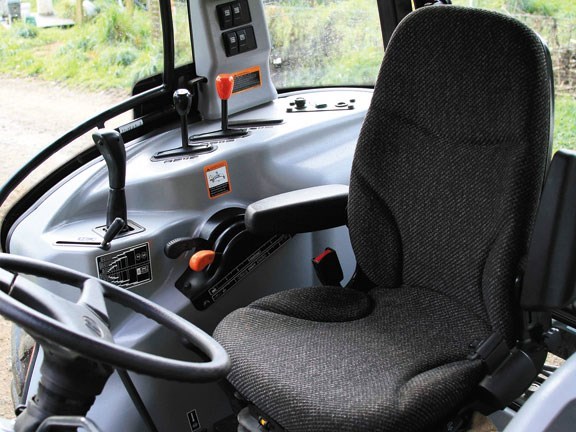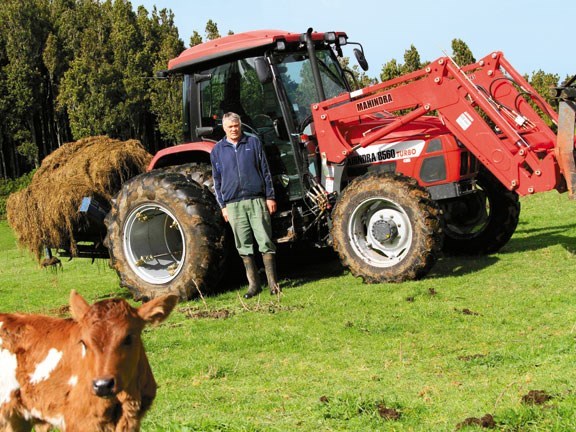 The largest in its range, Mahindra's new 8560 4WD cabin tractor is a good option for price-conscious buyers and small farm operators who desire comfort and simplicity.
Good cab space and storage
Powerful engine
Plenty of lights for night work
Good gear changing
Improved overall finish
Mahindra tractors may be relatively new to the market but they offer an increasingly realistic alternative for price-conscious buyers and small farm operators.
Built in India, Mahindra claims to be among the top three largest tractor manufacturing companies in the world selling some 120,000 tractors in 2008.
Mahindra 8560 Overview
Dry stock farmer Brian Connolly uses his Mahindra 8560 for feeding out, haymaking, cropping, farm race restoration using a blade, and other general farm work.
With only 22 hours on the clock Brian was still getting used to his Mahindra but he certainly hasn't looked back since buying.
"I looked at a lot of brands," he says. "But I know someone who has had a Mahindra for two years. It's done 300 hours and he's absolutely rapt with it. That's why I went to visit Mahindra at the Fieldays, and Graeme [Pedersen, Piako Tractors] gave me a really good deal."
Mahindra 8560 Cab and Controls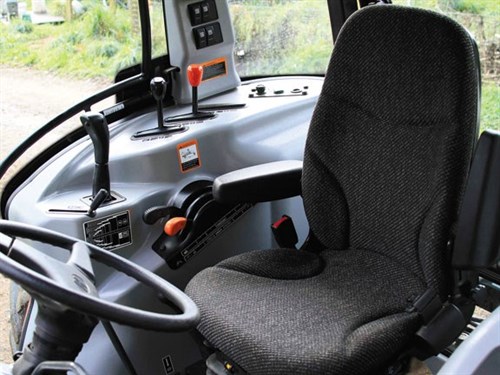 Compared to its 8560 ROPS brother, the cab model has a 100mm longer wheelbase to better accommodate the German-built cabin. The control layout and finish quality inside the cab is as good as any European tractor I've sat in.
The large cab is unusually wide for this level of tractor. External vision from the fully lined cab was nearly as good as a European tractor, thanks mostly to its seamless full-length windows.
While driving, the unusual looking stepped front bonnet, which houses a pair of headlights, surprisingly didn't impede a direct line of sight to the front of the bonnet.
While it has a narrow muffler, the exhaust stack protrudes vertically from the left side of the bonnet, right in your line of forward sight. A Mahindra goal should be to route it alongside the "A" pillar to catch up with the Europeans.
I tend to use the foot throttle while driving but found the main gear stick hit my right leg when in first or third, so the stick should have a "crook" in it to avoid this issue.
Another item that could be improved are the mirrors, which could be a bit larger than the mid-sized units fitted.
Looking out the back I was pleased to see an angled low rear window allowing me to see directly down onto the 64.3L/min rear hydraulics, two-speed PTO and the 2495kg lift capacity three-point linkage system.
Mahindra 8560 Engine and Power
The Mahindra 8560 cab tractor uses an NEF 3.33-litre intercooled turbocharged diesel powerplant that produces a maximum of 61kW (83hp) DIN at 2300rpm, and 305Nm of torque.
This tractor impressed me for how well it held on in the first three gears of middle range. Naturally the motor quickly died when I attempted it in fourth (top) gear on a medium incline, so I had to try it on the steeper slope.
But even then, it was so steep that I didn't want to kill the motor and stop, because I'd have to reverse down on the slippery wet grass with a feeder on the back and a loader up front.
My final analysis was the 83hp four-cylinder motor held on very nicely at all revs and performed much better than I expected.
Connolly says his farm didn't warrant a larger tractor for the type of work it's doing so the 83hp Mahindra fitted nicely.
"It's traction on the hills I want more than power. This Mahindra can compete with the big tractors as I've done a lot of sowing on the neighbour's place. It has eight percent more power [than the MF4235]; it's not much but I can definitely notice the difference. It has terrific torque from what I've used it on," Connolly explains.
"I'd say it's a safe, stable solid hill country tractor, I'm rapt with it. I think the Mahindra might be heavier, but it's nice and low down.
The 12 forward and 12 reverse speed synchromesh transmission impressed me with superb gear changes going up and down the box.
Driving up a medium slope I was able to change gear without stopping in the lower gears. I did, however, have difficulty engaging the middle ratio after a turn in each of the low and high ranges.
The brakes need further bedding in as they were fairly soft underfoot and needed a good push on the lever to stop the 3685kg tractor downhill the way I expected.
The Verdict
First time up Mahindra's 8560 4WD cab tractor is a pretty good effort, and the overall quality level appears to be closer to the European brands than you'd expect.
Mahindra 8560 Specifications

Engine Four-cylinder, turbocharged
Capacity 3.33 litres
Power rating 61kW (83hp) DIN at 2300rpm
PTO output 51.5kW (70hp), 540 & 1000rpm
Maximum torque 305Nm
Transmission 12 forward and 12 reverse speeds, synchromesh
Clutch type Dry
Maximum speed 40km/h
Fuel capacity 82L
Minimum turn radius 4622mm (without brakes)
Brakes Wet disc
Weight 3310kg
Maximum hitch lift 2495kg
Hydraulics Two open centre remotes with 64.3L/min flow
PTO 51.5kW (70hp), 540 & 1000rpm
Wheelbase 2279mm
Find Mahindra tractors for sale.
Subscribe to our newsletter
Sign up to receive the Trade Farm Machinery e-newsletter, digital magazine and other offers we choose to share with you straight to your inbox
You can also follow our updates by liking us on Facebook. 

Graders For Hire | Cranes For Hire | Telehandlers For Hire | Excavators For Hire