REVIEW: Berrima Engineering BR1000C Hay Rake
---
Berrima Engineering keeps adding to its swag of hay rake accolades, this time taking out the award for Best Engineered New Release at this year's Dowerin Machinery Field Days. Tom Dickson trialed the BR1000C.
I first saw a Berrima hay rake at the 2013 Elmore Field Days. On display at their site was a BR1000 fully hydraulic roller bar V-rake.
I recall chatting to Berrima Engineering's Martin Morona on that day who proudly told me he had just won a number of awards including 'best new release Australian-built machine' at Dowerin in Western Australia, machine of the year at Henty, New South Wales and Australian agricultural machine of the year at Elmore in Victoria.
I remember sensing he had a strong commitment to the quality of his products but also to the agricultural industry and in particular the hay and silage industry.
Berrima Engineering has been in business for about 20 years now and in that time has built up a strong reputation. Morona says he focuses on manufacturing a very strong robust machine, simple to operate and capable of working in a variety of conditions.
"If you think this one is impressive you should check out the one I've developed for contractors," Morona says, detecting my excitement.
Contents
Power requirement and controls
Berrima BR1000C Overview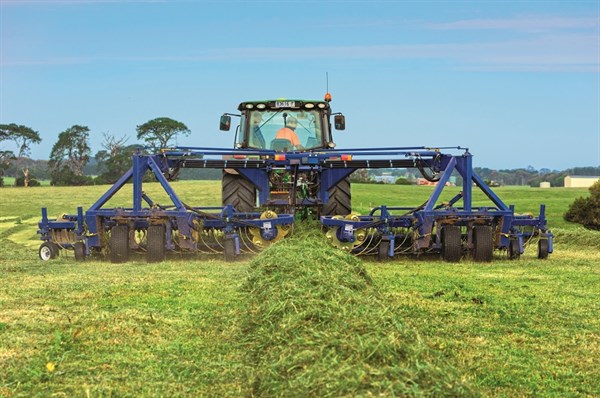 The BR1000C has larger axles and wheels, extra guide wheels to support the baskets and higher capacity hydraulic motors.
 But most of all, what really defines Berrima Hay Rakes as leaders in manufacturing, is the incorporation of Canadian designed and manufactured Timbren rubber suspension. The suspension gives added protection in the uneven conditions that the Membreys find themselves working in for predominantly dairy farm clients.
For added strength each 4.3m-tine bar on the basket is made from heavy duty tubing sourced from Japan. Morona believes this makes for a stronger beam and reduces vibration because there are no seams or welds.
I've taken him up on his offer and arranged to meet Bruce and Travis Membrey of silage contracting business AgHire Contracting just out of Warrnambool for a look and a chance to operate the BR1000C.
While travelling behind Travis, as he makes his way along the narrow dairy farm laneway, I am really surprised and impressed at how easily the 7.5m long rake manoeuvres around turns and is able to move its 2.4m wide frame through gateways with absolute ease.
The BR1000C has no steering assistance in its design but the fact that the wheels are mounted close to the centre of its length makes it track really well. Travis says even out on the road behind the ute at speeds up to 100km/h it tows exceptionally well.
Berrima BR1000C power requirement and controls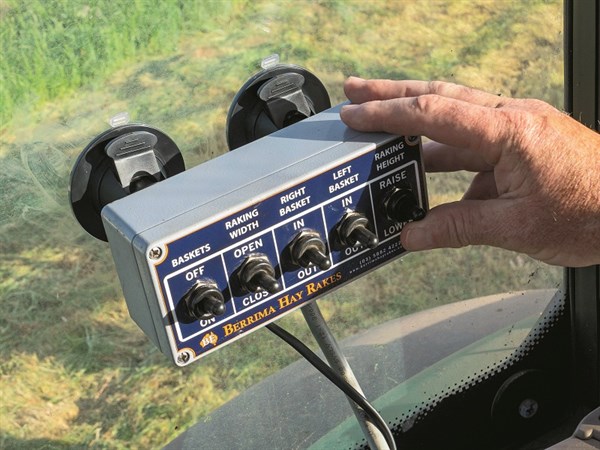 The rake weighs about 2.9 tonnes and only requires one set of remotes drawing only 30l/m of oil flow and the electronic control box can be wired directly to the battery if no power source is available. So I'm thinking even a 60 or 70hp (45 or 52.2kW) tractor is going to be up to the task.
The first step is to hold the raking width button upwards as we slowly move forward pushing the rake into the open position. Another switch lowers the baskets and a third starts the rotation of the baskets.
The electro-hydraulic control bank is pre-set at the time of assembly to rotate the baskets at about 90 to 95 revolutions per minute. A set of splitter wheels is centrally mounted at the front of the rake.
Sharing a common oil supply means they raise, lower and commence rotation with the baskets. By manually shutting of the oil flow to the splitters they can be held in the upward and neutral position if they are not required.
The electro-hydraulic controls only require a clean surface for the suction cup mount to attach to but as a suggestion to make it even better I would make each switch easier to identify; especially the open and closing function because this is the one most likely used to avoid obstacles.
 If it could be identified by touch I wouldn't have to take my eyes off the job, and perhaps a backlight for night work.
Pulling away to start the first lap reveals an extremely gentle raking action. The last thing you want is an over aggressive rake because it can turn good hay into chaff.
I can see this will be a great rake in all conditions. It will gently turn lucerne and clovers to preserve quality and cause minimal damage to dryer type hay. Even the heaviest crops of pasture and balansia clover shouldn't be a problem either because you can drive at a slower speed while maintaining the baskets' 90 rotations per minute.
We have opened the BR1000C up to about 9m creating a comfortable angle to move the hay into the centre. Working widths can be anywhere between 0 and 10m metres and a good comfortable speed seems to be about 12km/h.
Travis says he bumps the speed up to about 14 or 15km/h in good conditions for a medium type crop with a bit of moisture.
Berrima BR1000C performance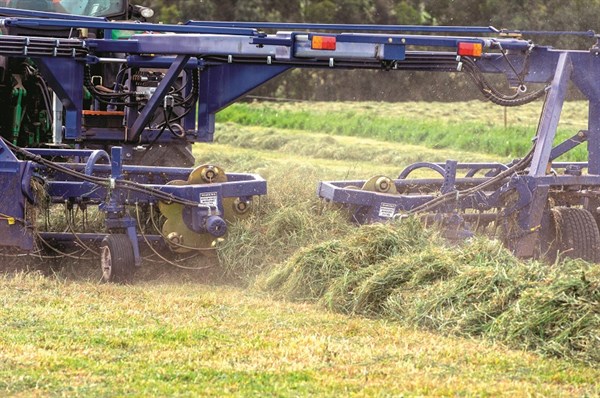 As we work our way into the centre of the paddock a couple of positives came to light. Firstly the rake tracks really well behind the tractor, so that I don't have to go back and rake out the corners to pick up unturned grass.
As I get closer to the centre and the turns became too tight, I lift the baskets up by holding up the hydraulic lift button, drive out over the raked windrows then return. Some rakes struggle with this manoeuvre because they don't lift high enough, but the baskets on the BR1000C well and truly clear the windrows.
At a guess I'd say they rise to a height of at least half a metre. A couple of obstacles in the paddock could have caused a drama but by closing the rake up a bit with the switch as I approach we are able to cruise on by.
The rubber boot suspension really proves an outstanding feature. The paddock is a little on the rough side but the baskets just seem to glide along. The working height of each basket can easily be adjusted by way of a turnbuckle under each rubber boot. The splitter wheel assembly also rides on the same rubber boot suspension system.
The extra guide wheel on each basket proves valuable to because it allows the baskets to follow the undulations in the ground surface more effectively and prevent any bottoming out.
The Verdict
It's fair to say Berrima Engineering has turned a good rake into an even better one and now has the awards to prove it. A sturdy frame and great suspension would suggest it should have a relatively trouble free life and should not succumb to continual shocks and vibration.
At the end of the job I lift the baskets, stop their rotation and fold the rake into the closed position. I'm down the track without having to leave the cab.
Maintenance on the BR1000C has been kept to a minimum. Many of the existing grease points have been replaced by brass bushes leaving only major pivot points and grease nipples on the rotating ends of each basket.
I'm rapt with its performance and still think a basket lift or roller bar rake is the most suitable for making quality hay and silage. Either, functions well in all conditions.
Berrima BR1000C Specifications
MAKE/MODEL:                         BerrimaBR1000C hay rake
RAKING WIDTH:                      0 to 10m/33 foot
TRANSPORT WIDTH:                2.4m/8 foot
WEIGHT:                                 2.9 tonne
TRANSPORT LENGTH:               7.5m/25 foot
RAKING SPEED:                       8 to 16km/h
HYDRAULIC REQUIREMENT:      30l/m, single remote
HYDRAULIC FUNCTIONS:            5
TYRES:                                    295/50/15 x 4
GUAGE WHEELS:                      6 standard
HYDRAULIC SPLITTERS:            Optional
For the full test report, grab a copy of New Farm Machinery magazine when it goes on-sale from December 1. Subscribe to the magazine to secure your copy.
Find roller bar hay rakes for sale.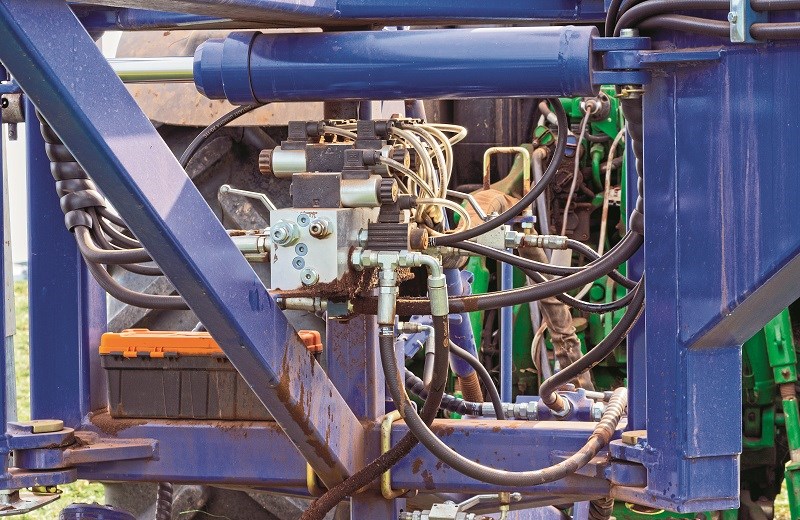 The chassis mounted hydraulic oil flow control bank.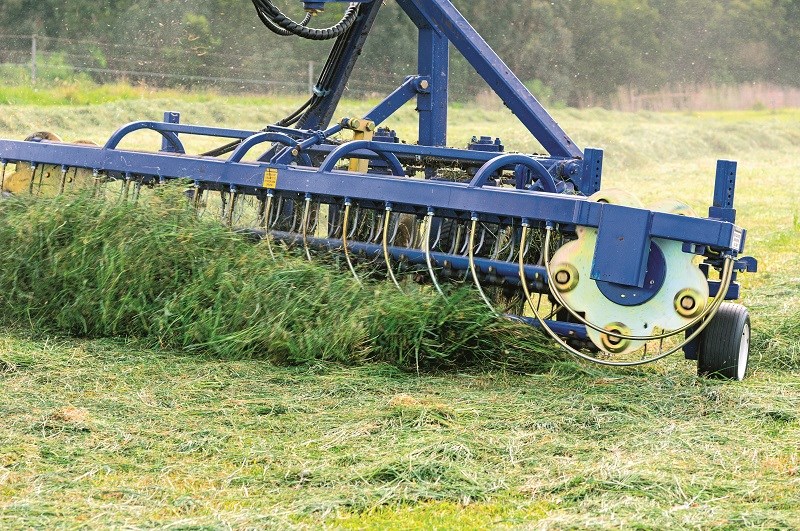 Opening up to a maximum of 10m, the BR1000C's gentle action causes minimal damage and yield loss during the raking process.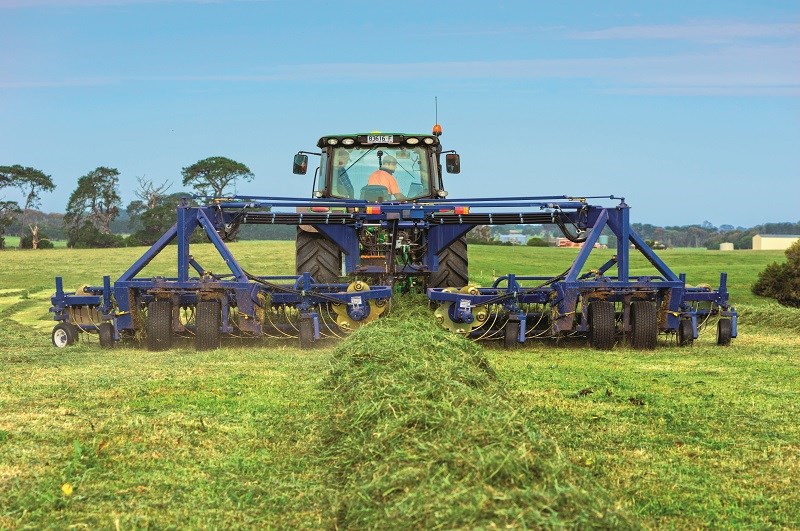 Virtually nothing is left behind while creating a very neat, uniform windrow.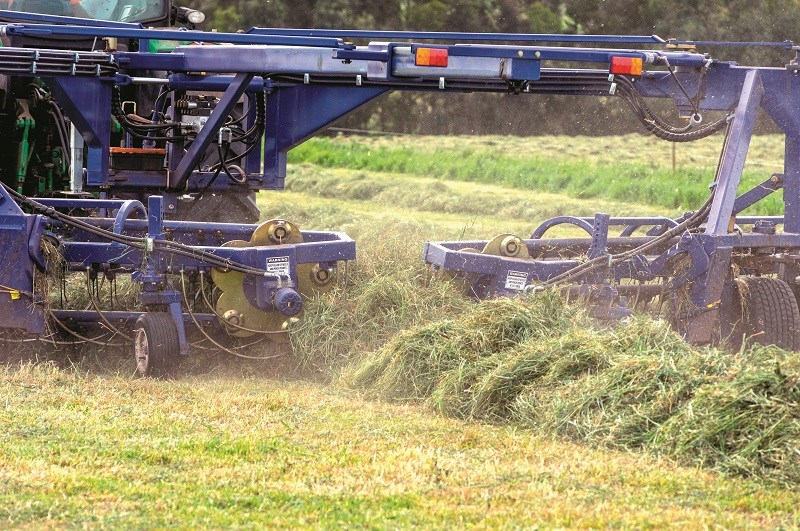 Windrow widths can be adjusted on the go from inside the cab to suit individual requirements.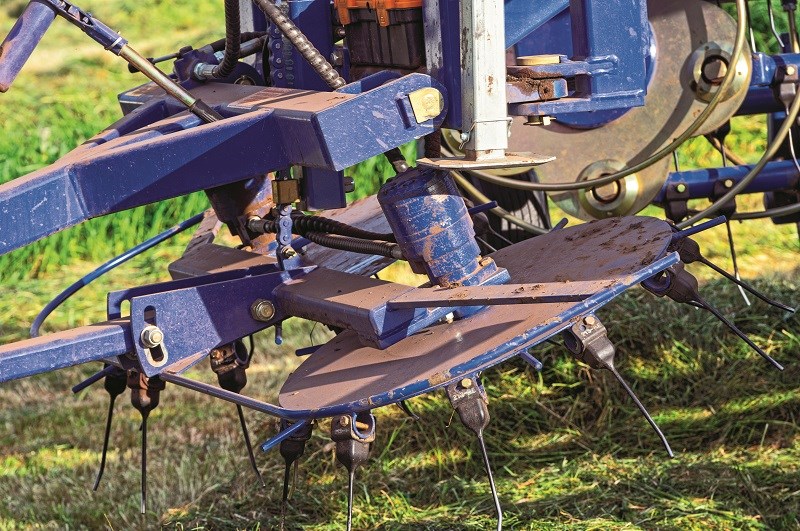 Windrow splitters turn on and off, raise and lower, in synchronisation with the baskets.

Higher capacity hydraulic motors for extra power in heavy silage crops.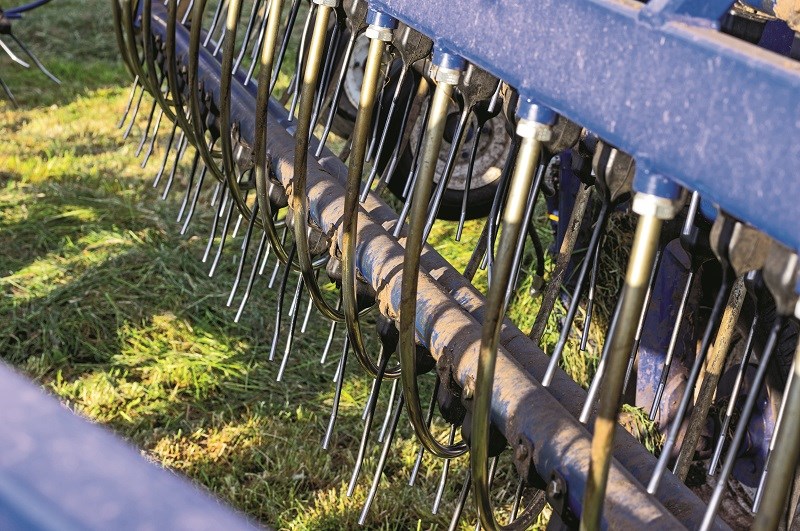 The rubber mounted tines can easily be straightened in a vice and can be sourced locally.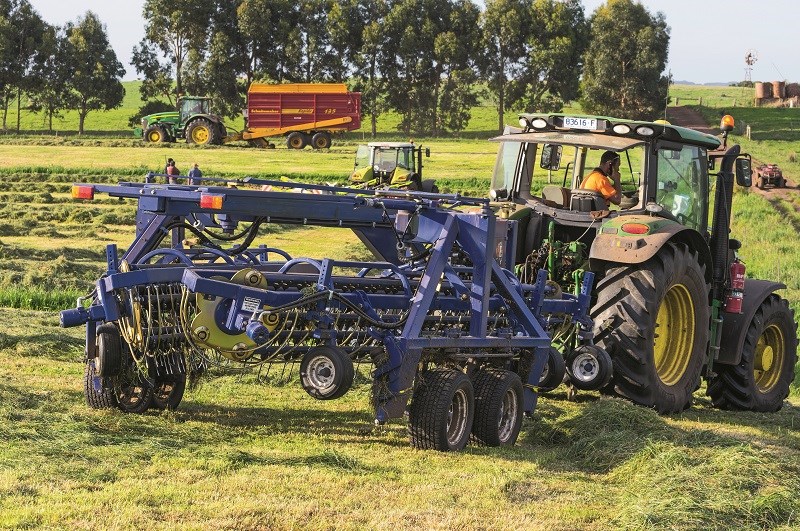 At the completion of the job the BR1000C is closed up and ready for transport all in a matter of seconds from within the cab.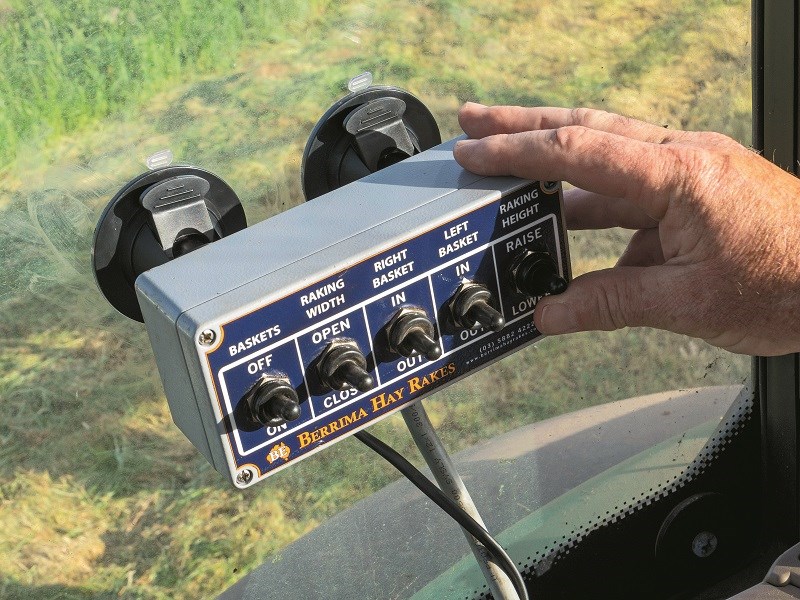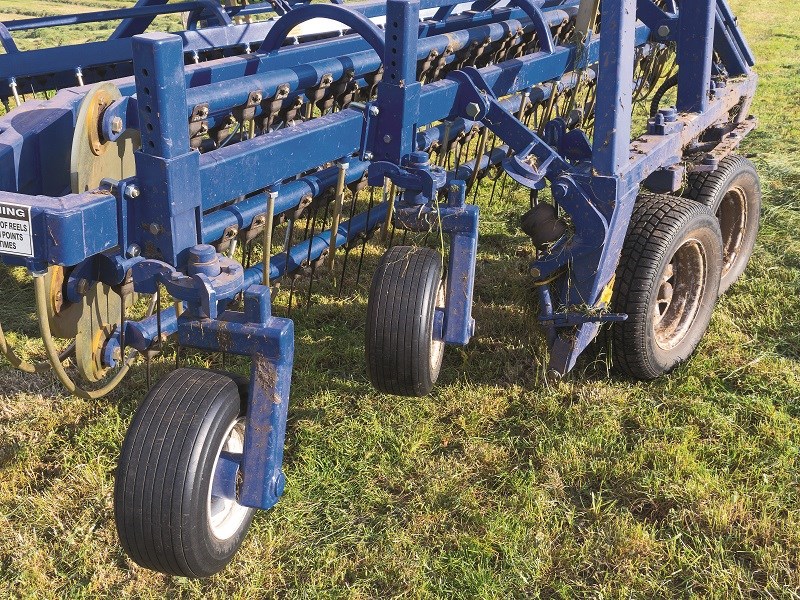 An extra floatation guide wheel has been fitted to the BR1000C to improve its performance in all working conditions.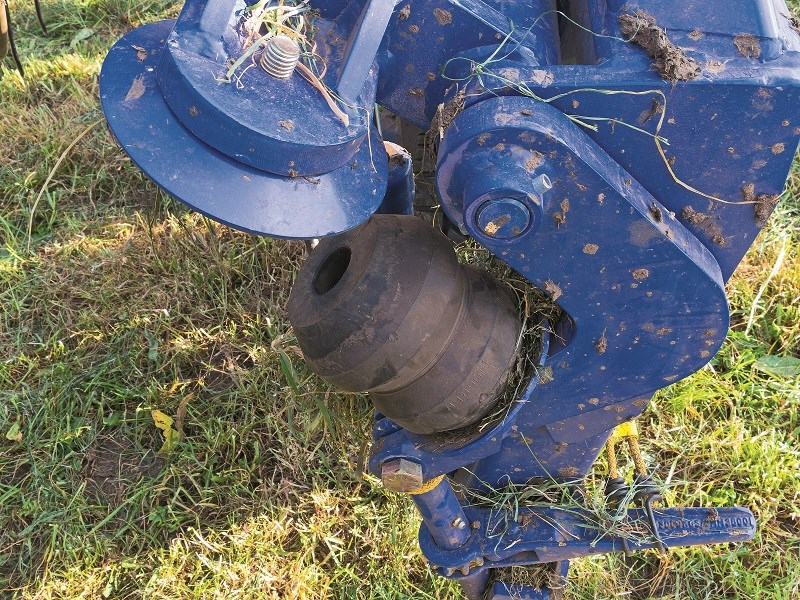 Canadian manufactured Timbren rubber suspension allows the baskets to float freely with a built in dampening effect.

Subscribe to our newsletter
Sign up to receive the Trade Farm Machinery e-newsletter, digital magazine and other offers we choose to share with you straight to your inbox
You can also follow our updates by liking us on Facebook. 

Graders For Hire | Cranes For Hire | Telehandlers For Hire | Excavators For Hire