REVIEW: Hardi Navigator 6000 trailed sprayer
---
After sampling some of the new self-propelled sprayers on the market, Matt Wood has a look at a premium trailer offering from Hardi.
These days we are spraying more and more and self-propelled sprayers (SPs) are being touted as a worthwhile investment for increasingly time poor farmers.
For roughly the cost of a tractor and spraying rig you can have a dedicated machine that can be more productive and more efficient.
But there are plenty of farmers in mixed farming areas that already have a suitable tractor. A 150hp (112kW) to 350hp (261kW) tractor is ideal for baling, loader duties and silage wagon work, so why buy another machine. That's why there's still a big market for trailing spray units.
Trailing units also offer larger capacities and massive boom width without leaving a big footprint in the paddock.
The creep upwards in machine size is now seeing bigger seed drills and bigger spreaders so it stands to reason the market expectation is for bigger booms.
These days a 6,000-litre/36m boom is becoming a standard bread and butter machine. I recently got to spend some time with the 6,000-litre Hardi Navigator and I have to admit there's a definite case to be made for a trailing sprayer.
Out front towing this spray rig we have Agco's budget offering, a 155hp (116kW) Challenger. But it was the big red and yellow spray unit that I was really interested in. Sitting on the drawbar is Hardi's trademark run dry diaphragm pump, which in this case was hydraulically driven.
The machine can still be run off the power take-off (PTO) if required but using a hydraulically driven set up does tend to lessen the engine load on the tractor and burn less fuel.
Contents
Hardi Navigator 6000 Overview
The Hardi pump is self-priming and can be run dry without any damage. It's claimed to be relatively easy to service and repair out in the field. As you'd expect from this kind of unit, the Adelaide-built machine is pretty simple in construction and layout.
Trailing machines of any kind tend to have a hard life so robust construction is a key factor. Most modern tractors can happily sit on 60km/h out on the open road so it's a fair bet any trailer is going to be flapping along behind one in a cloud of dust.
To soak up some of the shock, the Hardi unit's beam axle sits on rubber block suspension. The Navigator 6000 tares off at 3.5 tonnes but load it up and hitch it up to your iron horse and the working weight becomes closer to 13 tonnes, that's still lighter than many SPs.
There's something to be said for pneumatic braking systems on tractors in this day and age. The 6,000-litre Navigator has axle clearance of 820mm and an adjustable wheel track that ranges from 1,800mm to 2,250mm. The optional fixed track width is 3,000mm.
Hardi Navigator 6000 Mixing and filtration
A turbo filler chemical mixing unit is a given and it's well-located without the need to stretch. Plus there's also the option of the rather amusingly named Granni Pot, which is meant to make dry chemical mixing easier and safer with a vacuum attachment.
The EasyClean suction filtration unit is also worthy of mention as it's an easy reach and is also easy to clear. Basically a ball valve isolates the filter, which means the tractor and machine can be left running with the run-dry main pump still operating. This reduces the amount of time needed to pull the filter out and clear the blockage.
It might not seem like a big deal but the use of granulised and pelletised chemicals is increasing with the associated increase in the incidence of suction blockages.
There's also a self-cleaning cyclonic filter at the other end of the process to keep things clean on the way to the boom lines. Including the nozzle filters there are five filtration points on the Navigator.
Hardi Navigator 6000 Booms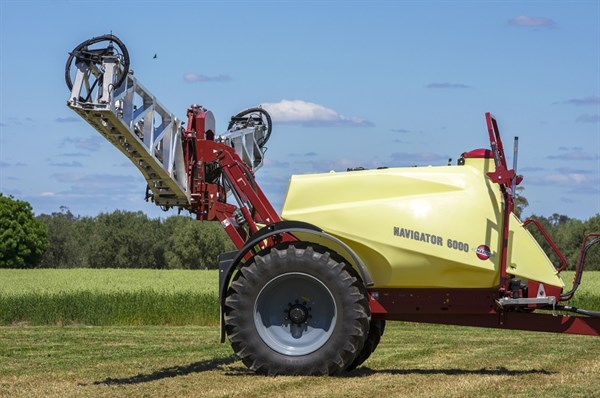 A trapezoidal boom centre with spring suspension helps keep the booms straight and as with the rest of the Hardi range nitrogen dampened struts absorb boom whip.
This becomes especially handy when using auto-steer where headland turns can be hard and fast. Our wide open Aussie spaces tend to mean we put pedal to the metal when we can.
While the Europeans are spraying at around 12-14km/h, we push the envelope out to nearly 30km/h and sometimes beyond. But that said we have a lot more ground to cover and there's a school of thought that says the quicker you roll over the crop the less damage inflicted.
However, that's a lot of shock for a boom to absorb. Hardi still offers steel booms alongside its range of aluminium Pommier booms.
While there are definite weight and economy gains to be had from using aluminium there are definite benefits to being able to repair a steel boom section with your own welder out in the shed.
Hardi Navigator 6000 Controls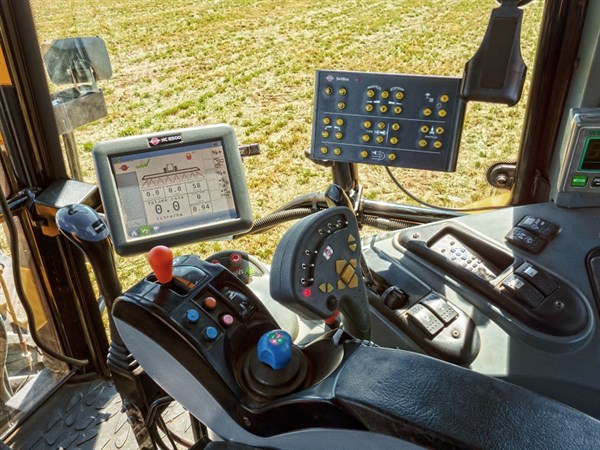 If the diaphragm pump is the beating heart of a Hardi sprayer the in-cab spray control unit is the brain.
The Hardi HC8500 spray control unit provides an ISO link between the towing tractor and the spray unit. All functions from boom fold, height, and spray functions are controlled via the HC6400 spray control box and the joy stick controller. Of course this does need to be installed in your tractor.
The good thing however, is that most ISO capable machines will speak the same ISO language meaning the HC8500 interface can be used to run a number of other implements.
Computer geek stuff aside, the ISO and task controller system does make it easier to record paddock data when spraying. This also means paddock information can be transferred from implement to implement, which ideally means your implements are effectively learning the lay of the land from one another.
And there is the DynamicFluid4 unit, abbreviated to DF4 with the 4 referring to the amount of sensors in the fluid control unit and it is touted to deliver peak flow rate within two seconds.
The sensors monitor flow, pressure, pump rpm as well as valve angle position. The idea is that the desired flow rate is maintained regardless of speed variations or headland turns.
As you'd expect AutoHeight control is available as an option on the Navigator. The system uses up to five ultrasonic sensors to keep the boom at the desired height at all times.
Hardi Navigator 6000 Performance
I fire up the Challenger and get familiar with my surroundings. If you're familiar with the Hardi controls it doesn't really matter what machine you're operating you'll work it out pretty quickly.
But once up to speed some of the better qualities of the trailing spray unit come to the fore, namely comfort and stability.
The low centre of gravity and long drawbar of the Navigator make it tow and ride extremely well, especially with the optional 3m wheel track. Out front in the tractor you are also isolated from a lot of the bounce again mostly due to the location of the trailer wheels and the length of the drawbar.
The downside of a trailer is that you do tend to constantly find yourself craning your neck over your shoulder to keep an eye on the boom. But if you go for the auto height option this does take some angst out of the operation. 
The stability of the whole rig also comes to light when making headland turns and the sprayer spins on quite a tight circle without dipping a boom into the ground.
This unit isn't fitted with the auto height option but doesn't need much adjustment while on the move.
But while running over rougher surfaces I am probably more impressed at the lack of flex and whip in the Pommier B3 boom.
It is pretty clear to me that on reasonable terrain the Navigator rides like a Rolls Royce and this will reduce the chance of crop striping caused by a flapping boom that doesn't maintain a consistent height above the crop.
The Verdict
To SP or to not SP that may well be the question.
 A self-propelled unit will probably be more economical to run fuel wise as they don't tend to be as rpm dependent as a tractor pulling a trailer.
But a trailer does let you carry more payload, spray for longer and in more comfort than an SP. Plus if you already have a suitable tractor you may as well get more use out of it rather than less. You may even find yourself with enough spare time to stand around staring at handfuls of grain and thinking.
Hardi Navigator 6000 Hits
Smooth and stable
Boom suspension works exceptionally well
Hardi Navigator 6000 Misses
The long drawbar keeps you looking over your shoulder
Hardi Navigator 6000 Specifications
Make/model: Hardi Navigator 6000
Capacity: 6,000 litres
Rinse Tank: 500 litres
Pump Type: Run-Dry diaphragm
Drive: PTO or Hydraulic
Boom width: 18-36.5m
Tare Weight: 3,535kg with 30m steel boom
Axle Clearance: 820mm
See the full test report also in New Farm Machinery magazine issue 16, out on December 1. Subscribe to the magazine to never miss an issue.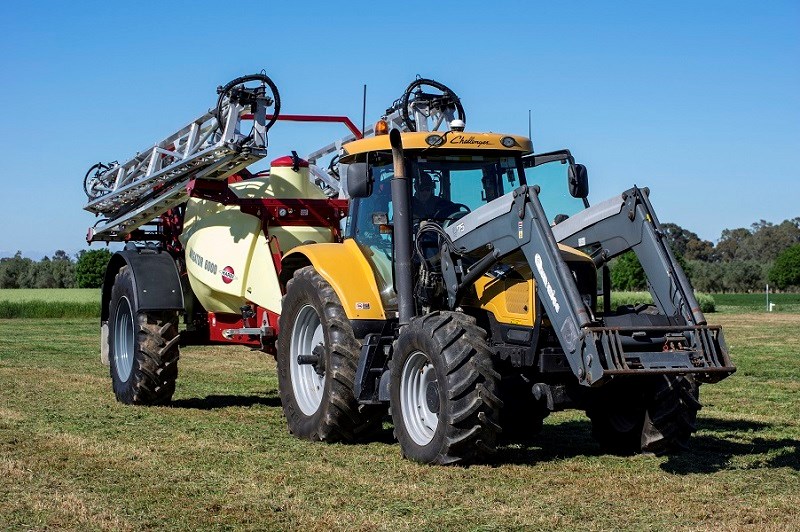 The 155hp Challenger typifies the sort of jack-of-all-trades machine that many farmers already own.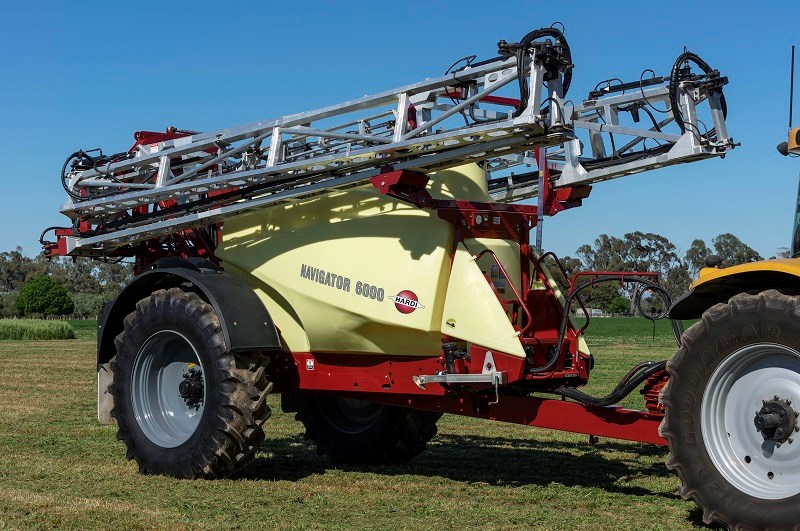 Thirty-six metre booms are now a standard industry expectation, Hardi now has a 48m boom available.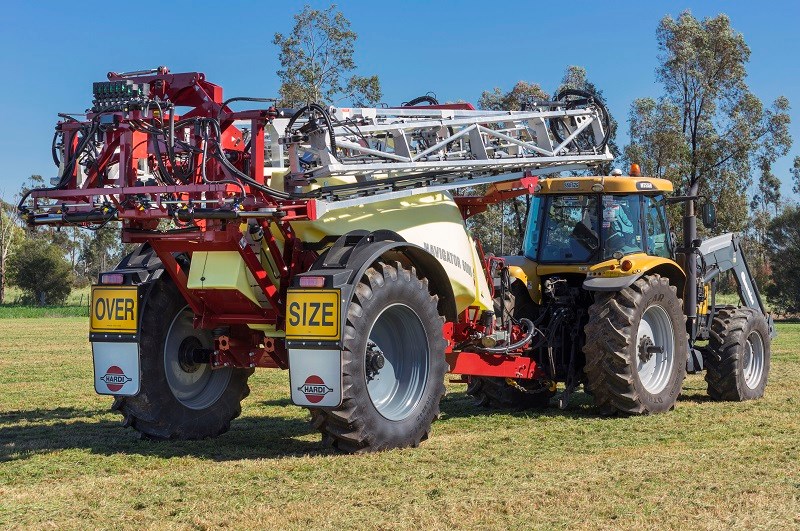 The long drawbar or 'pull' of the Navigator makes it a very smooth ride across the paddock.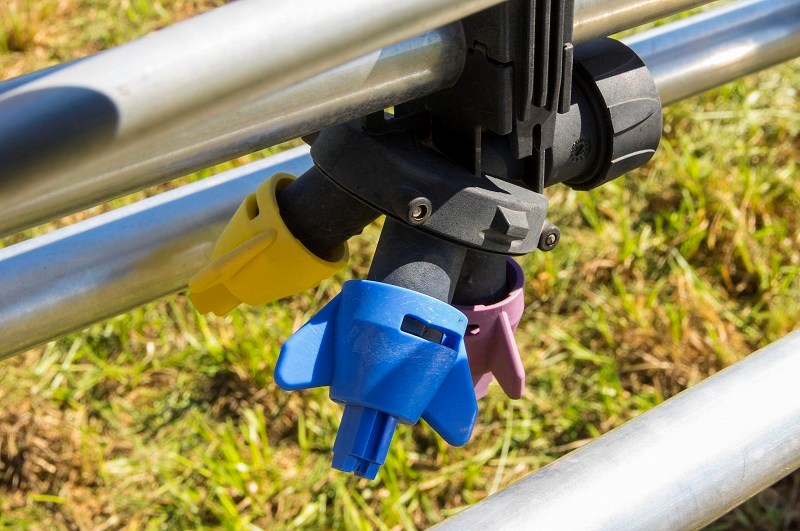 Triplet nozzle holders can be a handy option.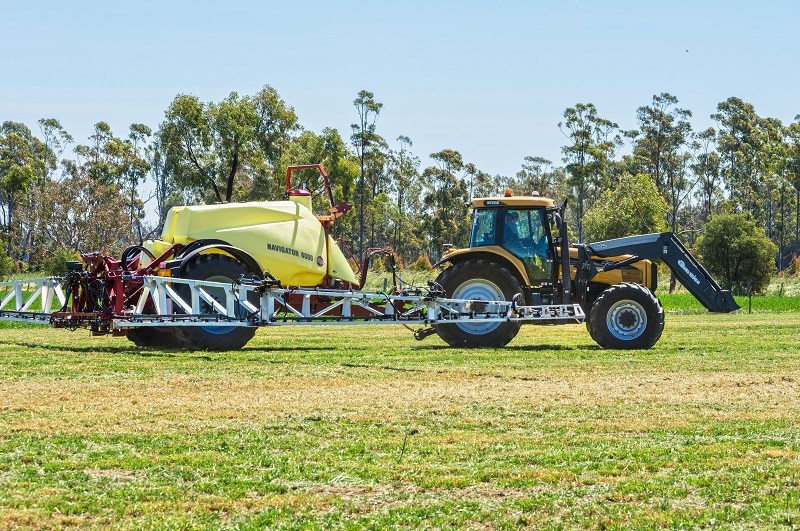 A big trailing boom does keep you looking over your shoulder.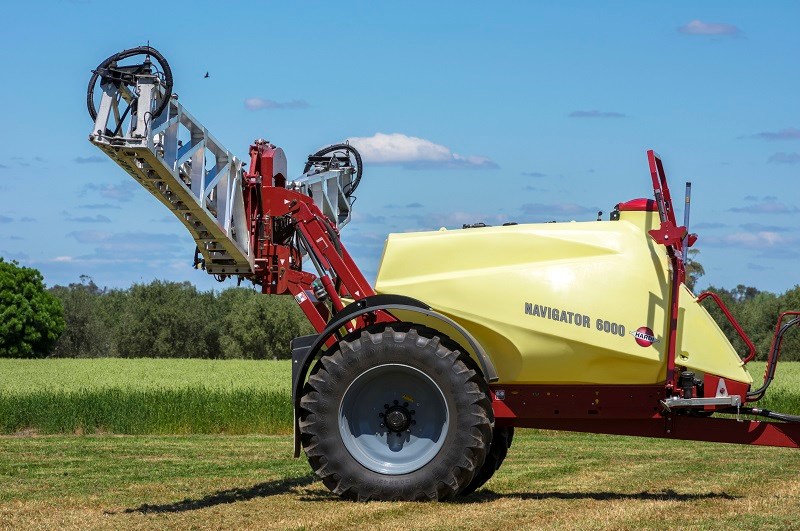 Hardi offers both aluminium and steel boom options.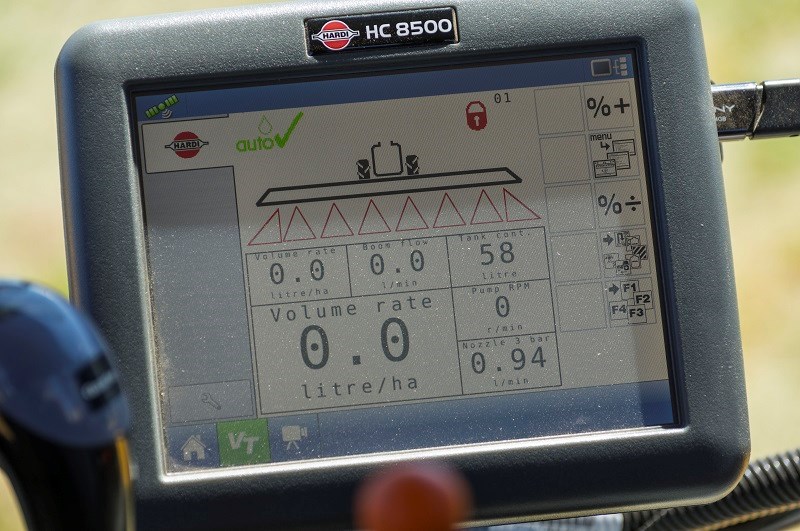 The HC8500 ISO controller is relatively easy to find your way around.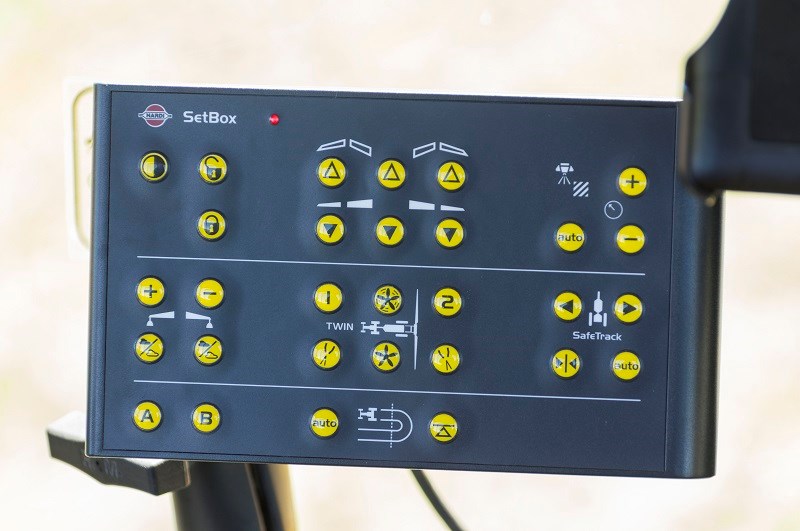 The SetBox holds no mysteries and is self-explanatory.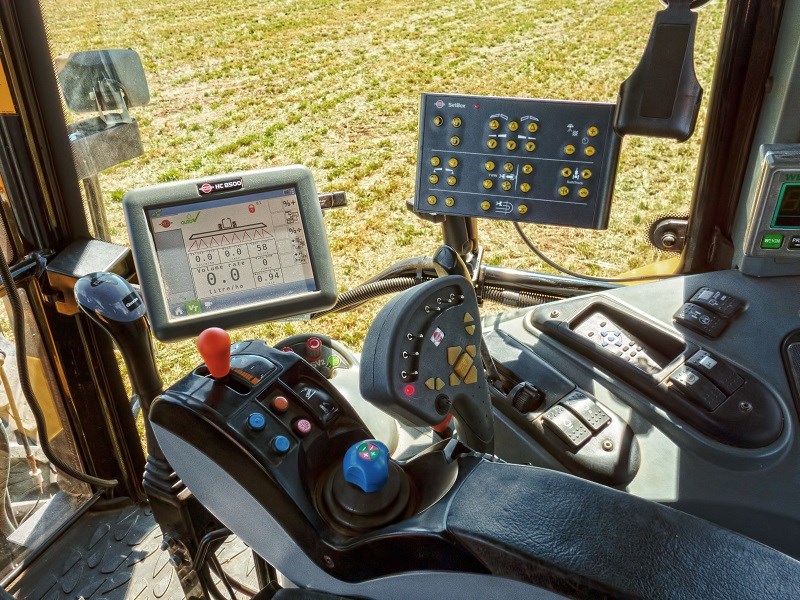 The Hardi spray control system installs nicely in the cockpit of a modern tractor.

Subscribe to our newsletter
Sign up to receive the Trade Farm Machinery e-newsletter, digital magazine and other offers we choose to share with you straight to your inbox
You can also follow our updates by liking us on Facebook. 

Graders For Hire | Cranes For Hire | Telehandlers For Hire | Excavators For Hire