REVIEW: Iveco Daily light commercial vehicle
---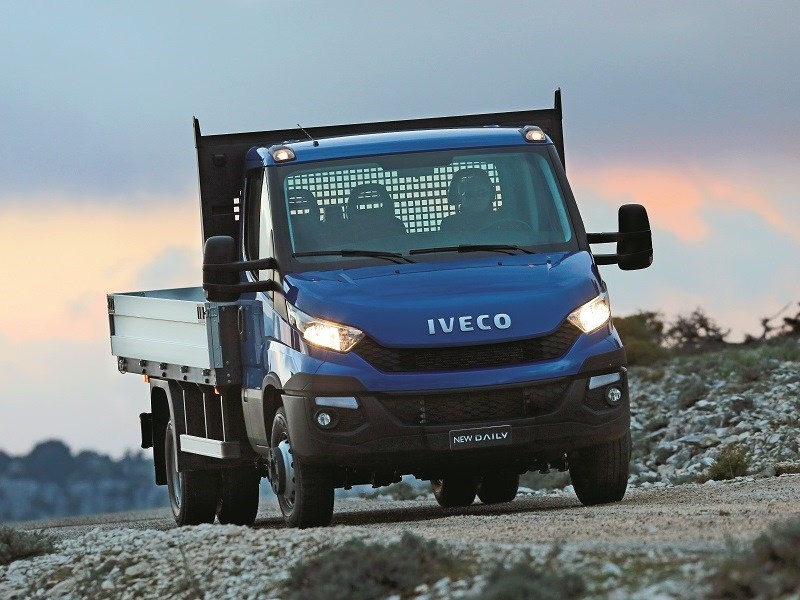 The new Iveco is certainly one of the better looking LCV's on the market.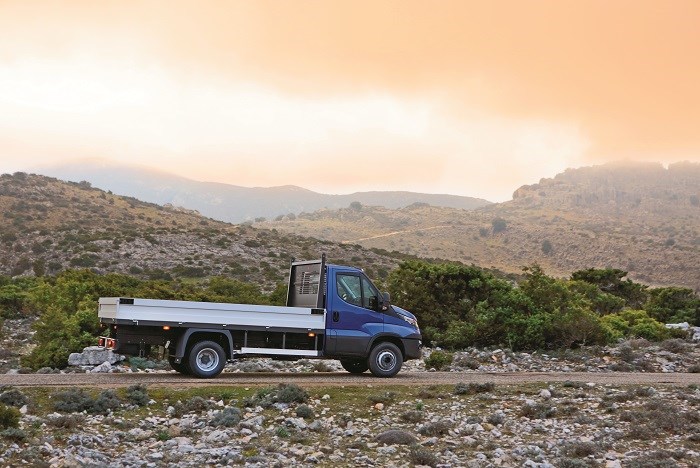 A payload of up to 4.7 tonnes puts the Daily cab-chassis well into light truck territory.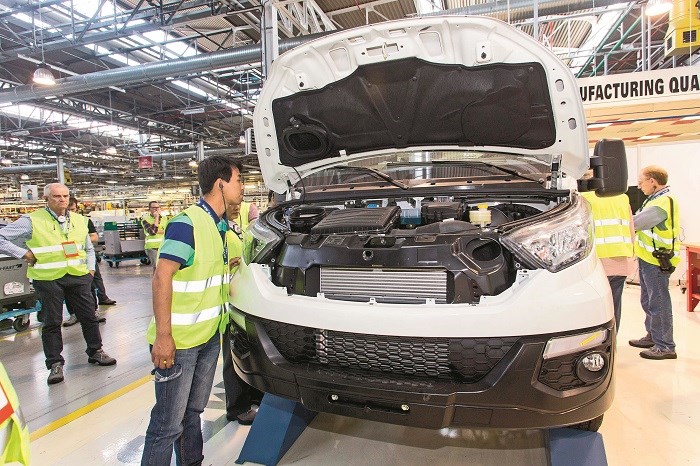 Quality assurance testing under way at the Suzzara manufacturing plant.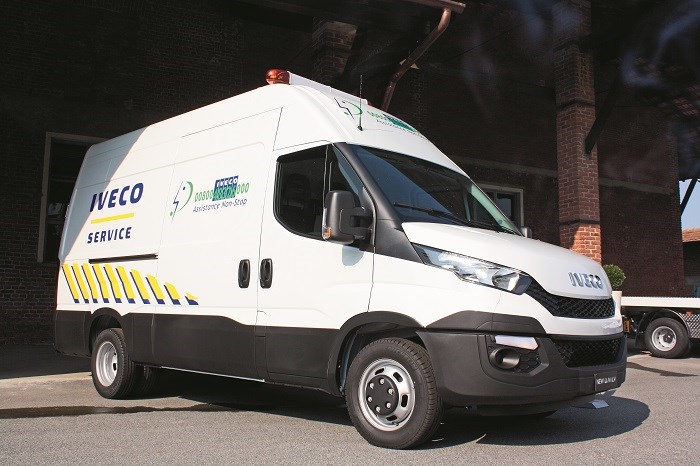 A smart looking service van variant.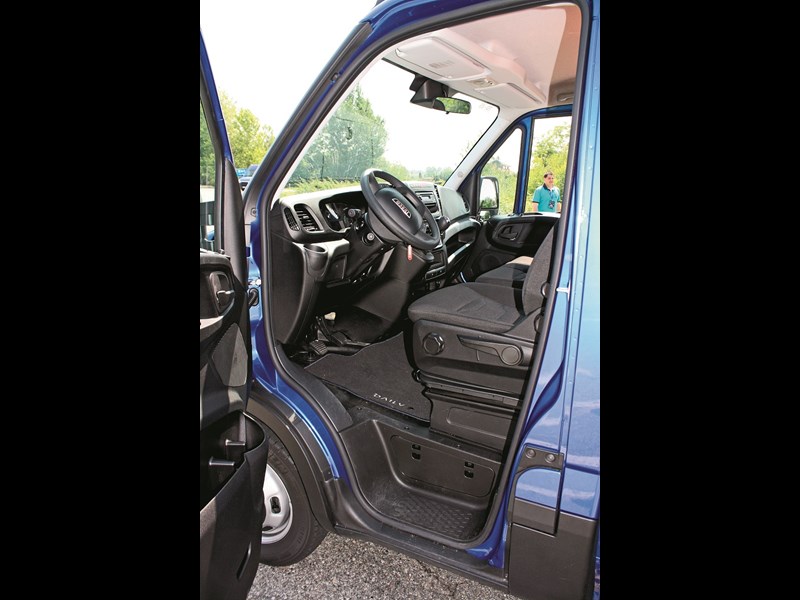 Cab access is excellent.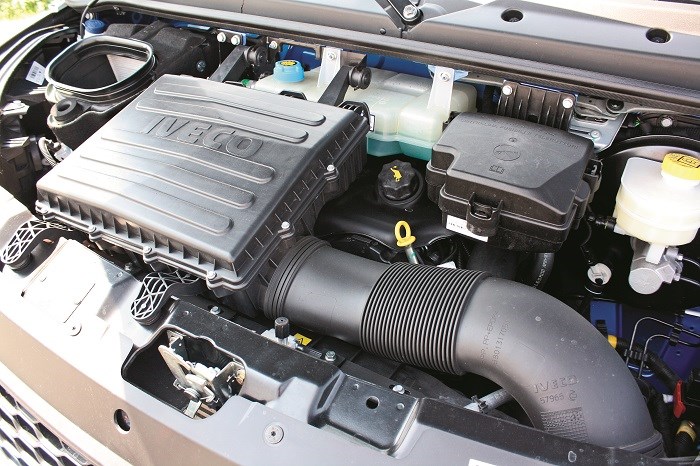 The Daily features two new engines with power ratings up to 205hp and 470Nm of torque.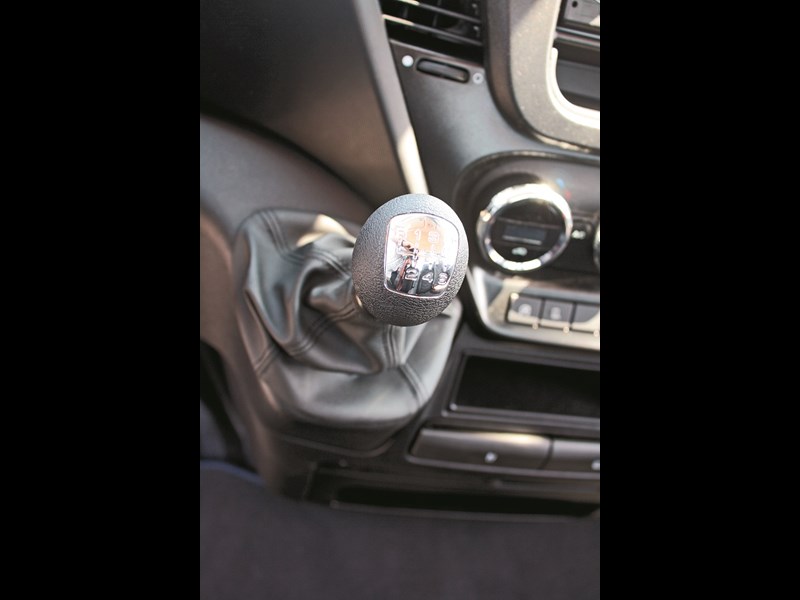 A new 6-speed transmission behind a new 2.3-litre engine is a sweet combo.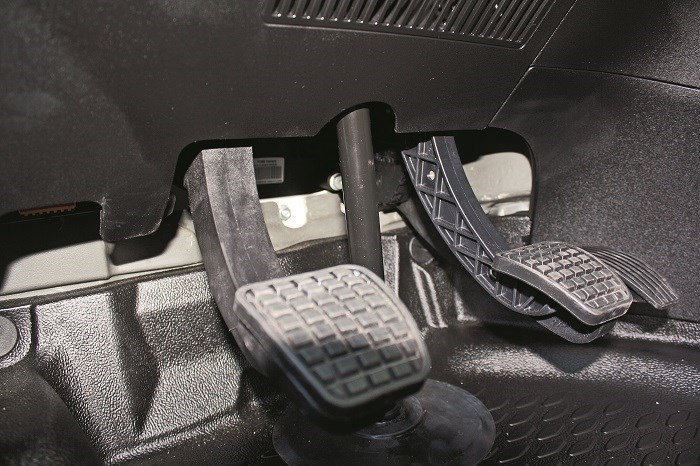 Footwell plastics tended to foul pedal operation at times.

An all new Iveco Daily is heading for Australia in 2015, and so it's off to Italy for Matt Wood for a drive of the new cab-chassis and van line-up.
With 2.6 million Daily vehicles sold since its inception this new Daily van and light truck platform represents the eighth update of the little rear-wheel drive Iveco since its introduction in 1978 just three years after the birth of Iveco itself.
Quite a few Euro later the Daily has been reborn and the company says that it is looking to take on the big seller in the light commercial vehicle (LCV) market. APAC Commercial Services Manager Marco Rimondi said at the Asia Pacific (APAC) launch in Turin recently that "Our organisation has changed".
"We want to be the best and we want to be the protagonists of change."
So with 80 per cent new architecture, two new power plants and one new transmission and a full auto on the way, the new Daily was previewed for the APAC region.
Contents
2015 Iveco Daily overview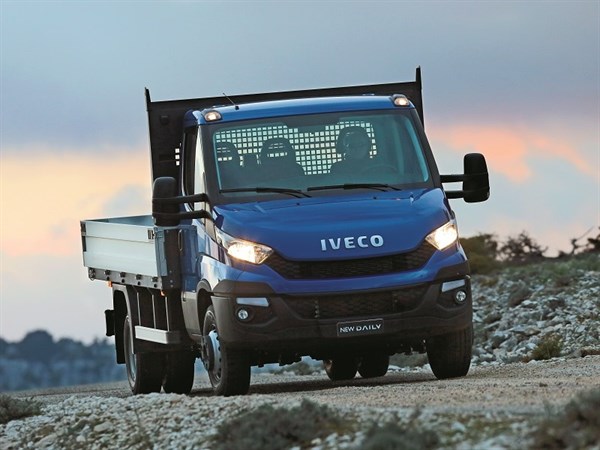 For a start it looks light years better than the old one, I'd go as far to say it would now have to be one of the better looking vehicles of its type on the market. The frontal styling does give it a rather purposeful look, making it more "angry letter box" than "happy doughnut van."
And to be honest this is a welcome move in a market that seems crowded with wonky looking LCVs these days.
Not only is it claimed to be better looking than its predecessor (it is), Iveco also claim the new Daily is more aerodynamic and fuel consumption has been reduced by up to 5.5 per cent.
The Daily has also had some weight trimmed from it giving the LCV an extra 40kg of payload. A mammoth 19.6 cubic-metre van variant is now also available and wheelbases have also been optimised to reduce overhang on longer variants.
The range itself goes out to 7 tonne gross which give the cab-chassis Daily a potential payload of up to 4.7 tonne and more than 4 tonne for the van taking the Daily well into light truck territory.
There's also a bus variant on offer for the people mover market. While the architecture of the Iveco may have been largely redesigned the Daily still sits on a separate sub-frame chassis in manner of its forebears.
Look up Iveco Daily trucks for sale
The new Quad-Leaf front end is a double wishbone independent set-up with a transverse leaf spring running laterally across it to deal with a maximum load of 1,900kg.
This is reported to have increased roll stiffness and to minimise any duck and dive the vehicle may encounter in an emergency situation.
Daily models more than 3.5 tonne get the Quad-Tor torsion bar front end.
Steering geometry has also been revised on the heavier front end.
The smallest Daily variant now boasts a turning circle of just 10.5m curb to curb.
2015 Iveco Daily engine and transmission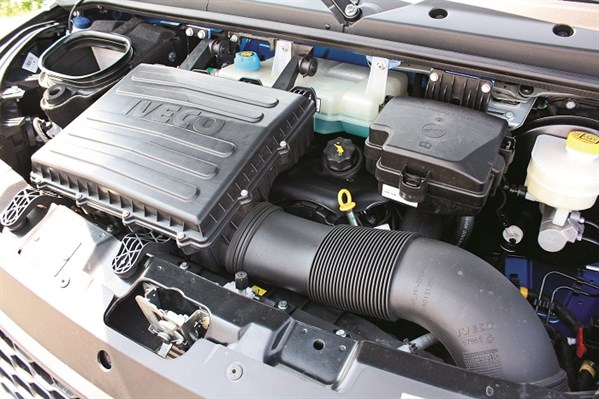 The new engines cover power ratings from 106hp (79kW) and 270Nm of torque up to 146hp (108.8kW) and 350Nm for the 2.3-litre F1A. While the 3-litre F1C will go from 146hp and 350Nm up to 205hp (152.9kW) and 470Nm.
In keeping with Iveco's fondness for natural gas there's also a compressed natural gas (CNG) model available which develops 136hp (101.4kW) and 350Nm from its spark ignition set-up.\
The 205hp F1C big banger uses twin turbochargers to feed the 3-litre mill, however it is backed by the old model 6-speed transmission while the smaller donk gets a new 6-speed.
The Agile automated version shouldn't be too far away while a torque converter auto is reported to be in development and is expected to be an offering on the Australian market. Though to be fair, most of the Italians I spoke to about this were just a little perplexed, I mean who doesn't like changing gears?
2015 Iveco Daily cab and controls
The cockpit has also been redesigned and the interior now boasts five covered storage areas and the drivers seating position has also copped a makeover.
However, the Daily still doesn't get a tilt steering column. I'm told this is due to the driver's airbag and safety concerns regarding the angle of the wheel in an accident. The battery compartment has also been relocated to under the driver's seat.
An Eco pack is also available on the new Daily line-up which includes a start-stop function and a soul destroying torque and speed limiting function.
The options list for the European range is made up of most of the usual extras such as climate control, rear vision camera, a touchscreen MP3 Bluetooth sound system with navigation. But also on the European options list is rear air-suspension on some models, a Telma electromagnetic retarder, and an air-suspended driver's seat.
The cockpit of the new Daily is well set out and a nice place to be and everything is where you need it to be.
Like most of its European contemporaries, the manual gear shift is also well-positioned and intuitive to use. Document storage, cup holders and storage bins are also well placed for the working day.
2015 Iveco Daily performance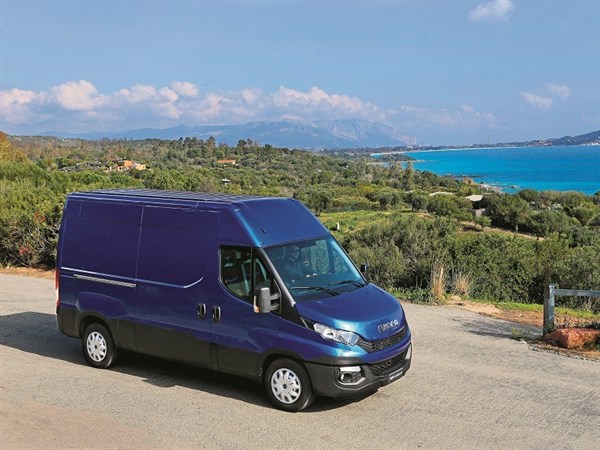 It didn't take long to identify the sweet spot in the Daily range. The lighter duty 35-150 has benefitted significantly from new developments.
The 106hp 2.3-litre engine was a willing performer and backed by a new slick shifting 6-speed tranny which made the whole driveline a nice package.
But the best test of any LCV is handling at speed with some weight on its back and again the little 35 was a standout, something I put down to the characteristics of the Quad-Leaf front end.
On tight undulating curves the 35 handled so beautifully I even cut the apex of a few turns and dropped a wheel off the tarmac at speed to see how the Daily would cope but it refused to be unsettled.
Jumping behind the wheel of the larger 3-litre variants also showcased the agility of the revised platform. However the older transmission from the previous model that has been slotted behind the new engine takes some of the gloss of the package.
A car-like driving experience is what Iveco promote in the Daily, however with the heavier tranny the shift is slower and you can feel some driveline kick back through the stick, it also got a little noisy when worked hard.
Admittedly the larger 7-tonne cab-chassis is in light truck territory rather than in the automotive domain but it still lacks some finesse when compared to some of its European and Japanese competition.
However, it was the top of the power tree 205hp/470Nm twin turbo that really stood out in the heavier Daily variants. Enough, so I was prepared to overlook the less civilised feel of the older cog-box. Really this is about as sporty as it gets for a truck journo.
In a standing 400m sprint the largest van variant on super single wheels had a terminal speed of 115km/h and comfortably maintained 160km/h on the high-speed circuit with good couple of tonne in the back.
Pedal layout and plastic panelling in the driver's footwell were a bit of a gripe as I kept snagging my feet on parts of panels as I drove, especially during emergency braking manoeuvres. Admittedly most won't come across this in everyday use on the road.
The Verdict
Overall the new Daily appears to be a neat LCV package with some real standout models in the range.
Steve Heanes, National Manager of Iveco's Truck & Bus business for Australia and NZ, along with National Key Account Manager Lloyd Reeman, confirmed that most of the Australian line-up for the new Daily has been locked in and ready for a local launch in 2015.
2015 Iveco Daily Specifications
(EUROPEAN)
MAKE/MODEL: Iveco Daily
ENGINE: 2.3-litre F1A turbo diesel Variable Geometry Turbo (VGT) or Waste Gate turbo depending on power rating. 3-litre F1C turbo diesel VGT, Waste Gate or Twin Turbo charging depending on power rating. CNG option also available
POWER/TORQUE: F1A; 106hp to 146hp (79kW to 108.8kw)/270Nm to 350Nm. F1C: 146hp to 205hp (108.8kW to152.9kW)/350Nm to 470Nm. CNG: 136hp (101.4kW)/350Nm
TRANSMISSION: 6-speed manual, 6-speed Agile automated, torque converter automatic in development
WHEELBASE: 3,000mm to 4,100mm (van), 3,000mm to 4,750mm (cab-chassis)
GVM (van/cab-chassis): 3.3 tonne to 7 tonne/3.3 tonne to 7 tonne
CAPACITY: 7.3 cubic-metres to 19.6 cubic-metres
Read the full test report in New Farm Machinery issue 16, on-sale now. Subscribe to the magazine to secure your copy. 
Subscribe to our newsletter
Sign up to receive the Trade Farm Machinery e-newsletter, digital magazine and other offers we choose to share with you straight to your inbox
You can also follow our updates by liking us on Facebook. 

Graders For Hire | Cranes For Hire | Telehandlers For Hire | Excavators For Hire