REVIEW: 2014 Ford F-350 Super Duty Truck
---
It's a big truck from a big country. Matt Wood indulges the redneck within with the F-350 SuperDuty.
The gleaming snout of the latest Ford F-350 Super Duty certainly makes a statement, although what that statement actually is may vary a bit depending on your outlook on life.
One thing is for sure however, you'll certainly be noticed when you punt down the road in one of these babies.
Regardless of the redneck image, one thing the big Effie has got in spades is grunt; 440 V8 diesel gee gees and 1,100Nm of torqueing.
Which is just as well as it can also take a payload of 3.5 tonnes and tow a whopping 6,804kg on the hook or 7,575kg as a fifth-wheeler. Only when properly braked of course.
These F-trucks are imported into the country by a number of dealerships, one of them being the Harrison Motor Group which has been importing vehicles for more than three decades. The F-trucks are converted and complianced for the Australian market by the Harrison's conversion partner Vehicle Development Corporation (VDC) based in Coolaroo on Melbourne's northern outskirts.
VDC has a strong relationship with Ford over in the United States and is registered as an export purchaser with the company's Export and Growth Division.
All the vehicles come to Oz via the Five Star Ford dealership in Texas, which takes delivery of the vehicles from the Ford factory in Kentucky. The conversion includes a complete mirror image swap over, no mean feat when you look at the amount of stuff crammed into the engine bay.
I spent some time behind the wheel of a 2014 F350 SuperDuty four-wheel drive recently and put it through its paces.
This also meant dealing with a 6.6m long 2.2m wide truck in supermarket car parks, fast food drive throughs, urban streets and country roads.
You know what? It's easier than it looks.
Contents
Towing and off-road performance
2014 Ford F-350 Super Duty: An overview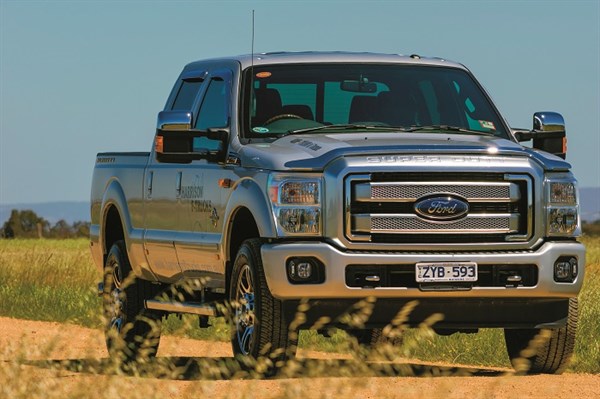 I'm stating the bleeding obvious but this is a truck built for dimensionally challenged and essentially lazy people.
My truck is a top of the line Platinum model, which means it is climate controlled, leather equipped, sat nav controlled, sun roof fitted and has rather fetching alloy wheels all-round as well.
When I park my butt in the driver's seat and slot the key into the ignition the big leather couch rolls forward electronically and wedges my man-boobs up against the steering wheel.
This is great and means everything is within reach. I won't have to burn any valuable calories reaching for the radio or climate control buttons.
2014 Ford F-350 Super Duty engine and power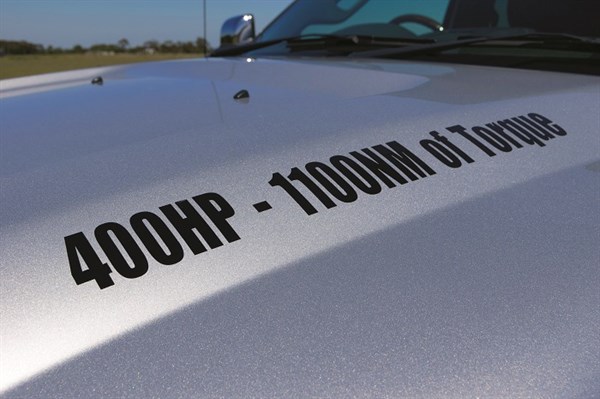 The 2014 models have 400hp (298kW) rather than the current (2015) model's 440hp (328kW) however, torque remains the same.
The 6.7-litre Powerstroke V8 diesel is a selective catalytic reduction (SCR) unit, this means that it uses a diesel exhaust fluid (DEF) or AdBlue to satisfy the strict US Environmental Protection Agency 13 emissions standard.
It may look like a rain forest killing planet-wrecking giant, but it actually runs cleaner than most other diesel vehicles on the Australian market. Our emission levels are still back at EPA 07.
2014 Ford F-350 Super Duty interior and controls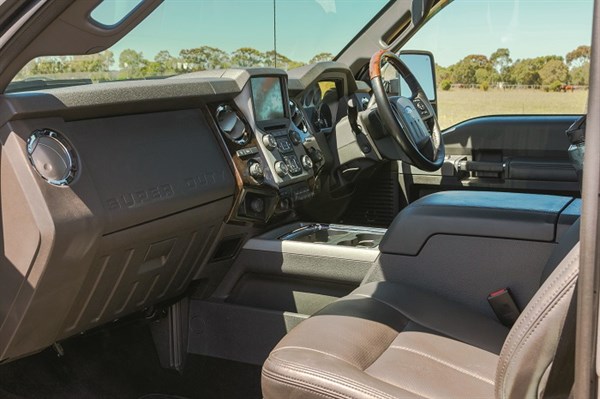 The massive centre console appears to have been designed to swallow an entire bucket of chicken, which is handy for snack attacks while driving down to the shops.
The cup holders pull out and reveal another cavernous compartment designed to hold not one but two 7-11 Big Gulp cups. Thankfully these are not sold in Australia as they are roughly the size of a 20-litre drum.
Paradoxically the glove box is tiny and would be lucky to hold a couple of CDs.
Just to make sure hauling your fat butt up into the load bed isn't too strenuous there's also a flip out step in the tail gate with a flip up hand hold.
In keeping with the low strenuous activity vibe of the big Effie, the retractable load bed cover is remote controlled. One great little feature is the moveable load bed divider allowing you to segregate the load bed to stop loose items from skating around.
2014 Ford F-350 Super Duty on-road performance
On the road the F350 feels a little like driving a bob-tail prime mover. The gratifying rumble emanating from the very cool dual chrome exhaust tips does put a hell of a smile on your dial if you plant the foot.
And you can feel all of that torque trying to propel you along at a rate of knots. Legal speeds are reached very quickly.
However, the ride when empty is a bit wallowy and the Super Duty feels very much like the chunky, empty load lugger it is. Some close attention to wheel and tyre specification would probably help out in this department.
I figure a big truck like this needs to be driven with either a load on it or a load behind it. So I decide to take my beloved Valiant for a drive in the country. This means hooking a tandem car trailer up behind the F-truck and loading my piece of Australian automotive history into it.
Given the F-350's prodigious towing capabilities just hooking a couple of ton behind it isn't going to tax the driveline too much at all. The marked difference is just how easily the big truck handles the job at hand.
2014 Ford F-350 Super Duty towing and off-road performance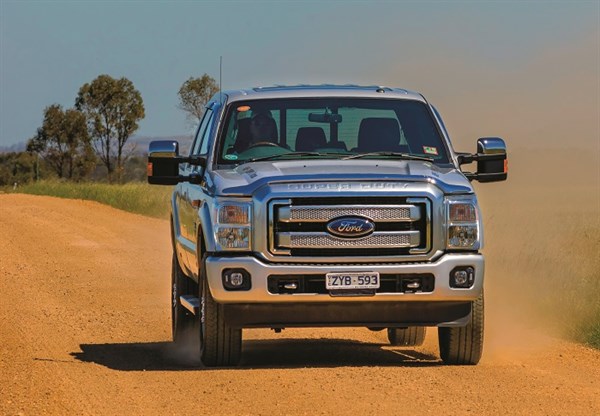 Within an hour of leaving home with my precious cargo it seems as if the Effie doesn't even know the load is there.
In fact it nearly drives better with the trailer on the back than it did without. So much so that I have to stop and tie down the Val twice on my 200km trip as the big truck handles the rough country roads with deceptive ease.
 For those that tow a lot, the F-350 handles and steers with aplomb, and if you do accidentally spill some of your Big Gulp down your front while behind the wheel, the Effie's electronic stability control program will stop you turfing your trailer into the weeds.
A tow switch on the transmission gear selector adjusts the shift points in the Torqshift auto. With such a modest load behind this doesn't make a great deal of difference at most times but it is very handy when braking as it prompts early down changes which provide some engine braking effect.
The SuperDuty does have shift on the go 4WD and with all that grunt it does have the potential to handle itself in the rough stuff.
But it's big and heavy and with a long wheelbase it's not the most manoeuvrable thing in the bush. Traction on slippery surfaces like sand and mud however is excellent.
2014 Ford F-350 Super Duty fuel efficiency
You might think a truck of this size would have a prohibitive thirst when it comes to fuel. However, my combined fuel average when empty was 13.8km/l and only 15.5 when towing and I wasn't mucking around.
Considering the size of the beast that compares pretty favourably with a lot of mass market dual cab four-wheel drive's on the Aussie market.
The Verdict
As a heavy tow vehicle it's a cracker seating five adults in comfort and while an F-truck might not be cheap, a high spec Landcruiser or equivalent is pretty close to the same price depending on spec.
It's a great option for a fifth wheel horse float or for towing a big trailers in general.
2014 Ford F-350 Super Duty Specifications
Harrison/Ford F350 SuperDuty 4x4
Engine: 6.7-litre Ford Powerstroke V8 turbo diesel.
Transmission: 6-speed Torqshift automatic
Cab Options: Regular, Supercab, Crewcab
Chassis options: Pick up or cab-chassis.
Payload: up to 3,571kg
Towing: Conventional 6,804kg, fifth wheel 7,575kg
Warranty: Three-year 100,000km with 24/7 Roadside assist
Price: Starting from $110,000 (F-350 XLT 4x2) excluding on road costs.
For the full test report, pick up a copy of New Farm Machinery magazine issue 17, on-sale December 29. Subscribe to the magazine to never miss an issue.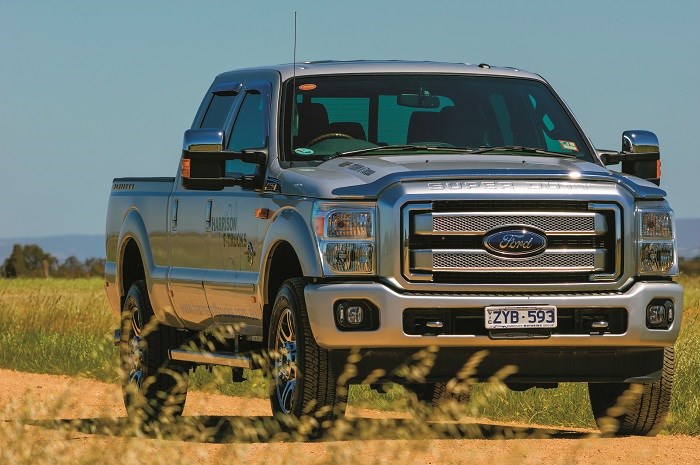 The F-350 SuperDuty certainly makes a statement.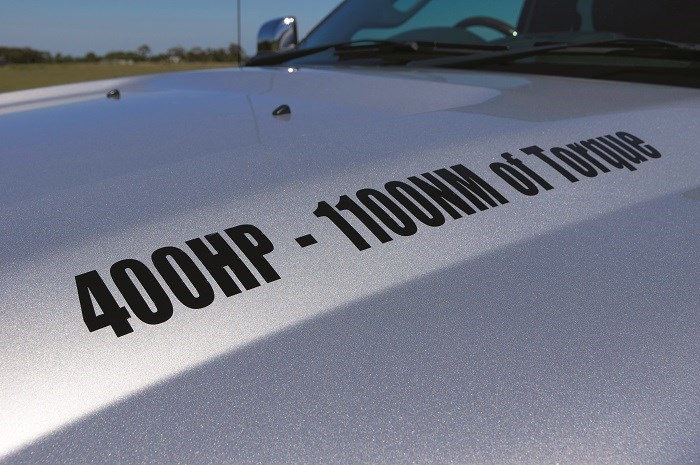 440hp and 1,100Nm make for a lot of pulling mumbo.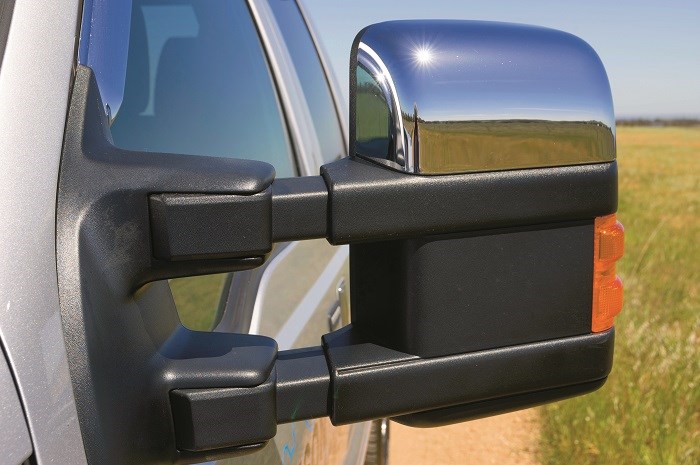 The side mirrors electronically extend for towing duties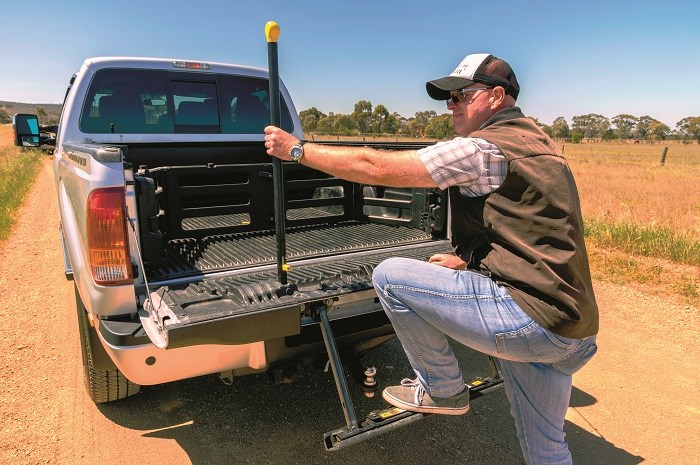 The flip out steps reduce the incidence of butt crack flashing when climbing into the tray.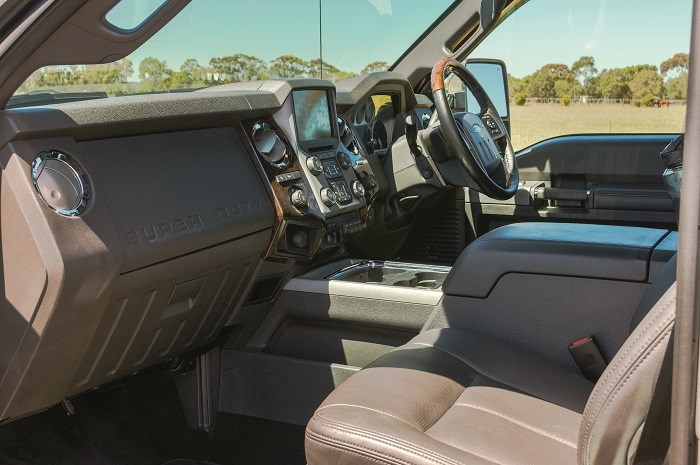 Leather luxury, nothing is too small or too far away in this interior.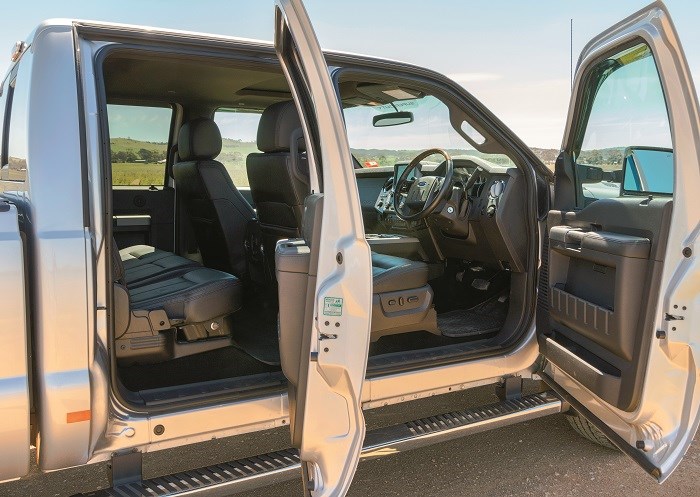 Room for five big adults in comfort.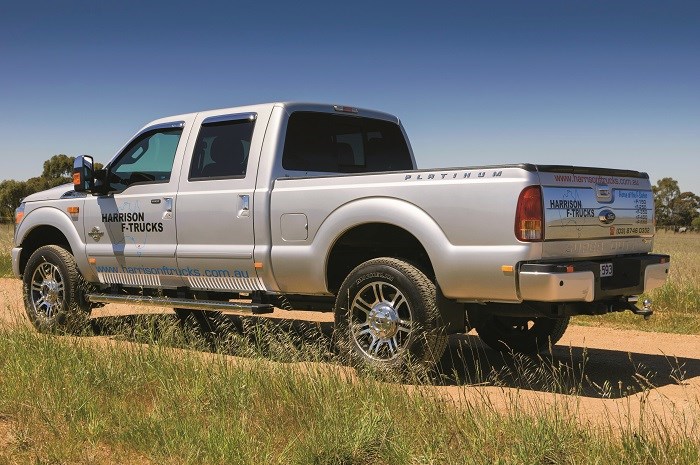 At 6.6m long it's a big truck but surprisingly agile.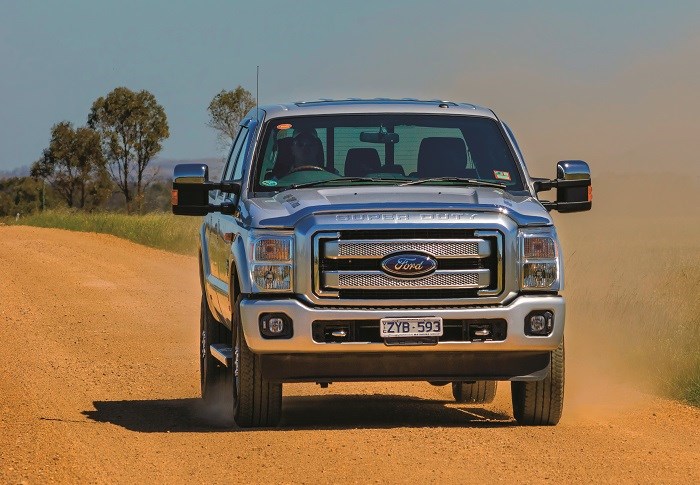 This thing just loves to eat up country miles.

Subscribe to our newsletter
Sign up to receive the Trade Farm Machinery e-newsletter, digital magazine and other offers we choose to share with you straight to your inbox
You can also follow our updates by liking us on Facebook. 

Graders For Hire | Cranes For Hire | Telehandlers For Hire | Excavators For Hire