REVIEW: Kymco UXV 500 UTV
---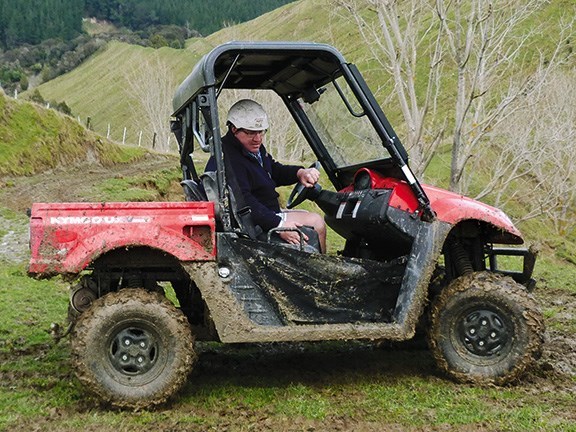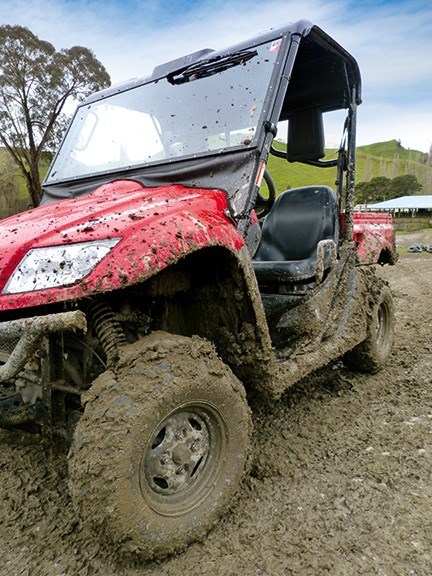 Even though the mud was half way up the wheels, the UXV 500 made short work of the steepest gradients.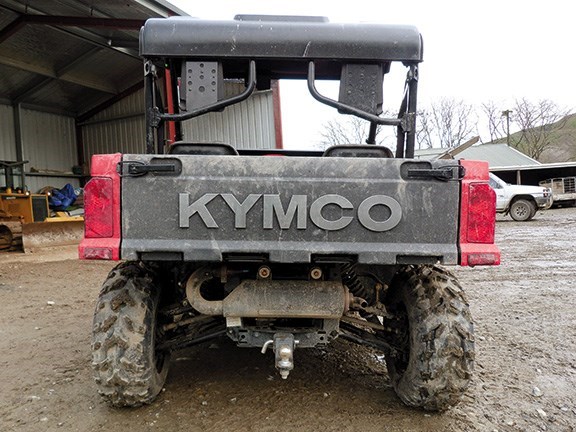 The deck is rated to a 190kg capacity.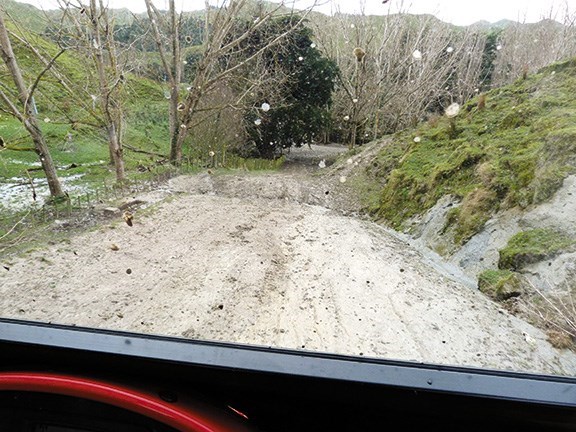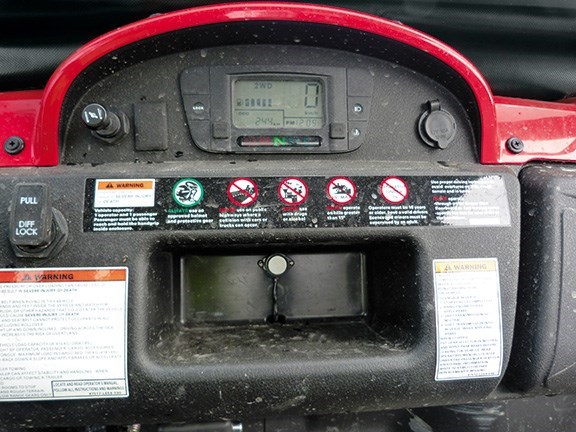 Digital instrument cluster is easy to read.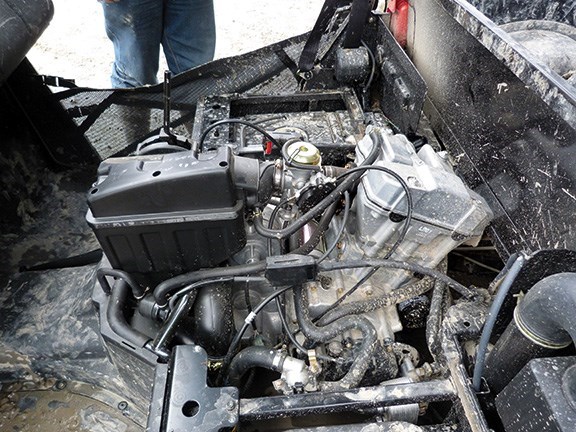 Ample room inside the engine bay makes servicing a breeze.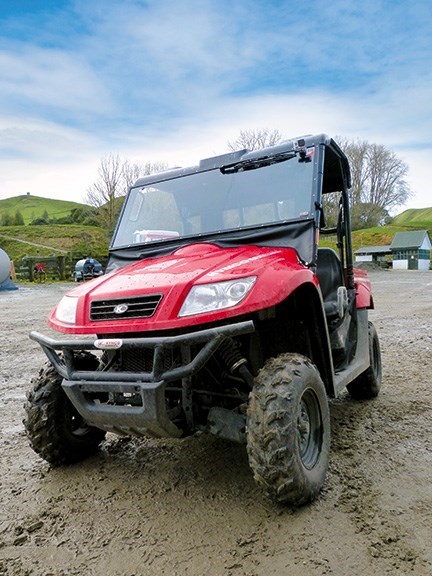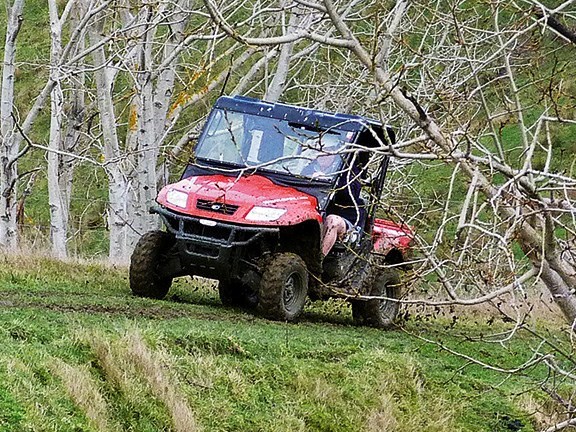 The UXV taming one of the easier sections of the 500m climb.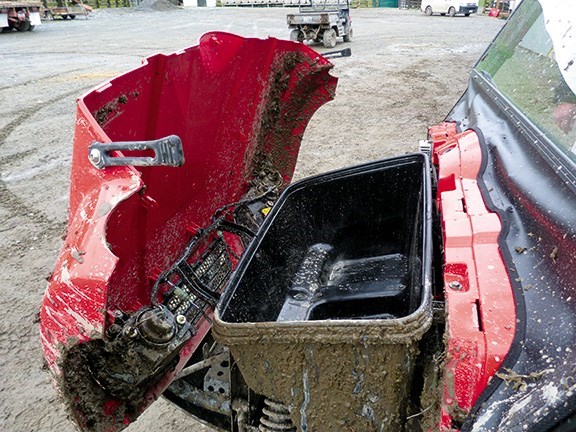 Heavy-duty plastic storage bins are placed under the front hood and driver's seat.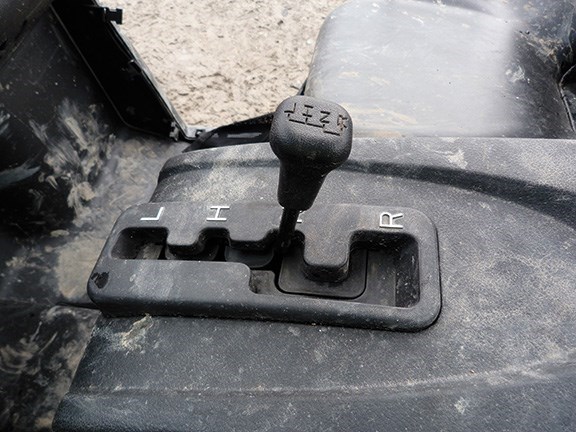 Transmission lever is mounted centrally

Being asked to take a trip into the country and test an all-terrain vehicle is an offer not likely to be turned down by most Kiwi blokes, especially when the playground is a 3,350 hectare farm in the middle of the North Island. Lyndsay Whittle tested Kymco's UXV 500.
Kymco's Australian website has a very loud voice. "Kymco is famous for making [all-terrain vehicles] as tough as a Mallee bull," it crows.
"These things are bullet proof and are designed simply to do the job you want it to do. No mucking about. We don't like bells and whistles that end up causing more problems than they solve and that's why we keep our machines simple, offering you a rig that is pretty damn hard to break."
Founded in 1963 Kymco is a Taiwanese company manufacturing motor scooters, motorcycles and ATVs for worldwide distribution. The company originally made parts for Honda but began marketing under the Kymco brand in 1992.
Product Recall
But in 2012 Kymco in the United States recalled various model UXV side-by-sides due to a potential fire hazard. According to media reports at the time, an exposed portion of the exhaust system could allow debris such as leaves or brush or other flammable materials to catch fire and burn.
The company pointed to about 1,876 of the following models built from 2009-2012: UXV 500/500i, UXV 500/500iLE and UXV500/500iSE.
The following Kymco UXV models were affected, including standard, LE and SE versions produced as 2009 through 2011 and a limited number of Model Year 2012 as Standard, LE and SE models including fuel injected models.
The company added consumers should discontinue the use of this product and return their UXV vehicle to a Kymco dealer in order for a repair kit to be installed.
As always, consider your farm equipment purchases with great care and ask your dealer a lot of questions.
Kymco UXV 500: The Test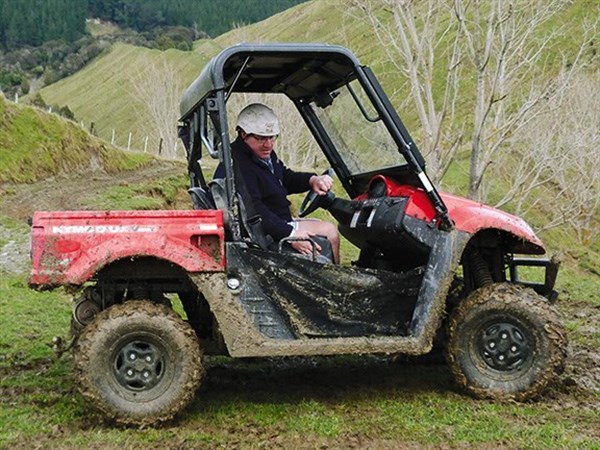 More recently in New Zealand, Manawatu area agent Mike Logie arranged to take me to Otiwhiti Station, which provided a decent area in which to give the UXV 500 a good workout.
Charlie Duncan, who co-owns Otiwhiti Station with his parents, says they've owned the UXV 500 for about a month now and it has already clocked up 250km (no you didn't read that incorrectly, that's 250km in one month).
Duncan says he's very pleased with the machine's performance to date.
On arrival at Otiwhiti Station, I'm introduced to Duncan, who points to a hill, the peak of which is perhaps 2 or 3km away, and says, "That's where we're going."
It's about this point in time I see the track leading up to the 'hill', which is in fact a small mountain. The track by the way is at least 300mm deep in mud. It turned out that it was almost twice that deep in places further along the track.
The drive to the top of the peak proves no problem for the UXV 500's 33hp (25kW), 500cc 4 stroke double overhead camshaft (DOHC) engine, even when the muddy track gets narrower and deeper as we climb.
The machine is running 'two up' today, although it's not hard to imagine that even if it was carrying the full 190kg it's rated to carry in its tray, it would still traverse this path with comparative ease.
Having reached the top and passed that test with flying colours, we're now looking at an equally impressive (and equally muddy) downhill trip on the opposite side of the hill. By now I'm thinking this'll be interesting.
With a combination of Duncan's adept driving ability and the UXV's exceptional all-four wheel engine-braking capability, we soon reach the bottom with as much ease as we'd traversed the uphill gradient.
The UXV 500 is very user-friendly and rides incredibly smoothly, even with its knobbly tyre pattern. It can be operated in either two- or four-wheel drive and in low or high range.
It travels the 2 or 3km back to the yard at 35km/h without revving the guts out of the engine too, yet I could have gone faster in comfort.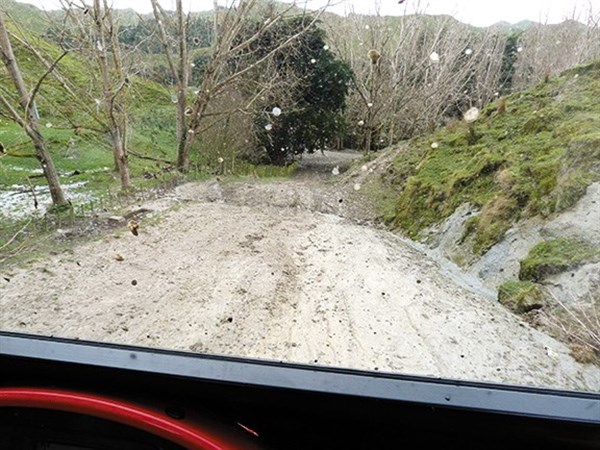 Some features I really like are the large windscreen, complete with windscreen wiper, as well as the detachable mesh side curtains I'm sure are partially responsible for my clean state of clothing when the trip is over.
The machine is fitted with an effective hand-operated park brake with an audible warning device. Reverse and neutral are selected as with any automatic transmission lever on the centre console.
The UXV 500's crowning glory by my reckoning though, is its ability to go up any hill courtesy of its diff lock and four wheel engine braking on a downhill slope.
The only negative I can find is that when I come to reverse it into the shed back at the yard, I have to turn my head to see behind due to the lack of a rear view mirror. However the guys from Kymco say fitting such a mirror is not a problem.
With a 550kg towing capacity and its ability to carry 190kg in the deck, Duncan says the machine ticks all the right boxes for his application. He must be happy with his purchase, as the test machine is actually one of two MXU 500s he operates here.
The Verdict
On the way back to my transport with Manawatu agent Mike Logie, I have time to reflect how overall I was pleasantly surprised at how comfortable such a tortuous route was made, both as a passenger and the driver.
If you're in the market for a side-by-side ATV, the Kymco UXV 500 is well-worth checking out.
Kymco UXV 500 Hits:
Four wheel engine braking
Diff lock
Operates in 2WD and 4WD modes
Minimal mud splash inside cabin
Comprehensive set of gauges
190kg carrying capcity in deck
550kg towing capacity
High and low ratio options
Kymco UXV 500 Misses:
No rear view mirror fitted (however easily remedied)
Kymco UXV 500 Specifications
Make/Model: Kymco UXV 500
Engine type: 4 stroke DOHC
Displacement: 498.5cc
Power: 33hp / 25kW
Cooling: Liquid-cooled
Lubrication: Wet sump
Gearbox: Auto CVT with H-L-N-R-P
Suspension: Independent dual A-arm front and rear
Brakes: Hydraulic dual disc at front; Hydraulic disc at rear
Dimensions: 2,870mm L x 1,498mm W x 1,849mm H
Ground clearance: 310mm
Fuel capacity: 32 litres
Weight: 525kg
Subscribe to our newsletter
Sign up to receive the Trade Farm Machinery e-newsletter, digital magazine and other offers we choose to share with you straight to your inbox
You can also follow our updates by liking us on Facebook. 

Graders For Hire | Cranes For Hire | Telehandlers For Hire | Excavators For Hire