REVIEW: 2014 Toyota HiLux Black Edition 4x4
---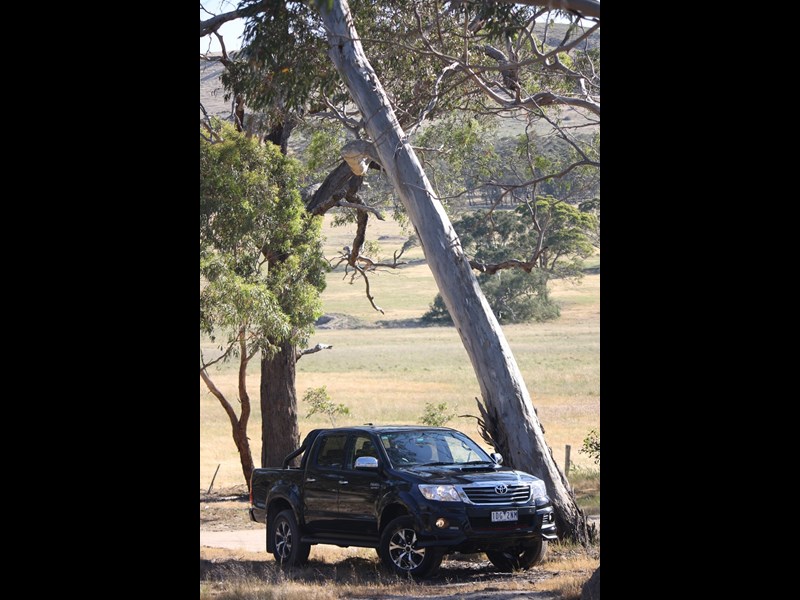 The Toyota HiLux has been Australia's favourite ute for quite some time now.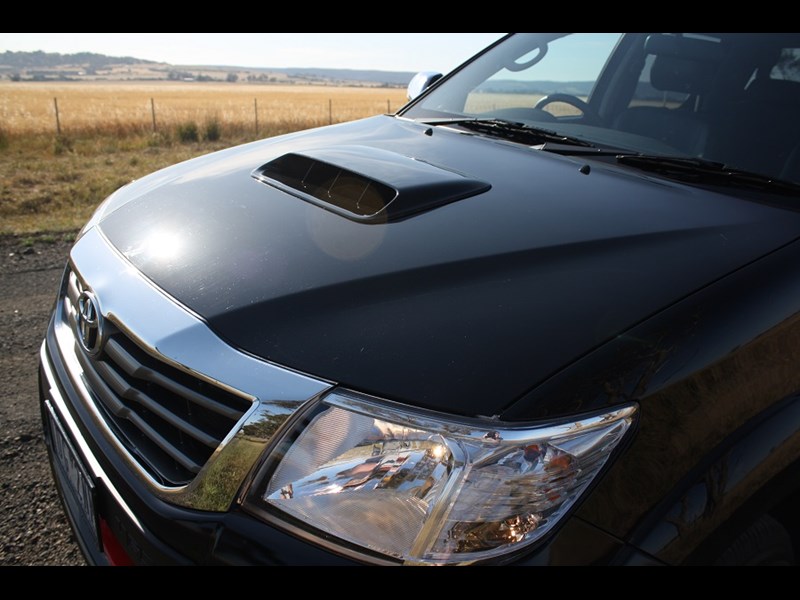 That intercooler intake gives the HiLux an angrier look.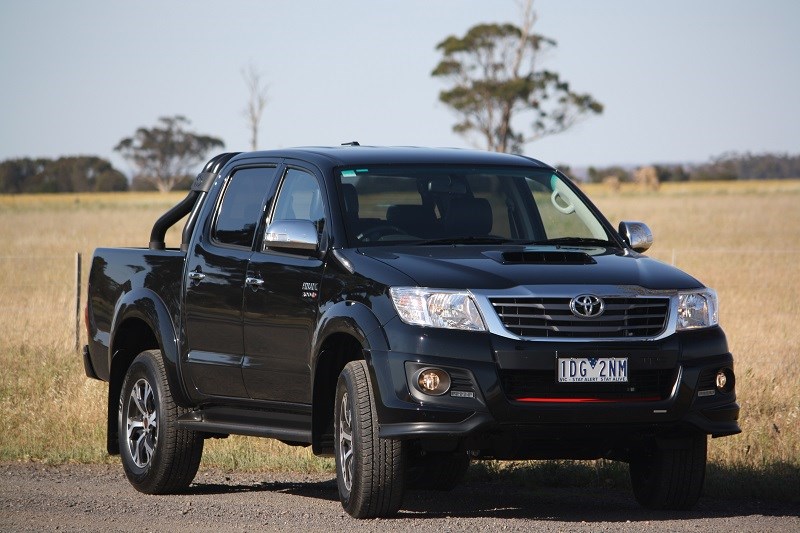 The TRD body kit looks a little wonky on the HiLux ... And black is definitely not a good colour for a ute.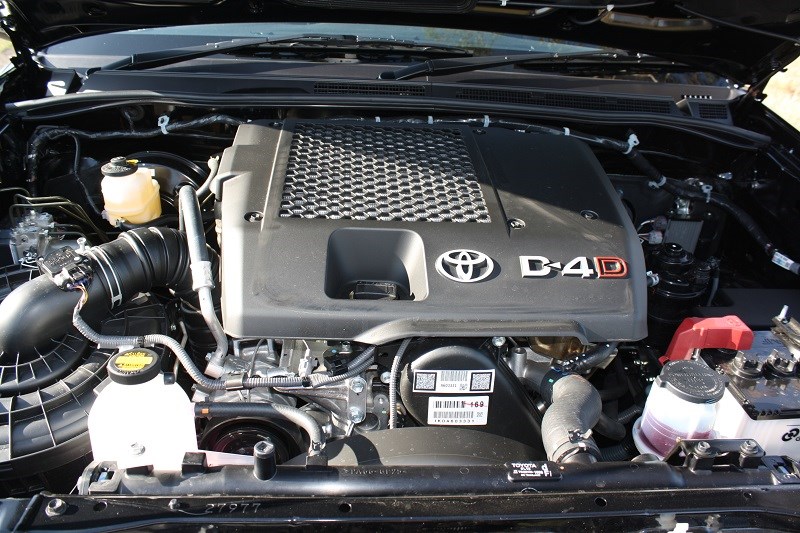 The 3-litre diesel engine is robust but is getting a little dated.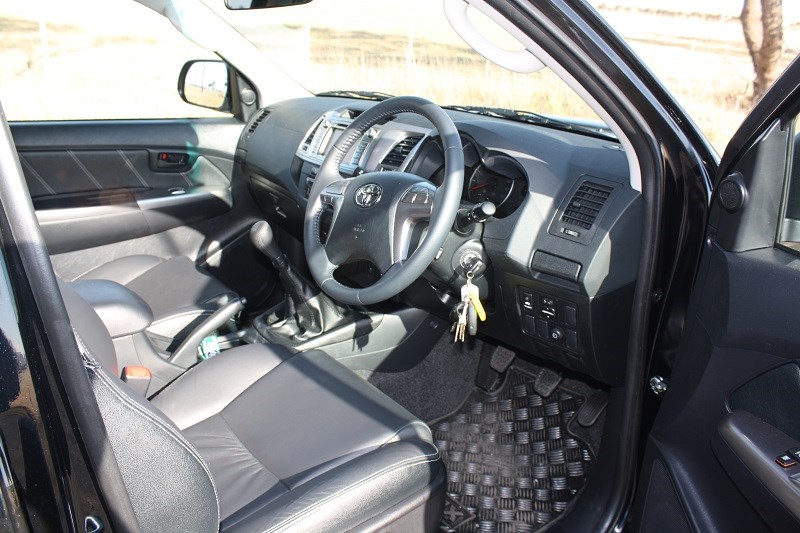 Leather gives the Black Edition ute a bit of sex appeal but it's a bugger on a hot day.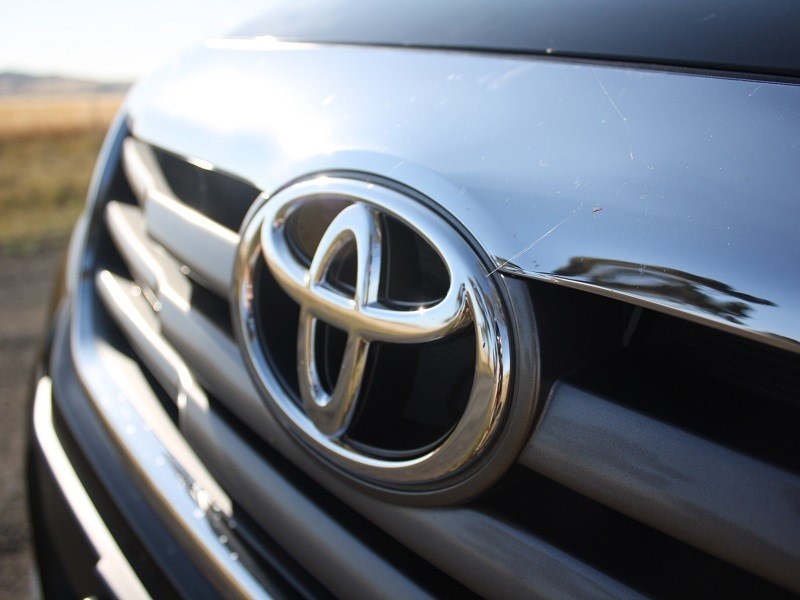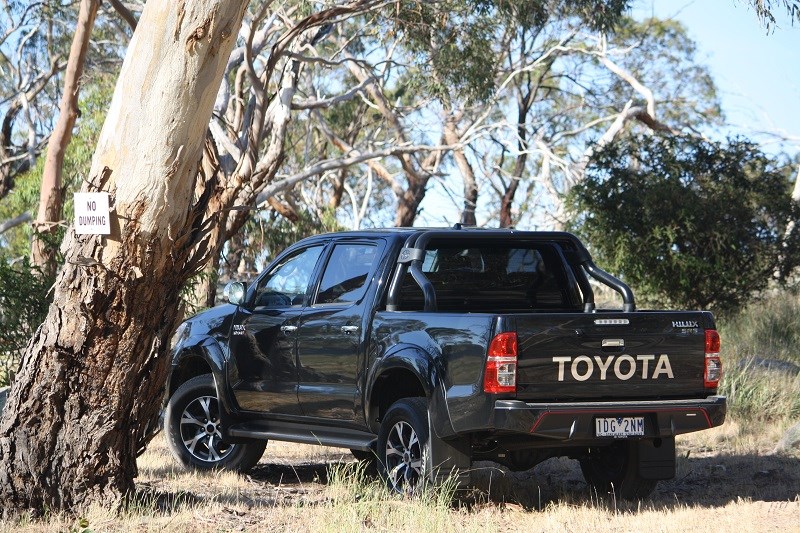 Even the rear end gets the TRD treatment.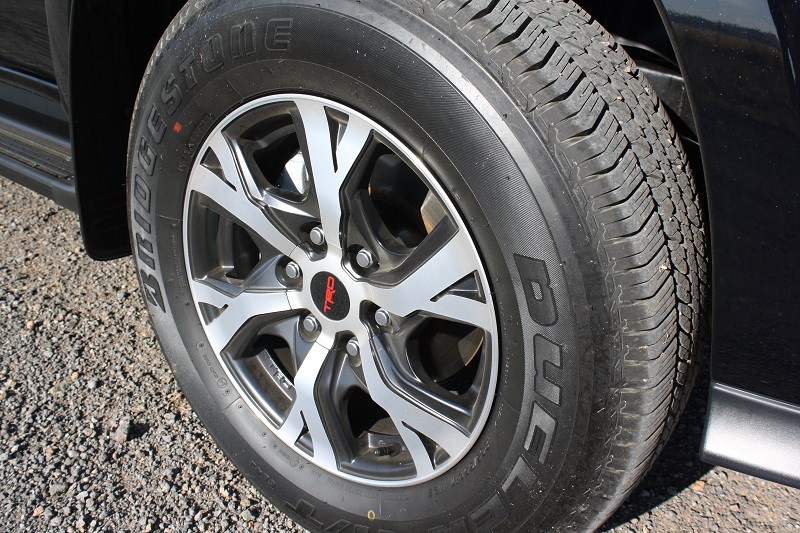 The TRD wheels give the limited edition hay hauler a nice lift.

Has Toyota's HiLux gotten sexy? MATT WOOD spends some time with the limited Black Edition.
Australia's most popular ute may be looking a little dated these days, and mechanically it has been overtaken by many of its competitors, but the HiLux still sells like hotcakes and maintains a significant sales lead over the newer and flashier Ford Ranger in second position.
There are rumours of a new HiLux lurking in the background. However, in the meantime Toyota has decided to release a limited run Black Edition to maintain interest in the stalwart model, or perhaps breathe some life into the HiLux's plain Jane image.
Contents
Toyota Hilux Black Edition: Overview and first impressions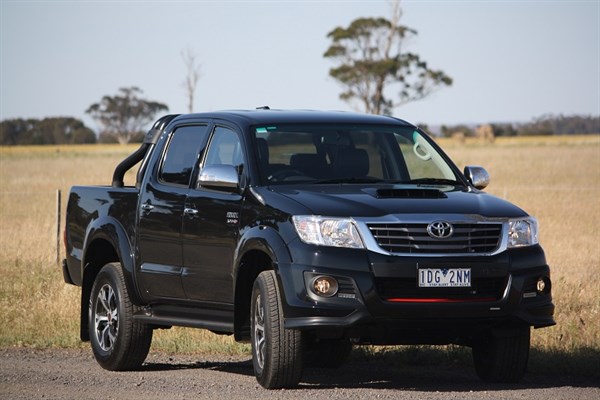 Only 1,000 Black Edition dual cab HiLux's are reportedly being built. The speccy Toyota is based on the top of the range HiLux SR5 4x4 Double-Cab Pick-up and for an extra $1,500 comes with the whole bowl of fruit, including satellite navigation, leather trim, climate control and heated seats just to mention a few.
But outside the Black gets a special 17-inch (43.2cm) Toyota Racing Development (TRD) body kit, special 17-inch alloy wheels and a flat black sports bar out back.
And in a first for a HiLux in Australia, the Black gets daytime running lights as well as some TRD badging and some red-coloured accenting around the body kit.
Paradoxically the base model Black is available only in white and will set you back $53,240 without on-road costs.
But for an extra $550 you can get a black one, which for anyone who does anything other than sit in the driveway and look at their ute will be a complete and utter pain in the butt to look after.
Looking at the HiLux Black Edition in the flesh leaves me with mixed emotions. I want to applaud Toyota's rare venture out of bland conformity and the fact it is making an effort to do something out of the box with Australia's favourite hay-hauler. But it's a bit wonky-looking, much like a ludgy middle aged dude trying to look young and hip. It's undignified.
The TRD wheels however, look great and really set the little truck off. I also like the intercooler bonnet scoop which adds to the beefy look.
Toyota Hilux Black Edition power and transmission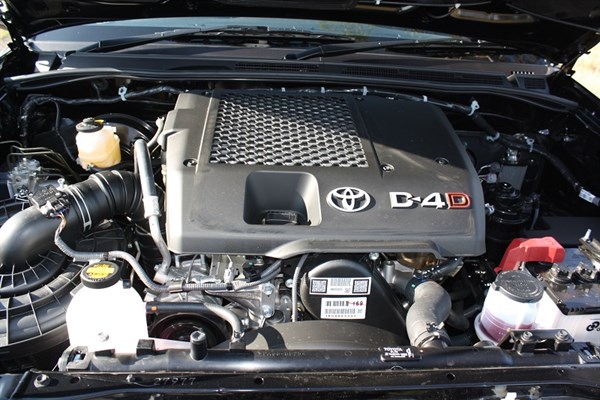 Under the bonnet lurks Toyota's venerable 126kW/343Nm 3-litre turbo diesel unit, complemented by a 5-speed manual transmission or an optional 5-speed auto for another $2,750.
Torque for the auto is little higher at 360Nm. It'll carry a tonne and will tow up to 2,500kg with trailer brakes.
The 3-litre 1KD-FTV engine is predictable and reliable but not really fancy and in this day and age lacks a little refinement. It just does the job.
As an empty truck it performs quite well across the rev range though it is a tad coarse sounding.
On one hand the 5-speed gear box seems a little passé, but the ratios work well. Some manual competitors with 6-speed transmissions struggle to maintain a work friendly first or reverse gear ratio and this can lead to premature clutch wear as owners wrestle with loaded trailers or big payloads in hilly country.
Old fashioned the 'box' may be but it handles low speed manoeuvring quite well and will idle off the line with ease.
It's also lagging behind the times a bit fuel wise, Toyota claims 8.3 litres per100km combined for the SR5 however, I struggled to get it under 11l/100km though I did once get a 10.5 litres.
Toyota Hilux Black Edition comfort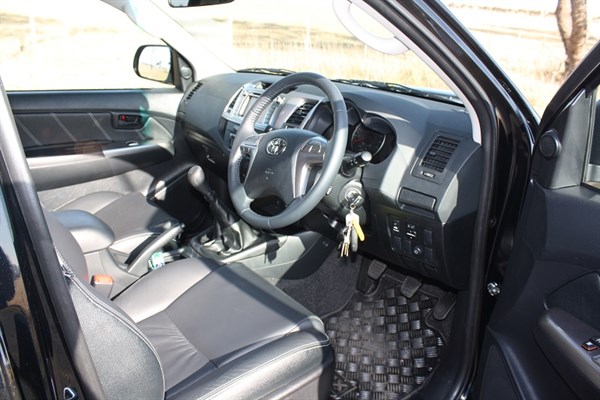 The leather seats are nice but the combination of leather, summer sun and black paintwork sees me leap into then leap out of the HiLux yelping and clutching my butt on a couple of occasions. I think leather in a ute is overrated and a black ute in the country is just nuts.
Seating is comfortable as is the driving position, and back seat accommodation is fine, but the 1-tonner's ride quality leaves a bit to be desired. Sure it's a 1-tonne truck but it wiggles, jiggles and bounces on country black top.
A load in the back settles it down but this kind of vehicle rarely runs around loaded all of the time.
Toyota Hilux Black Edition performance
Taking it for a squirt on some dirt settles the Toyota down and it becomes predictable to pilot though the larger rims do increase road rumble.
There's something quite 'chuckable' about the way a HiLux handles when off the open road. It's a point-and-shoot type of proposition that forgives and overzealous steerer and the stability control program isn't too heavy handed.
My criticisms will no doubt ruffle the feathers of the HiLux faithful especially amongst the serious four-wheel drive crowd, and to be fair the Toyota is a pretty decent off-roader out of the box.
Ground clearance of 227mm and modest overhang makes crawling over most obstacles quite easy as long as you don't get too carried away. The 2-speed transfer case uses the old fashioned selector lever which requires some mechanical sympathy and deft timing to engage.
The Verdict
Overall, the tough, reliable image of the HiLux however remains intact. Regardless of what its fancy pants girly competitors serve up this Toyota remains king of the sales heap and has even at times been Australia's best-selling car full stop.
 It would be easy to shoot the HiLux down with criticism about its lack of innovation, lack of towing capacity and lack of refinement, but the buying public disagrees in droves.
The Black Edition HiLux is a welcome attempt to sex-up the tradies' and cocky's friend. It just falls a little flat in the execution, especially in a segment that's bulging with excellent alternatives.
Toyota Hilux Black Edition Hits:
Dependable reputation
Off-road ability
TRD wheels
Toyota Hilux Black Edition Misses:
Dated drivetrain, needs more mumbo
Body kit just looks plain wrong
On-road ride
Toyota Hilux Black Edition Specifications
Make/Model: Toyota HiLux 4x4 Black Edition Double Cab Pick-up
Engine: 3-litre turbo diesel
Transmission: 5-speed manual (5-speed auto optional)
Power/Torque: 126kW/343Nm. (Auto 360Nm)
Payload: 1,000kg
Towing: 2,500kg (braked)
Special equipment: 17-inch alloy wheels, TRD body kit, sport bar, side steps, fog lights, climate control, leather seat inserts, sat nav, heated and cooled electric seats.
Price: $53,240 plus on-roads (manual)
Warranty: Three years/100,000km
For the detailed test report, pick up a copy of New Farm Machinery magazine issue 18, on-sale February 2. Subscribe now to never miss an issue!
Subscribe to our newsletter
Sign up to receive the Trade Farm Machinery e-newsletter, digital magazine and other offers we choose to share with you straight to your inbox
You can also follow our updates by liking us on Facebook. 

Graders For Hire | Cranes For Hire | Telehandlers For Hire | Excavators For Hire