REVIEW: 2015 Can-Am Outlander L 450 ATV
---
Can-Am's new under $10,000 'farm spec', Outlander 450L challenges everyone to try harder. BARRY ASHENHURST tests it.

Despite the larger engines and higher power ratings we've seen invade the local all-terrain vehicle (ATV) market in the last 10 years, Aussie farmers ignore the newfangled trend, for the most part anyway, and stick with the notion that around 400cc to 500cc is all they need the get the job done.
The farmers I know don't care much for power-steering and diff locks or even fancy colours. Most farmers buy their quads from the same dealer for years too, because they trust him, easily as important as how good his product might be.
Unless my memory has slumped with the rest of my personal topography, there was a time when most farm quads weighed well below an arbitrary 300kg threshold, but manufacturers have stormed that barricade too.
The 450L we're looking at here has an unfuelled weight of 308kg and some four-wheel drive models are much heavier.
Aligned with their conservative streak, our food growers set a limit on what they're willing to pay for a small utility vehicle in the 400cc to 500cc range, and that limit is $10,000. That's why the 450L is important to Can-Am. It's the first time the company has offered a midsize 4WD quad under $10,000.
Our test vehicle is prepped and supplied by Gatton Powersports. We ride the 450L all day on a hilly cattle property not far from Brisbane, where we evaluate all ATVs for New Farm Machinery, and find nothing diabolical to complain about.
Contents
Power steering (or lack thereof)
Can-Am Outlander L 450 overview 
There's nothing mechanically startling about the 450L. It could be described as a stripped-down Outlander XT, with front and rear racks, steel wheels and independent front and rear suspension, but no bumpers, hand guards, full-length bash-plate or power-steering. That's how they make a quad cheaper. They take stuff off.
It has the second generation 'surrounding spar' chassis common to Outlanders, plenty of fuel capacity (20.5 litres), independent suspension front and rear and disc brakes. The racks are steel, so are the wheels, and the tyres are 25-inch (635mm), four-ply Carlisle Wolfs.
As you can see in the photographs, the undercarriage has some protection but there's nothing to deflect rocks on the rear CV boots. 
Plastic on the test vehicle was the new but unimaginatively named 'Light Grey' and we like it. This colour has a better chance of hiding dings and scars than the current range of body colours and looks cool.
With a 26cm ground clearance it has no trouble coping with the obstacles at which we drove — boulder fields, the log pile in Snake Valley, a river — but that's exactly what we'd expect from a well-designed ATV.
Can-Am Outlander L 450 engine and transmission
Engine braking from the 427cc, fuel injected Rotax is very good, even with the transmission in high range. We have to agree with all those farmers who swear they don't need more than 500cc for farm work.
Top speed is somewhere between 90 and 100kn/h — we don't push too hard, the poor bloody thing is brand new.
Can-Am Outlander L 450 ride quality
Ride quality is influenced by many factors — tyre width and pressure, how much you're carrying, the nature of the terrain and so forth, but we'd have to say the ride on this quad is fairly stiff. We figured rack capacity has something to do with it.
Recommended front rack capacity is 54kg and rear rack capacity 104kg. The suspension has been dialled in to cope with that weight, which inevitably produces a firm ride.
Can-Am Outlander L 450 power steering (or lack thereof)
As mentioned, this model comes without power steering. Most farmers tell you they don't need power-steering but once they've ridden with it they tell others how good it is.
As they soon discover, power-steering is not about turning the bars with less effort; it's about retaining your grip on them after hitting a flinty object, like an unseen rock or log in long grass, while remaining in control of the vehicle.
It's not uncommon to hit an object like a hidden log, particularly when you're nipping along a bit, and have the impact rip the bars from your hands. This is how broken wrists and thumbs occur, and riders getting whacked in the guts by one end of a handlebar. Doesn't matter how skilled a rider you are, this sort of incident will happen sooner or later.
It can happen on a quad with power-steering too, especially if you're powering along on unfamiliar ground and have no idea what lies ahead or you're fiddling about with something and not paying attention to the terrain's lumps and bumps.
But the likelihood of that with a power-steered quad is reduced by 70 or 80 per cent when you're travelling at what most of us would consider normal speeds. Hence it'll be interesting to see what part power-steering plays in the success or failure of the L model.
It's a better quad than the non-power-steered Arctic Cat Core 500, though not by much, but not as useful as the electrically power-steered Polaris Ute that currently sells for $10,000.
However, during our test, we found the lack of power-steering not being a problem at all. With empty racks and us travelling at the aforementioned conservative speeds, it is difficult telling if the quad has power-steering or not, the biggest compliment you could give this model.
The Verdict
Can-Am Outlander L 450 Hits:
Good all-round farm spec
Farmer's price
Strong engine braking
Can-Am Outlander L 450 Misses:
NOTE:
No doubt you've noticed we've never tested Honda or Kawasaki product in this magazine. The reason isn't important. However, if anyone out there has a current model Honda or Kawasaki they'd be prepared to part with for a day, we'd like to hear from you, particularly if you live close to Brisbane or Ipswich where we do the testing. We're happy for you to spend a day with us and take part in the evaluation. Please e-mail Barry Ashenhurst if you're interested: bazzlight@iinet.net.au.
Can-Am Outlander L 450 Specifications
ENGINE
Type: Single-cylinder Rotax
Capacity: 427cc
Fuel delivery: EFI
Fuel tank capacity: 20.5 litres
TRANSMISSION
Type: Dual-range CVT with Park, Neutral and Reverse.
Drivetrain: Selectable 2WD/4WD with Visco-Lok front diff
Park brake: In the transmission, and a bar-mounted lever controlling a rear disc
RUNNING GEAR
Front suspension: Independent double A-arms
Rear suspension: Independent trailing-arm
Rear suspension travel: 22cm
Rear suspension travel: 22cm
Ground clearance : 26cm
Tyres: 25in Carlisle Trail Wolfs
Brakes: Dual ventilated front discs; single rear disc
DIMENSIONS
Length: 211cm
Width: 116.8cm
Height: 124cm
Wheelbase: 129.5cm
FEATURES
Prewired for a winch, DC outlet on console, Multifunction instruments (speedo, tacho, odo, trip and hour meter, fuel gauge, gear position, 4WD indicator, diagnostics, clock), Dual 35-watt front lights
Price: $9,490
For the full test report, pick up a copy of New Farm Machinery magazine issue 18, on-sale February 2. Subscribe to the magazine to never miss an issue.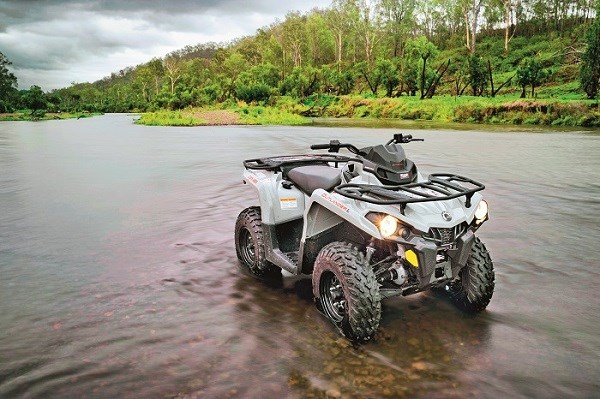 Looks good even when drowning. We like the practical grey plastic, the excellent engine braking and the price ($9490). The engine is a tough little Rotax with plenty of 'farm torque'.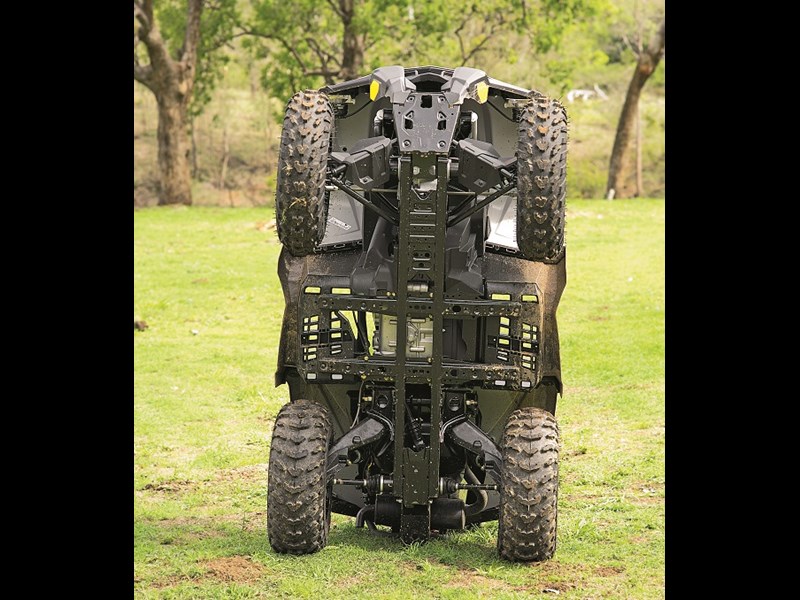 The low price means no bash-plate, power-steering or hand-guards but the rest of this machine is pure Outlander. If we were forced to choose between this quad and the best from China, the CF Moto, say, we'd take the Can-Am every time because we know it'd work harder for longer.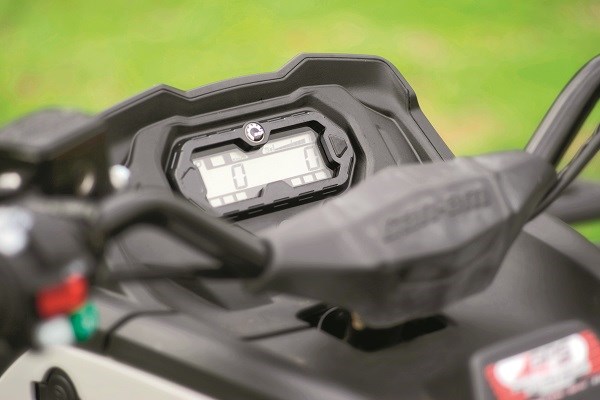 Typically, you get a multifunction meter with all the info you can't be bothered reading — though it's nice to know when you're low on juice.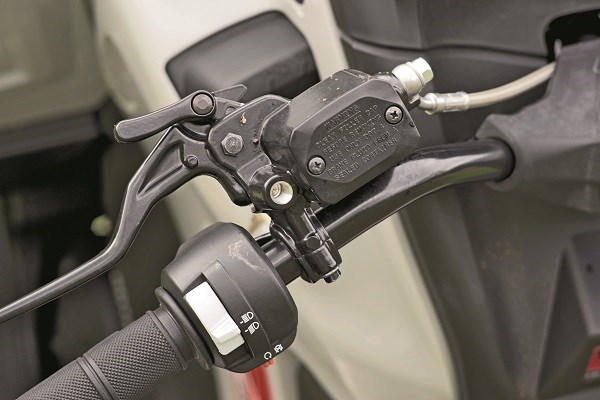 There's a park slot in the transmission, and a bar-mounted lever activating the rear disc. The second method is useful when you're opening and closing gates all day; you can flip the lever for the park brake while leaving the transmission in gear.

Subscribe to our newsletter
Sign up to receive the Trade Farm Machinery e-newsletter, digital magazine and other offers we choose to share with you straight to your inbox
You can also follow our updates by liking us on Facebook. 

Graders For Hire | Cranes For Hire | Telehandlers For Hire | Excavators For Hire