REVIEW: 2015 CFMoto X550 ATV
---
CFMoto brings in a 500cc farm spec with all the ammo and a great price, BARRY ASHENHURST reports.
CFMoto is on a roll right now and the X550 is an important model in their overall marketing plan for Australia. After all, the majority of Aussie farmers tend to favour a mid-size machine like this one, with around 500cc, fuel injection –  there aren't many carburetted engines around anymore — plus switchable 4WD and independent suspension.
They don't necessarily want electric power steering but they get that too, all for $8,790.
Is that good value for money? On the face of it, bloody oath, and a lot cheaper than the splendid Can-Am 500 DPS which, as we speak, appears on the official dealer price list at $11,690.
We have not had any trouble getting CFMoto in our pages so far, thanks to two obliging dealers, Gatton Powersports (Queensland) and TJM Hunter Valley, the latter owned and operated by a friend of mine, Mick Roycroft, former factory racer with the Can-Am motocross team.
Roycroft has offered us the X550 and that's how we ended up, on a stinking hot day in January this year, racking up saddle time with the brand new two-seater.
Contents
CFMoto X550: An overview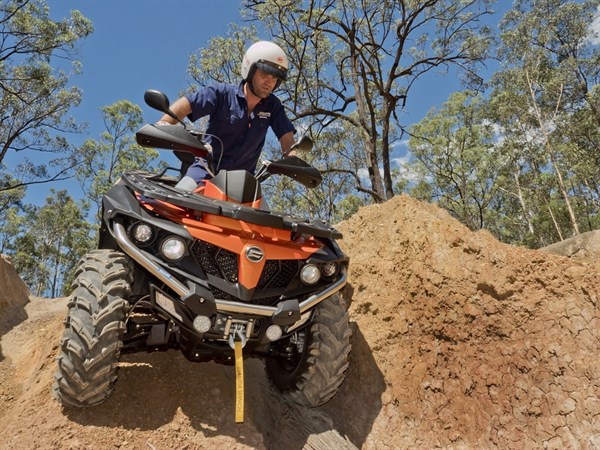 CFMoto put a lot of work into making the 550 look good, that's for sure. The machine we tested had glow-in-the-dark orange paintwork, dual headlights, a pillion seat with nice grab-rails and footrests, digi instruments and aggressive rubber.
The Harry Highpants handlebars took some getting used to but may in the long run prove more comfortable for older riders than the lower-set bars we see on nearly all working ATVs.
This CFMoto thing isn't 'heavily optioned', it has all the fancy gear when you buy it, such as 12 inch (31cm) tyres on alloy rims, a tow pack, a winch, hand-guards, mirrors, a stainless steel front bumper, heavy duty front and rear racks, and of course power steering.
There's nothing unusual about the controls, those too have been standardised, and a good thing.
CF Moto X550 power and transmission
Power from the 495cc, single overhead camshaft (SOHC) engine was what I'd expect from a vehicle in this class.
It's not exactly a powerhouse but most people who use this type of quad on a farm, for hunting or for recreational purposes won't think it slow or sluggish.
Unlike most Chinese transmissions, this one had a gear selector we could move without first warming it up with a hammer and that was a nice change. I imagine that with frequent use the action will become smoother still.
Something I didn't appreciate was the amount of radiant engine heat finding its way through the plastic body panels under the fuel tank and onto my legs.
It was, as I said, a stinking hot day, in fact so hot the engine experienced what to us seemed to be vapour-lock, but radiant heat is not my favourite ergonomic problem and if they want to keep Australian users happy, CFMoto should fix the problem.
CF Moto X550 electronic power steering
The power steering was light and easy, as they say in the margarine business, but this particular quad didn't steer as accurately as a Can-Am or any of the Japanese brands we've ridden.
The reason for that, says the distributor, is that wheel alignment wasn't what it should have been and had that been checked before the test we might have expressed a different opinion.
In any event, as we've said elsewhere in stories on Chinese equipment, like the others, CFMoto has a way to go in its suspension and steering set-up before they're cocky enough to challenge Polaris or Can-Am to a suspension shootout in the jungle.
What do we think of power steering? Love it! It makes a quad safer and more comfortable — safer because it just about eliminates steering kickback, and more comfortable because it's a lot easier to steer a quad when you're getting help.
You wanna mock electronic power steering (EPS)? Go right ahead, but once you've owned an EPS unit you won't be going back to manual steering.
CF Moto X550 brakes and performance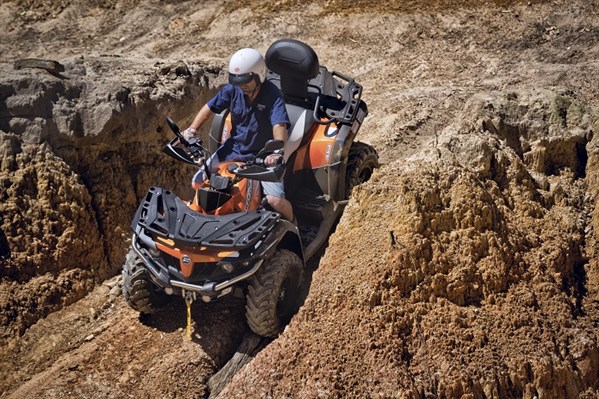 The braking system on this vehicle is familiar. The right-hand lever activates the front brakes and the foot pedal activates front and rear brakes.
There's no handbrake lever on the bars, only a Park slot in the transmission. We'd prefer a mechanical lever acting on a rear disc, because it enables you to park the machine while leaving it in gear, something you appreciate when you have to open and close frickin' gates all day.
Most quads and dirt bikes with a strong front brake convey that impression immediately, something I'm disappointed to say the X550 didn't do.
The front brake felt soft to me, in fact so much so it surprised me. There may have been a master cylinder problem, an air bubble in the system or the brakes may have required bleeding.
Whatever, I'd be happy to evaluate the front brake on that quad again once the famous bedding-in process had run its course and was Baz-Ready.
The shocks have no adjustment other than preload, nevertheless we thought ride quality was pretty good.
The Verdict
CF Moto X550 Hits
•             All the goodies
•             Looks flash
•             Good value for money if you look after it
CF Moto X550 Misses
•             Radiant engine heat is uncomfortable
•             Front brakes feels soft
CF Moto X550 specifications
ENGINE
Type: Single cylinder SOHC four-stroke
Capacity: 495cc
Fuel delivery: Electronic fuel injection (EFI)
Fuel tank capacity: 18.5 litres
TRANSMISSION
Type: Continuously variable transmission (CVT)
Park brake: Park in transmission
RRP: $8,790
For the detailed test report, don't forget to pick up a copy of New Farm Machinery magazine issue 19, on-sale March 2. Subscribe to the magazine to never miss an issue.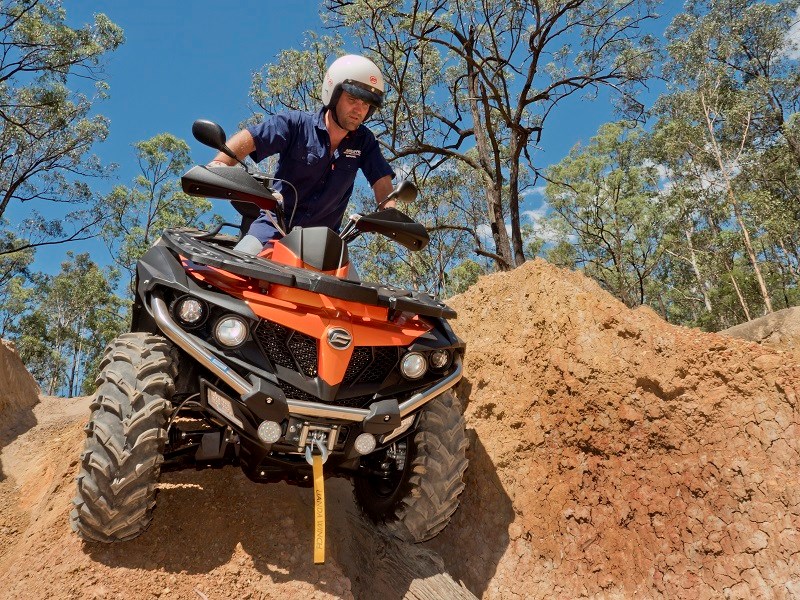 As a 550cc 'farm spec' this model is important to CFMoto. Not many under-$10,000 quads have power steering and all the other goodies this model offers.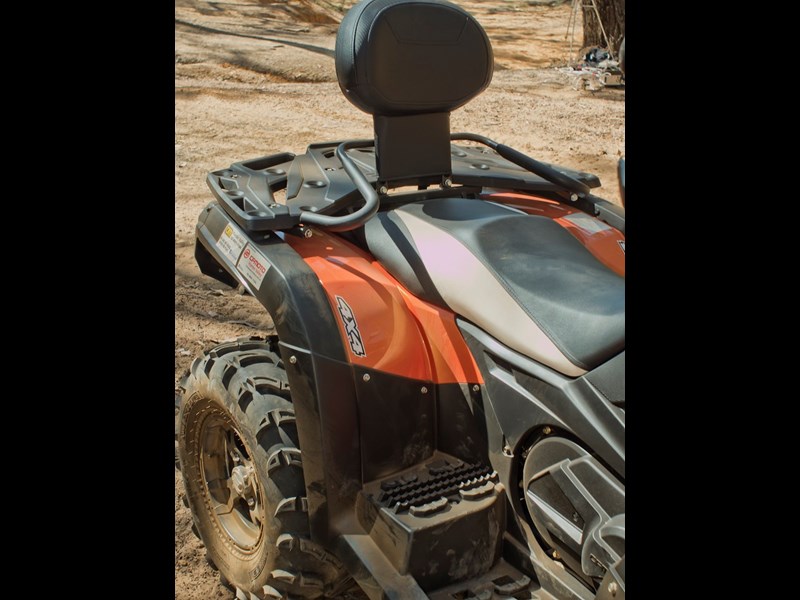 Whether or not you need a two-seater, sometimes it sure comes in handy. And in our experience, longer wheelbase two-seaters handle some obstacles better than short wheelbase single-seaters.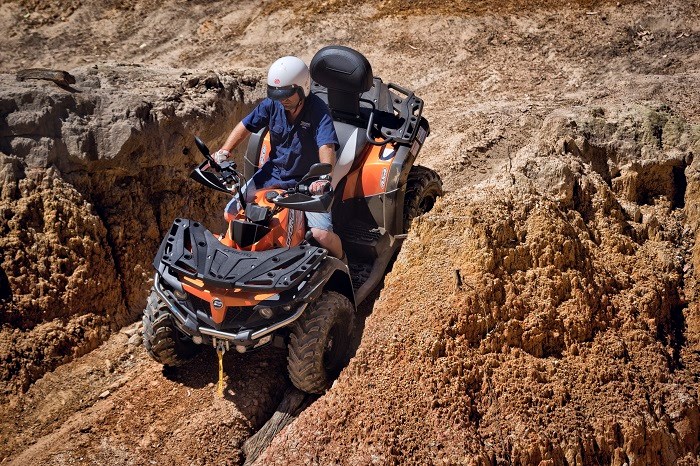 Switchable 4WD, diff locks and plenty of rack space with lots of tie-down points make this a practical farm worker.

Subscribe to our newsletter
Sign up to receive the Trade Farm Machinery e-newsletter, digital magazine and other offers we choose to share with you straight to your inbox
You can also follow our updates by liking us on Facebook. 

Graders For Hire | Cranes For Hire | Telehandlers For Hire | Excavators For Hire