REVIEW: Dieci Poultry Pro 30.7 TCL telescopic handler
---
Hazeldene's chicken farming facility near Bendigo in Victoria has just acquired the latest Dieci Poultry Pro telehandler. STEVE KEALY checked it out just days after its arrival.
Telescopic handlers are Italian industrial equipment maker Dieci's speciality. It has been the company's core business since 1983, that's practically all they do, besides a couple of cement mixers and a dump truck.
So it comes as no surprise that Dieci know a bit about what makes a good telehandler. And the answer seems to be: variety.
Dieci makes a dizzying number of application specific models: there are seven ranges of agricultural telehandler which include 35 separate models; then there are the construction telehandlers (seven models) and the heavy duty Hercules telehandler too. Of all these models, 25 of them have been renewed or revamped in the past three years.
Beside their domestic market, Dieci products are sold in at least 24 other countries.
New Farm Machinery was invited to experience the brand new Dieci Poultry Pro Series 7 30.7 TC at work in a specialist agricultural environment; the Hazeldene chicken farming facility near Bendigo in country Victoria.
Contents
Dieci Poultry Pro 30.7 TCL: The machine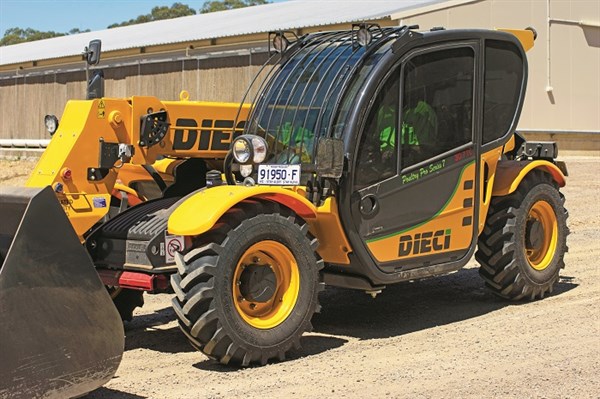 As the name suggests, it's a model designed specifically for use in the poultry industry, with a nominal 7m hydraulically extendable boom capable of a 3.0 tonne lift — and fitted with smaller wheels than its higher-riding stablemates.
The minimum height of the unit is brought under 2m, so it can fit into sheds and under gantries typically used for feeding and watering birds in their specially protected halls.
The machines are kept under 2m wide, so they can fit through standard shed doors, too. At 4.67m long, the Dieci is smaller than some sedans, but don't be fooled by its diminutive size: this machine's the real deal and it weighs a chunky 6.1 tonnes.
Ancillaries such as the mudguards are made of easily washed plastic and the chassis of the Dieci is stout and solid steel.
Hazeldene chicken farm
Despite its rural address, the sprawling Hazeldene main facility operates on an impressive scale; it's a family business, built up over 75 years.
Now Hazeldene supplies all the major Australian supermarket chains, plus grocers, butchers and retailers large and small, right across the country.
They're justifiably proud of the fact they pioneered RSPCA Approved chicken and improved welfare standards. Farming is a business and when you're dealing with millions of birds, there are cost implications in making wholesale changes, but Hazeldene hasn't shied away from doing what they do in a humane and healthy fashion.
Understandably coy about revealing exact numbers, senior manager Brett Drew concedes Hazeldene's activities involves millions of birds; they need to be housed, fed, watered and kept safe, clean and dry for the duration of their sojourn in Hazeldene's care.
Dieci Poultry Pro 30.7 TCL engine and maintenance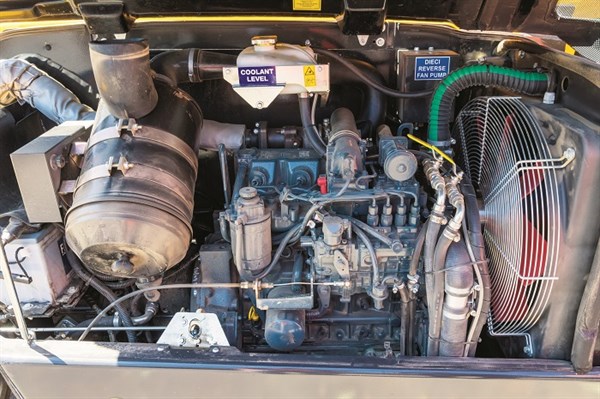 Making the new machine a favourite with operators is a turbo-diesel Kubota engine which replaces the Perkins power unit used in previous models.
The Japanese engine is no more powerful, but it does develop more torque, and at lower revs, so the machine's not working as hard to achieve the same performance. This is appreciated by operators who find it easier to use for lengthy periods.
As is common practice, the motor and all the mechanicals are slung in a pod on the side of the vehicle, so maintenance is quick and easy, and downtime in minimised.
Like its rivals, the Dieci is all-wheel drive with hydrastatic transmission and it has quad- and crab-steer capabilities for slotting into tight spots. Daily fluid checks and greasing routines are the work of minutes at the start of each shift.
Dieci Poultry Pro 30.7 TCL cabin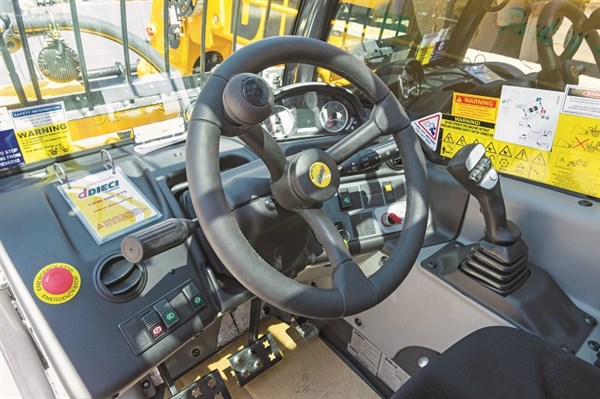 The cabin isn't especially big: you get the feeling that it is designed around the average slim Italian and big people might find it a bit tight.
That said, the controls are extremely well-placed and you don't get a sense of any wasted space.
There's a sprung seat with a distinctly car-like instrument panel, though the forkie's knob on the small, chunky wheel and the multi-directional joystick set this car apart from your average Ferrari.
The joystick offers three-in-one simultaneous control over the boom and bucket and the cabin has touch-sensitive dead man technology for safety — a backside needs to be in the seat before the machine can be operated, for example.
The panoramic glass is deeply tinted and there's a stout set of impact bars on the outside.
Dieci Poultry Pro 30.7 TCL: The test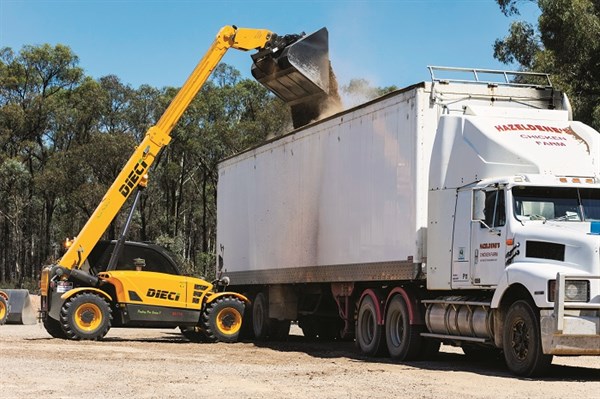 Supplies of feed are trucked in and out. In one cavernous shed there is a vast stockpile of peas, with the Dieci telehandler busily packing about 1.6 tonnes into its bucket at a time then dropping it into a high-sided trailer for despatch to another facility.
The dust generated by this activity hangs like a thick fog in the air and although the storage shed is the size of a double-length hanger, there's no cross-breeze to shift the haze.
This doesn't trouble the Dieci operator a bit: a positively pressurised, air-conditioned cabin with extremely fine filtration means his in-cabin working environment is clear and dust-free.
In addition, the Dieci is fitted with LED headlamps which cut through the fine air-borne particles so he can easily see to complete the task at hand: 29 tonnes of peas are loaded up in a matter of minutes, ready for despatch.
On the subject of lights: heavy equipment used in proximity to poultry is often fitted with blue lamps. Operators will work at night and the blue lamps don't disturb the roosting birds.
Later, the machine is scooping up what thousands of birds leave behind: manure. A 50mm layer of sawdust needs to be removed periodically, along with accumulated droppings. It too is hoisted into an open-topped trailer and carted off to be sold as fertiliser.
While dust isn't a problem this time, the operator's still pretty glad of that positive-pressure and finely-filtered air-conditioner.
In fact, the machine is very much designed around keeping the operator clean, cool and comfortable, something which counts heavily in Dieci's favour when Hazeldene was looking to add another telehandler to its fleet.
Although the machine is fitted with a bucket, there are the extra hydraulic fittings to allow the fitment of a four-in-one bucket or a wide range of conventional attachments, even including a small lattice jib.
If there's a criticism of the boom and bucket, it's that the bucket isn't free to swing past vertical when it's dumped a load.
Instead, the steel bucket slams hard up against the hydraulic ram's end-stop, just shy of vertical. This doesn't stop the load dropping, but careless operation will eventually hurt the ram.
The Verdict
While it's undoubtedly a functional working tool to perform arduous tasks all day, every day, it's also got a style and a class that's part Michelangelo, part opera.
Open the cabin door and you expect to hear something from La traviata playing, sotto voce. Look up and it's somehow surprising a section of the Sistine Chapel isn't reproduced on the cabin roof.
Dieci Poultry Pro 30.7 TCL Hits:
Compact: this thing will fit in a cupboard under the stairs — and be able to turn around in it, too
Cabin: neat, ergonomic, tinted, protected and pressurised
As Italian as espresso, Ferrari and pasta.
Dieci Poultry Pro 30.7 TCL Misses:
Could do with a fully vertical free-drop on the bucket
Loud: maybe not for the operator, but for people around it, ear-defenders are a good idea — but aren't they always?
Cabin: neat and ergonomic, but as small as a cupboard under the stairs. Big operators will feel like a bear in a fish tank
Dieci Poultry Pro 30.7 TCL Specifications
Make/model:    Dieci Poultry Pro Series 7 30 TC
Engine: Kubota
Maximum power:            74.5kW (101hp)
Maximum speed:            35km/h
Transmission:    Hydrostatic
Find out more about Steve's experience with the new Dieci Poultry Pro 30.7 TCL telehandler online next week. Pick up a copy of New Farm Machinery magazine issue 20 for the full test report.
Look up the Dieci telehandler specifications
Find Dieci telehandlers for sale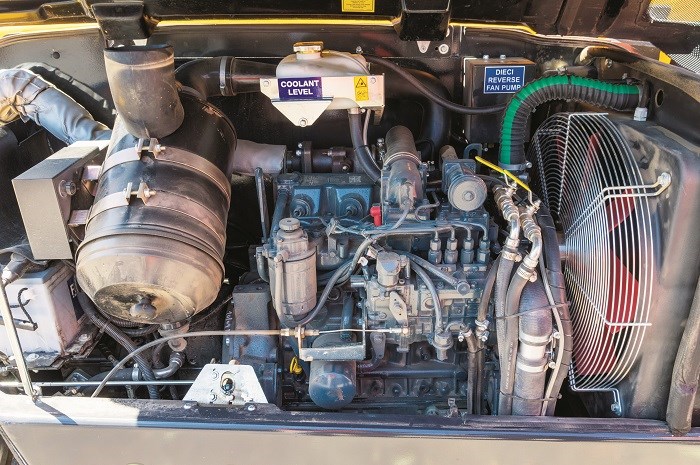 The new Kubota engine is already a firm favourite: lower revs, more torque and easy maintenance.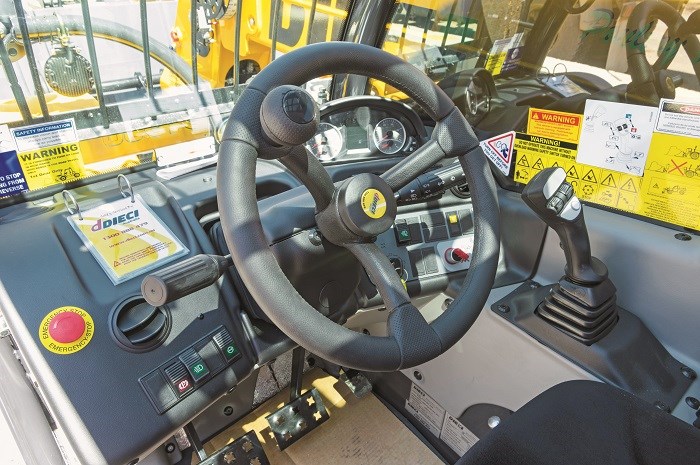 A snug cabin, but efficient ergonomics mean it's easy to use.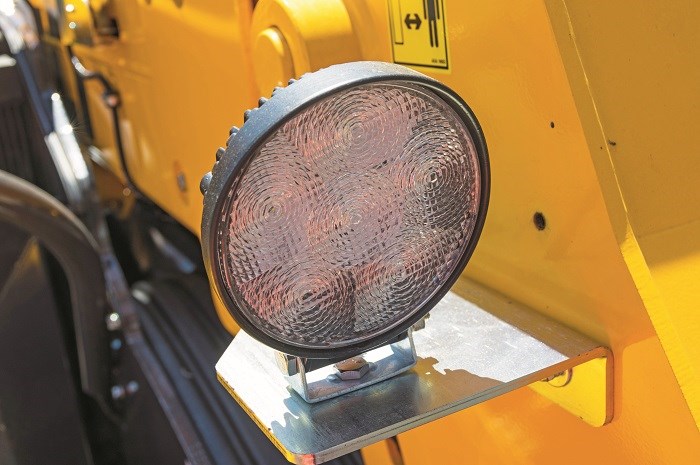 LED lamps use less power, run cooler and throw out a lot of light; blue covers clip over this for night-time work inside the sheds.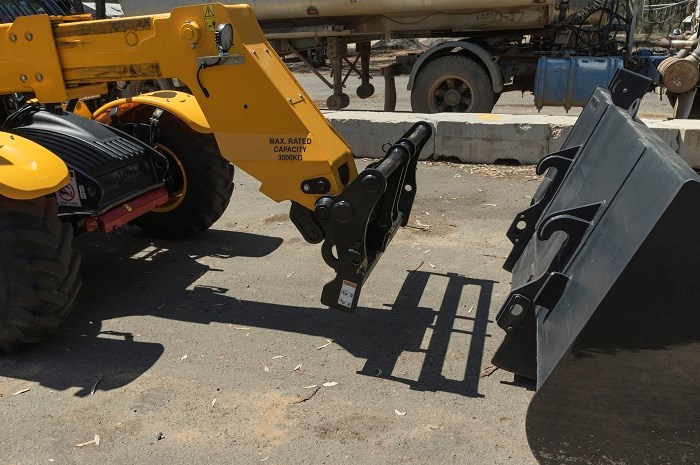 Bucket goes on and off in seconds; four-in-one takes a little longer.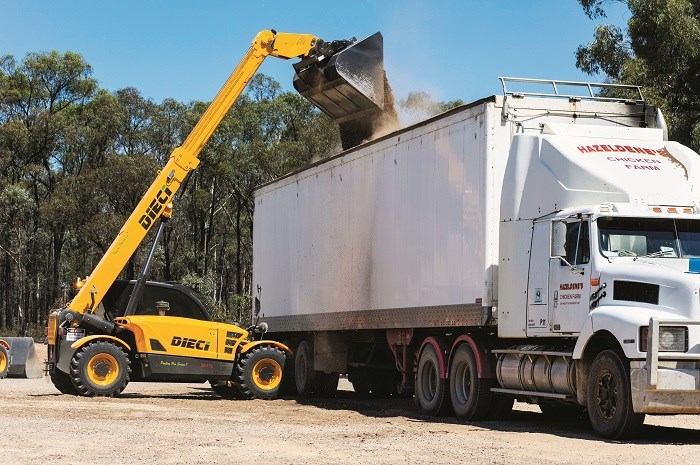 A telehandler doing what it does best.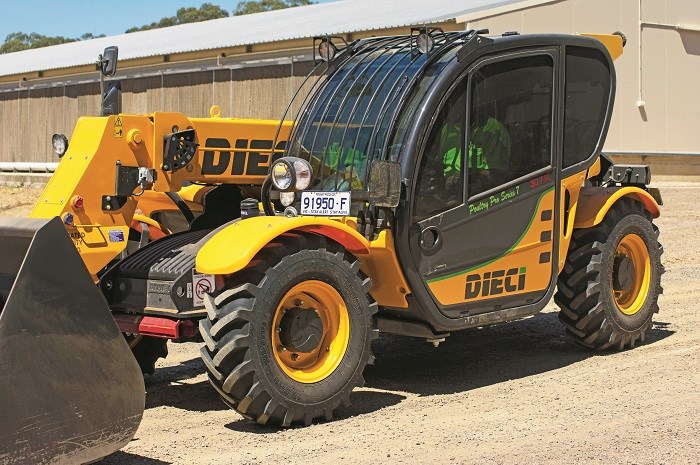 Cinderella's coach, Dieci-style.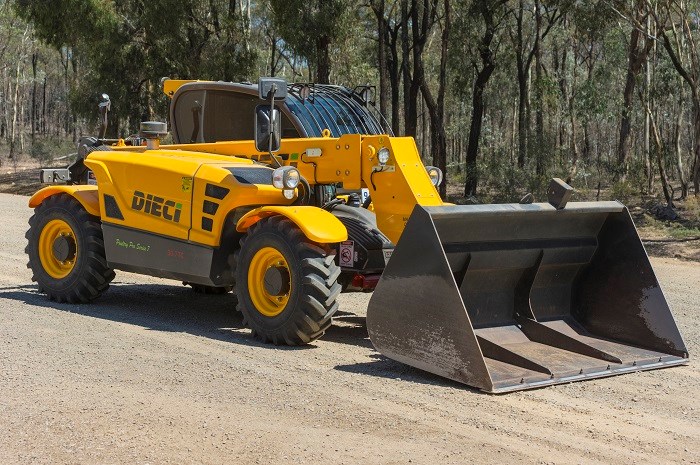 Minus the bucket, it's not a big machine.

Subscribe to our newsletter
Sign up to receive the Trade Farm Machinery e-newsletter, digital magazine and other offers we choose to share with you straight to your inbox
You can also follow our updates by liking us on Facebook. 

Graders For Hire | Cranes For Hire | Telehandlers For Hire | Excavators For Hire