REVIEW: Branson K78C tractor
---
Branson's K78C marks a move into new territory for Korea's premier tractor-builder. STEVE KEALY checked it out.
Korean-made Branson tractors have been sold in Australia for several years and Aussie agents Midway Sales are gradually increasing the range available. The latest model to lob Down Under is the K78C and it marks a quiet milestone for Midway.
Branson's naming regime is refreshingly logical: the K78C is a 78 horsepower engine, in a K-series chassis, fitted with a C — a cabin.
It's also the most powerful Branson yet to be made available in Australia and marks Midway's move out of the hobby-farmer market and towards supplying serious seven-day-a-week commercial buyers and users.
It's a bigger, stronger and better-equipped tractor than any of the smaller Bransons.
Overview
There's no arguing that Branson tractors are impressively built: from the integration of Western components with quality home-built parts.
They're designed to offer durability, versatility and ease of use and maintenance; best of all, they're priced keenly: out the box, the K78C is $50,950, equipped with a joystick-controlled, quick-detach four-way bucket.
The K-series offers a useful level of power, intuitive user-friendliness and all-wheel drive convenience in a compact package: a 2.2m wheelbase inside a 3.88m overall length, 1.9m wide, 2.59m high and less than 3,000kg mean that it'll fit into a regular shed and through a normal vehicle gate.
Engine and transmission
Under the rear-hinged Ferrari-red bonnet is a turbo-diesel 4 cylinder engine; in keeping with Branson's habit of using good components rather than slavishly re-inventing the wheel, the 3.4-litre Intezen engine wears a Garret turbo and delivers 78hp (58kW) at 2,500rpm.
Intezen diesel engines are built by Branson's parent company Kukje Machinery and appear in a variety of equipment beyond tractors, most notably industrial generators and marine applications.
Putting that power onto the dirt is a simple-to-use syncro power-shuttle offering 16 speeds forwards and reverse, driving all four wheels.
A three-speed power take-off (PTO) — 529, 714 and 1,000rpm — offers 64hp (48kW) on a 6-spline shaft.
Cab
The 'C' part of the big picture includes a decent-sized cab with tinted glass and good visibility. The vertical exhaust stack on the right front corner doesn't hinder the operator's view.
There are front and rear windscreen washer/wipers and the rear window pivots open horizontally; both side windows can be cocked open slightly too.
Build quality is high — components are robust and well-painted or coated, but there are little quirks: for example, those big doors don't really open wide enough to easily admit a 99th percentile Aussie farmer; similarly, the steps are small and are fixed — they won't swing away from solid obstacles.
Probably of the biggest concern in this regard however, is the Korean-sized seat: never mind a big Aussie bloke, it's on the small size for even an average sized Caucasian.
Luckily, this is probably the easiest thing to fix: unbolt the existing perch and screw in a 30 per cent bigger pew. While you're about it, some folding armrests and some extra grab-handles would be good too.
Naturally the cabin is positively pressurised by the air-con system, although it's pretty noisy while doing so — efficient at cooling, but noisy.
Controls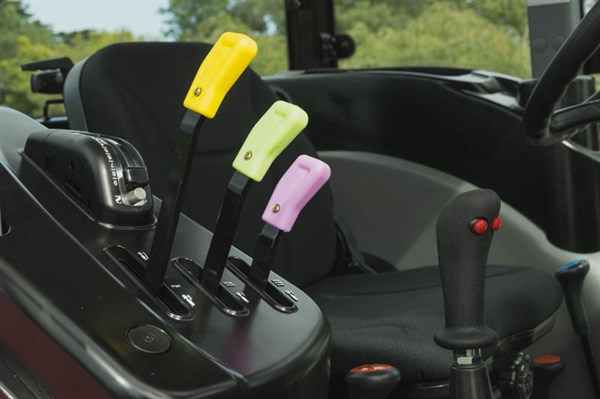 The cab's controls and instruments have a car-like look about them: a stout removable rubber mat covers the entirely flat floor, the instruments and controls could have been lifted from a Korean car or ute.
Kukje (or Branson) has clustered together commonly-used controls within easy reach, close at hand. Cabin surfaces are hard plastic and time will tell how durable and sun-resistant they'll be.
Performance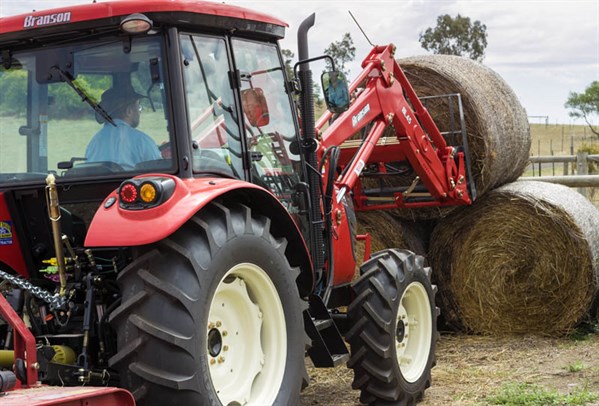 Over the years until then, the operator will find the K78C a willing workmate; Midway make available a wide range of commonly-used farming attachments and accessories, mostly from Hanmey and all of which will couple to, and work with, the range of Bransons.
Three hydraulic remotes make operating and levelling implements a breeze; during our time with the brand-new machine, we did some slashing, shifted some bales and relocated some rocks and the motor and pump barely altered its note — there's clearly a lot of capability in reserve and it would take a much more demanding task for the K78 to even raise a sweat.
Swapping implements is a task of moments: push out some pins, relieve hydraulic pressure in the non-drip quick-disconnect couplings, back away from the parked appliance and move up to the next one. It's that simple.
We found a small wiring loom that seemed too close to the exhaust for comfort — but it'd be the work of seconds with some zip-ties to secure it.
The easy-to-fill under-floor diesel tank holds a useful 100 litres and night-time work is aided by a series of roof-mounted halogen lamps, front and rear.
While they do demand more current and run much hotter than HID (high intensity discharge) or LEDs, the practicality is that the high-tech alternatives often offer harsh lighting that isn't friendly when you need to judge fine distances.
In addition, when a halogen bulb expires, chances are a replacement is as near as your closest agri-supplier or servo, and for small change. A dead HID or LED is usually a 'throw-away and replace' job. It may not be why Branson's avoided high intensity discharge or light emitting diode lighting, but it works for us.
Verdict
The question of whether the Branson is an alternative to an orange machine, or a green one, or any other colour for that matter is one only the user and the chooser can answer.
However, if there's an accountant or a bookkeeper involved, that $50,950 showroom swing-ticket might just swing the decision in Branson's direction. It's your call.
**Subsequent to this test and as a direct result of our comments about the size of the seat, we're happy to report that Midway Sales agreed — and is installing a new, wider seat, complete with armrests, in all new K78Cs.
Specifications
Drive Type:         4WD
Overall Length: 3,880mm
Overall Width:   1,895mm
Overall Height:  2,590mm
Wheel Base: 2,200mm
Ground Clearance: 465mm
For the detailed report, don't miss New Farm Machinery magazine's July 2015 issue, on-sale June 22.  
Subscribe to the magazine using the button below to never miss an issue.

Find Branson tractors for sale.
Look up Branson tractor specifications.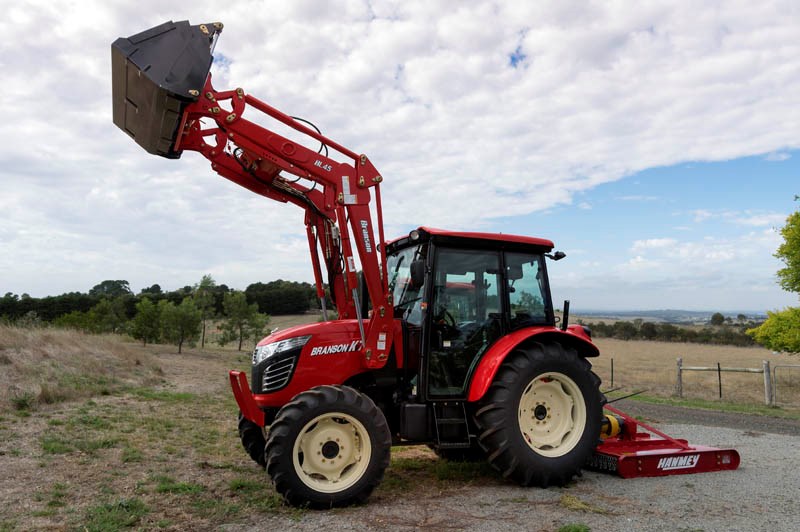 Compact: the K78C isn't physically large, but offers big-tractor grunt.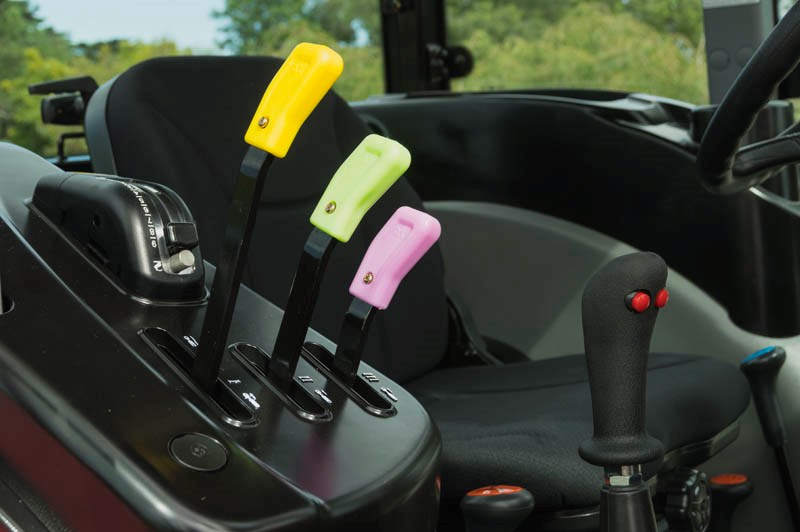 The controls have been clustered together, placed within easy reach.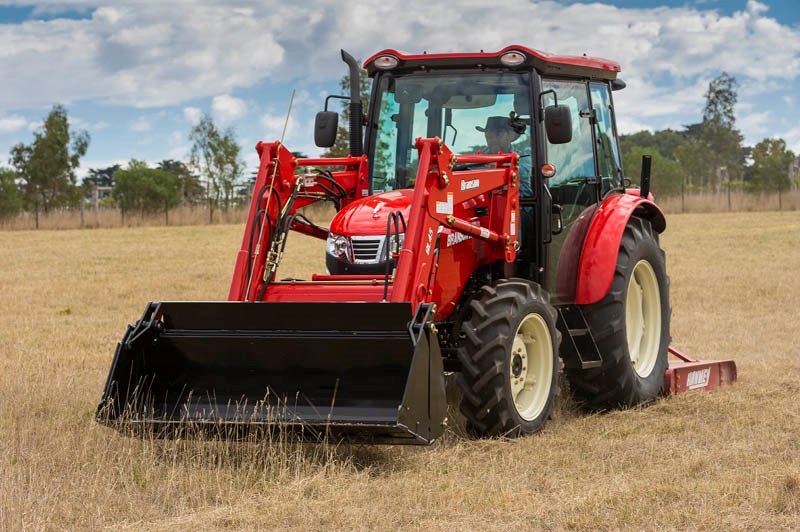 Standard: the four-way bucket is a standard inclusion, the slasher an affordable optional extra.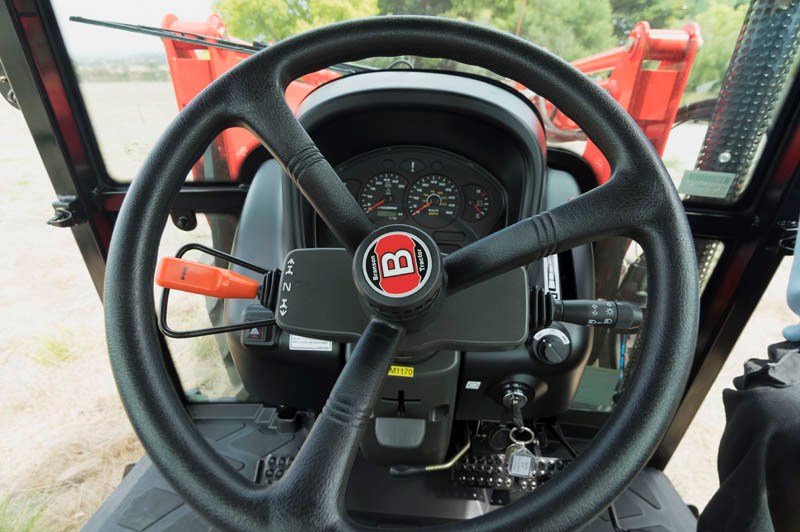 Car-like: clear gauges, reach and rake adjustable steering and floor-to-ceiling glass.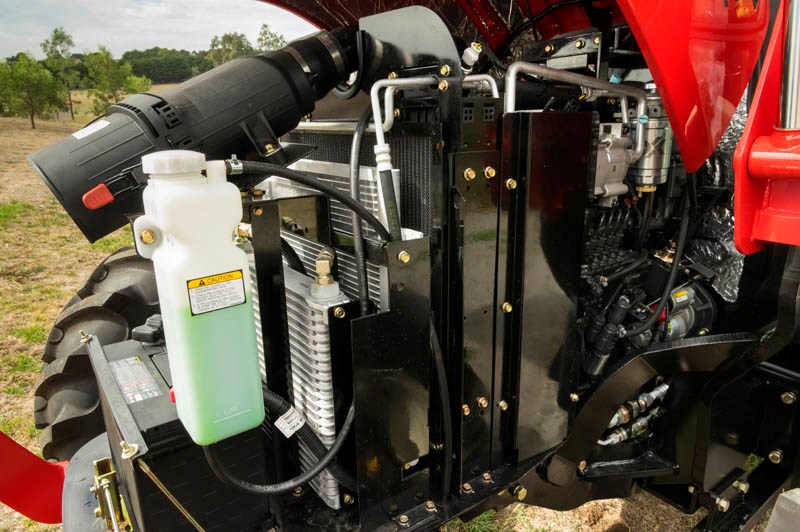 Accessible: The rounded bonnet swings up to give access for routine maintenance.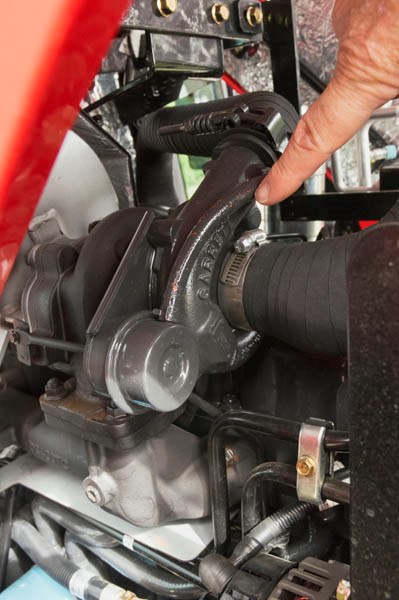 Garrett turbo should last until the end of time.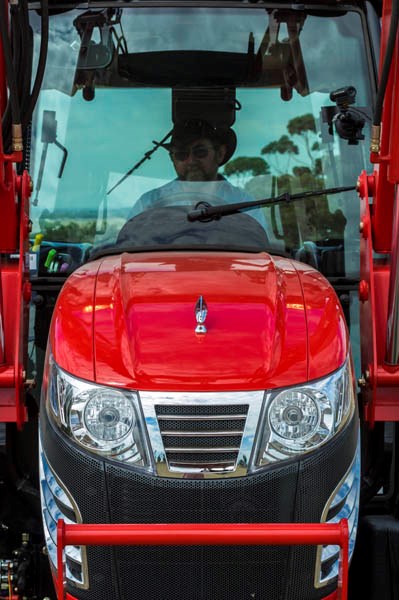 Bling: never has so much plasti-chrome been seen on a tractor.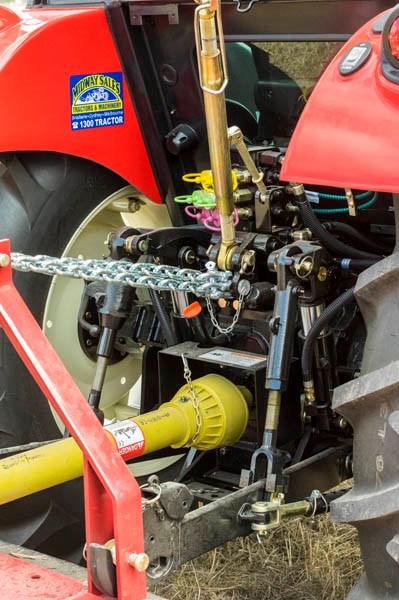 Multi-adjustable linkage for rear-mounted appliances and colour-coded couplings.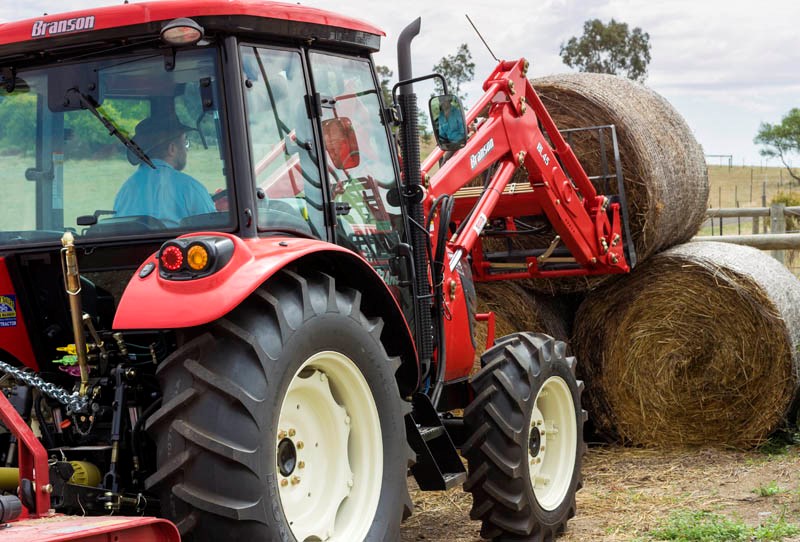 Versatile: swapping attachments is simple; the Branson didn't feel these round-bales.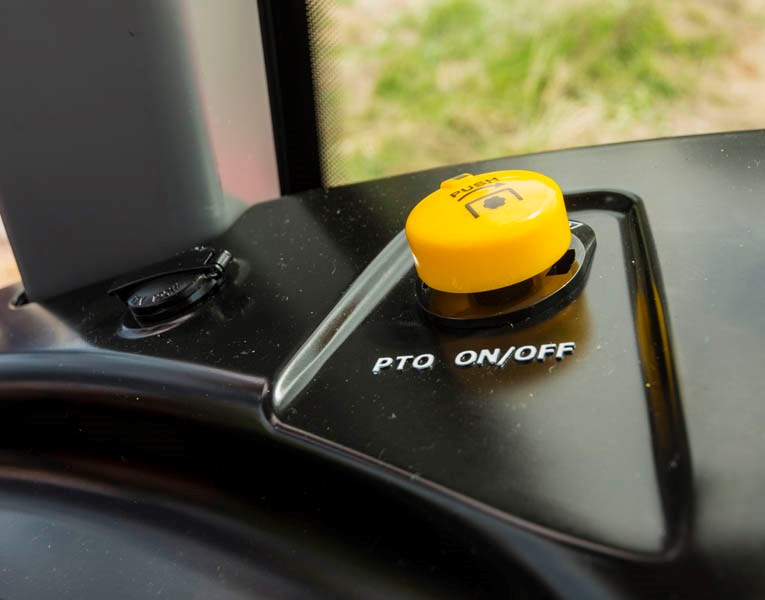 Panic-button: big, bold and uncluttered, it cuts PTO power instantly.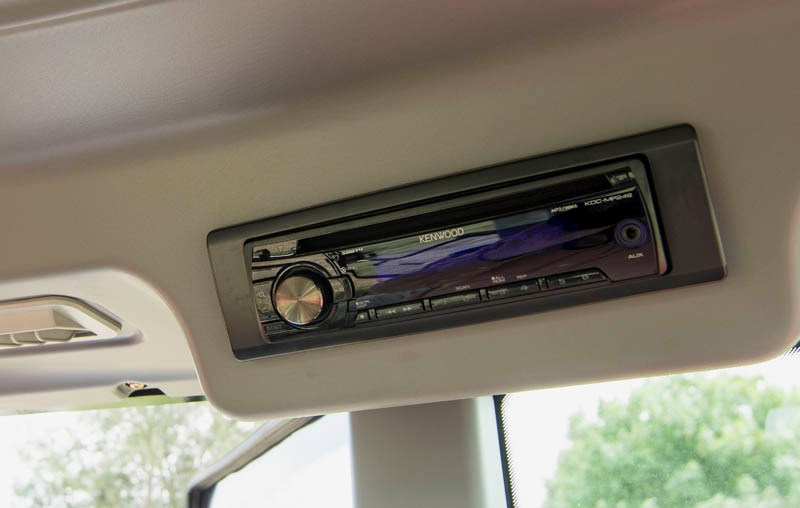 Car-quality audio: If there's a gripe, it's where do you put your iPod when it's plugged into the Aux socket?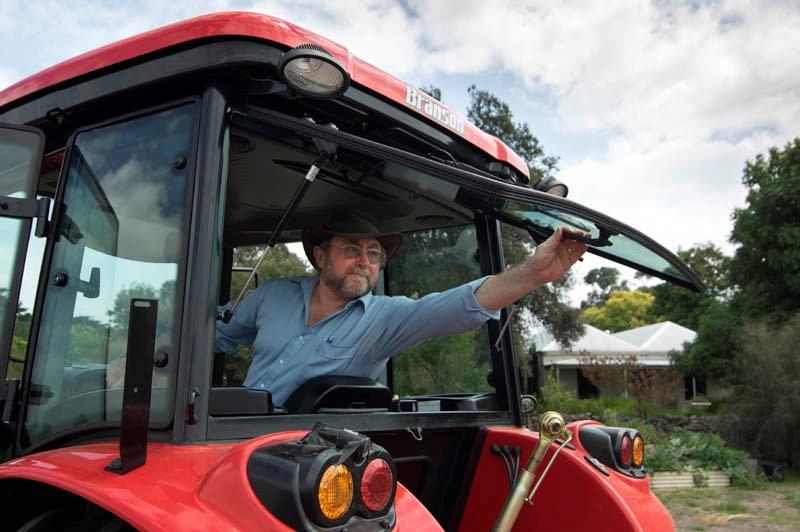 The rear window opens wider than do the doors.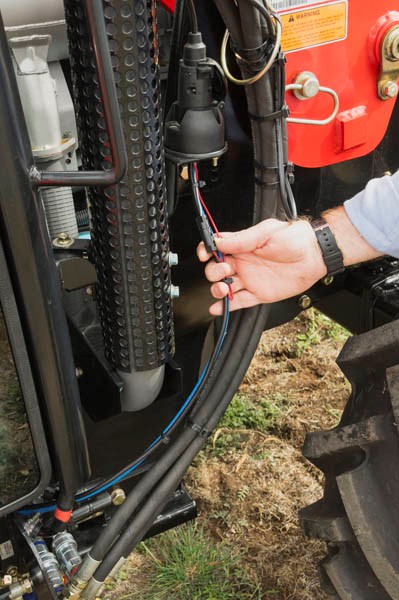 The rear window opens wider than do the doors.

Subscribe to our newsletter
Sign up to receive the Trade Farm Machinery e-newsletter, digital magazine and other offers we choose to share with you straight to your inbox
You can also follow our updates by liking us on Facebook. 

Graders For Hire | Cranes For Hire | Telehandlers For Hire | Excavators For Hire