REVIEW: Superior VEE26 slasher
---
For the past eight years, the Superior VEE26 slasher has been providing essential maintenance required in the tough environment at Brisbane International Airport. DAVID GILCHRIST reports.
Arguably, there are very few properties as important to keep maintained as an international airport's runway, or as harsh. Keeping the intra-runway grounds slashed and clean is not about appearances. It's about safety.
Grassy areas between service roads, taxiways and the runway are safety areas that also harbour birds.
If the grass is too short you attract kestrels and other raptors, and before long you find the grounds attract snakes, cats, foxes and rodents. Too long and you slow down drainage, attracting waterfowl.
It's a constant balancing act and carrying out the ever important job for Brisbane Airport for the past eight years is the Superior VEE26 slasher.
The machine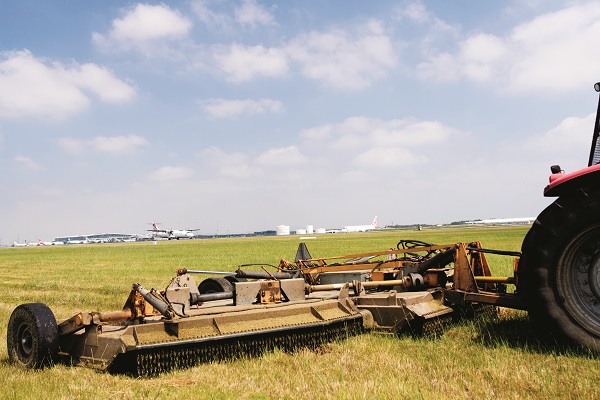 Brisbane Airport Corporation has had their VEE26 for eight years and is on the verge of cutting the old machine loose in order to reinvest in new Superior equipment.
This gives me the unique opportunity to see how the machine has either withstood or succumbed to this tough environment.
The machine arrives at the back of a 6.6-litre Massey Ferguson tractor producing around 130hp (96.9kW) of power at the power take-off (PTO).
It 'lands' on the paddock and 'unfurls its wings' as if ready to fly. What I need to see is if this eight-year-old machine still has the wherewithal to do just that.
Given the VEE26 needs a healthy 120hp (89.5kW) at the PTO the Massey Ferguson 7485 is about the right size for this 8m-wide slasher.
To be clear, the Massey Ferguson is not the only choice of tow vehicle for this Superior. A Case IH Tier 3 with a maximum PTO of 130hp should also do the trick.
Performance
Brisbane Airport Corporation bought the VEE26 almost a decade ago, clearly anticipating its performance would justify the price tag of around $70,000.
Looking over the machine now reveals the Superior's bodywork is still in reasonable nick considering the acrid conditions in which it works.
Most importantly, it is still cutting well suggesting that its 10 16mm blades are ample to cope with the workload and have been kept that way thanks to a regular maintenance schedule.
Brisbane Airport civil maintenance officer David Ayling, the airport's VEE26 operator, says the machine has needed minimal repair thanks to a clutch protection on each rotor.
This feature alone has reduced clutch wear and improved performance which is important especially given the frequent need for the sometimes constant stop-start operation, when the machine has operated in higher driving resistance conditions such as the slopes of roadway verges, along the sides of airport drains or perhaps occasionally when starting up hill, albeit the airport terrain is reasonably flat.
This leads to lower maintenance and repair costs.
In terms of airport and aircraft safety, the slasher's 300mm side depth means operators are able to cut to the required height without worrying about picking up a foreign object, only to watch it ricochet towards a hapless aircraft during take-off or landing.
Finally a ram lift, without the need to disconnect drive shafts, spelt an ease of operation that went a long way over the past eight years at endearing the machine to its operators.
Operator thoughts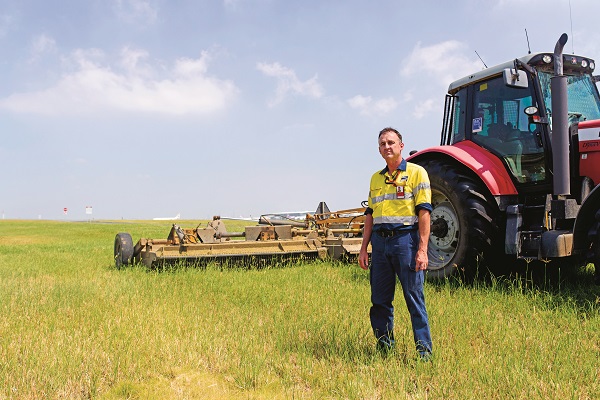 Ayling uses the machine most days and reckons "it's a very robust machine that does the job we ask of it".
"The [Superior slasher] gets worked very hard and almost never has any downtime," Ayling says.
"Thinking back over the history of the machine, I can't find any fault with the machine in any way."
Ayling adds the only repairs he can recall relate to the parts that took 'the biggest beatings' particularly the clutches and universals. As for the deck, Ayling points to its tough construction saying "holds fast every time".
Ayling is also full of praises about the slasher's maneuverability, saying it handles the occasional steep ground with ease. He sums up this machine simply by saying "nothing seems to worry it".
This is despite what Ayling says has been a long growing season promoting rapid grass growth around the airfield.
"The grass has been extremely thick," he explains.
"So these machines have been going two shifts a day for five days a week and they've held up really well.
"We're very happy with [our Superior] equipment."
Verdict
After eight years with an extreme workload in this harsh environment, despite obvious wear and tear including deteriorated paint work, surface rust and holes in some covers and cowlings, the Superior VEE26's deck is solid and the machine is still cutting well.
On a day that tipped the mercury at near 40C and with humidity so high it rests heavy on your shoulders, this machine still has the grunt to keep rolling albeit with a rattle or two more than it might have had when new.
That sort of result means there's every chance this machine will still fetch a good price when it comes time for Brisbane Airport to offload it.
That means when it comes to buying new, Superior are in the box seat having already provided the corporation with a first class slasher that clearly keeps on keeping on. And here's the pay off — it's designed and built in Australia.
With a report card that shows low maintenance and repair costs, quality build standards as well as an all Australian-made pedigree, it'd be hard to go past this machine when it comes to big, heavy duty slashing jobs.
For the full test report, pick up a copy of New Farm Machinery issue 22, on-sale May 25.
Subscribe to the magazine using the button below to never miss an issue.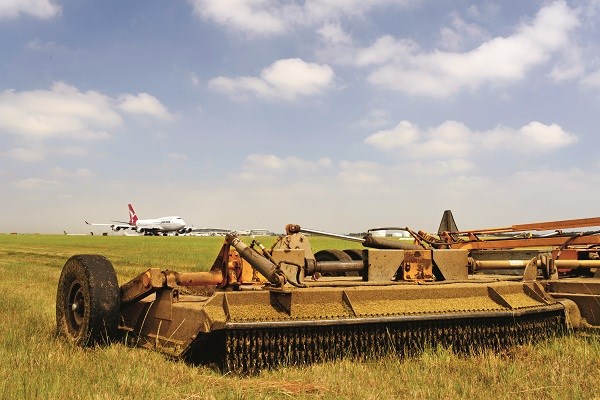 The 10mm chain guard on the VEE26 exceeds the required standards. Superior calls their VEE series a 'military' grade product reflecting this.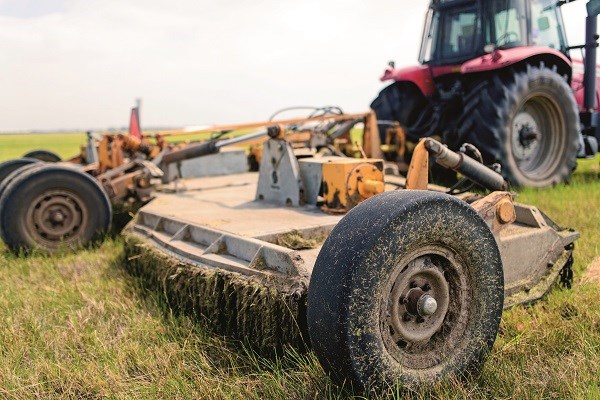 The 16-inch (40.6cm) compactor tyres provide extended use and reliability on extra heavy duty stud rims, hubs and axels.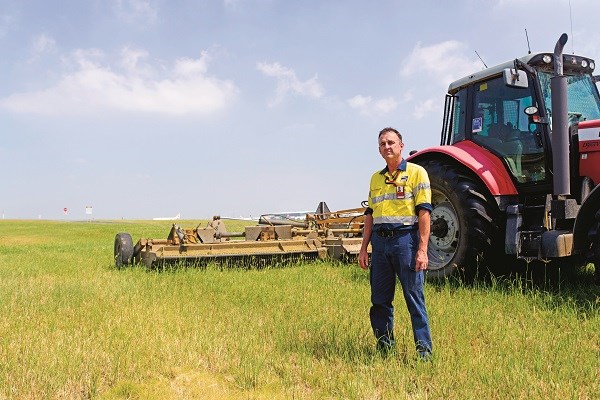 Operator David Ayling reckons the VEE26 does a first class job and his boss, Brisbane Airport Corporation, plans to acquire more equipment from Superior.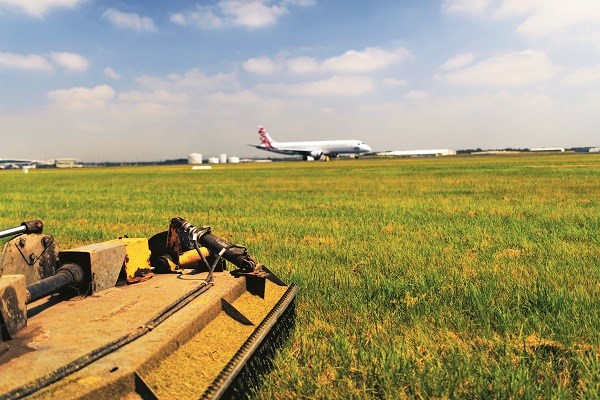 A strong deck is one of the key features of the Superior build. Note the fully adjustable heavy duty control rams. All cylinders are controlled from the tractor cabin for improved safety and operation. Also note the 150hp gearbox.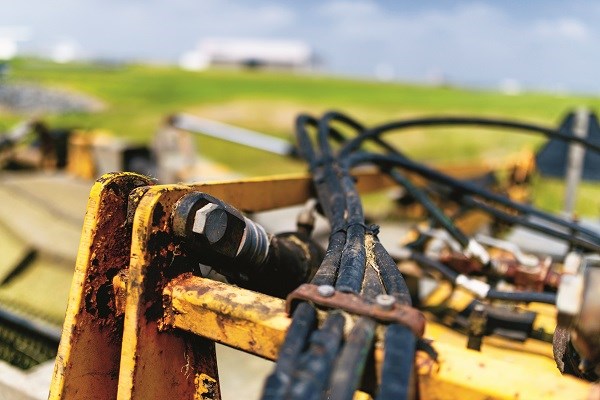 Hydraulic cables attached to the extreme heavy duty drawbar control all the lifting cylinders. The drawbar is a Superior signature item. These hoses look to be originals — impressive that they've lasted eight years.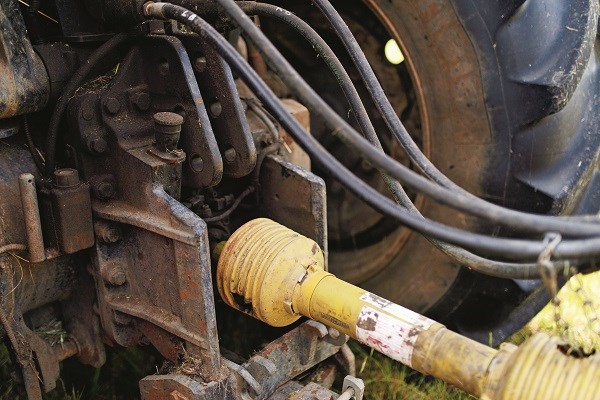 A series eight heavy duty shaft has now superseded this arrangement on new VEE models. The new arrangement is a single piece, heavy duty, wide angled shaft providing fewer moving parts and less maintenance.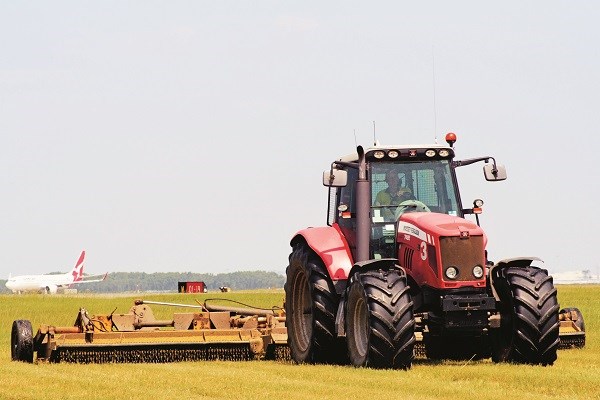 The Massey Ferguson tractor is ideal for the VEE26 — with 130hp of power at the PTO.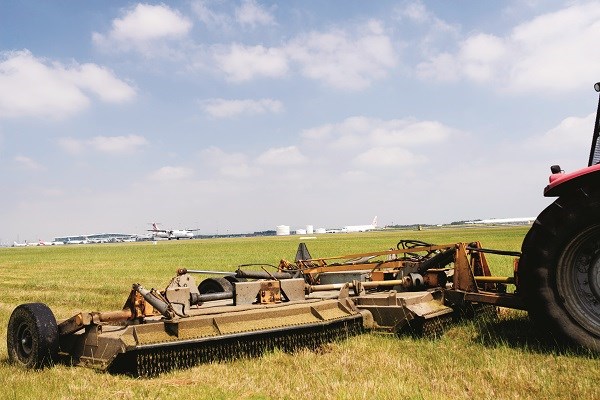 One of two sturdy wings and deck with a drive shaft arrangement no longer used. New models now feature a wide angle heavy duty shaft.

Subscribe to our newsletter
Sign up to receive the Trade Farm Machinery e-newsletter, digital magazine and other offers we choose to share with you straight to your inbox
You can also follow our updates by liking us on Facebook. 

Graders For Hire | Cranes For Hire | Telehandlers For Hire | Excavators For Hire