REVIEW: Deutz-Fahr 6160C tractor
---
After no less than three thorough checks and cross checks the Deutz-Fahr 6160 C has finally been delivered. TOM DICKSON finds out how it's performing.
We have been on the trail of a Deutz 6160 C Shift since it landed on the docks at Melbourne, then its reassembly at PFG Australia followed by a pre-delivery inspection and detail at Philips Farm Machinery at Hamilton.
We're now the guests of George and Dawn Compton and their son Jamie on their property at Myamyn, just south of Hamilton in western Victoria, to take a look at the brand new Deutz-Fahr 6160 C Shift they purchased recently.
Engine
This latest version is powered by 6 cylinder turbo diesel engine and is Tier 4-compliant using selective catalytic reduction (SCR) and AdBlue technology.
There are six models in the 6 cylinder, 6 Series range starting with the 135hp (101kW) 6140 up to the 6210 that has a power output of 208hp (155kW).
All are running the same Deutz turbocharged common rail diesel engine. Two oil-lubricated fuel pumps ensure there is never a drop in pressure within the system. Lubrication of the pumps is not dependent on the quality of the fuel.
The 6,057 cubic-centimetre motor uses the SCR system running adBlue to gain Tier 4 emissions standards.
George says he's done about 60 hours of work so far and the 35- litre right-hand side mounted AdBlue tank hasn't moved off full yet.
From an operator's point of view the Deutz-manufactured engine runs smoothly and responds quickly when the throttle is engaged with virtually no noise coming back into the cab.
A contributing factor to noise reduction is the two lower front glass panels on the cabin are double glazed, which would also reduce heat transference from the engine into the cabin.
A great advantage with the 6 Series engines is that they are 100 per cent biodiesel-compliant and easy to maintain with features like fold out cooling radiators and the PowerCore air filter with dust ejectors which suck air through a vent mounted at about roof height on the cabin.
Transmission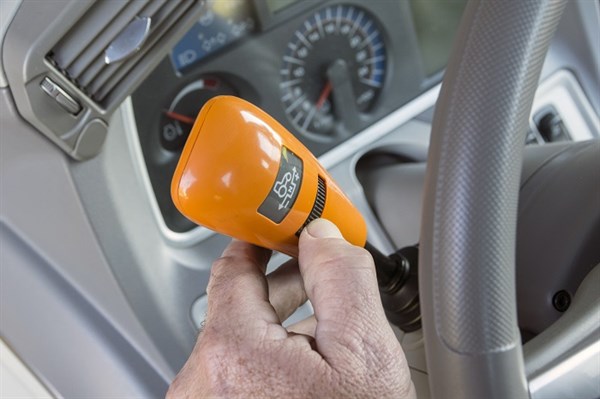 I believe the stand out feature is the C Shift, or Comfort Shift transmission. Out of all the features of a tractor that has evolved over the years it's probably the transmission that has advanced the furthest.
From clunky old crash boxes we now have gearboxes that operate electronically, require no clutching and can shuttle between forward and reverse with a flick of a button.
The 6160 C is equipped with a ZF 7200 IRS, Intelligent Range Shift, transmission capable of reaching a maximum speed of 50km/h.
It's a six-range, semi-automatic, by 4-speed transmission with creeper speed in the first four ranges to provide a total of 40 options going forward matched by 40 in reverse. No clutching is required for any gear change.
Pushing forward or pulling back on the PowerComS joystick changes up and down through the four powershift gears.
To instigate a range change I push or pull on the joystick while simultaneously pressing the enable button on the back of the joystick. It has speed matching to smooth out range changes.
When placed in automatic mode, by pressing the APS button on the joystick, the transmission automatically selects and continues to change to the appropriate power shift gear to best suit the speed and load. It can only make automatic power shift gear changes and is not capable of automatic range changes.
I go on a short drive up the track in auto mode and without any input from me it changed up gears as I accelerate just like an automatic car. As we head up a hill and the load increases, the 6160 C just very smoothly changes down a gear and powers on up.
There are two ways of clutchless direction change. Two electronic buttons on the joystick is one way and the second alternative is a power shuttle lever on the steering column. A dial on the power shuttle lever allows me to quickly adjust the responsiveness, or modulation, of the direction change.
With five settings, the transmission is a great feature for front end loader work and operating in confined spaces. To activate the 16 creeper speeds in the first four ranges I have to reach behind the seat and manually engage the creeper gear lever.
A LED screen on the front right-hand side cabin pillar tells me if the tractor is in neutral, forward or reverse. It also shows me what range, power shift gear and whether the transmission is in manual or automatic mode. From the moment I jump behind the wheel I feel I am in complete control.
Cab and controls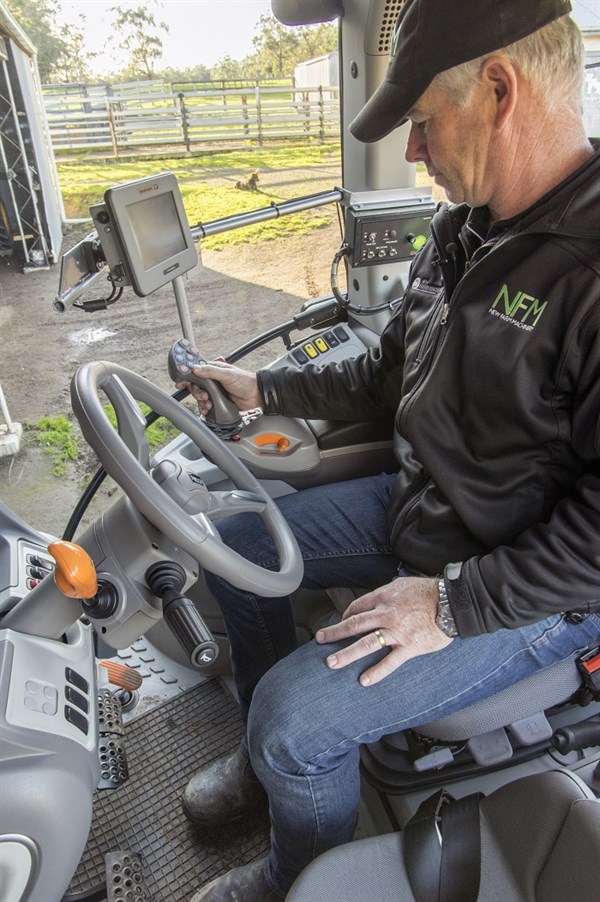 Deutz's trademark cabin layout and operator visibility has not been compromised in the new 6 Series. All the controls are colour-coded and grouped together for convenience on the multifunction armrest.
The first two sets of hydraulics, three point linkage (TPL), transmission and power shuttle can be accessed via buttons on the joystick, so for most work the drivers hand doesn't have to come of the PowerComS joystick.
The third and fourth hydraulic remotes are assigned to a second joystick on the armrest. Yellow levers on the armrest select either 540, 540E, 1,000 or 1,000E power take-off (PTO) speed while electronic buttons engage and disengage the PTO.
The 6160 C has all the features we have come to expect in the top end tractors like hydraulic oil flow rate and timers, linkage drop speeds and safety shut offs on the PTO when lifting implements.
The cabin has a very luxurious feel and I can imagine spending long days behind the wheel enjoying the comfort of the fully adjustable air suspension seat while listening to my favourite music.
The vents linked to the air-conditioner and heating unit have been arranged so they regulate the climate of the cabin without blowing directly onto the operator.
Visibility is again exceptional and even though it's a six-pillar cab it's as good as you get. A sunroof with slide back sun visor is great for front end loader work. There are two inside cabin mounted rear-view mirrors to help aid vision out the back.
There is nowhere in the cab to mount extra monitors and because Deutz doesn't manufacture one Jamie was forced to design, manufacture and install one himself.
Hydraulics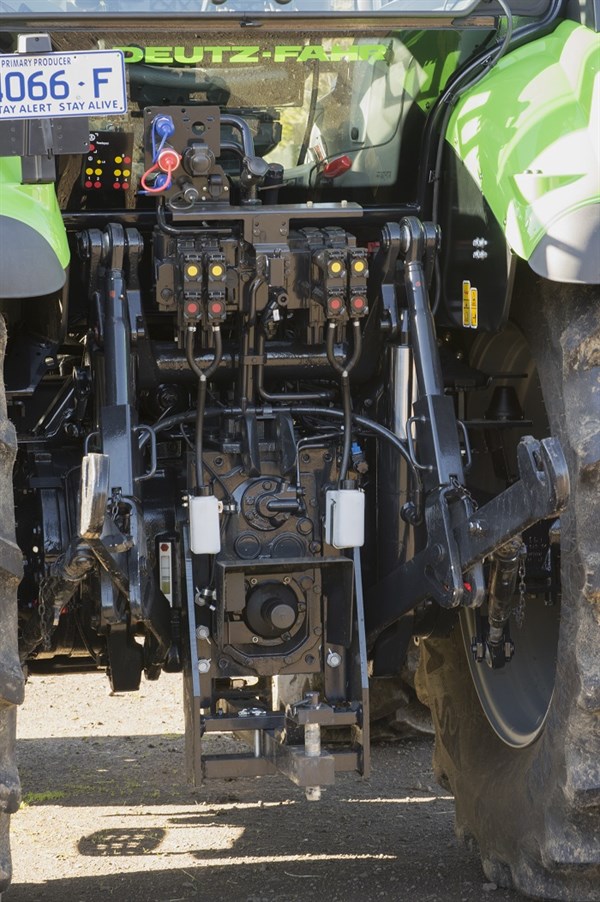 To test the tractor's hydraulic capabilities, George says we can hitch up the Westhill land plane and do a bit of track grading. What he doesn't tell us is that it's parked in his 6x3 shed.
Now this wouldn't be a big deal if we could tow the land plane straight out the end of the shed but the 2.5m x 5m long grader has to be taken out a 3m-wide opening on the side of the shed.
At first look it seems to be an impossible task to accomplish but George assures me that with a bit of skill and patience it can be done.
We hook up four sets of hydraulic hoses then by lifting and twisting the blade while slowly creeping forward and operating the hydraulic rear steer wheels it slowly snaked its way out of the shed.
The fact we can operate two sets of hydraulic remotes from buttons on the joystick certainly makes the task easier.
From the joystick we can also operate the linkage, change the tractor's direction of travel and change gears as well. Every button on the joystick also carries Deutz's trademark colour coding for easy identification.
The load sensing hydraulic pump system provides 120 litres per minute of oil flow to the four sets of electro-hydraulic remotes which should be ample for a tractor this size. The hydraulic steering is serviced by a second pump delivering 42l/m.
Verdict
George has a keen eye for what works and what doesn't and if he says his tractor is worth every bit of its $159,900 price tag then you better believe him.
He says it's well balanced and with a great tyre package gets great traction. Attention to detail is reflected in an exceptional LED light package and little things like a fuse box that's easy to access.
He adds he has a tendency to get bogged in his ute so he wanted a tractor Dawn could jump in and come to his rescue.
"Jamie loves all the high-tech stuff that it is capable of but I like it because Dawn and I can operate it as well," he says.
In fact there isn't much to criticise about the 6160 C Shift, which represents the latest in Deutz's line-up.
It's a great looking tractor and apart from the paintwork bears little resemblance to the boxy shaped earlier models or the ones that followed with over exaggerated sloping bonnets.
Hits
Proven ZF transmission and Deutz engine
Excellent visibility
Double glazed front windows
Electronic gear selection              
PowerComS joystick
100 per cent biodiesel
Improved light package
Cabin comfort
Misses 
Mirrors block doors
No fuse identification under cover
Specifications
Make/model: Deutz-Fahr 6160 C Shift
ENGINE                                               
Cylinders: 6
Emissions level: Tier 4i
Capacity: 6,057cm3
Horsepower-rated: 156 (116kW)
Horsepower-max: 166 (124kW)
TRANSMISSION
Make: ZF
Model: T7200 C Shift
Type: Semi-automatic   
Find Deutz-Fahr tractors for sale
Look up specs for Deutz-Fahr tractors
Don't miss Tom's verdict on the Deutz-Fahr 6160C online and all the added detail in issue 25 of New Farm Machinery out August 18.
Subscribe to the magazine using the button below to never miss an issue.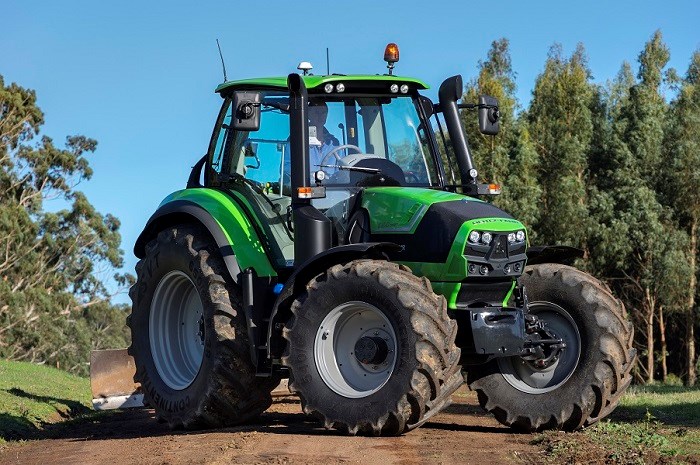 The Deutz-Fahr 6160C is a a great looking tractor and apart from the paintwork bears little resemblance to the boxy shaped earlier models.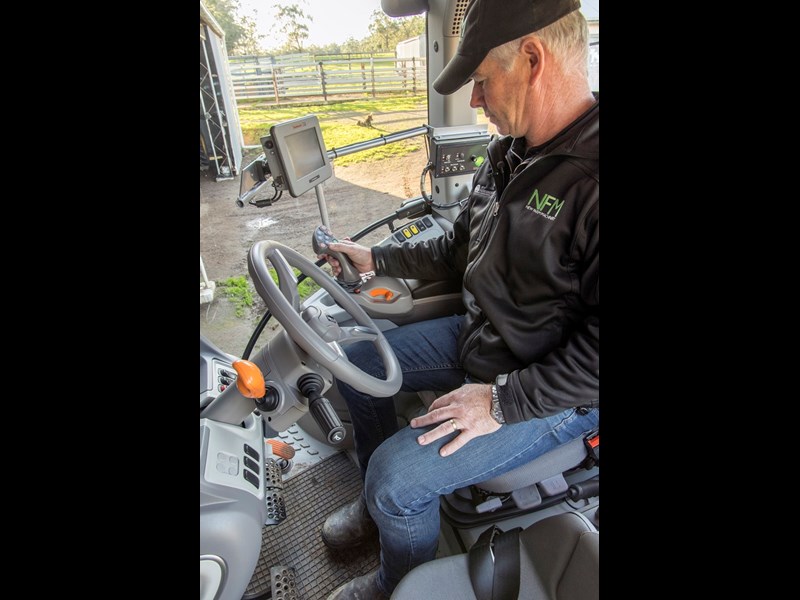 Tom thinks the colour-coded functions on the PowerComS armrest and general cabin layout are great features of the 6160 C Shift.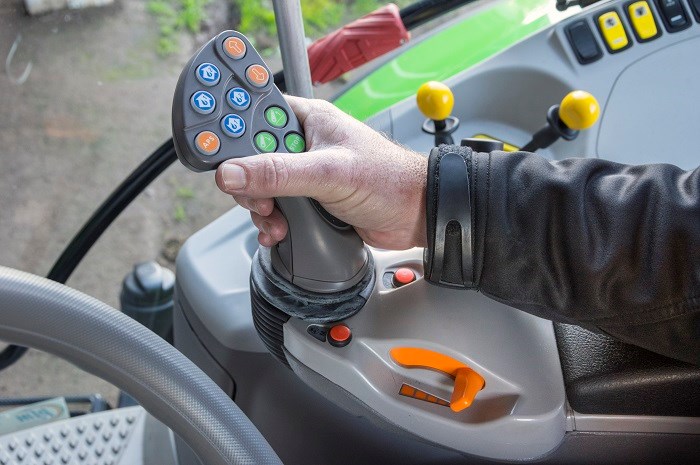 The PowerComS joystick incorporates all the primary functions of the tractor.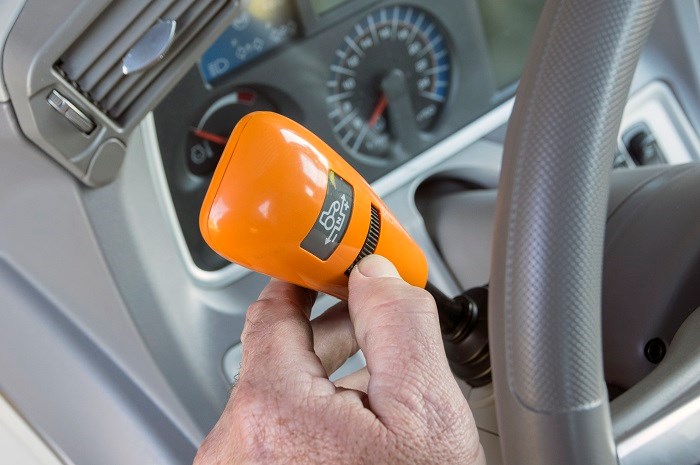 A dial built into the electro-hydraulic power shuttle provides five adjustable levels of responsiveness.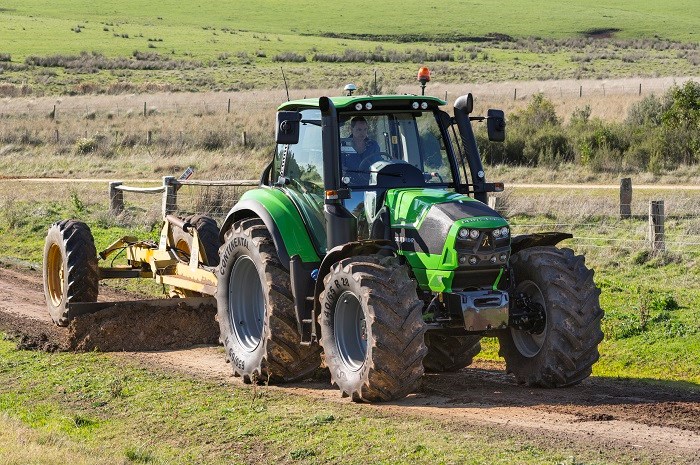 The Deutz 6160 C Shift doesn't hesitate when it comes to pulling George's Westhill grader blade while performing a bit of road maintenance.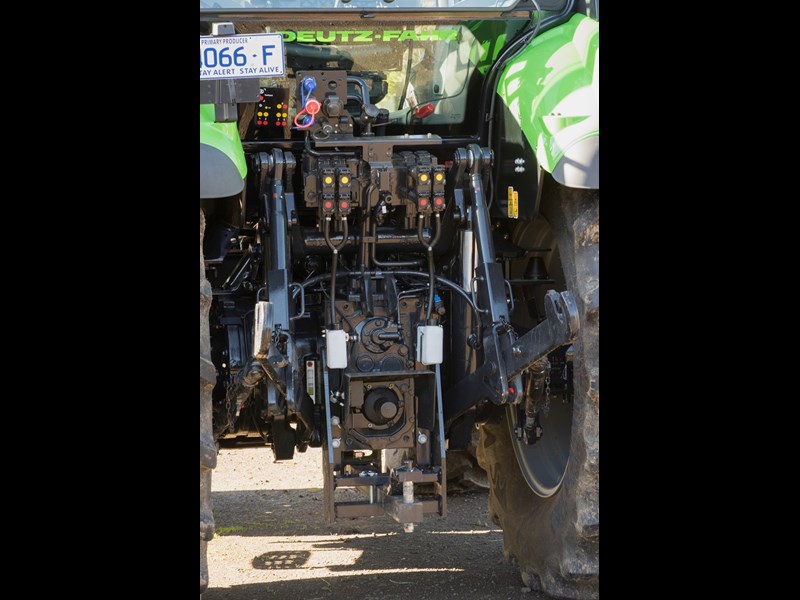 High flow closed circuit hydraulic system with a delivery of up to 120 l/min and up to seven programmable auxiliary valves.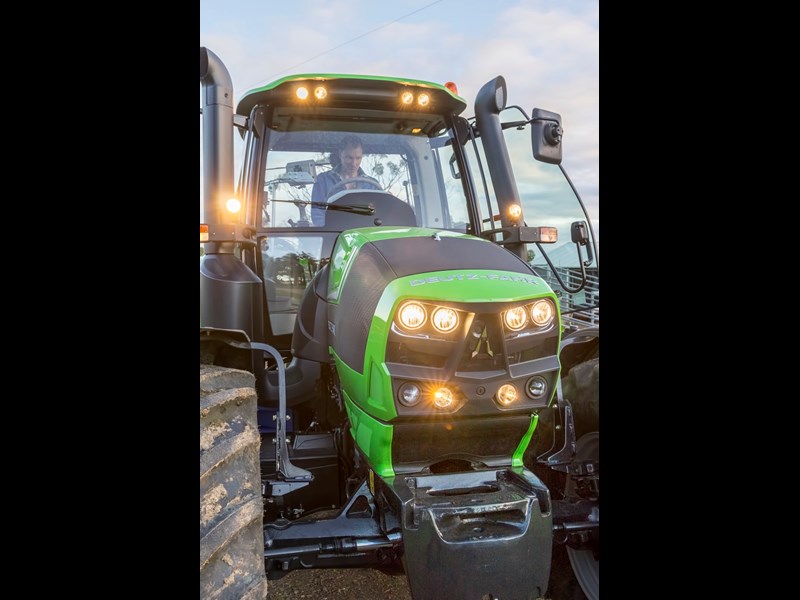 When the sun goes down the LED light package takes over to maintain excellent visibility.

Subscribe to our newsletter
Sign up to receive the Trade Farm Machinery e-newsletter, digital magazine and other offers we choose to share with you straight to your inbox
You can also follow our updates by liking us on Facebook. 

Graders For Hire | Cranes For Hire | Telehandlers For Hire | Excavators For Hire