REVIEW: Fieldmaster Euro GMM 300 multi-cut gearmower
---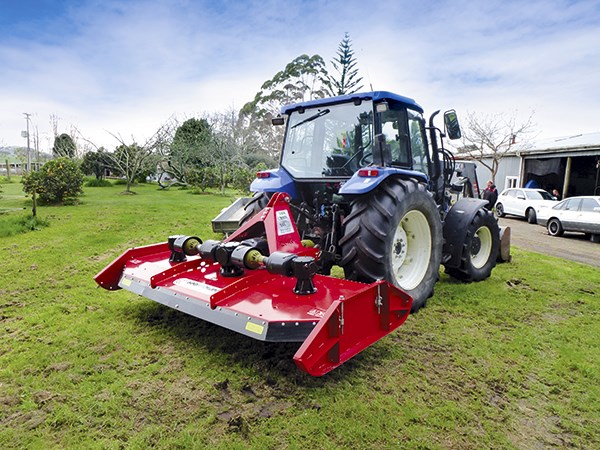 Fieldmaster's Euro GMM 300 multi-cut gearmower mulcher.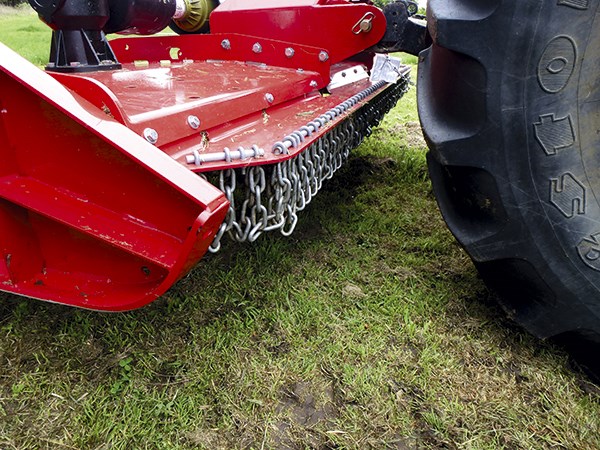 A chain guard around the front of the mulcher prevents objects flying out.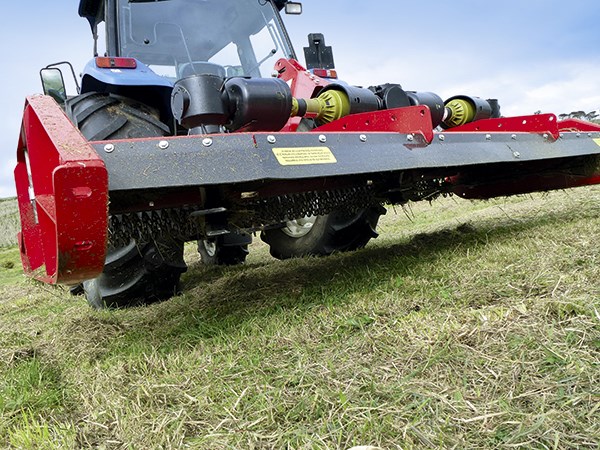 The black mulching shroud wrapped around the back of the machine ensures all material is finely chopped.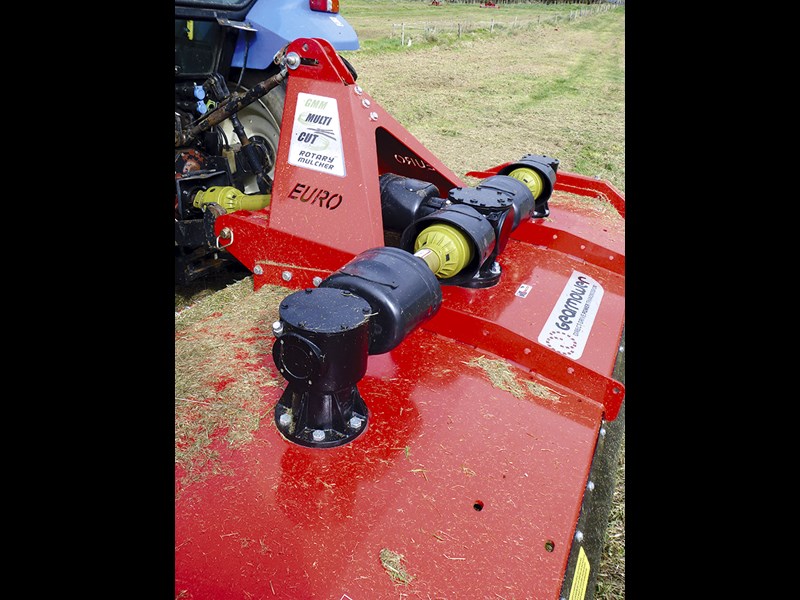 The reliable Italian gearboxes along with the Spanish driveshafts transfer the drive to each of the rotors.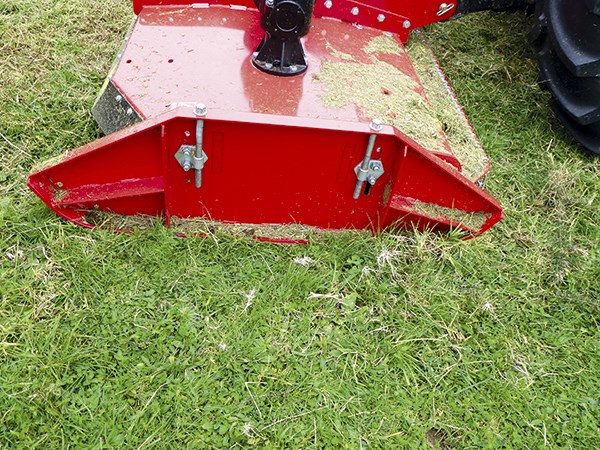 Heavy duty skids on the side of the machine ensure it follows the ground contour.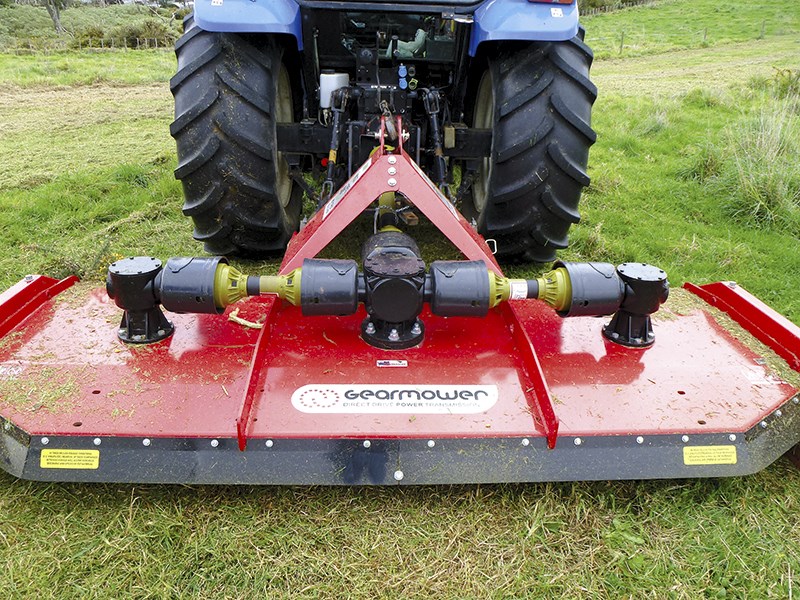 Quality Spanish driveshafts are used to transfer power and an incorporated cam clutch will help prevent damage.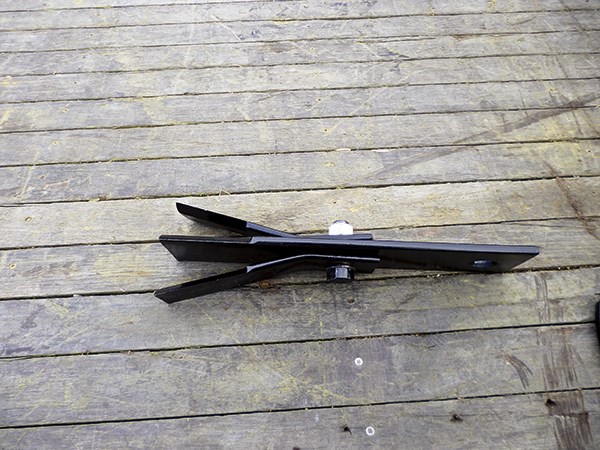 The unique triple-stack blades found on the machine.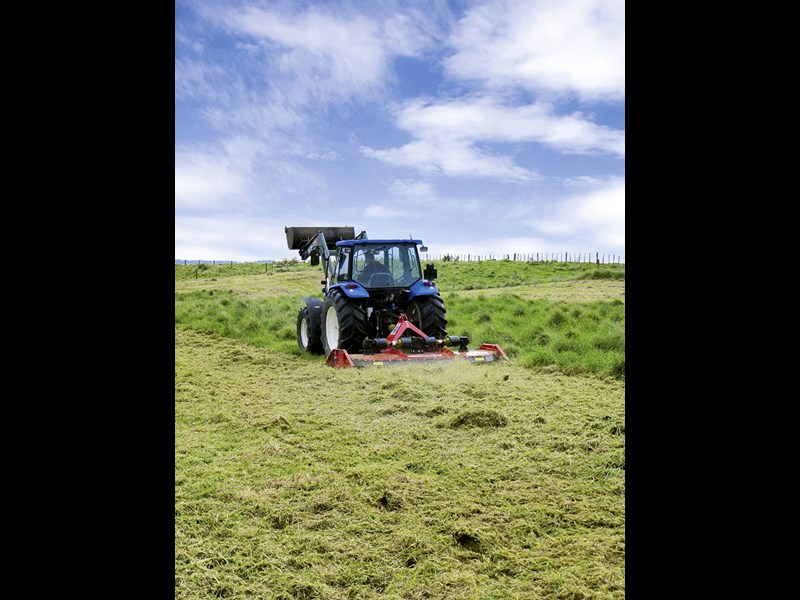 The GMM 300 mulcher tackling some seriously clumpy grass.

New Zealand manufacturer Fieldmaster is expanding in Australia. BRENT LILLEY tests its new Euro GMM 300 Multi-cut Gearmower mulcher.
While it may just be a happy coincidence virtually all the machines I've tested recently have been proudly built in New Zealand, it has definitely highlighted the fact the agricultural sector of the manufacturing industry here is alive and kicking.
The level of innovation and design I've seen is outstanding, with real commitment from companies that listen to their customers and build equipment that not only suits our conditions, but will stand the test of time.
The most recent example is Pukekohe-based Fieldmaster, which has a reputation for building quality machines since the 1950s.
Avid Farm Trader readers might remember Fieldmaster's GMM mulcher appearing in its pages a couple years ago.
New Farm Machinery readers in Australia will be pleased to know the company is currently expanding Down Under.
Fieldmaster's new Euro GMM 300 Multi-cut Gearmower is available in Australia through Bowral, New South Wales-based company Agriquip Machinery Co.
I visited Port Waikato to view the new GMM 300 Multi-cut Gearmower. The lifestyle block, owned by Fieldmaster engineer Rudy Voschezang is an excellent location to show exactly what the machine is capable of, with a mix of rank, clumpy cocksfoot grass, matted kikuyu, and of course, some gorse.
The mulcher is set up on a 90hp (67kW) New Holland, which I'll give its dues — it does well to power the 3m mulcher through some fairly serious foliage, testament also to the low power requirements of Fieldmaster mulchers.
Machine design and built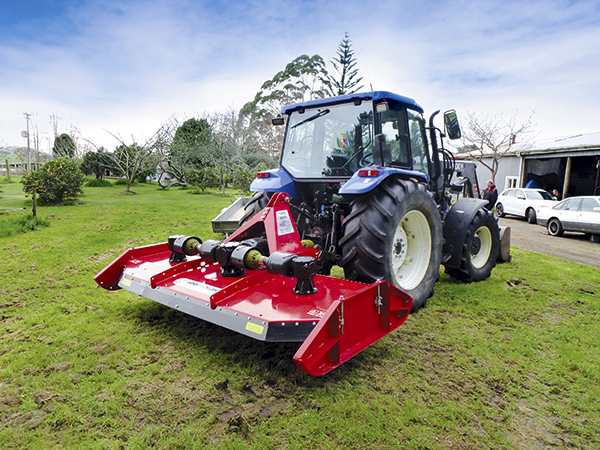 Fieldmaster has stuck with its modular design concept, which allows the mulcher to be configured with options to suit a variety of different situations and to be assembled quickly to keep costs low.
Up at the front of the machine you find a robust A-frame headstock, which has been seriously beefed up from preceding models. Every conceivable weak point has gained extra plates, gussets, and welding.
I like the fact the headstock is still bolted onto the deck with enough pre-drilled holes so that it can configure as a rear- or front-mounted mulcher.
Deck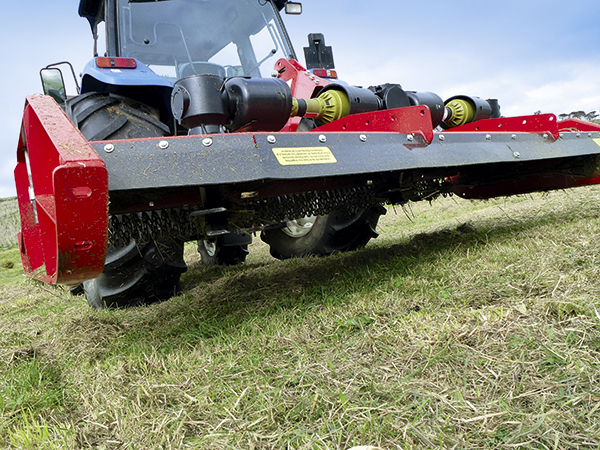 The deck itself is still built using a heavy duty twin 5mm steel skin and it has also received some serious reinforcing under the deck for extra strength where it is needed.
Heavy duty pressed concave skids on the bottom of the sides of the mulcher are 80mm wide and built from 12mm steel for an extended lifespan and wide ground contact.
They attach to the deck with four bolts on each side in a slotted hole and a coarse, threaded adjuster allows the cut height to be changed relatively easily using a scale on the side of the mower.
Once again the deck and skids have pre-drilled holes so a variety of extras, such as front and rear rollers, mulching shrouds, chainguards etc. can be bolted on to fit individual requirements.
All the steel components of the machine are bead-blasted after it is laser cut and welded, then finished with a baked powder coat. The inclusion of a UV stabiliser will keep the machine Fieldmaster red, rather than pink.
Gearbox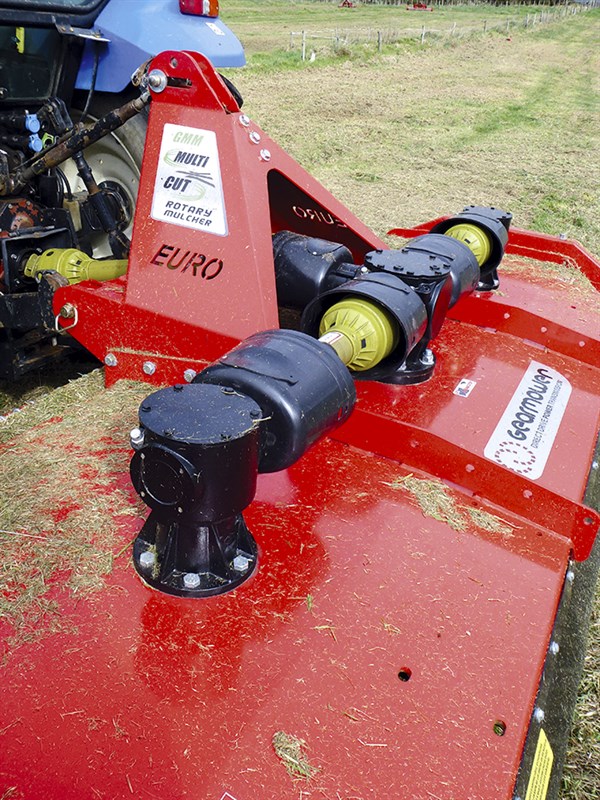 The driveline on this 3m, three-rotor model comes from the tractor through a driveshaft to the main central gearbox which splits the power to the centre rotor, and through driveshafts to the left and right rotors with their own 90-degree oil-filled gearboxes.
This is where the biggest changes have been made — high-quality gearboxes have been sourced and imported from Italy for reliable and trouble-free operation.
One thing I was critical of in the past was the lack of driveline overload protection, and this has also been addressed.
Driveshafts with an incorporated cam clutch are now standard on all machines to prevent any damage.
Interestingly, although the machine has been built to handle being operated at 1,000rpm to tackle the toughest jobs, it still works effectively when operated at 540rpm in lighter situations, resulting in some fairly serious fuel savings.
Blades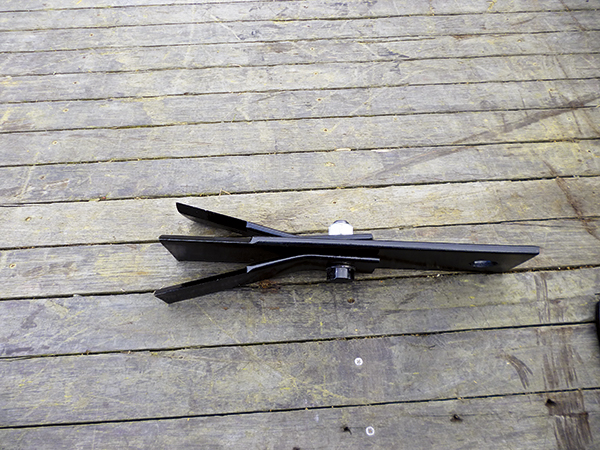 The unique triple-stack blades found on this machine never cease to amaze me.
They use a straight, flat 100mm by 10mm thick blade in the centre, with two smaller 60mm by 100mm lades above and below which bolt onto the main blade, creating a 'Y' shape. This results in the material being cut not once, but three times (every time the blade hits it) which finely chops and mulches it.
Fieldmaster suggests the blades are very versatile and ideal for mulching a wide range of materials, including kikuyu, rough pasture, weeds, and crop stubble (and I have seen this for myself in the past).
They certainly proved themselves again on the day of the test, quite literally destroying anything we tackled and creating fine mulch, even out of metre-high gorse.
Just in case the triple-stack blade isn't versatile enough, Fieldmaster also offers a selection of other blades to suit almost any conditions, including extra-heavy duty axe-head flails for use on big scrub and gorse, a thin gold-tipped blade ideal for clean-cut grass mowing, and a tungsten-coated blade for use in abrasive situations, such as on sand.
With only two blade holders on each rotor using only a single heavy bolt to hold the blade on, they can be interchanged very easily and quickly. All of the blades are also reversible to increase the lifespan and lower operating costs.
Verdict
Fieldmaster's GMM 300 Multi-cut Gearmower is another fine example of a quality product designed and built in NZ to suit its conditions, so I'd be confident the company will continue this philosophy as it expands further into the Australian market this year.
The fact that a 3m mulcher was operating behind a 90hp tractor at forward speeds of around 5km/h in some reasonably heavy-going situations, while still maintaining a clean, tidy cut producing fine mulch, should speak for itself.
The direct driveline to the rotors minimises power losses, while the higher quality gearboxes and driveshafts, along with the incorporated cam clutch, are a huge improvement on previous models that will minimise damage.
The unique triple-stack blades once again impressed me — they do an exceptional job in a range of conditions — while the ability to fit a range of different blades further increases the versatility of the machine. For those looking for a mulcher, the Euro GMM 300 Multi-cut Gearmower is a very good place to start.
Specifications
Make/model: Fieldmaster Euro GMM 300 Multi-cut Gearmower
Dimensions: 3m W x 1.6m L
Weight: 750kg
Gearbox rating: Centre 180hp (134kW); left/right 110hp (82kW)
Power requirements: 70 to 130hp (52 to 97kW)
PTO speed: 540 to 1,000rpm
Rotors: Three
Blades per rotor: Two
For the full test report, pick up a copy of New Farm Machinery magazine issue 24, on sale July 20.
Subscribe to the magazine using the button below to never miss an issue.

Subscribe to our newsletter
Sign up to receive the Trade Farm Machinery e-newsletter, digital magazine and other offers we choose to share with you straight to your inbox
You can also follow our updates by liking us on Facebook. 

Graders For Hire | Cranes For Hire | Telehandlers For Hire | Excavators For Hire