REVIEW: Landboss 800D LE UTV
---
The diesel utility task vehicle market banks more money every year. Now a new brand, Landboss, has opened an account with a Perkins-powered Landboss 800D UTV.
Undoubtedly the fast growing UTV market segment is the diesel part of it and there are good reasons. Commercial operators get a diesel fuel rebate, which isn't as generous as it might be but is certainly better than nothing.
Diesels are more fuel efficient than petrol engines, because they produce their maximum torque at lower rpm and therefore don't have to be revved as hard to get the job done.
They also last longer than petrol engines if maintained properly and on the whole give less mechanical trouble. Having a diesel UTV also enhances uniformity in a farm fleet.
UTVs aren't much chop when you're cutting animals from a mob though, because they're too big to turn as quickly as an all-terrain vehicle (ATV), but they're a whole lot better for hauling loads around a farm or down the road.
Recent stats show that diesel-powered UTVs now own nearly 30 per cent of the local market.
No wonder, then, that when machinery distributor Mojo Motorcycles went looking for a diesel-powered UTV to complement its CF Moto petrol-powered range, it had to find one heavy duty enough to survive the flogging that Australian farmers will give it.
For this review, I am joined by my colleague Tom Dickson and Warrnambool farmer Ned Kelly who kindly lent his bright green and beautiful 'Woorabinda' property for us to conduct the test.
The Landboss 800D: An introduction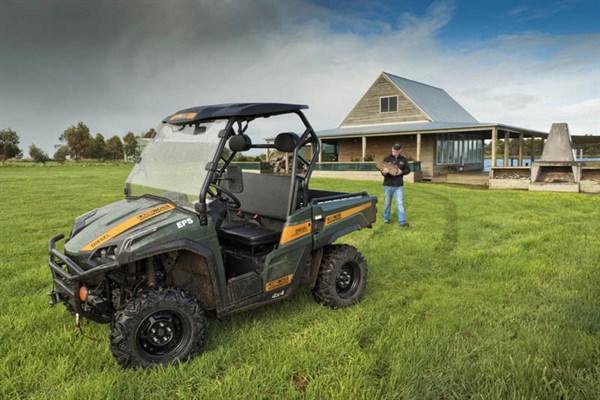 On the face of it the only hint of Landboss' provenance is the tiny word 'Linhai' engraved on the instrument cluster.
Among many other things, Jiangsu Linhai carries out engineering and manufacturing for a few of the industry's heavy hitters.
It was, for example, the original equipment manufacturer for the slow but honest JCB Workmax 800 we assessed in an earlier issue of this magazine.
Landboss is an Australian-owned brand.  And as Mojo's area manager for New South Wales and the ACT, Bob Walters tells me, "We've signed an exclusive agreement with Linhai to distribute the Perkins diesel UTV in Australia and New Zealand, so nobody else can distribute that machine here."
VIDEO: Landboss makes Australian debut at AgQuip 2015 
There are two models, a base one and an LE. The base model retails for $16,000 and the LE for $18,000.
We are given a brand new LE, which had barely turned a wheel before we nicked off with it.
Over the base model, this one has electronic power-steering, a 3,000lb (1,361kg) front winch with remote control, an internal rear-view mirror, a roof and windscreen.
We are also pleased to see a tow hitch at the front, which makes parking augers and trailers in tight places way easier. What a great idea.
Look up the Landboss 800D UTV specifications
Construction and cab
The Landboss is built on a solid looking chassis, surmounted by a beefy roll cage.
The sculpted bench seat is big enough for two blokes but might become a test of deodorant performance with three big fellas in there. 
In standard trim it has no doors or nets, and no shoulder or hip bolsters either, but it does use foldable door tabs where the cab joins the floor. These prevent the driver inadvertently sticking a foot out of the cabin.
They also catch anything on the floor before it can slide out while the vehicle is moving and since they fold, they weren't in the way when we were getting in and out.
We couldn't find any cab drain holes but are informed later that there are two removable plugs on the sides of the floor.
No doubt the floor will have drained more quickly had we removed these plugs after hosing the machine down at the end of the day with Ned's 5,000hp (3,728kw) Blasta-Matic.
Another aspect of the Landboss we appreciate on a really shitty day is that no mud seems to be flung off the tyres and into the cabin. The mudguards must be well designed.
Drive system
The 4WD system incorporates a diff lock front and rear.
A rear differential allows the rear wheels to rotate at different speeds, as a car does for easier corning and steering. (Other manufacturers call this 'turf mode'.)
With the rear diff lock engaged you run with only the two rear wheels driving. When you dial in 4WD, the transmission drives both rear wheels and one front wheel. This is for easier steering. If you engage both diff locks the machine runs in all-wheel drive.
Controls
Gears are arranged in a simple H L N R pattern and stirred by a lever to the left of the steering wheel.
My first impression is this set-up looks awkward but I am wrong. It turns out gear selection on the Landboss is smoother than just about any UTV we've driven/tested/photographed or watched go by.
A sticker showing the gear pattern is adhered to the plastic next to the shift lever slot, and it is kind of difficult to see without bending over it.
At first I think this is awkward too but then I take a look at the instrument panel and all is revealed. 
Digital readouts tell you everything you need to know, including which gear you're in and what's turned on or off. It is a comprehensive display. Every function is managed by a rocker switch on the dash or steering column surround.
However, I notice when the handbrake is pulled on, it spikes me in the arse every time I get out of the vehicle. Maybe I'm built funny.
Maintenance
Checking fluids is dead easy—that is after we manage to get our fingers on the catch-me-if-you-can bonnet latch.
The bonnet latch is hard to get at, on account of its proximity to the front bull bar, and when you tilt the tray to check engine and transmission fluids, the engine oil dipstick is further away than a normal human arm can reach. 
However, with the bonnet off we can access the full-size 12-volt battery, the radiator, the fuses, the coolant overflow bottle and the brake fluid reservoir. That is very neat.
We spend a lot of time poking and prodding the Landboss, particularly in the nether regions where the engine air filters are located. 
They are actually under the vehicle on the right-hand side, and obviously easier to get at with the thing on a hoist.
In any event, Tom and Ned take turns wriggling around in the hay for 10 minutes until they get the filters out, another 20 minutes working out how to get 'em back in — or at any rate, how to get them back in and the filter cap back on.
But the filters are a good set-up, a large primary filter with a secondary filter inside it.
On-road use
Something many farmers will appreciate is the ease with which the Landboss can be registered for road use.
In standard trim it carries indicators, mirrors and a numberplate light, something no Japanese UTV can offer. (It is also fitted with trailer electrics.)
All things considered, it should take a savvy dealer about an hour to rustle up the necessary paperwork to have it street legal and that could save you a couple of hundred dollars right there.
Performance
It rides pretty well, actually.
Suspension front and rear is double A-arms, in this case controlled by shock absorbers far larger than the spindly things you find on most UTVs and always on Chinese UTVs.
Ride quality is on a par with similar vehicles we've tested, and we think the power steering superb, perfectly weighted in fact, with not the slightest backlash on any kind of surface at any speed. 
With only 20hp (15kW) you wouldn't expect the Landboss to be fast and it isn't. But neither are any of the other diesel UTVs and nor are they meant to be.
Keeping in mind the vehicle is brand new, top speed was about 45km/h, at which point engine noise really did become intrusive if we were trying to carry on a conversation.
We're told that by adjusting a throttle stop, top speed will be about 55km/h.
Verdict
We think the diesel LE Landboss is good value for money at $18,000, about the same price as, say, a much more lightly built, petrol-driven Yamaha Viking.
You get diesel toughness, a solid chassis with decent suspension, power-steering, a serious four-wheel drive system with front and rear diff locks, and on top of all that a UTV that's cheaply and easily registered.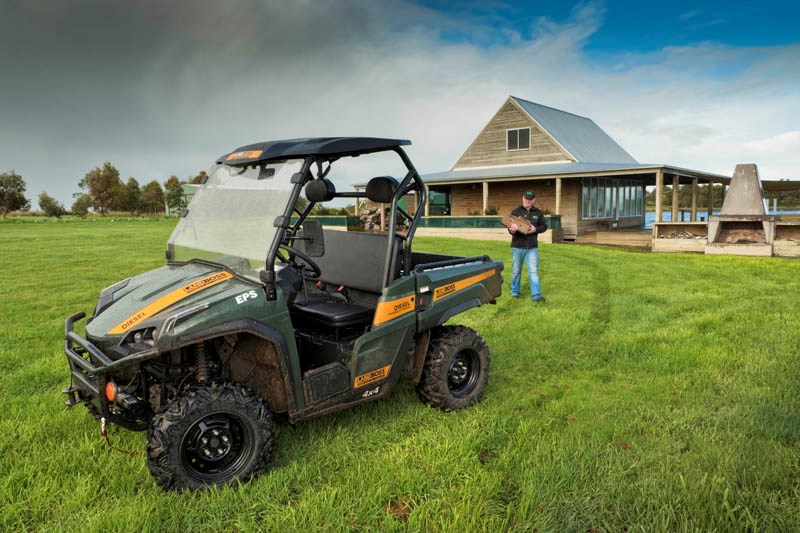 The Landboss is a fully Australian owned UTV.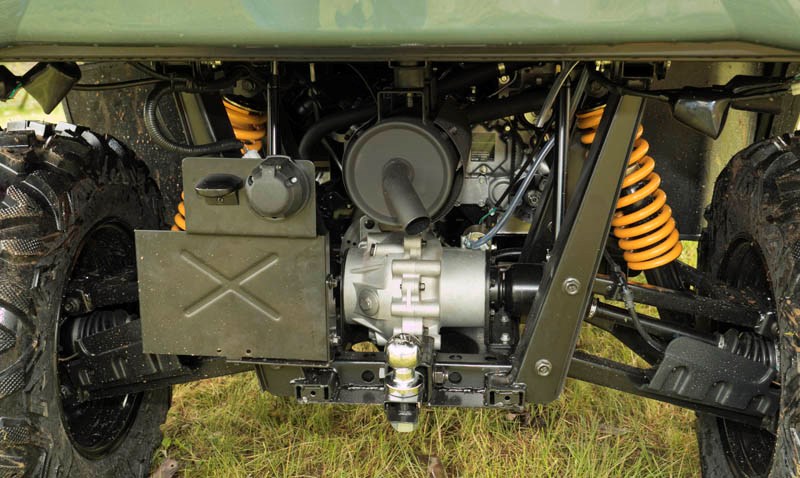 The CV protectors look a bit light-on but the rest of it is impressive. Dual A-arms, heavy-duty shocks and general-purpose 26-inch tyres on steel rims.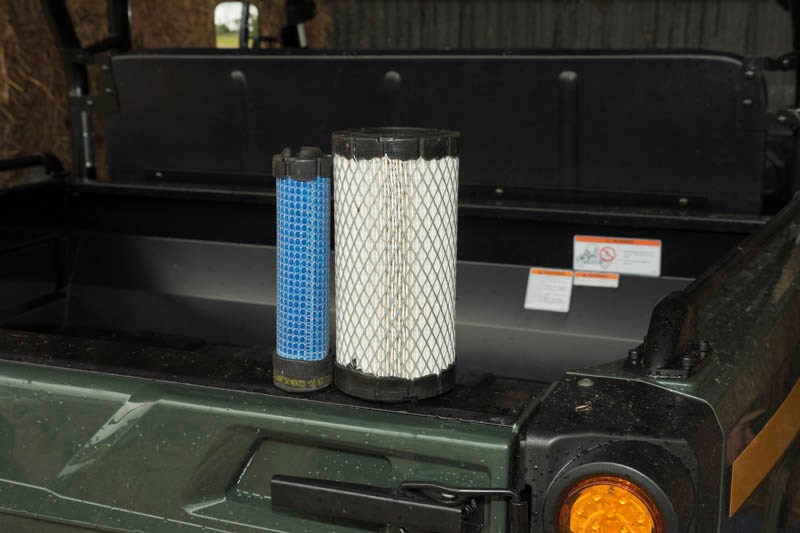 Primary and secondary air filters. It was a good set-up, although getting them in and out was fiddly.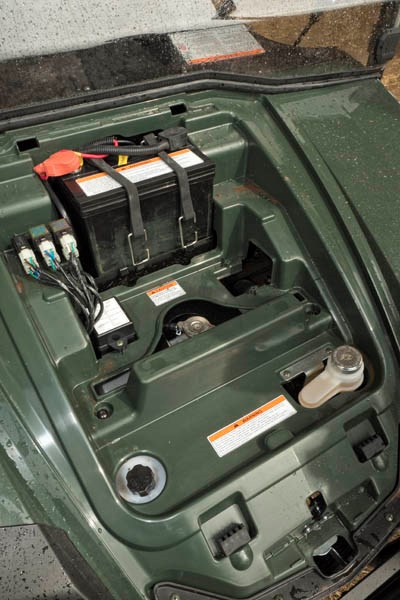 Removing the bonnet gives you access to daily maintenance items like coolant, fuses and brake fluid.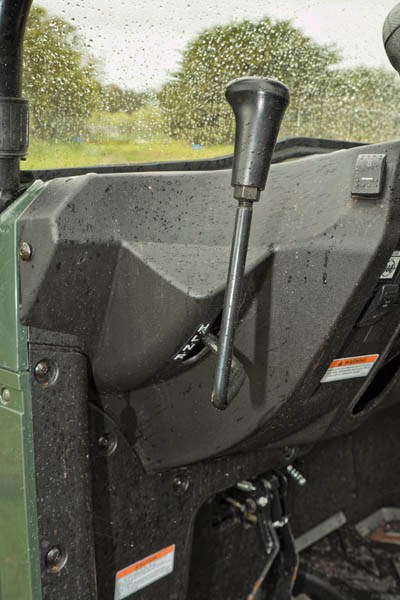 The shift lever looked a bit dodgy but gear selection was much smoother than we normally find on a working man's UTV. The transmission has to be in neutral for the engine to start, a simple and sensible safety feature.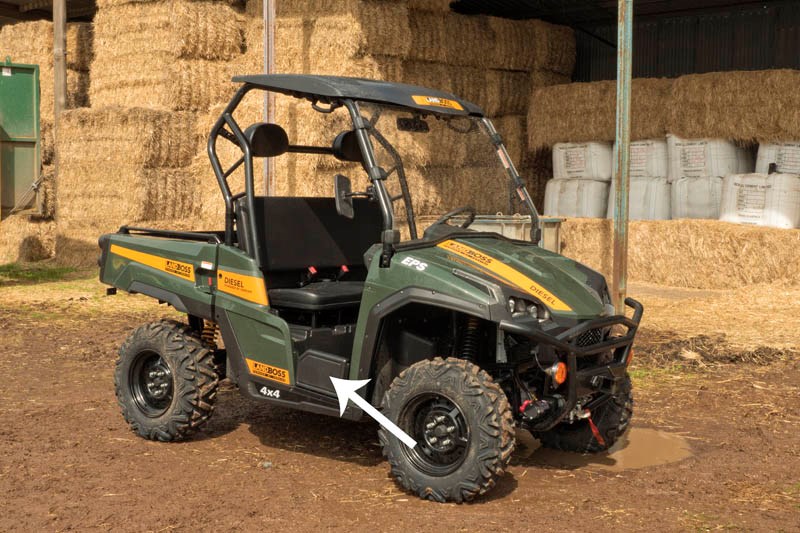 A foldable door tab (arrowed) prevents you inadvertently putting your foot outside the vehicle. It also stops materials on the floor sliding out of the vehicle when it's moving.

Subscribe to our newsletter
Sign up to receive the Trade Farm Machinery e-newsletter, digital magazine and other offers we choose to share with you straight to your inbox
You can also follow our updates by liking us on Facebook. 

Graders For Hire | Cranes For Hire | Telehandlers For Hire | Excavators For Hire