REVIEW: 2015 Nissan Navara NP300 ST-X dual-cab
---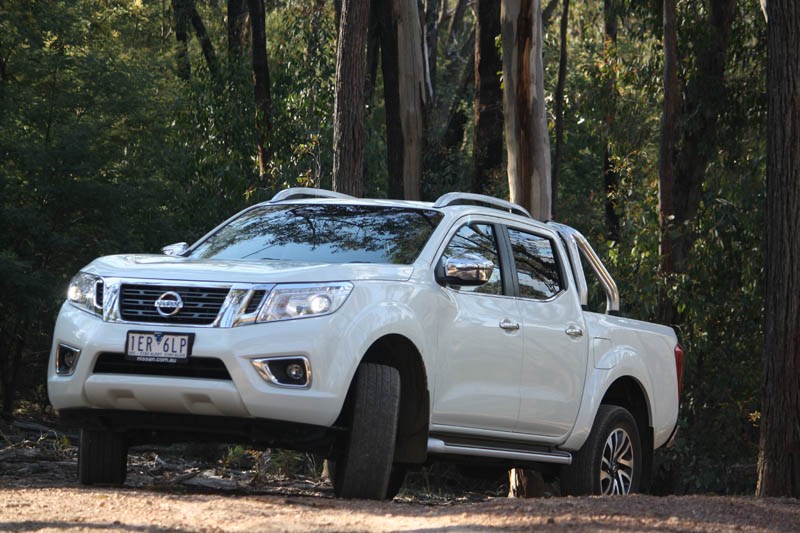 The NP300 is an all new Navara.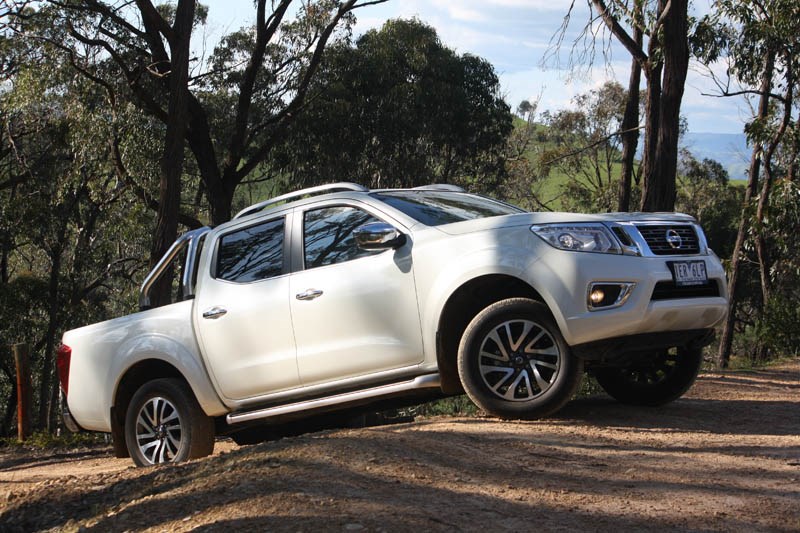 The ST-X features all the usual bling, it seems that here in Oz we just can't get enough 4WD utes.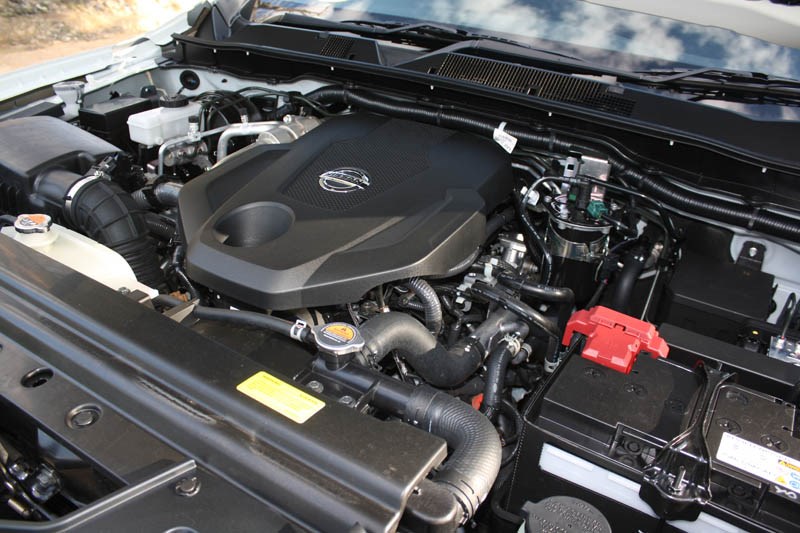 A twin turbo 2.3-litre engine makes 140kW and 450Nm.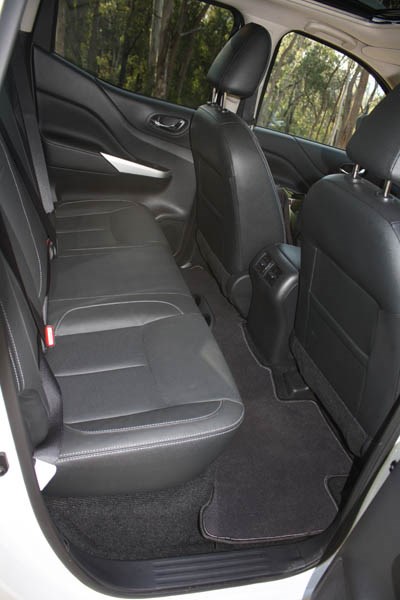 A very comfy new interior that's light years ahead of the old models.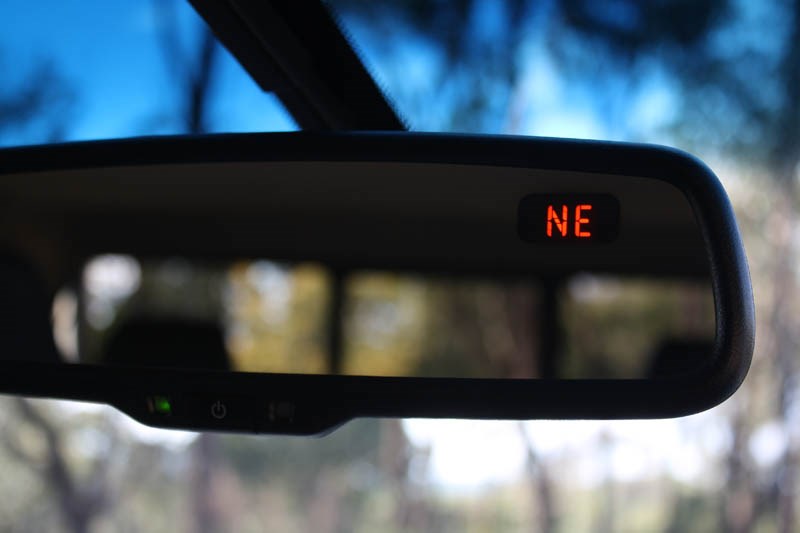 This stupid bloody compass really started to annoy me after a while.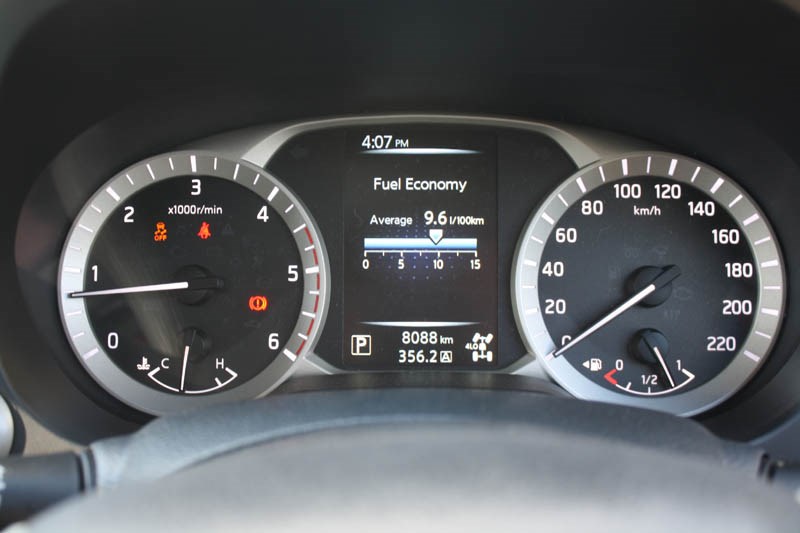 A nice simple instrument cluster that still gives you the info that you need.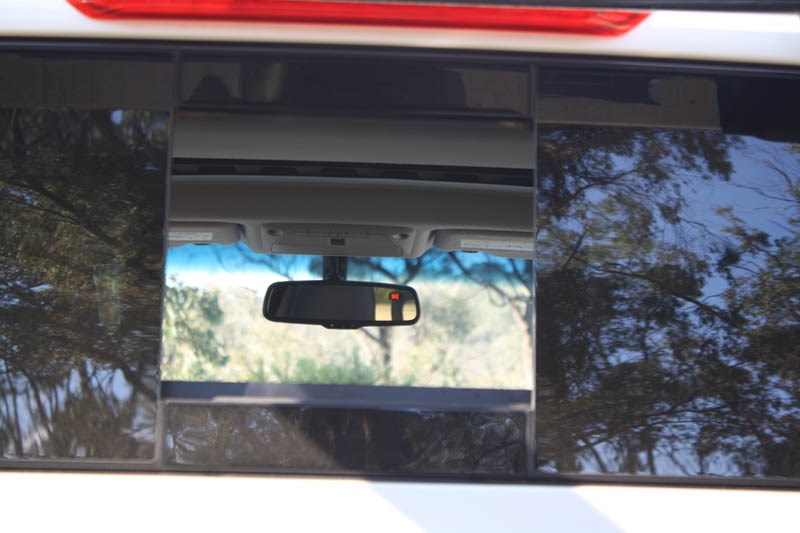 The slide open rear window is awesome, for all the wrong reasons.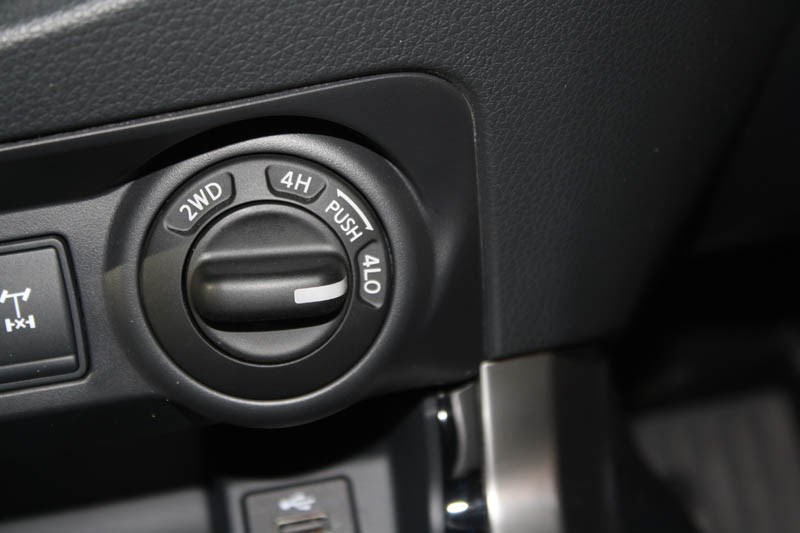 Shift on the fly dual range transfer case.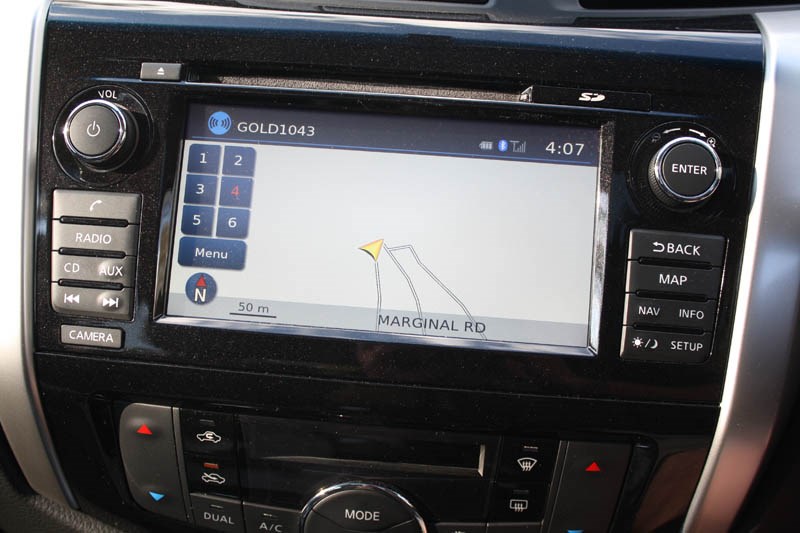 The ST-X has a 7-inch touch screen and sat nav.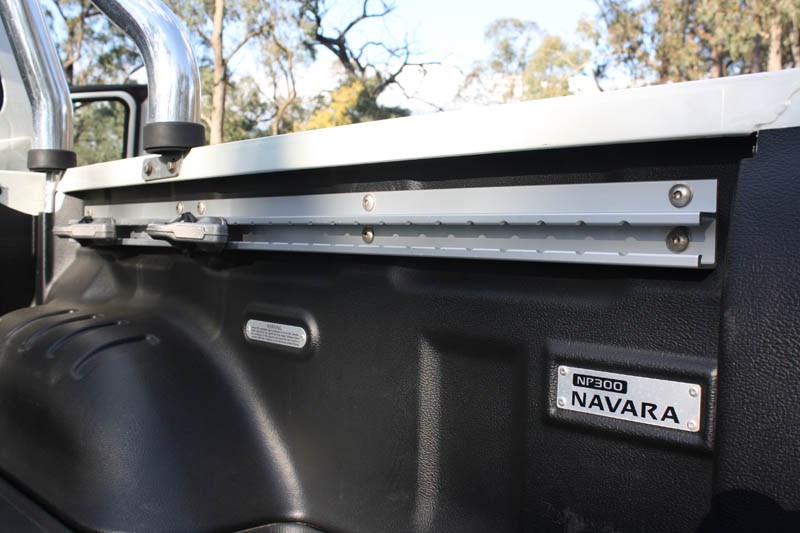 I'm a big fan of the UtiliTrak tie down system on the Nav.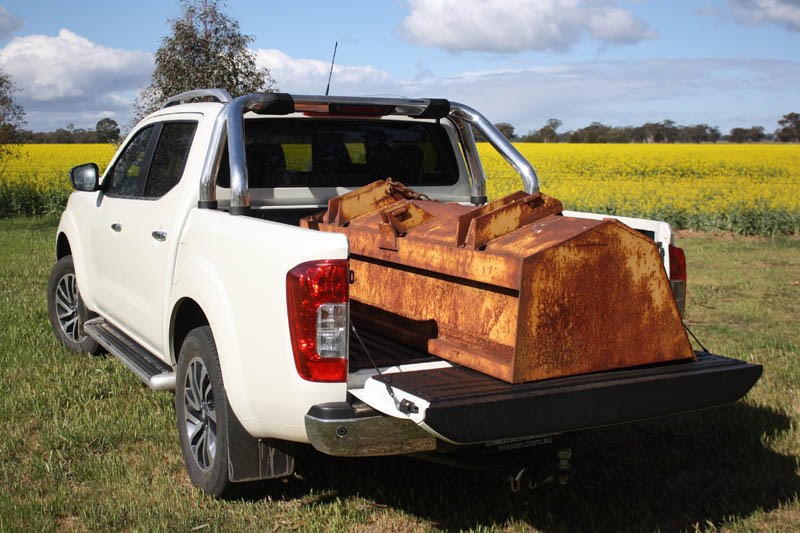 The coil sprung rear end didn't like a modest load very much at all.

The all new Nissan Navara NP300 has arrived in Oz. MATT WOOD drives the plush STX and finds some pluses and some minuses.
This year has seen the arrival of an all new Nissan Navara. The NP300 was launched locally in dual cab form initially though the rest of the range, which pushes the model selection out to 27, and should be arriving off the boat as we speak.
It's a completely new vehicle that sports a different look, three new engines, and for the dual cab range, coil sprung multi-link rear suspension.
DX, RX, ST and STX models are all available in 4x2 guise, moving up to 4WD models gives the option of RX, ST and STX trim.
The 4WD system remains an electronically controlled shift-on-the-fly dual range transfer case.
I must confess to be being a little underwhelmed by the new look of my off-white Navara ST-X 4WD, it just seems a little too homogenous on the current market.
Nissan's new 'arrow' styling gives a little flare up over the front wheels, echoing other models in the Nissan line up.
Side steps and sports bar make things a little more sporty as do the 18-inch (45.7cm) alloy rims all round. I never thought I'd ever had to point this out with a 4WD ute but the Nav also features a full size spare wheel.   
Engine and transmission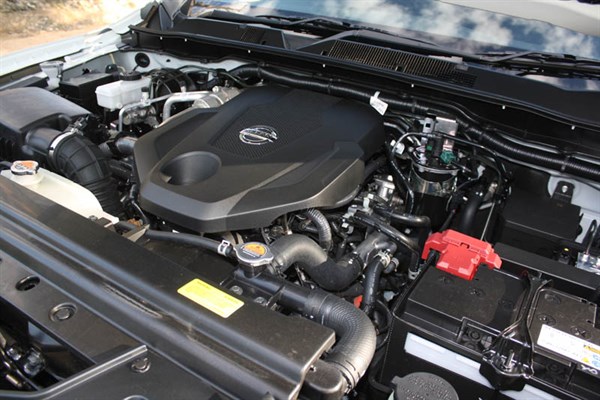 The new 2.3-litre diesel is available in single turbo or twin turbo guise. The single scroll power plant provides 120kW of power while the twin scroll puts out 140kW.
 Torque output is 403Nm and 450Nm respectively and this doesn't change with either a manual or automatic transmission.
Cog shifting comes with a choice of a 7-speed automatic or a 6-speed manual 'box. It unlikely that country buyers are going to be really very interested in the petrol version but just in case you are there's the option of a 2.5-litre petrol that's available in the base model DX 4x2.
This engine can also be found under the bonnet of the Nissan Altima and X-Trail and it'll make 120kW and 238Nm.
Payload and towing
The top spec 4WD ST-X is rated to take 930kg, but it's unlikely that many of the higher spec versions will ever carry payloads that come close to those figures. Dirt bikes, mountain bikes and camping gear are probably closer to the mark.
However, towing capacity seems to be the big battleground in this part of the market.
The introduction of the Ford Ranger, Mazda BT-50 duo back in 2012 and their 3,500kg braked towing capacity has quickly made this figure an industry benchmark for the dual cab ute.
Which to be fair isn't without reason, the limited amount of tub space in a dual cab means that most will be lugging trailers as a part of their job description, whether it's for work or play.
Interior and controls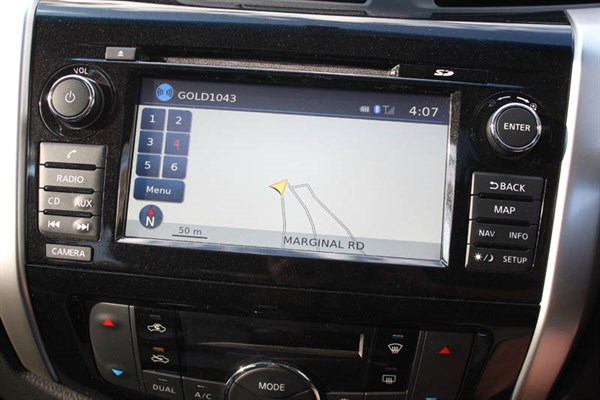 Inside, the NP300 has a multimedia touchscreen that starts out at 4-inch (102cm) in base models, 5-inch (12.7cm) in mid-spec and 7-inch (17.8cm) in the ST-X.
All of the usual Bluetooth, connectivity, streaming doo-dads are available. ST and ST-X models also have a much needed reverse camera.
The high hiplines and 5.2m length of this truck and for that matter all of its competitors make reverse cameras a must for these trucks, especially if there are kids around.
The other plus that comes from having one of these cameras is that it makes hooking up a trailer on your own very easy indeed.
The range topper also gets an electric sunroof and electric sliding rear window. I actually love this feature because it allows you to yell at your dog while still driving.
There are seven airbags lurking around the cabin and all the usual electronic stability acronyms are available, such as new generation vehicle dynamic control (VDC) with brake limited slip differential (BLSD), anti-lock braking system (ABS), electronic brakeforce control (EBD), traction control system and brake assist (BA).
ST and ST-X models also get LED daytime running lights and the 'X' gets automatic headlights and push button start.
There's also dual-zone climate control on the ST and ST-X, though to date nobody has been able to tell me just how dual-zone climate control makes any difference at all in a cabin that isn't divided into rooms.
My Nav came equipped with the 7-speed automatic trans, leather interior, and heated seats … because everyone in Australia needs heated seats.
Being the posh model, the ST-X also comes with a digital compass that rather annoyingly resides in the rear view mirror.
Every time I look in the mirror my view is distracted by this orange digital readout. Thankfully this can be turned off, though it resets every time you start the engine.
Suspension
But it's the new rear suspension I have the most expectations about. A five-link coil suspended rear axle has been promoted as providing car-like levels of comfort and handling while still being able to manage the rigors of a work day.
The only other ute on the Aussie market with a coil sprung rear end is the Ssangyong Musso.
Unfortunately, there's an inherent compromise there that ultimately results in the Nissan doing neither car-like nor truck-like very well.
The rear end doesn't feel very sorted while running around empty, and is easily unsettled by broken blacktop.
I did drop a couple of hundred kilos in the tub to get an idea of how it would handle a load, and it didn't like it very much at all.
The Nav's bum sagged noticeably and a drive up a country road saw it wriggling around like a dog with worms.
Given that this rear suspension is for dual cab models only and the rest of the range is leaf sprung, I really think Nissan should've concentrated on making the ST-X more car-like with a heavy duty spring option for customers who are really going to load it up.
Performance
The new styling of the Nav causes me a little concern off road.
The flare up of the guards and bonnet really do affect vision in front of the truck especially if you really want to know where your front wheels are going, however I'm sure that most will acclimatise with time.
As with most modern 4WD's, the shift-on-the-fly transfer case works easily as does the diff lock, though we don't get too carried away in the rock-hopping department.
On the road you feel like you're sitting 'in' the Navara and even though most of its competitors are around the same size for some reason the Nissan feels bigger than it is.
The new 2.3-litre engine is touted to be a more efficient power plant with the factory claiming 7l/100km for this truck and 6.5l/100km for manual versions.
Once it gets going the new donk is both smooth and quiet. However there is quite significant turbo lag that doesn't see a great deal happening until 1,800rpm.
This makes the Nav feel quite sluggish until you really sink the hoof. But open road cruising is exceptionally smooth and quiet.
I also manage not to be beaten up after accidentally honking the horn at people. The upside down teardrop shape of the steering wheel centre makes it very easy to accidentally hit the horn while manoeuvring.
This sees me waving apologetically at quite a few people, but only chased once.
Verdict
This ute is actually quite important globally. Both Renault and Mercedes-Benz have announced their intention to enter the 4WD dual cab ute market, and this Nissan Navara platform will be the one that both companies will use as a basis.
The Navara loves the open road; it sips juice and is a comfy drive. However, it seems a little unsettled at the present especially in terms of suspension.
It may at not like a big load at this stage, but hey, at least you'll look the part.
The NP300 dual cab range starts at $26,490 (MRLP) for the DX 2WD manual petrol dual cab up to $54,490 (MRLP) for the ST-X 4WD automatic diesel dual cab.
The whole range is backed by Nissan's three-year, 100,000km warranty.
Specifications
Make/model: Nissan Navara NP300 ST-X 4WDDual Cab
Engine: 4 cylinder twin turbo-diesel
Power: 140kW/450Nm
Transmission: 7-speed automatic (6-speed manual available)
Payload: 930kg
Towing: 3,500kg (braked)
Price: $54,490 MRLP (excludes on road charges and registration)
Warranty: 3 year 100,000km 
Don't miss the detailed test in the next issue of New Farm Machinery magazine, out November 9.
Look up Nissan Navara specifications on WhichCar.com.au
Find Nissan utes for sale on TradeTrucks.com.au
Subscribe to our newsletter
Sign up to receive the Trade Farm Machinery e-newsletter, digital magazine and other offers we choose to share with you straight to your inbox
You can also follow our updates by liking us on Facebook. 

Graders For Hire | Cranes For Hire | Telehandlers For Hire | Excavators For Hire