REVIEW: Faresin FH7.30C Agri PTO Telehandler
---
The Faresin FH7.30C is designed to be a simple yet versatile farm machine. MATT WOOD heads to Gin Gin in Queensland to have a look.
We dropped by Bernie and Liisa Ostermeyers' small operation on the banks of the Burnett River in Queensland to check out their new Faresin FH7.30C Agri power take-off (PTO) telehandler. 
The couple runs a 300 acre grazing property and feedlot with 300 head of cattle at Booyal Park on the banks of the Burnett River in Queensland.
In the space of three years, the Ostermeyers have built up a successful cattle business. Half the property is now pasture improved with Ostermeyer concentrating on getting growth on his beasts out in the paddock.
In February this year, the Ostermeyers took delivery of the Faresin FH7.30C.
The couple also operate a mix wagon – the Faresin Magnum Double 2000 for the finishing feedlot, but the green Italian-made telehandler is a rather interesting little machine in its own right.
Watch our video review of the Faresin Double Magnum 2000 mixer wagon
The 7.30C is distributed by Chesterfield, which now looks after the Faresin brand nationally. What is quite interesting about this machine in this day and age is its relative simplicity.
Machine overview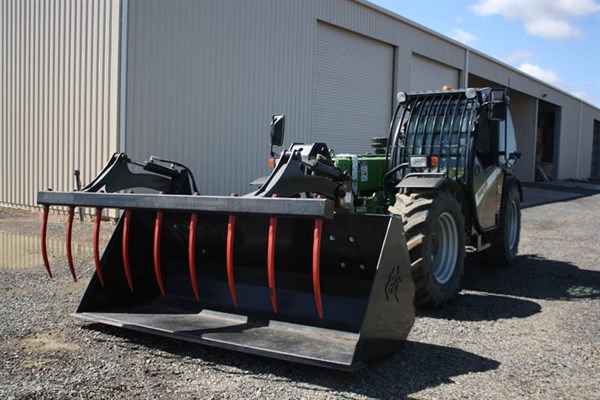 Electronics have been kept to a minimum and the 130hp (97kW) Iveco power plant has no engine control unit (ECU) or any emission controls.
 As you may have guessed from the acronym laden model name this example is also equipped with a PTO, three-point linkage (TPL) and hydraulic remotes.
The C stands for compact and if I have to explain what agri stands for you're possibly reading the wrong magazine.
The 7.30 will lift just shy of 3-tonne, 2,990kg to be exact and will heave 2.5-tonne to a height of 6.2m. The boom will reach out to 3.8m with 1-tonne dangling from the end of it.
Behind the Iveco donk is a Sauer-Danfoss dual range hydrostatic transmission which in high range will give the tele a road speed of up to 40km/h. In fact, the only ECU on the entire vehicle controls the transmission.
But it's possibly what's happening out front that makes the little Faresin quite interesting.
The 7.30C will pump 110l/m out of its hydraulic system at 250 bar. That's enough to drive a compressor, a welder, a log splitter or pretty much anything you want to challenge it with.
But in practical terms, it's pretty much spot on for running a post-hole digger or trencher. Which given the range of options available when it comes from running implements it would most certainly be a handy machine for a fencing contractor.
Engine
The 130hp Iveco engine provides 110hp (82kW) to the 2-speed mechanical PTO so it's also more than up to handling tasks such as slashing and baling, though visibility may be an issue in these roles when compared to a conventional draught tractor.
Engine bay access is reasonably easy with daily checkpoints in obvious places. In fact you don't have to go looking too hard for most things you need to get at.
I spend some time watching the Ostermeyer's grandson Bryce Watts use the machine to load up the mix-wagon for the morning feed and the 7.30's relatively small size made the task of moving around the hay shed look pretty easy.
The Faresin is then also hooked up to a grain mill which sees it provide some PTO action.
Cab and controls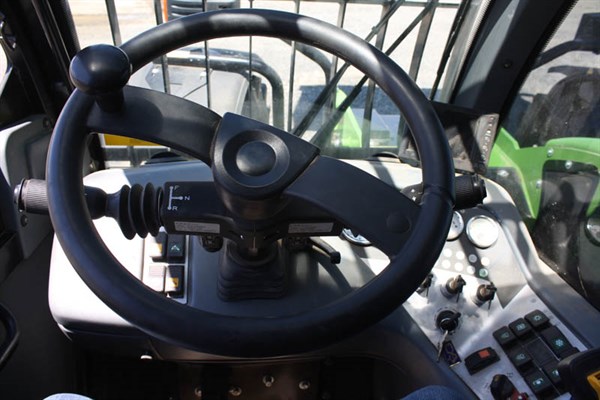 I climb aboard the Faresin with ease, there's nothing out of the ordinary here. But the interior of the telehandler is at odds with many of its competitors, though this isn't necessarily a criticism.
The lack of digital bells and whistles in this machine is actually quite refreshing and there isn't a PLC screen in sight.
Basic rocker switches handle most functions. The multifunction joystick doesn't provide any surprises either. It's a simple and purely functional layout that is easy to jump into and just use.
As you'd expect with any telehandler there's the option of four-wheel, crab and two-wheel steer but in this case there isn't any reason to change it from four-wheel steer.
Visibility is also as you expect, the overhead glass is protected by steel grilles to stop you dropping a rock on your noggin but even at full reach it's easy to keep track of the boom stock.
The boom itself is actually reasonably low mounted so visibility out the right hand side is also quite good for a telehandler
A hand throttle is located beside the driver's seat for plant driving roles and there's also a creep speed setting switch.
If you plan to dig some holes or do quite a bit of bucket work the Faresin also has a bucket float function.
Performance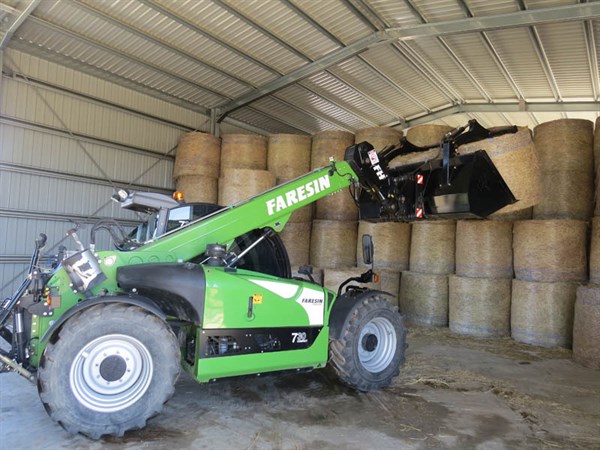 Firing up the engine sees me fumble with the ignition for a second as the key on the particular machine is a little stiff and has to be cranked around a bit further. But once the engine springs to life, all is good.
The first 15 per cent of brake pedal travel acts as an inching pedal but when the brakes do kick in they can be a little savage. However, a bit of familiarity with the machine on my part would soon sort that out.
Verdict
On the whole the Faresin 7.30C works as a simple ag-spec machine. It doesn't wow with the latest in cutting-edge technology but it does have a refreshing simplicity about it that should see it suited to the varied unforgiving roles it is likely to be found in.
The ability to option this machine up with PTO and hydraulic remotes and have a decent sized power plant to run them is also a big plus that takes this machine into possibilities beyond just lift and shift jobs.
It's a basic machine that touts versatility as its biggest asset. In this case the 7.30C works, because it appears to do just that.
Specifications
Make/model: Faresin FH7.30C PTO Agri telehandler
Engine: Iveco turbo-diesel
Power: 130hp (97kW)/350Nm
Transmission: Dual range hydrostatic
The detailed test can also be found in the upcoming issue of New Farm Machinery magazine issue 28, on-sale November 9. 
Find Faresin telehandlers for sale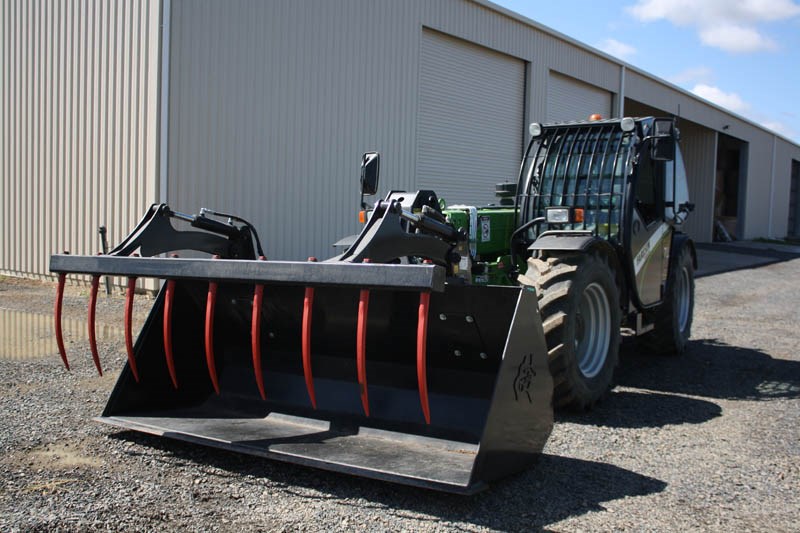 The Faresin 7.30C is touted to be a compact yet versatile farm telehandler.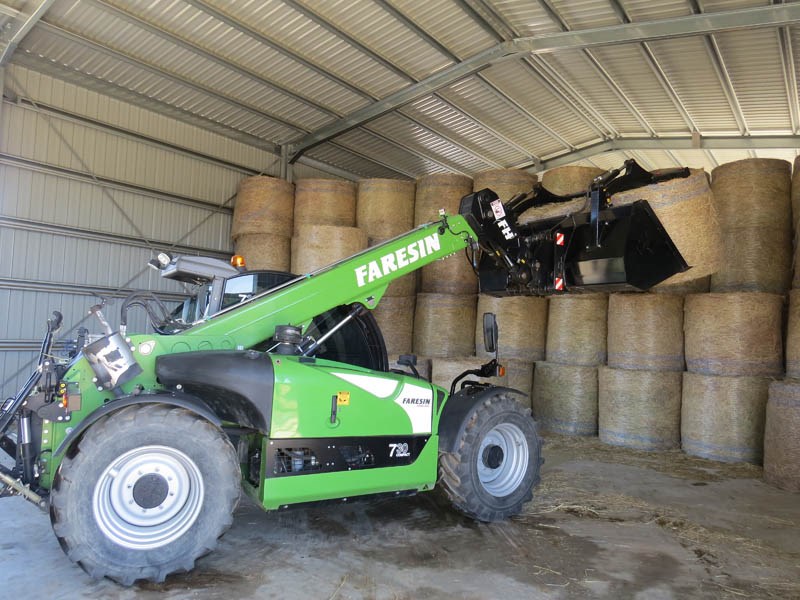 The compact footprint of this tele makes working in the shed pretty easy.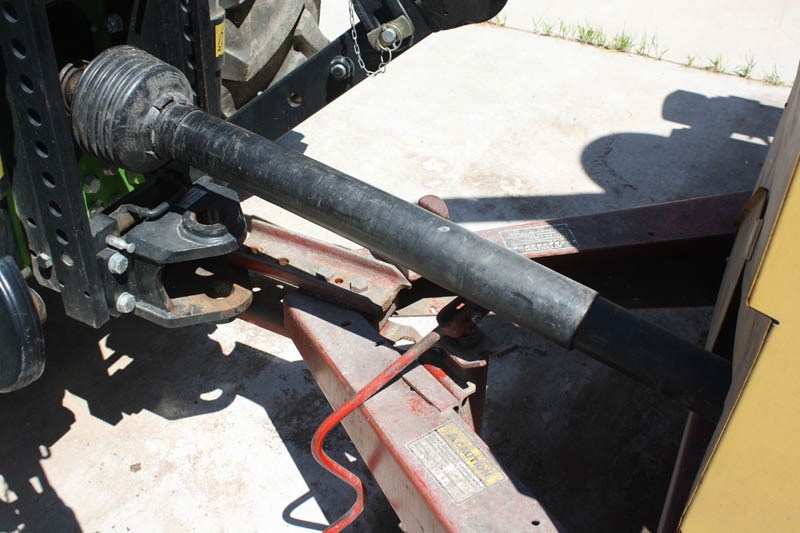 You never know when a PTO will come in handy.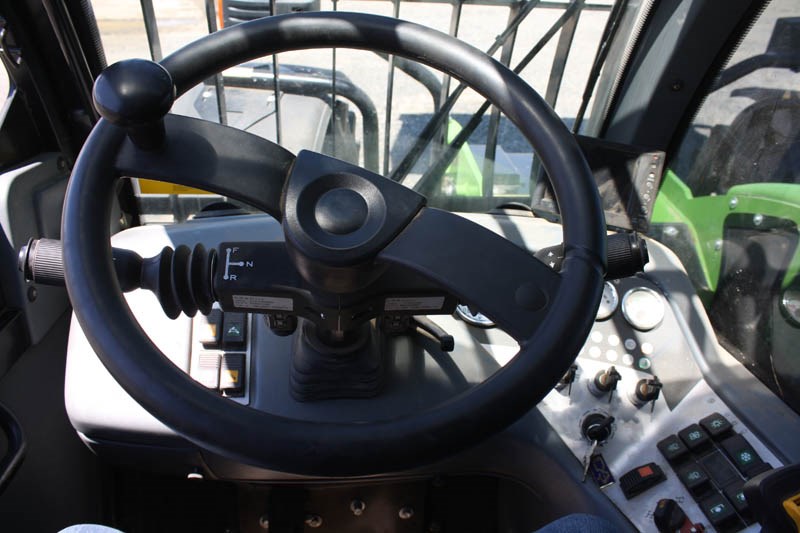 The interior keeps with the machine's overall philosophy of keeping things basic.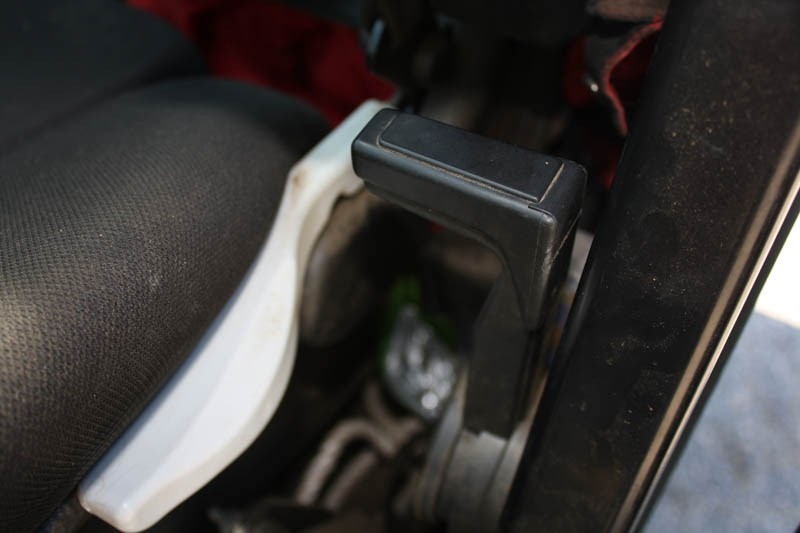 An easy to reach hand throttle is located beside the seat.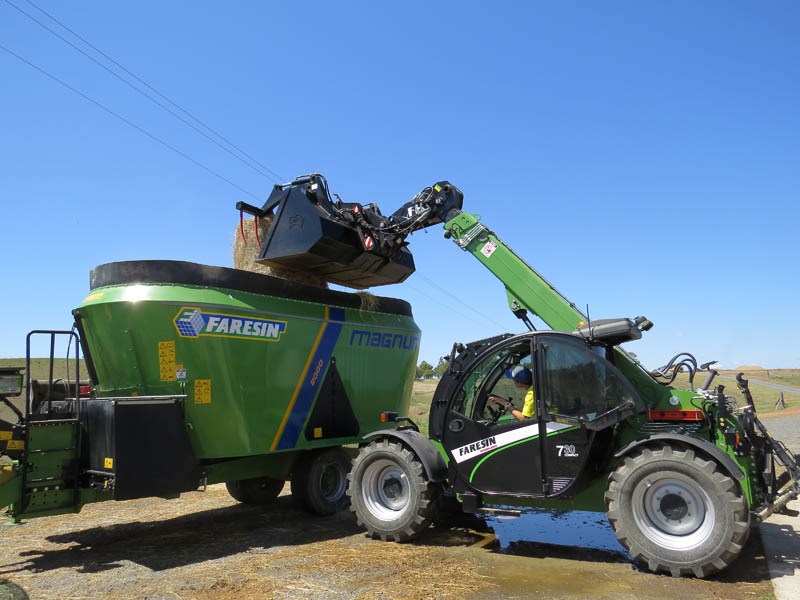 This machine spends its time loading up the mix wagon for feeding time.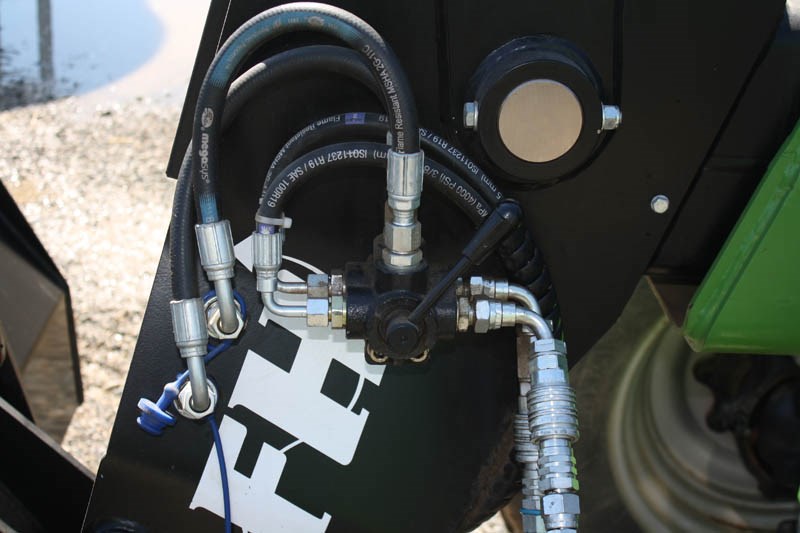 The 7.30 will provide 100l/m of hydraulic flow at 250 bar to the front end hydraulics.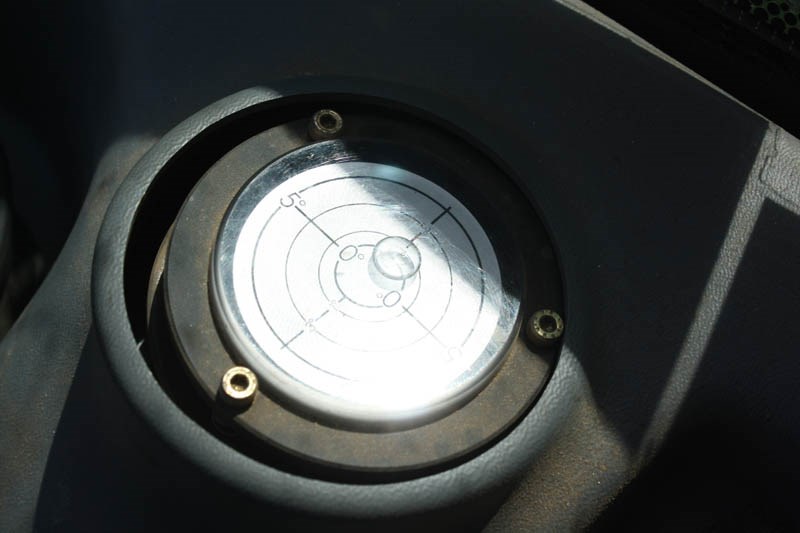 No fancy digital level gauges here.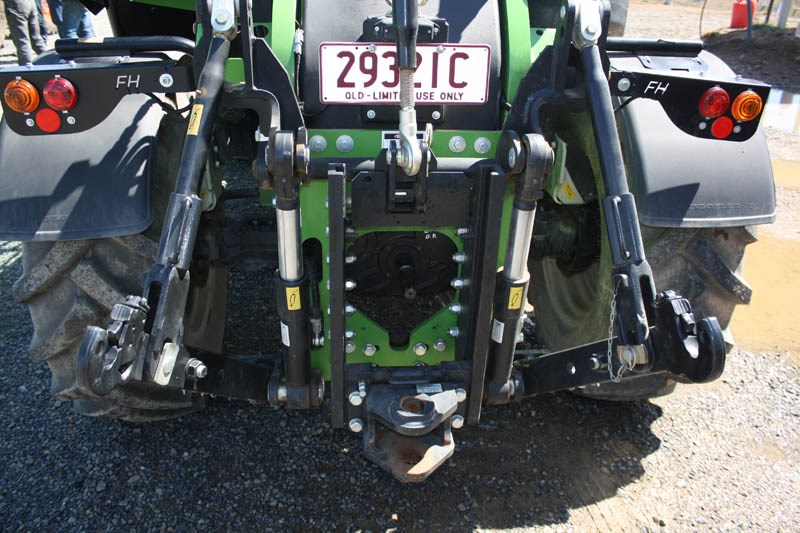 Optional three-point linkage means you could even do some paddock work if you wanted to.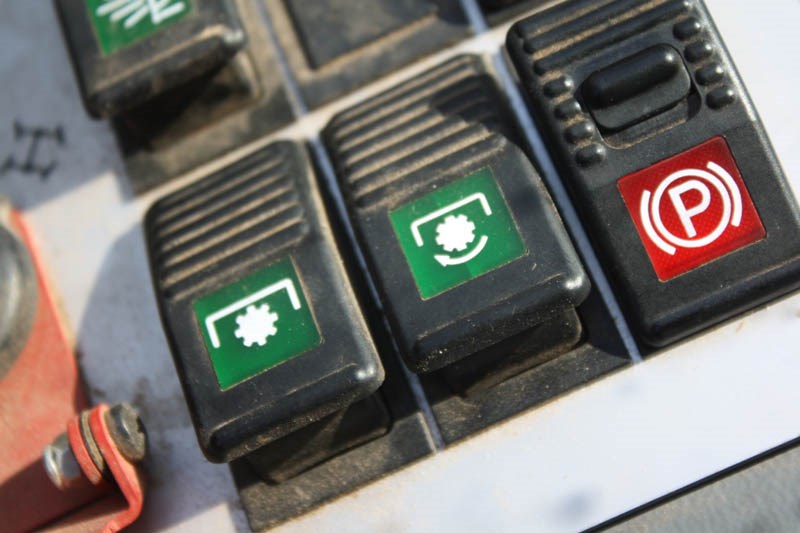 Switch gear is basic yet functional.

Subscribe to our newsletter
Sign up to receive the Trade Farm Machinery e-newsletter, digital magazine and other offers we choose to share with you straight to your inbox
You can also follow our updates by liking us on Facebook. 

Graders For Hire | Cranes For Hire | Telehandlers For Hire | Excavators For Hire