REVIEW: Kubota M135GX tractor
---
Kubota tractors are getting bigger; with higher horsepower models and more spacious cabs, TOM DICKSON tested the M135GX.
The Kubota brand has enjoyed a huge boost in popularity in Australia over the past 10 years. I suspect this is the result of the proven quality of its small tractor range, lightweight earthmoving equipment, mowers and utility task vehicle (UTV) line-up.
Off the back of the growing demand for its products in the smaller end of the Australia machinery market, Kubota is increasing its tractor range into the higher horsepower bracket.
The Kubota brand has enjoyed a huge boost in popularity in Australia over the past 10 years. I suspect this is the result of the proven quality of its small tractor range, lightweight earthmoving equipment, mowers and utility task vehicle (UTV) line-up.
Off the back of the growing demand for its products in the smaller end of the Australia machinery market, Kubota is increasing its tractor range into the higher horsepower bracket.
The M135GX comes from the Grand X series which among other things boasts more cabin space and currently represents Kubota's highest horsepower tractor. The 4 cylinder engine pumps out 135hp (100.7kW) at 2,200rpm and generates 555Nm of torque at 1,200 revs.
Word is that this model too is about to be eclipsed when Kubota releases its new M7 range later this year. The M7 series will offer a 130, 150 and 170hp (97, 112 and 127kW) option.
---
KUBOTA TRACTORS FOR SALE
Find new and used Kubota tractors for sale near you and across Australia.
---
The Test
Today, Agrimac sales manager Robert Cavarsan in Warrnambool is taking a brand new Kubota M135GX hitched up to a never-before-seen Krone Comprima X-treme round baler to some interested clients for a demo.
He especially wants to show off the Krone baler which features film wrap as opposed to net wrap. As far as I can tell, it's the first time Krone has used this style of wrapping in one of its balers. Although this is all very interesting it's probably a story for another day.
My attention is directed to finding out what the M135GX is like and so as a way of helping Cavarsan out I offer to drive the tractor and baler combination out to the property.
Perfect, I get to spend an hour and a half getting familiar with it on the way and Cavarsan doesn't have to pinch anyone out of the Agrimac dealership or workshop to get it there.
Getting out of town causes a few issues to surface but the things I learn about the tractor on the drive are invaluable. Once out of town I head past the Warrnambool Cheese & Butter Factory then out the Cobden Road passing through some of the best dairy country you'll ever see.
My destination is a place called Eklin. While most of the country is suffering a severe dry spell, this area in south-west Victoria, although drier than normal, still looks magnificent.
Machine overview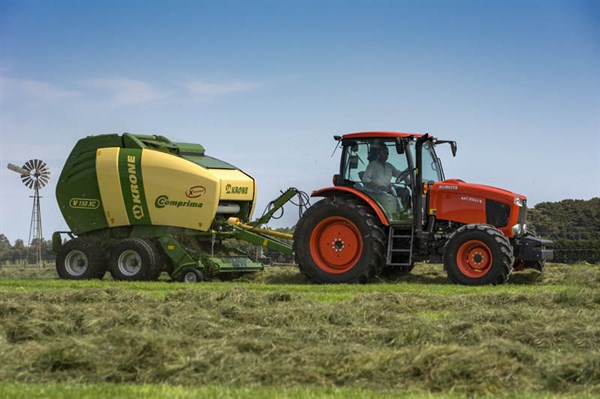 I reckon Kubota has got the look well and truly spot on. The M135GX casts an imposing stature, with a look of strength, below the bonnet line while at the same time incorporating a slim roofline to create a sleek, modern look.
Nothing looks worse on a tractor than a set of skinny tyres. Fortunately this one is using 420/70R24 on the front and 520/70R38 on the rear to give it a really sturdy look and a good indication that traction should not be a problem.
The clearance between the ground and the lowest point under the tractor is as good as any on the market at 615mm.
The front axle propeller shaft passes through the engine oil pan to provide the maximum possible clearance.
A total of eight work lights, four on the front of the bonnet and two each on the front and rear of the cab roofline, should provide ample illumination for night time operation.
A small bulge at the rear of the bonnet near the windscreen has a ventilation grill to direct air onto the diesel particulate filter (DPF) muffler to help to minimise excessive heat build-up.
Grills in the front and side of the bonnet allow plenty of airflow to the radiator cooling package and engine air intake filters as well.
Engine and transmission
Kubota itself makes the V6108-TI-CRS engine neatly slotting in under the bonnet of the M135GX. The 4 cylinder common-rail with direct injection engine is complemented with a turbocharger and intercooler to generate 135hp at 2,200rpm.
The fuel tank holds 190 litres and should keep you going all day. There is no need for the inclusion of an AdBlue tank as Kubota prefers the combination of exhaust gas recirculation (EGR) and a DPF muffler to reduce harmful emissions and make the M135GX Interim Tier 4-compliant.
The Intelli-Shift transmission consists of a 3-speed mechanical shift range selector with an 8-speed powershift to provide 24 gears in both forward and reverse.
Both the range changes and power shifting is done from the same lever on the right-hand side console. Each range change requires clutching via either the foot clutch or declutch button on the gear lever.
Eight powershift gears give a good working range with plenty of scope to keep the tractor working at optimum revs before having to change ranges.
Cab and comfort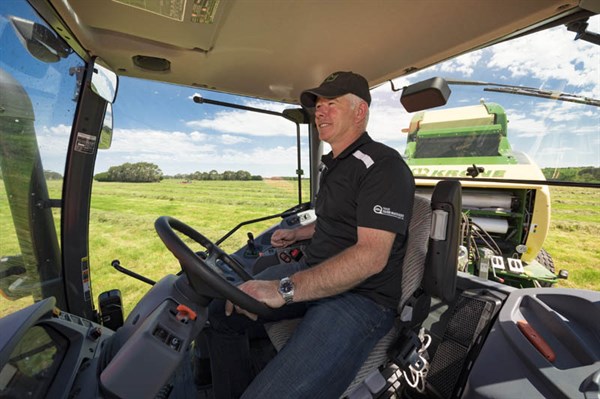 I've heard the dimensions of the M135GX's cabin have been increased on previous models but it's not until you climb aboard you can properly appreciate the sense of space and fantastic view of the outside world from within.
At 1,665mm wide and 1,560mm high, the cab is actually 250mm wider and 200mm higher than the previous model.
Combine this with the elimination of the door pillars to create a four-pillar cabin and you get a spacious cab with excellent visibility: as good as I've seen on any tractor.
It turns out my hour and a half drive to the property reveals a few little quirks I hadn't noticed at first.
The Deluxe Air-ride Seat has automatic height and weight adjustment, reclines and swivels — it needs it too.
Front axle suspension takes out some of the jarring but without any cab suspension I do tend to get thrown around a bit in rough going.
Controls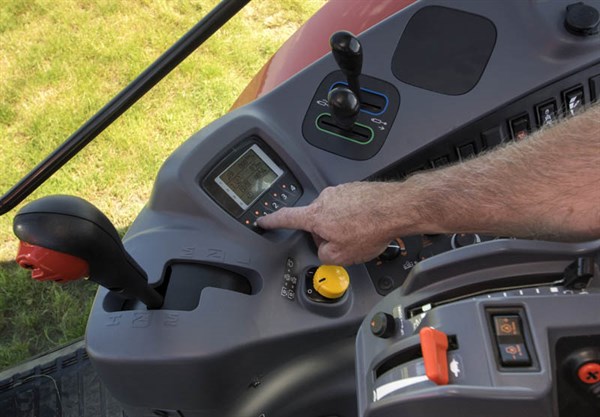 Tilt and telescopic steering allow you to customise the driving position to your personal preference. While the power steering certainly made life easier in rough terrain I did find it a bit sensitive out on the road at top speed.
Outweighing any negatives regarding the sensitivity of the steering is the feature called Bi-Speed turn.
When the front wheels exceed a turning angle of 35 degrees Kubota's Bi-Speed turn kicks in and rotates the front wheels at a rate of speed nearly twice that of the rear wheels.
This drags the tractor around for a smoother, tighter turn. It engages only when the tractor is in four-wheel drive mode.
Performance
I want to get out to the property at Eklin as early as I can to allow as much time for testing as possible, so I push the M135GX up to full revs to sit on its maximum speed of 39.4km/h.
Despite revving to its max it's pleasantly quiet inside the cab and doesn't hesitate in the task of pulling the Krone Comprima baler along behind — until I encounter our first hill climb.
After a few quick gear changes the Kubota regains its foothold and manages to make it to the top. In the paddock it's a totally different story.
Running the baler at 540rpm is a breeze and it doesn't seem to lose a single rev as the windrow grows and the going gets a bit tougher.
The M135GX is built for strength, not speed but for the most part that's how we want our tractors to perform.
Obviously changing up and down through the powershift gears is an effortless touch of a button but the same cannot be said for the range changes.
Sometimes it is easier using the foot clutch, sometimes the declutch button and sometimes it's just impossible and I have to bring the tractor to a stop to get it to change.
At one stage I contemplate bracing myself with a foot up against the front windscreen as a way to force it back but fear I will only break something.
Changing gears really highlights something about the cabin design that will annoy me every time I hop in.
From a comfortable sitting position I can't reach the gear stick. It seems to me the whole right-hand control console is mounted way too low to comfortably reach all the buttons and hydraulic levers mounted on it.
There is also a digital LCD display that provides information on speed, gear selection, fuel consumption and loads of other interesting details but because it's only small and mounted a fair way away on the control console it's pretty hard to see.
The hydraulic shuttle lever is perfectly positioned behind the steering wheel so I can confidently make directional changes without having to take my hands off the wheel.
A built in auto mode will help enormously with paddock work. As the terrain or soil conditions change the transmission automatically changes gears to keep the revs constant.
Great for jobs such as baling and other jobs that require a constant PTO speed for optimum performance.
Hydraulics and PTO
The M135GX has a touch over 77l/m of hydraulic oil flow which isn't the highest in this class of tractor but will be sufficient to operate any implement you might hitch up to a tractor of this horsepower.
Two sets of remotes are standard with a further two supplied as an optional extra. Hydraulic flow can be adjusted to suit on all the remote valves.
On today's outing I have no use for the three-point linkage (TPL) so all I can tell you is its Category 2 with quick hitch hook ends for easy attachment of implements on your own. The lift capacity of the linkage is 5,200kg at 610mm behind the lift point.
It has just the standard 2-speed, 540/1,000, PTO without the option of economy mode.
The job of baling shows me this Kubota is a great tractor for PTO driven implement work. It starts the Krone Comprima round baler really smoothly thanks to its electronic control knob with automatic modulation.
During baling the M135GX really shines. I stand outside for a while to get a sense of how hard it is working by listening for fluctuations in the engine revs and pleasingly, there are none.
There's also more than enough hydraulic oil flow to propel the rear door of the baler up and down to discharge the completed bales quickly and get back to the job of baling.
Verdict
Basically it's a really nice looking tractor with an engine that appears to perform well under load. With Kubota's growing reputation for reliability I would not have expected anything else.
Features such as Work Kruise for pre-setting engine rev speeds, auto mode and even a downhill control switch for maintaining speed on hill descents help give the operator total control at all times.
Hydraulic oil flow rates and TPL raise and drop speeds can also be adjusted from the comfort of the cabin.
With a price tag of $86,000 plus GST for the bare tractor without a loader it's probably worth a look for a small to medium property. As a designated loader tractor or feedout wagon tractor it will be great.
For larger operators or contractors, it's just not quite there yet. I don't mean that as a criticism of its engine performance because it's good in that regard.
My comment is more related to its transmission and cabin function placement which needs a little improvement to go up against the major tractor brands.
If the M135GX was about 10 per cent cheaper a lot more people would consider it as a serious contender.
Hits
Visibility
Bi-Speed turn
190-litre fuel tank
Larger cab
8-speed powershift
Comfort seat
Front axle suspension
Misses
Range gear shifting
Gear lever placement
Control console to low
Specifications
Make/model: Kubota M135GX
ENGINE:
Make: Kubota
Type: Common-rail/turbocharged
Number of cylinders: 4
Power @ 2,200rpm:  135hp (100.7kW)
PTO power: 118hp (88kW)
TRANSMISSION:
Type: Three-range/8-speed powershift
Gears: 24 forward x 24 reverse
Shuttle shift: Electro-hydraulic shuttle
Speed: 0.0 – 39.4km/h
PTO:
2-speed: 540/1000
Type: Hydraulic wet clutch
For the full test report, pick up a copy of New Farm Machinery magazine issue 28, on-sale November 9.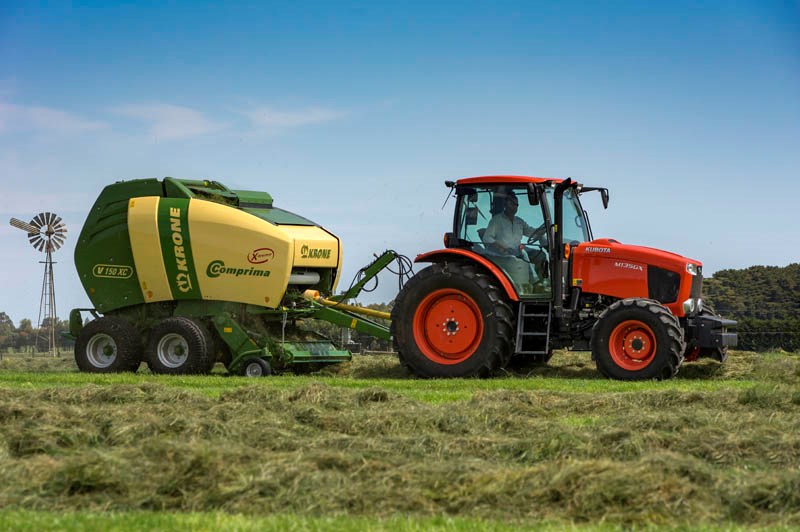 The 135hp machine looks great and performs really well coupled up to a Krone Comprima X-treme baler.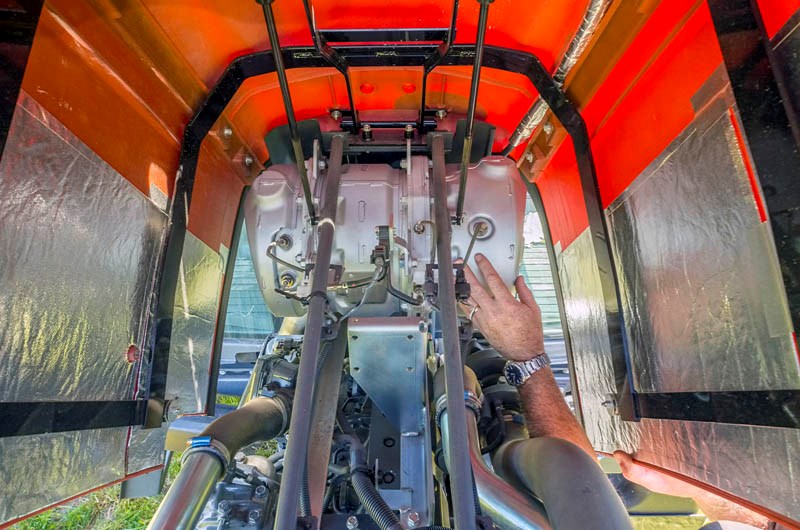 The DPF muffler, (pictured), works in conjunction with EGR to create an Interim Tier 4-compliant engine.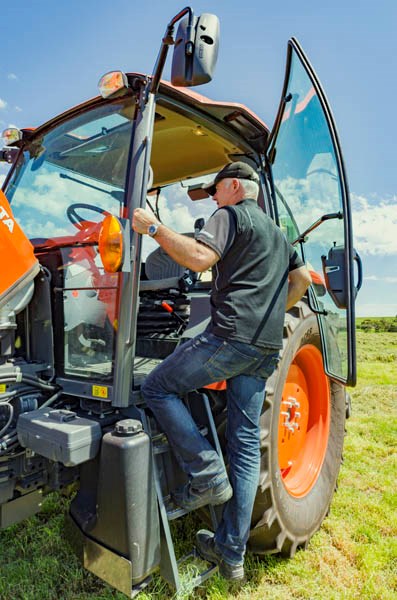 Huge single pane glass door on both sides of the tractor greatly improve access into the cab.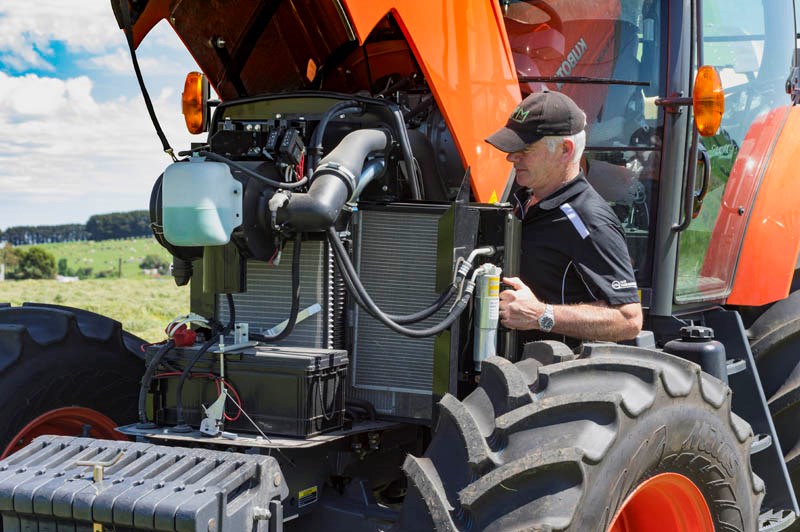 Slide out radiators panels help make cleaning a breeze.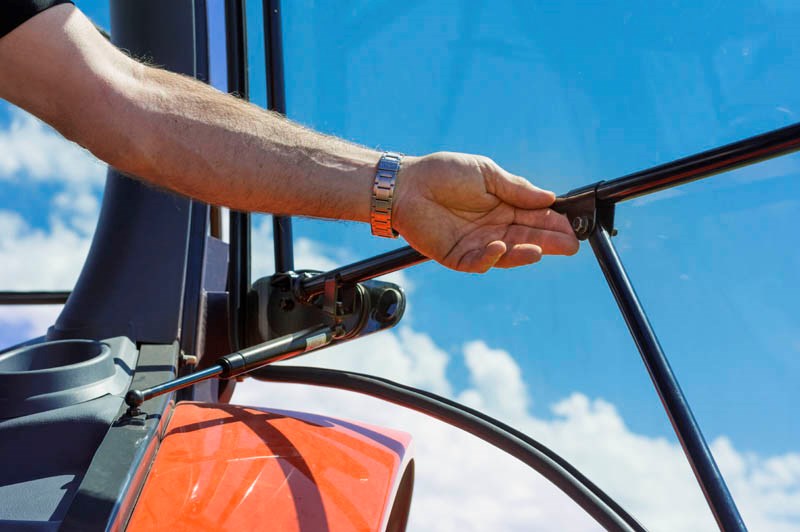 Tom Dickson believes some of the fittings, including the door handrails, could be of a higher standard.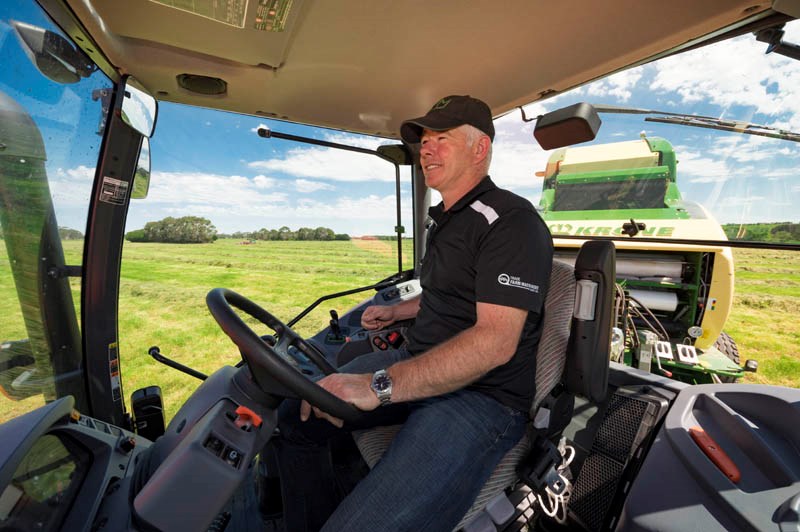 Visibility out of the four-pillar cabin is exceptional. Cabin space is 250mm wider and 200mm higher.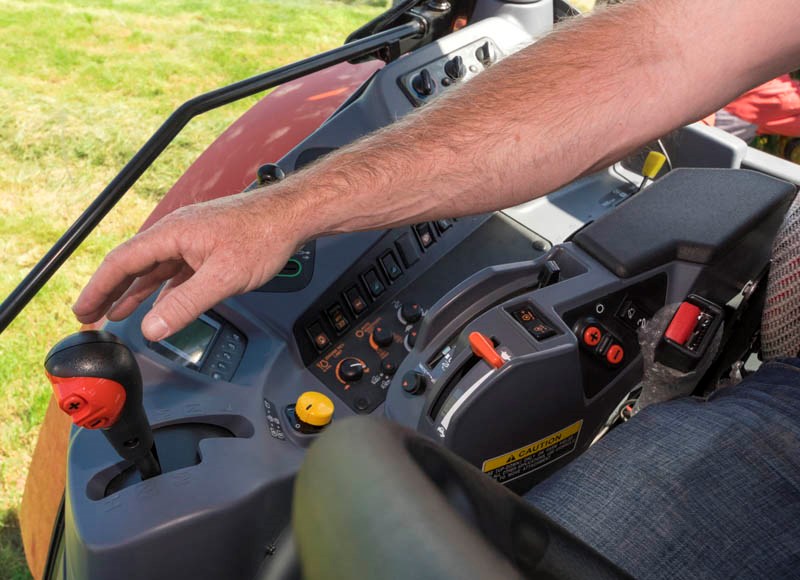 A single lever operates both the powershift and range shift but it's a little bit out of reach for comfortable operation.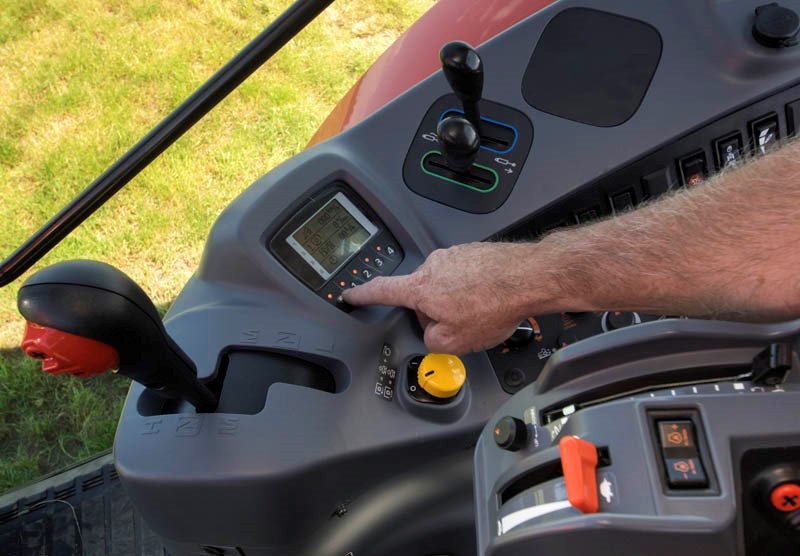 The Digital LCD panel is mounted on the control console and provides readouts on ground speed, PTO revs, fuel consumption and other engine performance indicators.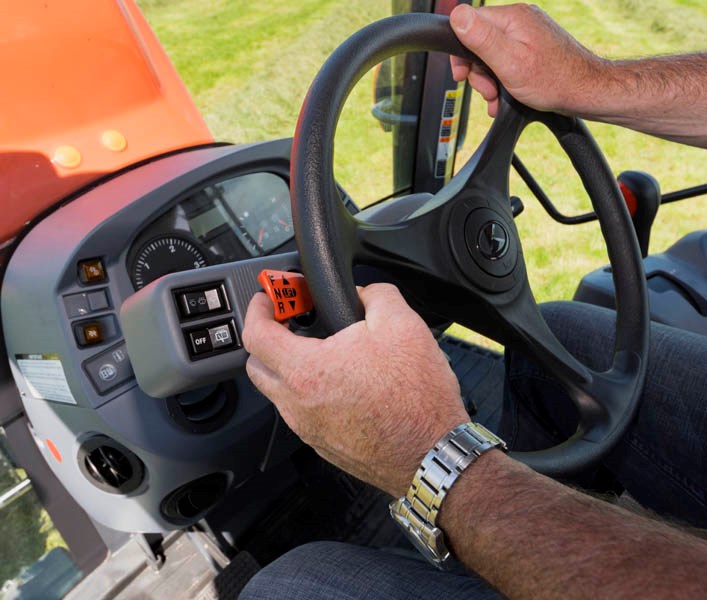 The one-touch hydraulic shuttle lever allows easy shifting between forward and reverse while keeping both hands on the wheel.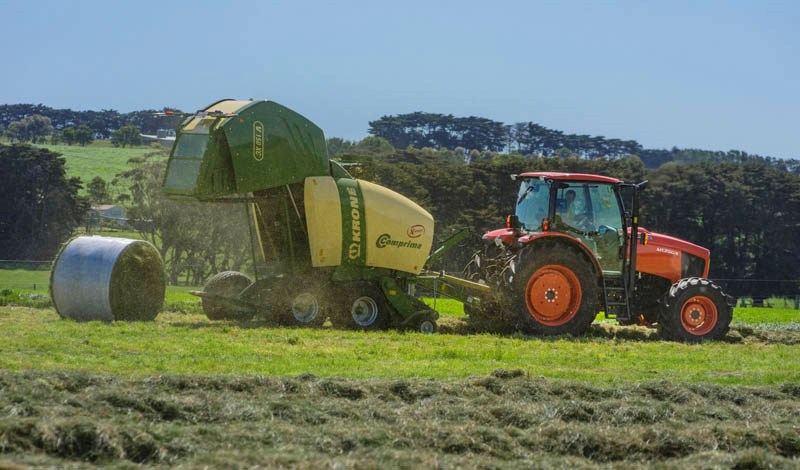 Subscribe to our newsletter
Sign up to receive the Trade Farm Machinery e-newsletter, digital magazine and other offers we choose to share with you straight to your inbox
You can also follow our updates by liking us on Facebook. 

Graders For Hire | Cranes For Hire | Telehandlers For Hire | Excavators For Hire