REVIEW: Farm Chief Express 3000 Cultivator
---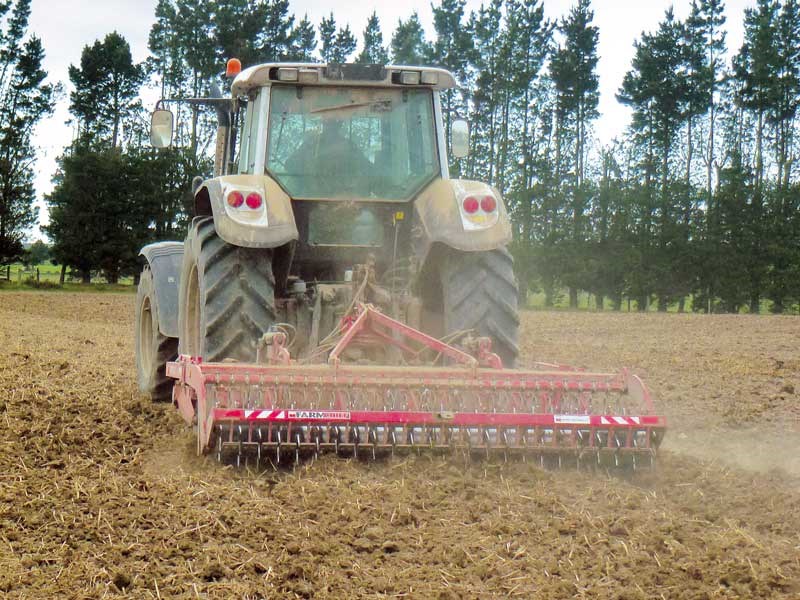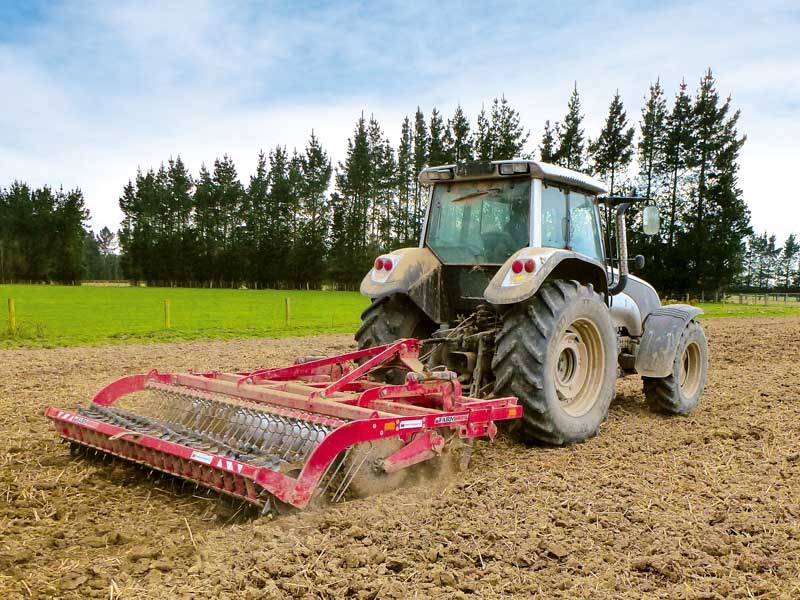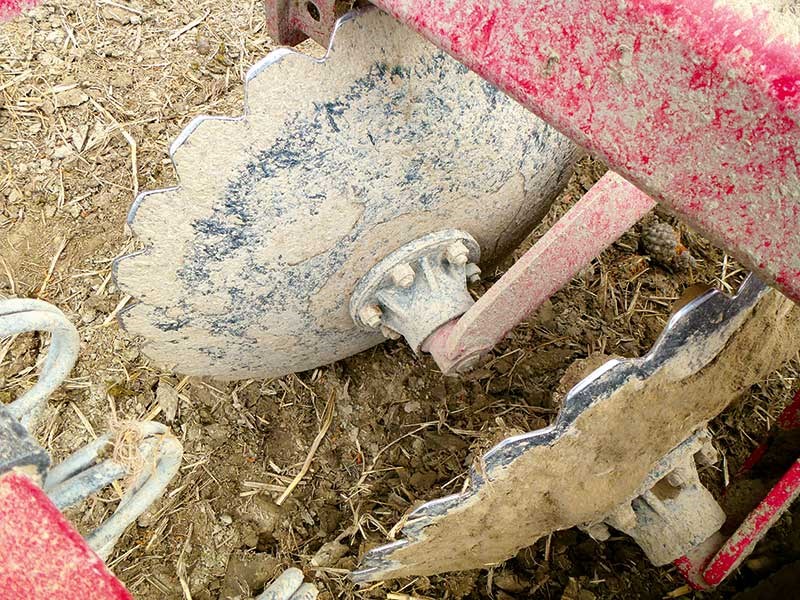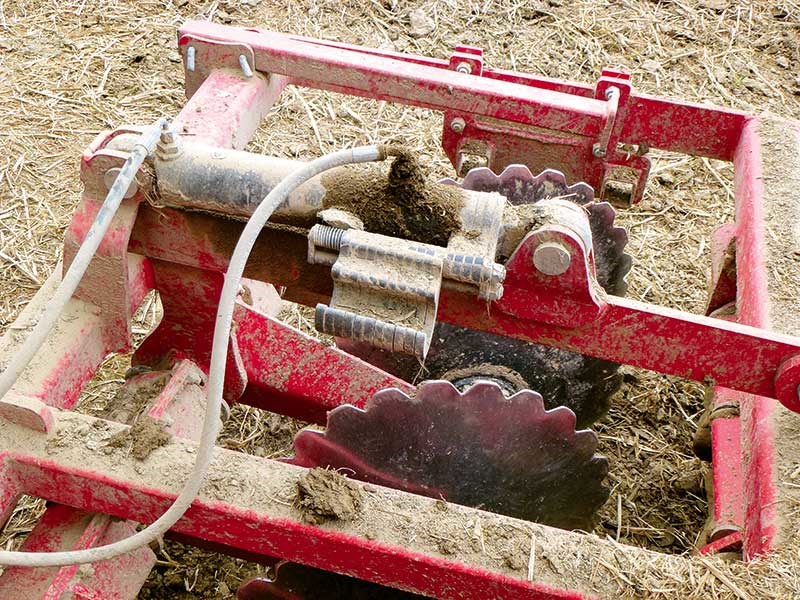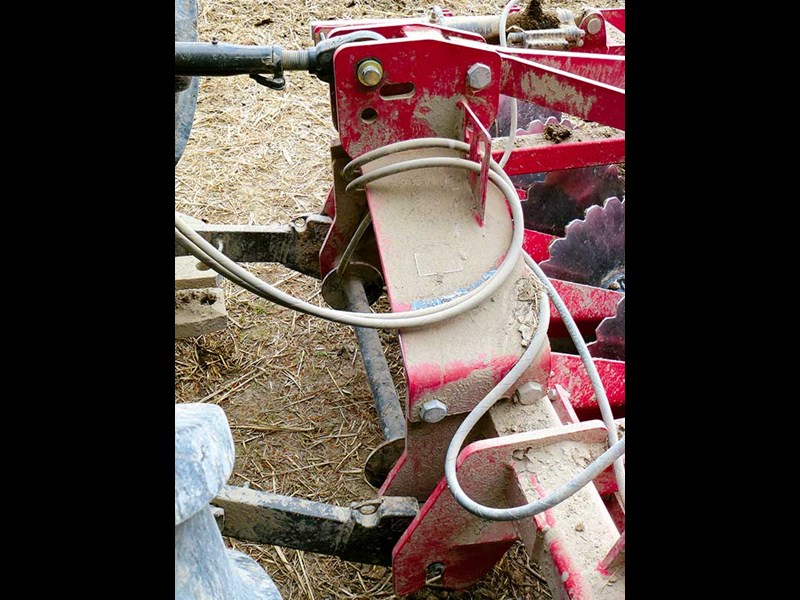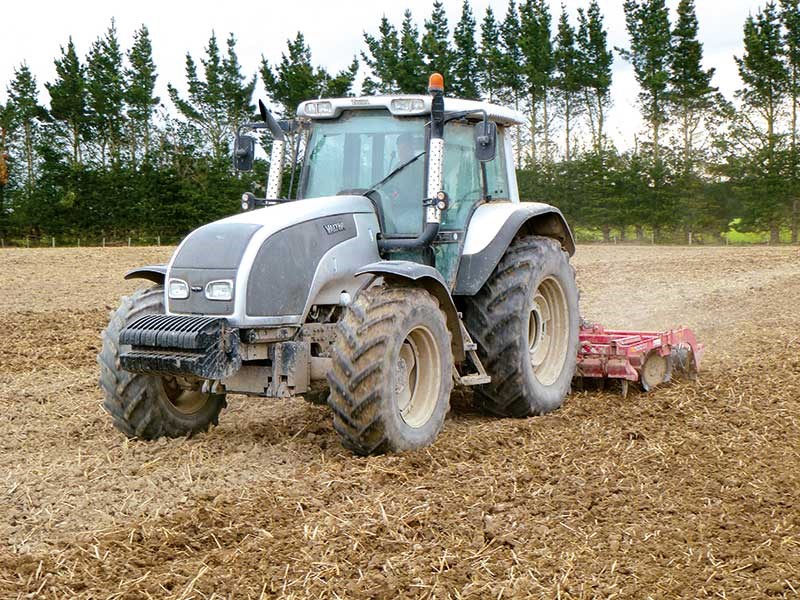 A fast-paced set of discs from Farm Chief covers a lot of ground in minimal time with relatively low horsepower requirements. BRENT LILLEY reports from New Zealand.
Secondary cultivation plays an important part in any seedbed preparation, and I myself am definitely a believer in the theory that the effort you put in at the beginning determines the end result.
Cutting corners will almost certainly have a negative effect on the overall outcome and yields of crops sown.
When deciding what machine to use, it will depend on the prevailing conditions. What works well in one soil type may not in another, but most machines basically fall into two categories: a single slower pass, for example a power harrow; or several faster passes, which is where the Farm Chief Express 3000 speed disc fits in.
The Farm Chief Express 3000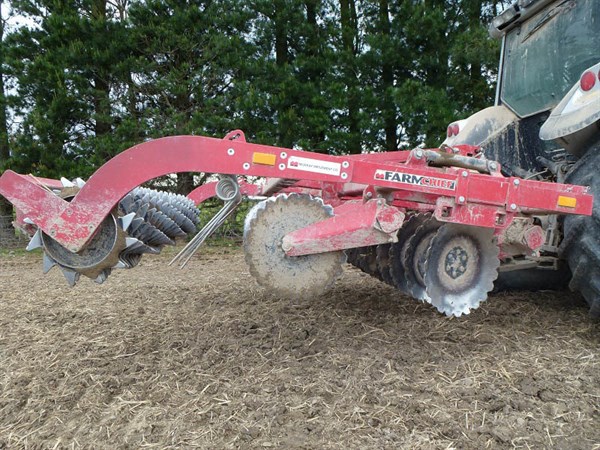 This is a compact disc harrow which is designed for use at multiple working depths with forward speeds of up to 15km/h, which combined with its 3m working width enables the operator to cover a serious amount of ground in a short space of time and is ideal for primary (lighter soil conditions), secondary cultivation and great for stubble/trash incorporation. 
To catch the Farmchief 3000 speed disc in action I headed inland from Christchurch on a brilliant crisp clear Canterbury day, to Oxford, a small but proud rural town only a stone's throw from the Southern Alps.
It was there that I found the machine working on arable property owned by Lionel Larsen.
Steve Wallace was operating the machine on the day, and spoke very highly of it.
The Express disc was doing a second pass over oat stubble and the Valtra T140 was pulling it at speeds around 10km/hr, hardly even noticing it behind – testament to Farmchief's claim that the machine can be operated with as little as 90hp.
Discs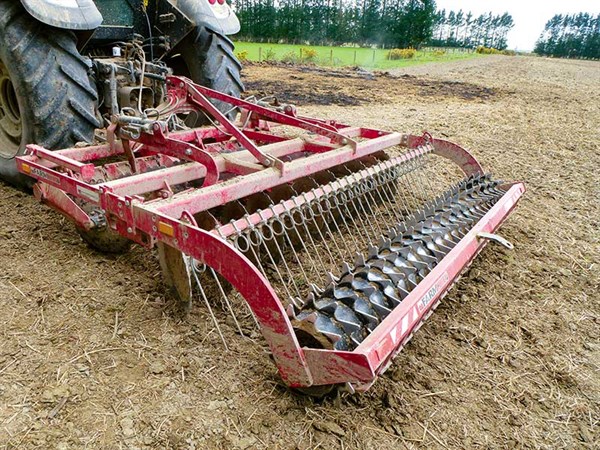 Up front, the 560mm diameter notched disc blades are arranged in two gangs of 12 discs and are definitely the business end of the machine.
They are set aggressively at opposing angles with a spacing of 250mm. In practice, they tear into even the hardest ground.
The front gang firstly throws the soil to the right then the rear gang throws it back to the left to loosen and break it up. The discs are bolted on to the long life bearings.
Each disc on the machine mounts to an individual carrier arm, which are a slim yet sturdy design that leaves ample room for soil and trash to flow easily through the machine.
The carrier arms are clamped to the main box section frame of the machine with four rubber durotorque cylinders sandwiched into the clamp allowing each disc to move individually to take away the shock loading on the frame if any solid objects are struck.
Matt McKillop of Farmchief says this system ensures complete soil to machine contact over the entire width of the machine even with foreign objects under the ground - meaning the unit is always working at its optimum cultivation depth, but allowing breakaway for those hidden obstacles with each individual blade.
Furthermore, he says the front right and rear left discs are set on adjustable cam allowing the disc to be set with less depth for a level finish, no matter the soil type.
Operation
The machine uses the height of the rear roller to determine and adjust the work depth of the discs, Two hydraulic rams are used to rotate the roller.
Ram shims are used to set the maximum working depth of the roller for accurate depth every time.
It was great to see a clever holder for the ram shims that keeps them together on the machine allowing them to be flipped over onto the ram as required.
Manual adjustment of the following finger tines allow height and rake angle adjustment depending on the soil and trash conditions.
A sturdy headstock up front couples the machine closely to the tractor to keep as much weight as possible over the rear wheels. A quick hitch coupler for the lower links allow for easy mounting.
Tines
At first glance, a row of 32 steel spring times that follow behind the discs don't look like they do that much, but looks can be deceiving.
When set correctly, their job is to drag a small amount of soil along with the machine to further help break up clods and level out the soil.
They are adjustable which is good to see, adjustment is with a pin.
Roller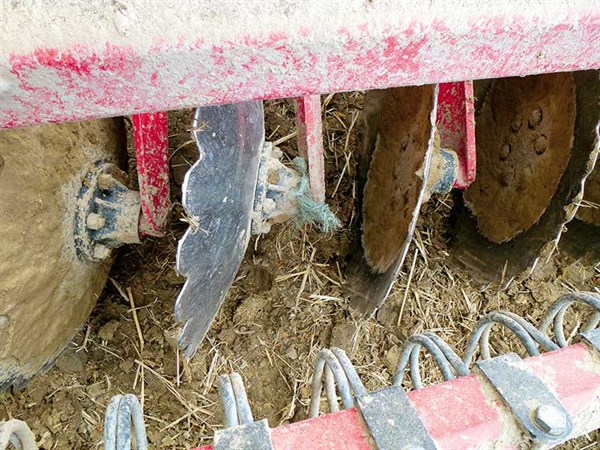 As with most machines, there are several options for rollers on the rear of the machine: a crumbler roller; a u-box deep ring press roller; rubber packer roller and a shark toothed packer roller, like what was fitted to the machine I got to test.
The packer roller is around 500kg on its own and adds some much valued weight to the machine to keep it in the ground. It is 500mm in diameter with steel teeth to pack down a firm-level seedbed. 
Adjustable scrapers keep the roller from blocking up and this type of roller allows the machine to be used in wetter conditions, plus it's good to see heavy-duty greasable bearings at each end. 
Verdict
This machine is a good option for those wanting to save soil structure, incorporate trash/crop residue and maintain good fuel economy (with less hp requirements), all without the requirement of a PTO implement.
The Express 3000 speed disc positions itself well as an entry level machine in the compact disc harrow market and comes in cheaper than most three-metre power harrows or 3m PTO implements.
For those with more horsepower and more area to cover then the larger 4.5m and 6m models will suit you down to the group.
They also have many options including mounting a Farm Chief air seeder, towing a roller and attaching rippers to the front.
Hits
Individual disc blade suspension with Duratorque suspension.
Hydraulically adjustable working depth on rear roller.
Ram shims to set the working depth with a holder to prevent shims getting lost.
High working speeds with moderate horsepower requirements.
Discs bolt on to the bearing housing to allow less soil obstruction.
Range of rear rollers to suit varying conditions.
Economical entry level machine to the compact disc harrow market.
Misses
90hp may struggle to lift (trailing option available).
Levelling tines require manual adjustment.
Specifications
Make/model: Farm Chief Express 3000
Working width: 3m
Transport width: 3m
No. of discs: 24
Disc diameter: 560mm
Disc spacing: 250mm
Weight (including roller): 1,800kg
Weight per disc: 75kg
Power requirement: 150hp
For the detailed review, pick up a copy of New Farm Machinery magazine issue 28, on-sale November 9.
Find tillage and seeding equipment for sale.
Subscribe to our newsletter
Sign up to receive the Trade Farm Machinery e-newsletter, digital magazine and other offers we choose to share with you straight to your inbox
You can also follow our updates by liking us on Facebook. 

Graders For Hire | Cranes For Hire | Telehandlers For Hire | Excavators For Hire