REVIEW: 2016 Yamaha Kodiak 700 ATV
---
Yamaha has upgraded the base model Kodiak with a new engine and slimmer bodywork. It doesn't have all the bling of the 700 Grizzly, says BARRY ASHENHURST, but it costs less and works just as hard.
I've never tested or even ridden a Yamaha Kodiak and I'm not sure why. Maybe I was waiting to find out who would be Prime Minister that week.
That's always entertaining, though hardly likely to make a noticeable difference to anything at all.
Anyway, I took a sudden interest in the Kodiak when Yamaha, the most accommodating of all the manufacturers when it comes to supplying test vehicles, said I could have the new 700 Kodiak, plus the new Grizzly 700.
Look up the specifications of the Yamaha Kodiak 700 ATV
I agreed, and before long was poring over the comparative specs of each. 
The new Kodiak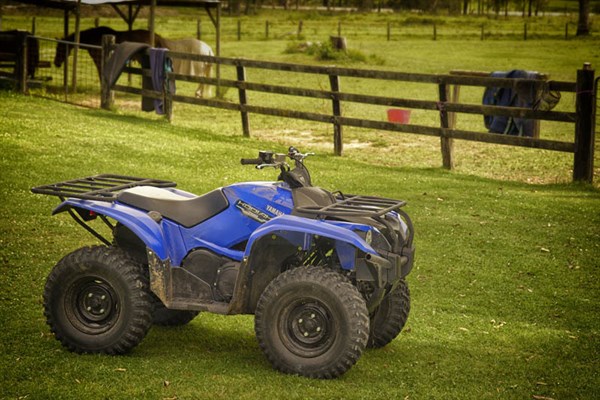 For 2016, the Kodiak gets the same DOHC, 708cc engine as the new Grizzly 700 but the emphasis with this model is on reliability and durability … which is ATV code for 'hard work'.
The 2016 model has tougher plastic body work, a lower seat and bar height – making it easier to get on and off without dislocating your hips - and suspension settings better suited to a machine that works hard all day carrying and towing big loads over mud, slush, mountains of cow poo, swamps, and anything else you'd like to point it at. 
All this is pretty much in line with Yamaha's corporate policy of keeping sport and working models separate. It's also about price point.
The Grizzly has more fancy stuff - electro-mechanical actuation of the controls, for instance - and is therefore more expensive. Comparable Grizzly models run about $1,000 dearer than the Kodiaks.
The cheapest Kodiak is $2,600 cheaper than the dearest Grizzly and that's what you call 'benefit of choice'.
There are three Kodiak models altogether; all 708cc, and comprise:
• The standard model without power-steering - $11,999.
• An EPS model with power-steering, a bar-mounted halogen work-light, digital instruments and a 2-inch receiver hitch  - $12,999.
• A special edition model with fancy-pants 25-inch wheels, Grey Metallic paintwork, power-steering, work-light, Yamaha's On-Command drive system, digital instruments, preload adjustment for the shocks, and the 2-inch receiver hitch - $13,599.
Power and transmission
The Kodiak employs Yamaha's well known Ultramatic transmission. You select a gear (high, low, reverse, neutral or park) with a familiar gate shifter, and switch from two to four-wheel drive with a lever on the left hand side of the more swept-back 2016 handlebars.
Is the base-model Kodiak more physical to operate without power-steering? Of course.
My daughter and grand-daughter both preferred the power-assisted Grizzly to the non-assisted Kodiak, for the plain and obvious fact that it was easier to change direction on, particularly across paddocks recently drenched in heavy rain.
Most people will operate the Kodiak without much effort, but for some the lack of power assistance will be noticeable.
The old engine had plenty of poke and the new one has more, in fact the Kodiak is on the verge of being fast.
It takes off more sedately than the Grizzly, but still, you should tie loads carefully so they stay put while you accelerate from the shed to whatever on-farm tasks demands your attention.
Load handling
The machine comes with tubular steel front and rear racks with a combined capacity of 140kg.
It's likely that market research guided Yamaha's decision to use a rack on the rear instead of a tray, but if I was buying a 4x4 ATV I'd want a tray that I could stash stuff in, not on.
At the moment that means a Polaris Ute, which, despite reports of disappointing problems, still has the most useful load carrying configuration.
Yamaha does have rack bags as an accessory, and they look both useful and rugged, but there's no tray option and I'm buggered if I know why the Japanese don't provide one for their ATVs, or just put a tray on there instead of a rack.
Accessories
While we're talking accessories, there are plenty of them on the Kodiak.
Yamaha's website lists all manner of useful appliances that cab be screwed or bolted to their ATVs, everything from synthetic winch ropes to PIAA spotties, gun boots, tyre chains, whip antennas and heated grips.
I suggest you go have a look. Who knows, you might find a handy gadget that someone can buy you for Christmas. (Or better still, buy yourself for Christmas, thus avoiding the stiff parade of ill-chosen family presents such as underpants or a year's subscription to Men's Health )
Tip the Kodiak on its buttocks and you'll see a full-length bashplate but no protection whatsoever for the front CV boots. You'll know without me suggesting that CV protection is necessary, and that that means a visit to your friendly Yamaha dealer.
You'll also notice while crawling around the Kodiak that it has generous drain holes in the footwells. It also has well designed mudguards that prevent you being coated in a layer of brown slime every time you ride through mud.
For those who occasionally like to check oil and water levels on these machines, the oil dipstick is in a cubby-hole on the left hand side while access to all the electrics is gained by removing a plastic panel under the front rack.
The humungous air filter is under the seat and you don't need tools to remove the seat or the filter.
Controls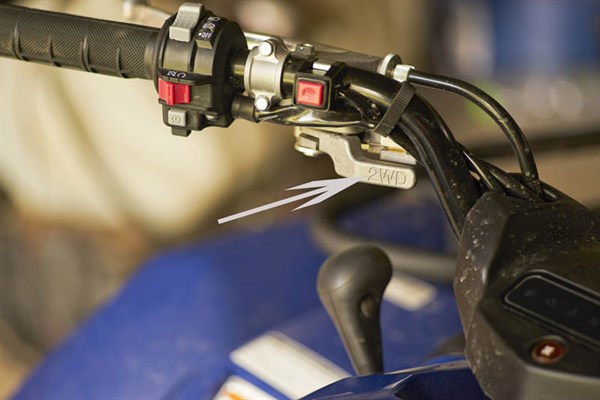 Ergonomics (eg. can you reach everything, and is it easy to use?) are pretty good. We appreciated the large storage bin in front of the rider and the smaller bin under the taillight.
The rear-mounted fuel tank holds 18 litres and that should keep you rolling for a couple of days if not longer.
Manufacturers have not standardised gear positions in the gate shifter on ATVs and so different brands have different gate patterns. Some might have reverse at the bottom of the pattern while others have it in the centre.
I know it's only a small thing, and you remember after a couple of days in which slot each gear lives, but familiarisation would be quicker if the people who made these things used any numeral colour but black - on a black background -  to denote which gear lives in which slot. 
Moving from one gear to another is smooth enough, and made smoother still if you remember to apply the brakes while moving up or down through the Kodiak's shifter's L,H,N,R,P pattern.
Ride quality
Ride quality is excellent, in my opinion anyway, and the Yamaha has a turning circle small enough to make it surprisingly manoeuvrable in wooded country.
It will climb hills any other 4x4 ATV will climb. Engine braking in high range is pretty ordinary but in low range a useful safety attribute. 
Specifications
Yamaha Kodiak (non-EPS) 700
ENGINE
Type: Single cylinder four-stroke
Capacity: 708cc
Compression ratio: 10:1
Bore/Stroke: 103 x 85mm
Fuel delivery: Mikuni fuel injection
Fuel tank capacity: 18 litres
Ignition: TCI
Final drive: Shaft
TRANSMISSION
Type: Yamaha Ultramatic CVT
Park brake: Transmission
Don't miss the full review in Farms and Farm Machinery magazine issue 328, on-sale December 17.
Click on the link below to subscribe to the magazine and never miss an issue: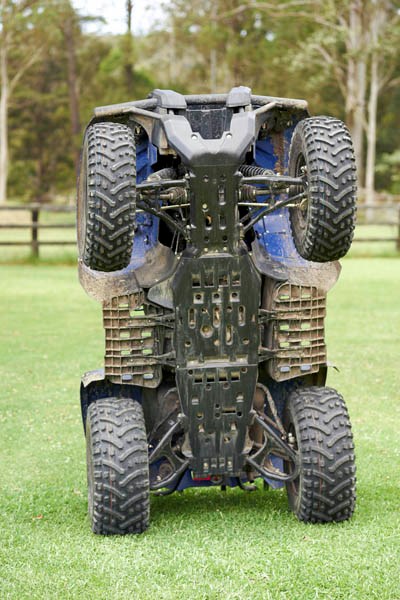 The on-the-buttocks view, showing a full-length plastic bashplate. The Maxxis tyres are good all-terrain units, and chains are available for those operating in alpine climates.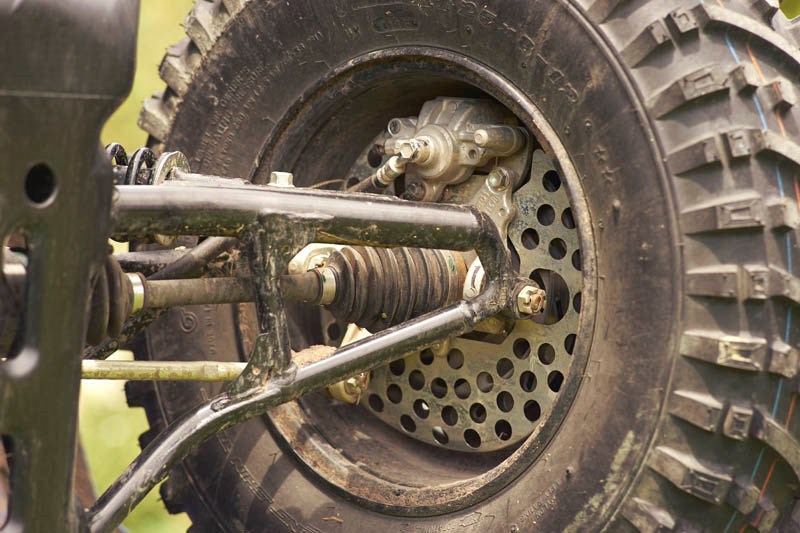 Front brakes are powerful and trustworthy. The rear brake is an oil-immersed disc, not so powerful but maintenance-free.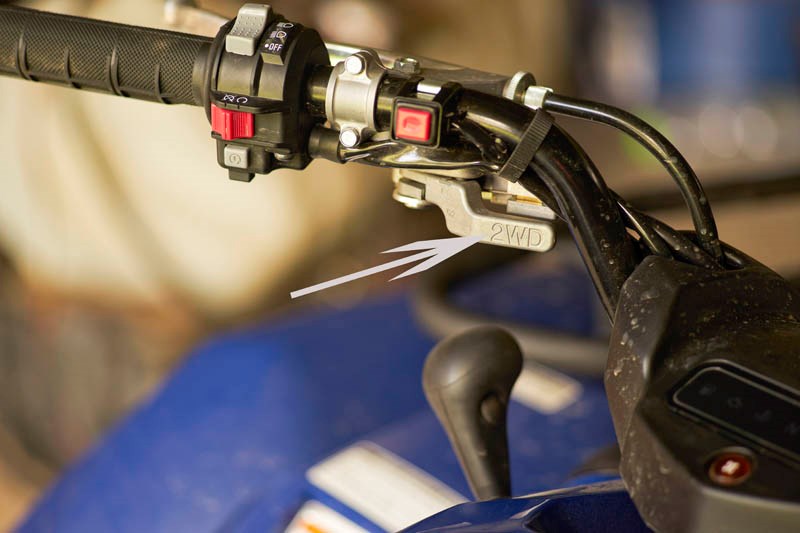 Controls on the Grizzly are electro-mechanical but on the Kodiak, purely mechanical. The 2WD/4WD control is a simple lever (arrowed).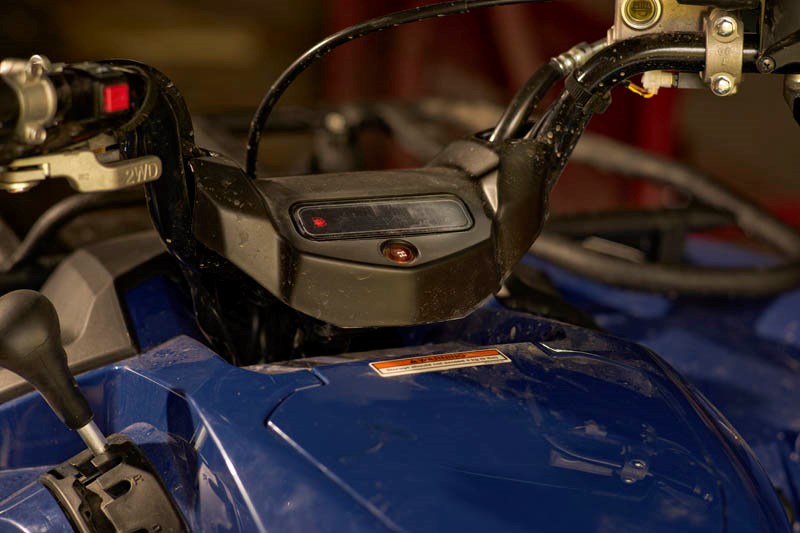 Instruments show fuel level, a coolant temperature warning, and reverse, neutral and park indicators.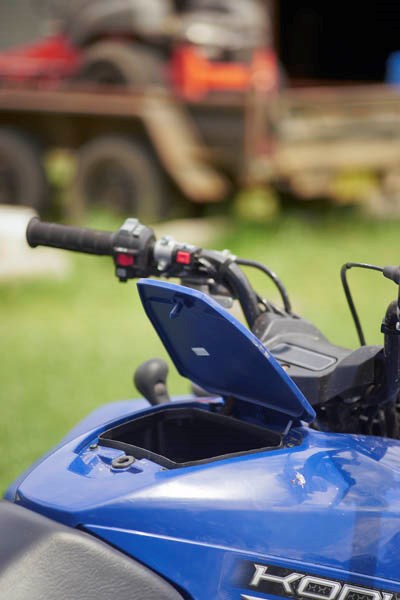 The handy, lockable storage bin in front of the rider.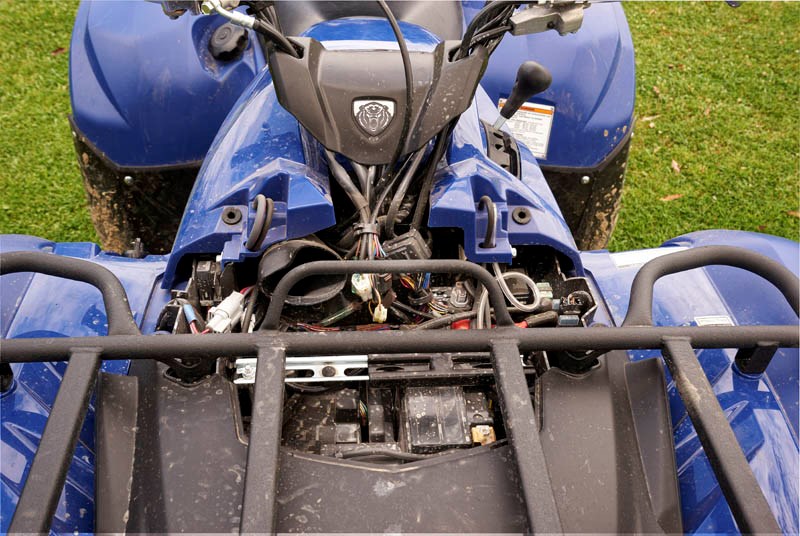 Removing a plastic panel under the front rack gives you access to the electrics.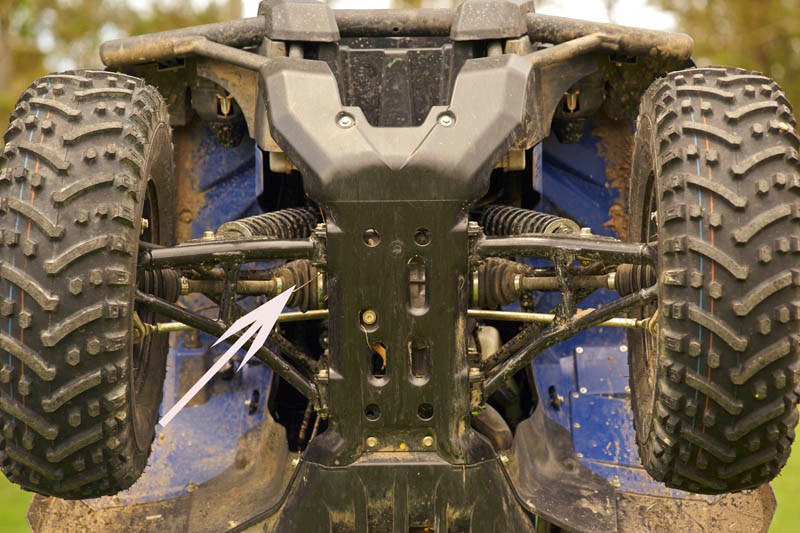 There's no protection for the front CV boots.

Subscribe to our newsletter
Sign up to receive the Trade Farm Machinery e-newsletter, digital magazine and other offers we choose to share with you straight to your inbox
You can also follow our updates by liking us on Facebook. 

Graders For Hire | Cranes For Hire | Telehandlers For Hire | Excavators For Hire