REVIEW: Branson F42R compact tractor
---
Branson tractors are made in Korea, but what does that really say about the brand's quality and value for money? TOM DICKSON makes it his business to find out.
I must admit that during my time in farming I haven't had any experience with Branson tractors and confess to a preconceived idea about what the little forty horsepower compact tractor might be like.
I am expecting a tiny little, lightly built, uncomfortable tractor but to my pleasant surprise found quite the opposite.
My first impression is it is extremely well-constructed and shows no sign of being a cheaper lower-speced alternative to the major brands.
And if my gut feeling is on the money it will be up there with the best in its horsepower category.
The machine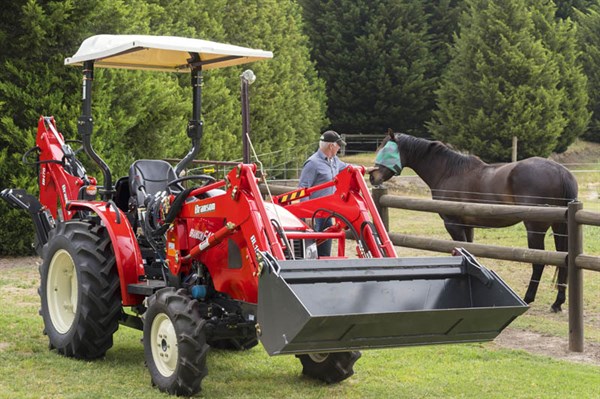 The F42R is a three cylinder, turbo diesel, forty horsepower ROPs tractor. It has a twelve speed transmission with Synchro shuttle.
Featuring a single joystick with third function to operate a self-levelling loader with four way bucket, two sets of remotes and a two speed PTO, it will be right at home on a hobby farm and lifestyle property, vineyard, horse stud or smaller type operation that does not require long hours behind the wheel.
Operating a small slasher and grader blade will make it ideal for general tidy up work around the property.
An appropriately sized rotary hoe and harrows will allow some cultivation duties as well and of course the front end loader can be used for any number of tasks to make life that little bit easier.
Our little subject for today's test even has a backhoe attached to the rear making it perfect for a bit of digging and trenching and should certainly gain the attention of tradesmen, in particular plumbers, looking for an extra little all-round machine to help with some manual work.
Throw a finishing mower on the back and you're ready to take on the fairways at the local golf course or transform the long grass around your house into a pristine parkland setting.
That's exactly what Harry Bundy has done at his horse property north of Melbourne where we are taking the F42R for a spin.
Harry works closely with the Melbourne Cup and Spring Racing Carnival at Flemington Racecourse so is quite familiar with what it takes and what equipment is required to create a well-manicured grass and garden area on a massive scale.
"It's a great little machine because it looks very sturdy and is so versatile as well," Harry says.
Build
Casting an eye over the F42R from the driver's seat gives me the impression that this is in fact a genuine tractor, not a glorified ride-on mower dressed up to look like one.
Everything I see says quality. The bonnet and guards are all made of metal, not plastic.
The hydraulic hoses on the front end loader are attached securely and covered in a fabric sheath to prevent wear.
Both the front end loader and backhoe are attached to a sturdy solid-steel mounting frame that bolts on under the tractor.
Engine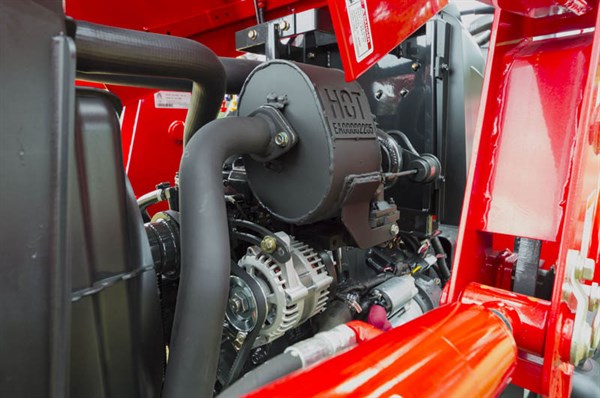 A quick chat with Midway Sales Director Troy Spring-Brown provides some very interesting info on the background of the engine used in the F42R.
"Branson tractors are a complete engineered package as the company build its own engines," Troy explains.
"In fact Branson built engines for Cummins for a number of years so they have plenty of engine expertise.
"The engine in Branson F42R is world class," he adds. "It is environmentally friendly, meeting international EPA tier 4 standards exceeding the requirements of the Australian market for clean burning exhaust emissions. It achieves this through proven exhaust gas recirculation technology.
"Quiet operation, low vibration and fuel efficiency are important attributes of this engine. Combined with a Garrett turbo delivering plenty of torque it sets the benchmark for compact tractors."
The 3 cylinder engine generates 40hp at 2600 revs per minute. It has a long stroke design which helps to produce maximum torque at a lower operating speed.
I find this very noticeable while doing some front end loader work. The tractor performs admirably at low revs, so to add a bit of assistance I pop it into four wheel drive and it easily pushes into a pile of packed dirt, filling the bucket every time.
It is also able to generate plenty of oil flow to run the backhoe at reasonably low revs so I'm not deafened by an over-revving engine.
The exhaust pipe comes out the front of the tractor near the front wheel, the benefit being that this positioning keeps harmful fumes away.
Popping the hood requires the front nudge bar to be unclipped and pivoted a tiny bit forward, only millimetres, to allow the bonnet to get past.
I actually forget to clip it back in and bend one of the mounts with the frontend loader. With a slight tweak in the design I reckon this could be avoided.
Transmission
The compact F42R has a great little transmission for a tractor this size. It has high, medium and low range, requiring the tractor to be stationary while making a change.
There are four fully synchro gears in each range to provide 12 forward and 12 reverse gears in total.
Changing up and down through the synchro gears is all quite effortless, except for the downward shift from fourth to third. I'm thinking it will probably free up a bit once there are a few hours on the clock.
A nice little addition is the forward/reverse synchro shuttle for direction changes. Just like the larger tractors, the lever is located conveniently on the dash behind the steering wheel.
First gear gets right down to 1.3km/h, which will be great for a bit of rotary hoeing or slashing. The top speed of 26km/h certainly isnt going to break any local laws on the road, but will be more than enough around the farm.
Comfort
Unlike most small compact tractors that leave you with an aching back and sore knees from being squeezed up under your ears all day, the F42R provides a really comfortable ride.
The seat is wider and has a higher backrest than most I've seen in this class, and Branson has not scrimped on the cushioning.
My feet sit comfortably on the flat deck floor; if you've ever driven one with a raised centre hump, you will have experienced the annoying feeling of it rubbing on your calf muscles all day – five minutes is okay, an hour gets on your nerves but a whole day of it drives you mad.
It feels like a spacious and comfortable work space and I can easily reach all the controls from the seated position.
Controls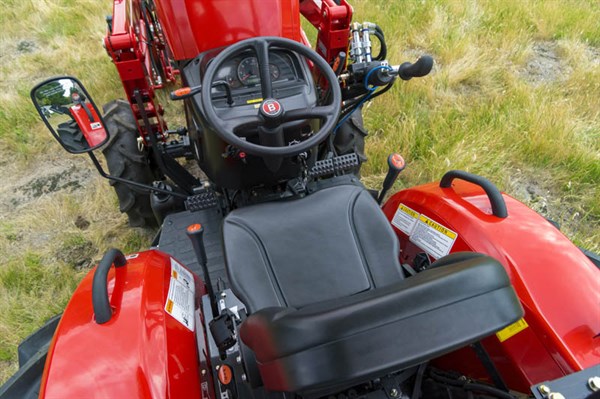 The transmission range lever, handbrake and mechanical four-wheel drive lever are on my left.
On the right-hand side there's the four-speed gearstick, two-speed PTO selector (560/780), three-point linkage and the hydraulic levers that direct flow to the two sets of remote valves.
The Category 1 linkage has a lift capacity of 1500kg, and the dual hydraulic pump delivers 33.5lpm to the remotes and loader, with a further 18lpm to the steering ram.
Speaking of steering, the F42R is an easy and smooth steer, and with a 56-degree front wheel angle at full lock, it has a really tight turning circle. I pace out a two-metre radius from the inside wheel circle.
Backhoe performance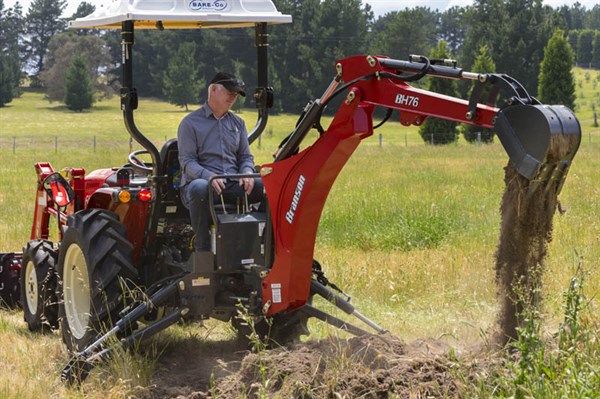 For about an hour I have an absolute ball working with the backhoe, which makes a great optional extra.
Troy Spring-Brown demonstrates the ease with which it can be taken on and off. Two locking pins hold it in place, and once these are removed its just a matter of lowering the stabiliser legs to take the load and lifting it off the mounting frame.
I always recommend using a firm, flat surface for this process, and although we have a few attempts, I can see that with a bit of practice it will only take a couple of minutes.
At low tractor revs the backhoe performs really well, and once I became familiar with the two control levers I am operating it confidently.
The backhoe attachment has its own operator's seat as opposed to having to pivot the tractor's driver's seat, which saves a lot of time in switching positions.
To speed the job up further, it's possible to have one person driving the tractor while a second person stays on the backhoe for digging duties.
The Verdict
To sum up my experience with the latest in Branson's line-up, the F42R is a genuine compact tractor with all the construction quality and features of bigger-name tractor brands.
For $28,990 you get a Tier 4 engine, synchro shuttle transmission, power steering, front end loader, four-wheel drive and even wet disc brakes.
The icing on the cake is a four-year warranty. I am confident to recommend it to anyone in the market for this class of tractor.
Hits:
Synchro shuttle
Turning circle
Metal panels
Drivers seat
Protective sheath on hydraulic hoses
4 year warranty
Misses:                             
Nudge bar placement
Narrow tyres
Exhaust outlet
Specifications
ENGINE                                               
Make: Branson
Horsepower: 40
Cylinders: 3
TRANSMISSION                               
Type: Synchro
Gears No.: 12F/12R
Reverse: Synchro Shuttle
Clutch: Dry, Single Plate
HYDRAULICS                     
Flow l/m: 33.5
Remotes: 2 Sets
Click here for detailed Branson F42R specifications >>
You can also read this review in Farms and Farm Machinery magazine issue 329, on-sale January 21.
Click on the link below to subscribe to the magazine:

Subscribe to our newsletter
Sign up to receive the Trade Farm Machinery e-newsletter, digital magazine and other offers we choose to share with you straight to your inbox
You can also follow our updates by liking us on Facebook. 

Graders For Hire | Cranes For Hire | Telehandlers For Hire | Excavators For Hire