REVIEW: Mahindra 4025 compact tractor
---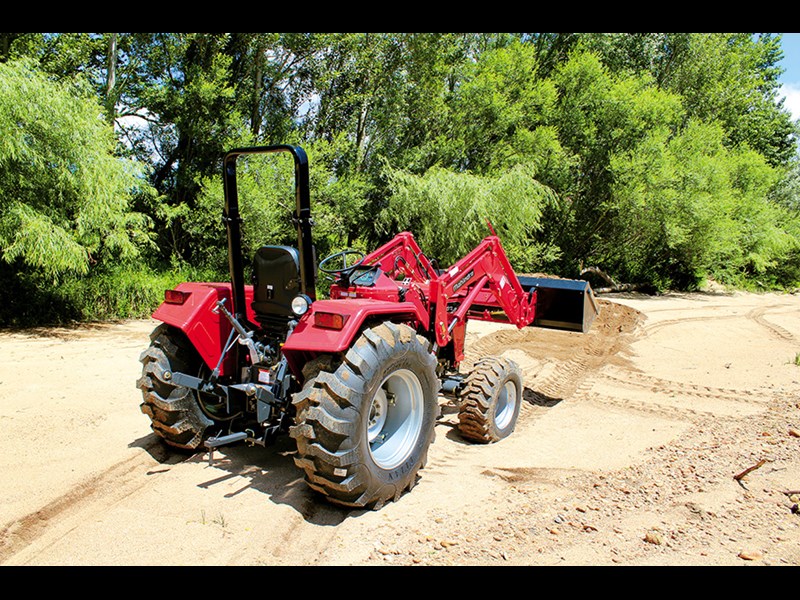 The tractor is well balance and handles loader work with ease.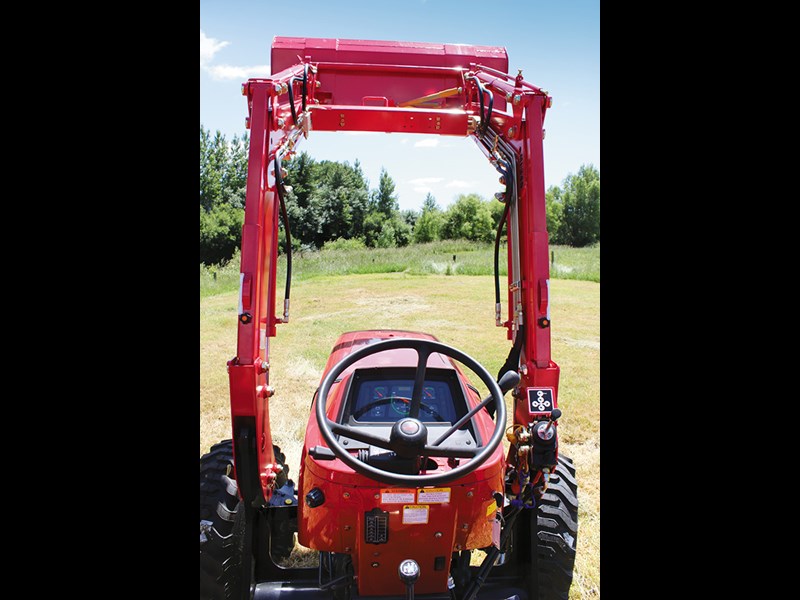 The ML345 loader comes standard with mechanical self-levelling.

A robust three-point linkage has a lift capacity of 1600kg and cleverly, the ball ends can take CAT 1 or 2 pins.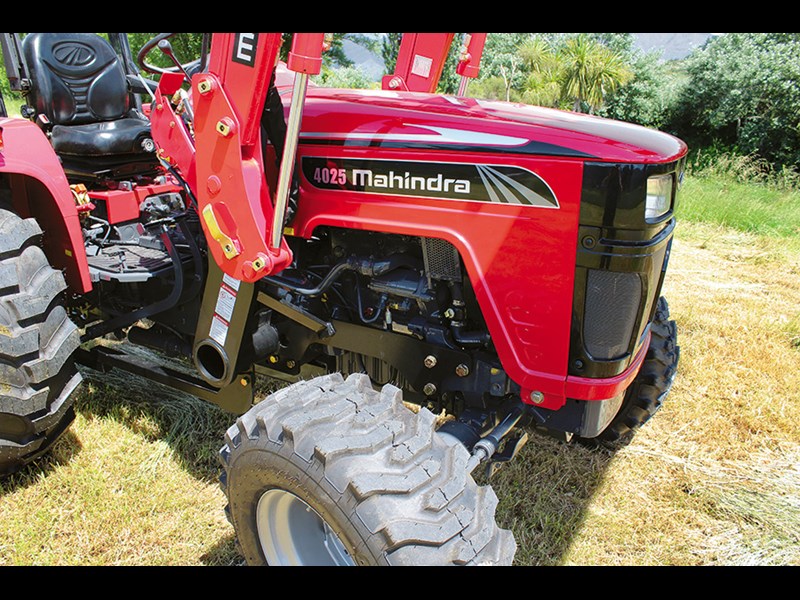 Power comes from a 40hp engine built in-house by Mahindra.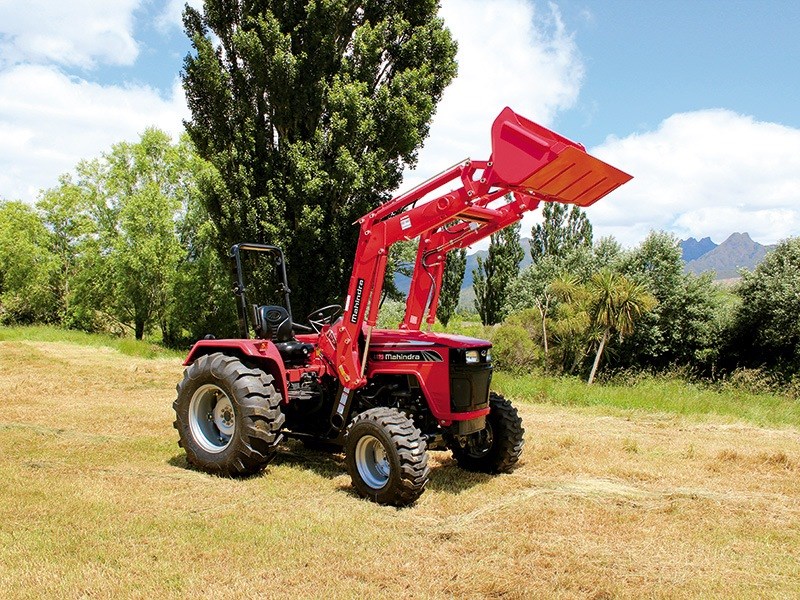 Simple, no bells and whistles but gets the job done.

New Zealand reporter BRENT LILLEY checks out a simple yet effective 40hp Mahindra 4025 tractor, which may not have the bells and whistles of some, but will do the job that's required of it, no problem.
One thing I've come to realise after years of testing machinery is that when it comes to buying farm equipment, everyone's needs and situations are slightly different and what works for one person may or may not suit another.
Luckily there are usually plenty of options, and in particular if you're in the market for a smaller, lower horsepower tractor then there are loads of options to choose from.
It is the sub 100hp market that Mahindra concentrates on and the company, along with its local dealer, Prescott's in Hikuai on the Coromandel Peninsular, recently gave me the opportunity to see what the Mahindra 4025 has to offer, which is built by Mahindra in India as a robust and reliable 40hp tractor.
Engine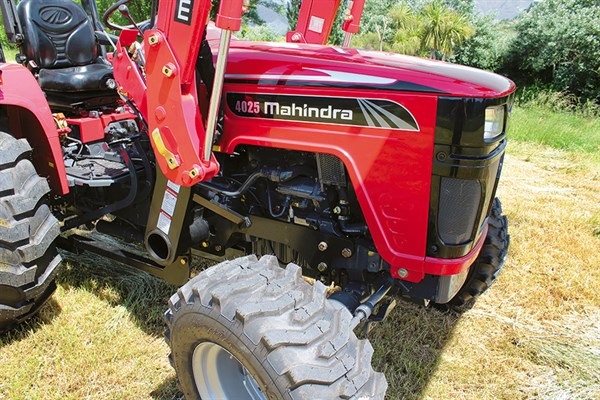 Under the bonnet the Mahindra packs a four-cylinder 2.7-litre diesel engine which interestingly meets tier four emission standards and is built in-house by Mahindra.
It has a rated output of 41hp or 31hp at the PTO shaft and while admittedly I never get to put this tractor to task with any PTO work, the engine feels like it has plenty of grunt when pushing the bucket into a pile of sand and is reasonably responsive.
The 55-litre diesel tank has more than enough capacity to keep you working all day. While access for daily checks to the engine is simple and straightforward, anything more than that requires wrestling with multiple panels that need to be removed and seem somewhat fiddly.
Drive
Four-wheel drive is easy to engage with a lever beside the seat and drive to the front wheels is delivered though bevel gear hubs, which give a tight turning circle.
It is good to see diff-lock which will prove itself the first time you find yourself in a sticky situation.
Transmission
Mahindra describes the transmission as 'simple and strong' which I have to say is fairly accurate, although for me it is probably just a little too simple, it gives you four forward gears in an 'H' pattern as well as reverse on the main gear stick and then two ranges, high and low on a second stick, so a total of eight forward and two reverse.
While this is about what you would expect on a tractor this size, it's not overly friendly for the operator.
Plenty of gear changes result in a crunch even at a standstill or using the double clutch tactic. Shunting backwards and forwards for loader work becomes tedious fairly quickly and highlights how spoilt we are with forward-reverse shuttles these days.
The gears do seem to be well spaced though and give a good spread, top gear gives a travel speed just under 30km per hour.
Controls and comfort
Controls are fairly simple and easy to sort out. The dash is clear and uncluttered with gauges to show engine temperature, rpm and fuel level as well as a series of warning and display lights.
Not having a display of the forward speed might be a problem for some although probably not on tasks that this tractor is actually going to be used for.
A comfortable and adjustable seat positions the operator with good visibility in all directions; although getting to the seat is hampered by the high-low gear lever in the centre of the raised platform which I seem to get my foot tangled in every time I get on or off.
Independent pedals control the brakes which are fully enclosed dry discs at the rear. The three point linkage controls are a pretty standard setup beside the seat with one slide lever for height controls and one for draft control.
A lift capacity of 1600kg will prove adequate for most tasks.
Hydraulics and linkage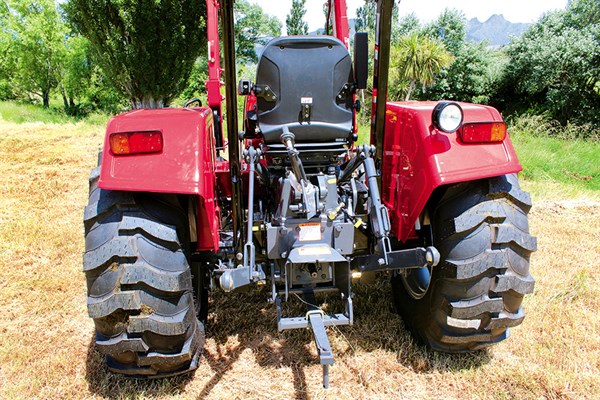 Round the back the lift arms cleverly feature fixed end balls that fit CAT 1 or 2 pins which along with the simple sliding telescopic stabilisers make hitching implements easy.
 Disappointingly, on the day the tractor has no external remotes although it is an option to have one set that is, I'm told fitted to almost all tractors sold.
Hydraulic pump output sits at 33 litres per minute, which is fairly good on a tractor this size and the loader was smooth and responsive never showing any sign of struggling even with a bucket full of sand.
A simple single speed PTO is probably all that's required and engages easily with a lever beside the seat.  
Loader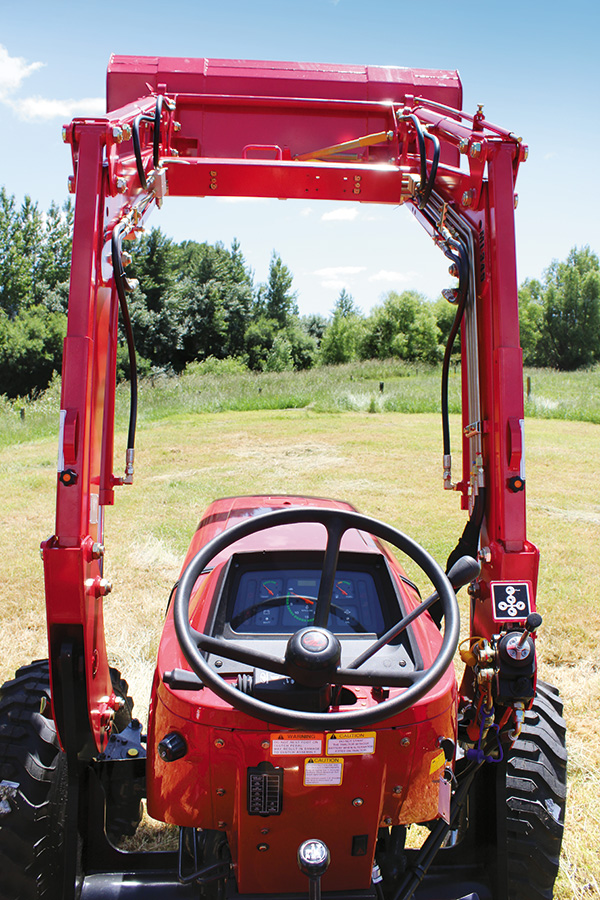 The Mahindra-built ML345 loader on the front was by far the most impressive part of the tractor. It is compact yet robust and well built.
It fits the tractor well without feeling clumsy or hampering visibility. Stands are incorporated into the design so the loader can quickly be taken off by simply removing two pins.
Mechanical self-levelling is included as standard which keeps the bucket or forks at the same angle as the loader is raised, which is great to see, as is the guide rod that shows the operator when the bucket is level to the ground.
Heavy-duty greasable pins are used on all pivot points and standard euro hitch setup on the front ensures it will easily fit all attachments.
A joystick control is within easy reach of the operator which is clearly labelled and very easy to use. Third service is an option I'm told, although it was included on the tractor that I had.
The Verdict
Price and perceived value are nearly always the biggest factors in any machinery purchase and sometimes a simpler, cheaper option might tick all the boxes even though some of the features might not be quite as good.
This is exactly where the Mahindra 4025 tractor comes into its own. You get a solid and well-built tractor with a loader at an exceptional price, and while there are some negatives, for many it will do everything that is required.
In Australia Mahindra distributes its own product under Mahindra Ag & Auto Australia. All Mahindra Tractors feature a factory 3 year/2000 hour powertrain warranty as standard.
Don't miss the full review also in the upcoming issue of Farms and Farm Machinery magazine.
Click on the link below to subscribe to the magazine and never miss an issue:

Subscribe to our newsletter
Sign up to receive the Trade Farm Machinery e-newsletter, digital magazine and other offers we choose to share with you straight to your inbox
You can also follow our updates by liking us on Facebook. 

Graders For Hire | Cranes For Hire | Telehandlers For Hire | Excavators For Hire