Ute Shootout: The Verdict (with full review video)
---
Three days in the dirt, dust and bush with eight top utes caused quite some beer inspired debate of an evening. The top four contenders are easy to isolate but which one is the best?
Before we reveal our ranking, here's a recap of the shootout and all the models we've tested:
The assembled throng are all mid-spec automatic dual cab 4x4 models which represent the most popular variants amongst buyers at present.
Ute Shootout models
Nissan Navara NP 300
The all new Navara NP300 replaces the outgoing flagship Navara STX-550.
Under the bonnet lies a twin turbo 2.3 litre that creates 140kW and 450Nm. A choice of 7-speed auto or 6-speed manual is available and lower spec models are offered in single turbo guise.
The interior is probably the highlight of the vehicle which lends a bit of swank to what could be cold and commercial.
Mitsubishi Triton GLX-R
Not the best looking of the bunch but it's what's inside that counts.
A new twin-turbo 2.4 litre engine makes 131kW and 400Nm and it can be had with either a 5-speed auto or 6-speed stick shift. Towing is at the lower end of the segment expectation at 3.1 tonnes.
But where the mid and high spec Triton models differ from the rest is the additional all-wheel-drive mode that can be selected on the Super Select II 4wd system.
Isuzu D-Max
A bit of a plain Jane when it comes to looks and bells and whistles, but simplicity sometimes stand for a lot.
The D-Max uses an Isuzu 3 litre turbo-diesel which provides 130kW and 380Nm. Transmission choice is a 5-speed auto or 5-speed manual.
An honest if not luxurious truck that will tackle most of what's thrown at it.
Holden Colorado
Without a doubt a tough little truck but is starting to look a little long in the tooth now in comparison to the competition.
A 2.8 litre 4 cylinder Duramax turbo-diesel engine gives the Colorado 147kW and 440Nm of torque. Auto variants get 500Nm in the torque department.  
The Holden offers either a 6-speed manual of a 6-speed auto.
It seems to struggle on the hill climb course but has improved somewhat on the open road.
Ute shootout part 1: Nissan Navara NP 300 vs Mitsubishi Triton GLX-R vs Isuzu D-Max vs Holden Colorado
Toyota Hilux
The much anticipated 8th gen Toyota Hilux is finally here and it didn't disappoint.
As the trend in engine downsizing continues globally, the new Toyota has also obliged replacing the old 3 litre unit with an all-new 2.8 litre powerplant.
Gear wise the Hilux get six of the best in either manual or auto.
The new Hilux is a massive and much needed step in the right direction for Australia's biggest brand.
Ford Ranger
A new face and a new interior have given the popular pick up a lift as well as the introduction of Electronic Power Assisted Steering (EPAS).
The Ranger offers a choice of 2.2-litre or 3.2 litre turbo diesel engines and a choice of 6-speed manual or 6-speed auto transmissions.
On the move the Ford feels and is big but has torque aplenty when a bit of oomph is needed.
Volkswagen Amarok
The Vee-Dub may do things a little different in comparison to the others but that doesn't make it any less capable.
A diminutive bi-turbo (sequentially turbo charged) 2 litre engine puts out a surprising 132kW and 420Nm. There's a smooth shifting 8-speed auto on offer or a 6-speed manual.
It's a smooth nice performing ute that delivers power in an easily controlled manner.
Mazda BT-50
Mazda and Ford have had a long history of sharing commercial vehicle platforms and the Mazda BT-50 uses a Ford ute platform.
Like the Ranger that it draws its drivetrain from, the Mazda has good numbers on offer. The 147kW/470Nm 3.2 litre 5 pot diesel makes use of a 6 speed auto or manual.
The Mazda doesn't feel as ballsy as the Ford even though it is. However it certainly gets the job done.
Ute shootout part 2: Toyota Hilux vs Ford Ranger vs Volkswagen Amarok vs Mazda BT-50
The Verdict
The Amarok, Ranger, BT-50 and Hilux are all easy contenders as a top four.
Luckily it isn't just up to me, though I have my opinions. I am also able to draw on the expertise and opinions of the guys from 4x4 Australia.
Editor Matt Raudonikis, and long-time 4x4 experts John (Roothy) Rooth, Fraser Stronach and Ron Moon who are all on hand to pitch their opinions and insights as to which of these utes is the best on and off road hauler.
After thorough and careful consideration, my pick of the best dual cab 4x4 ute is...


Toyota Hilux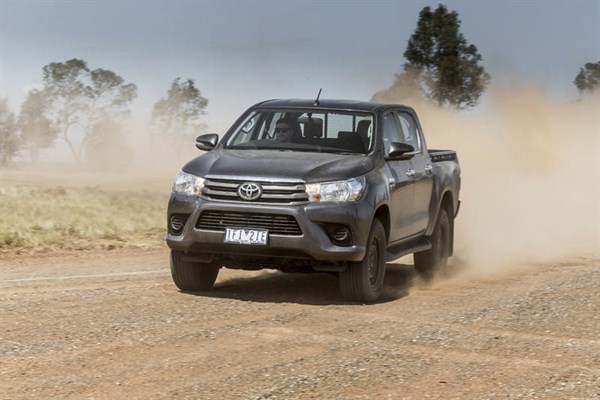 It really came down to two main contenders, the Ford Ranger and the Toyota Hilux. The two main sales rivals in this market.
Both the Hilux and the Ranger have that quality from behind the wheel that makes them feel as if they've truly been designed for Aussie bush and back roads rather than just adapted.
However, the guernsey really does have to go to the Toyota. By tearing up the original plans and hitting the drawing board to create a jack of all trades ute, the new Hilux really nails it.
The new 2.8 litre power plant is quiet and civilized and has none of the diesel chatter of the outgoing donk.
Amongst other changes in mechanical approach a timing chain now replaces the old belt drive and compression have been lowered slightly.
It's a smooth flexible engine that gives nothing away to the outgoing powerplant. In fact it's a much nicer engine to use in all environments.
The Hilux isn't daunted by any of the terrain we throw at it. In fact it handles most obstacles with nonchalance.
It may not be the best looking truck, or the most technologically advanced but Toyota's traditionally conservative design and engineering approach has served the new vehicle well. It inspires confidence.
Flexibility really sums up the Toyota. Like the rest of the vehicles we drive there's no denying it's still an empty truck yet it feels comfortable on virtually all road surfaces.
And it loves a good belt through the bush.
The Toyota brand has been a country favourite and with the arrival of this new Hilux I don't reckon that will be changing anytime soon.
2015 Ute Shootout Ranking:
2. Ford Ranger
A tough truck with a pretty face
The Ford Ranger has the grunt, the looks, the tech and the badge. But what about EPAS? Were we just being a bunch of luddites?
I've long held a soft spot for the current generation Ranger though I'm not overly sold on the EPAS steering.
It really is a gutsy truck that straddles the work play line easily and will happily eat a country mile day in and day out.
3. Volkswagen Amarok
Euro smooth with a hard edge where it counts
The Volkswagen has obvious appeal. It's the most un-ute like out of the bunch and has real versatility and a big tub.
But would you buy one in the bush?
4. Mazda BT-50
The Ranger twin without the charisma
The BT-50 did everything its Ranger twin could do, but maybe we just thought it was too ugly.
5. Nissan Navara
A swanky new platform that loses some finesse in its execution
The Navara NP300 just doesn't feel sorted enough at this stage.
Ride and handling, mainly due to the coil sprung rear end falls short of expectations, as does visibility and seating position.
That isn't enough to get it over the line and into the top four.
6. Mitsubishi Triton 
Vastly improved but difficult to look at. Good value.
I'm a big fan of the Mitsubishi, especially from a bang for buck perspective.
It's a great contender as a country ute but its wheel base limits the vehicle as a serious load lugger or off-roader. Towing is also limited to 3 ton.
7. Isuzu D-Max
A bread and butter truck that wears its heart on its sleeve...a bit boring? 
There's nothing particularly wrong with the Isuzu. It does everything honestly if modestly.
It's just suffering from a generational lag with new players landing on the market.
It just doesn't bring the same level of kit and sophistication to the table that some of the others now possess.
8. Holden Colorado
Looks good on paper but doesn't deliver with aplomb
And then there's the Colorado. It looks better than the D-Max in the flesh and on paper but it's always lagged in the execution.
It's also suffering from the same ageing design issues that affect the D-Max in the company of some fresh new faces.
Check out these ute specs and more on WhichCar.com.au
Subscribe to our newsletter
Sign up to receive the Trade Farm Machinery e-newsletter, digital magazine and other offers we choose to share with you straight to your inbox
You can also follow our updates by liking us on Facebook. 

Graders For Hire | Cranes For Hire | Telehandlers For Hire | Excavators For Hire