REVIEW: 2016 Yamaha Grizzly 700 EPS ATV
---
Yamaha has done big things with the 2016 Grizzly, says BARRY ASHENHURST, and he likes every one of them.
We brought you a report on the 2016 Kodiak, the poor but ambitious cousin of the Grizzly 700 a while ago, and now we'll take a look at what Yamaha has done to upgrade the Grizzly itself. 
A few years ago in a sister publication, ATV ACTION, we declared the Yamaha Grizzly 700 the best utility quad on the market.
It wasn't the best at everything, others were more comfortable and faster, but the Grizzly was and still is a great all-round tool for farm work and recreational riding if what you need is big bore staying power. 
And let's not forget, the Grizzly was the world's first ATV with power-steering, and single honour that entitles it to membership in the ATV All-Stars.
Machine overview: Old vs new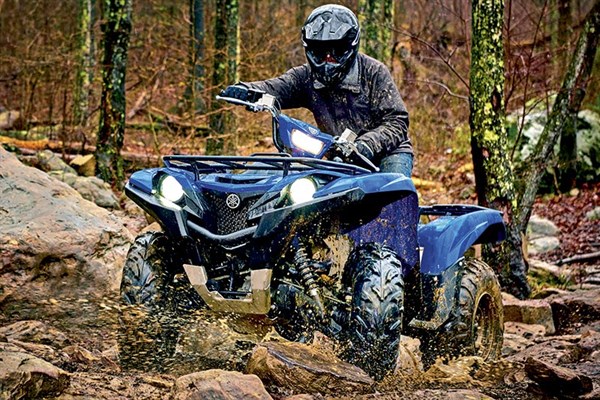 The Grizzly 700 EPS retails for $14,000, so it's by no means cheap.
But it does have all the bling that comes with that price tag, like push-button On-Command transmission controls, diff locks, 26-inch wheels and no-sissy all-terrain Maxxis tyres.  
There seems to be another imperative at work here too, that is to make what has traditionally been a working quad more attractive to recreational riders.
The Grizzly 700 is faster than it needs to be. It's also been given a styling makeover and quality KYB front and rear suspension, albeit with limited adjustment.
But together these improvements suggest Yamaha is taking an interest in what recreational riders want while still giving working men and women what they need.
Does the addition of KYB nitrogen shocks make this model ride smoother?  Probably, but it seems to have a downside in that the cushy ride comes with noticeable body roll.
The Grizzly is not something you should ride quickly unless you're expert at riding a Grizzly quickly.
It doesn't handle like a sports quad – it doesn't sit flat in turns, and wasn't designed to - so don't start your day presuming that it will or it does.
Yamaha says, "For 2016 the Grizzly 700 EPS has been designed to build on the formidable strengths of the current model while also offering improved style, performance and functionality."
No kidding. This is close as dammit to being a new Grizzly altogether.
Bashplates
Lightweight plastic bashplates protect the underside front and rear.
We can't vouch for their toughness because generally we don't try to break other people's things.
We've had no reason to bitch about Japanese plastic bashplates in the past, though, so these shouldn't be a problem.
They're also a flat profile so they shouldn't snag on trail debris- rocks, roots, dead wood, all that stuff – and have engine and transmission drain holes so you're not obliged to remove the bashplates when you dump the oil.
Power and speed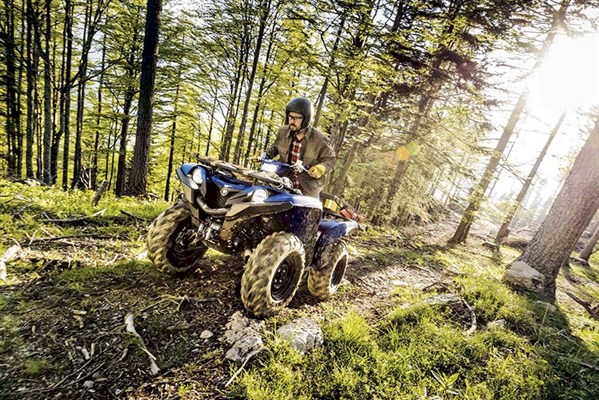 The updated fuel-injected, single-cylinder four-stroke has 708cc – 20cc up on the current model - but improvements to the inlet tract and the DOHC head deliver nine percent more torque and six percent more power.
There's a higher speed cooling fan now, a large radiator, and a new stainless steel exhaust with a spark arrester and low-noise muffler, which Yamaha says is also better than it needs to be.
Yamaha claims these changes give the updated engine smooth and strong performance across the rev range. We won't argue.
Yep, it's fast (and so is the 700 Kodiak). Clutching has been changed too.
It's more sporty than it used to be so the Grizzly bolts from a standing-start like Mr Bolt himself.
If you're giving it a handful, hang on! Is all this power useful? Depends what you're doing with it.
If you work a smallish property you don't need all the speed but if you cover plenty of kilometres every day there's no harm seeing them tick over quickly on the newly designed instrument pack.
Engine braking in high range is so-so but in low range excellent. One thing though. This is a big, heavy, fast machine.
Don't hand it to an inexperienced rider likely to be intimidated by its size and speed.
Even with class-leading power-steering and the operational benefits that accompany it, this is still a formidable bit of gear. 
The fuel tank used to be more or less above the engine but to make way for the new central storage bin and the air filter, the 18-litre fuel tank had to be repositioned under the seat.
The fuel filler point is on the rear right-hand guard.
Seats and visibility
The seat sides are now 60mm longer, and the new mounting design enables the seat to be removed quickly for better access to the under-seat air filter.
Yamaha has fitted LED headlight and tail-lights to this model. That's good; they're bright 'white' light.
The Griz also gets a halogen work-light mounted forward of the handlebars, and since it follows the movement of the bars you get additional terrain lighting at night.
Storage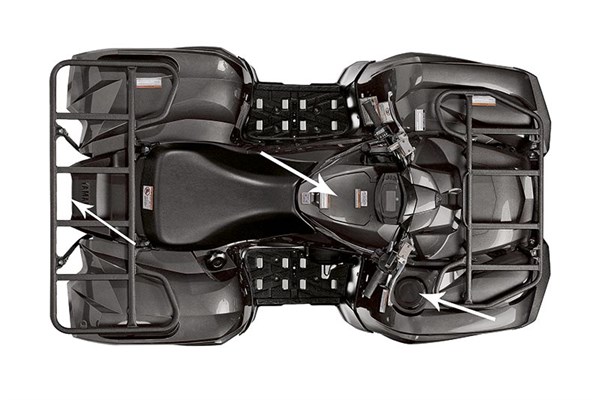 Storage has been maximised on the new model, with three compartments, all moisture-proof.
There's a deep locker at the rear, a screw-top bin in the right-hand guard and a new flip-top bin in front of the rider, so the Grizzly gets top marks for useable storage space.
(We tested a CF Moto 400 when we were done with the Grizzly and noticed that the machine had two USB ports as well as a 12V outlet. A great idea, obviously, and we wondered how long it would take for others to imitate this innovation).
Front and rear carry racks are new, with 50kg and 90kg respective capacities, and integrated with the new styling.
Specifications
Yamaha Grizzly 700 EPS
ENGINE
Type: Single cylinder four-stroke
Capacity: 708cc
Bore/Stroke: 103x85mm
Fuel delivery: Mikuni 44mm fuel injection
Ignition system: TCI
Fuel tank capacity: 18 litres
TRANSMISSION
Type: Yamaha (Ultramatic) automatic V-belt
Drive system: Yamaha On-Command 2WD/4WD/diff lock
Don't miss the full review also in the upcoming issue of Farms and Farm Machinery magazine.
Click on the link below to subscribe to the magazine and never miss an issue:

Subscribe to our newsletter
Sign up to receive the Trade Farm Machinery e-newsletter, digital magazine and other offers we choose to share with you straight to your inbox
You can also follow our updates by liking us on Facebook. 

Graders For Hire | Cranes For Hire | Telehandlers For Hire | Excavators For Hire