REVIEW: REEFA sugarcane fertiliser
---
The Responsible Economical Environmental Fertilizer Applicator (REEFA) is a true-blue Aussie engineered piece of equipment aimed at increasing plant uptake and minimal runoff. TOM DICKSON heads to sunny Far North Queensland to take a closer look.

Far North Queensland is known worldwide for having some of the most spectacular scenery and destinations to spend vacations at, but it's purely business that brings me to this magnificent part of Australia.
I've heard about a new piece of equipment called the REEFA, which is operating on a sugar cane farm at Innisfail. In case you're wondering, this is 100 per cent legal.
REEFA is an acronym for Responsible Economical Environmental Fertilizer Applicator.
It improves responsible farm practices, economy and efficiency levels by placing fertiliser at the optimum location for maximum plant uptake and minimal leeching into the waterways.
REEFA overview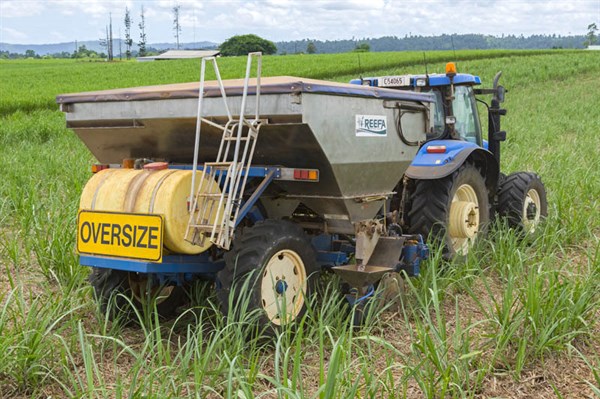 The REEFA is a three-row stool splitting fertiliser applicator. Each row has dual delivery metering units.
By adding an extra coulter and tine, and adjusting the width of the telescopic tool bar, it converts to a side dressing applicator.
The unit trails behind the tractor on Goodyear Gripster 14.9 – 28 tractor tread tyres using a dual swivel single arm drawbar, which helps it manoeuvre through undulations and washaways.
The drawbar design allows for really tight turns at the end of each cane row, where generally space is at a premium.
The telescopic toolbar is constructed using a 125mm x 125mm x 9mm square tubing for the centre piece and 100mm x 100mm x 9mm for each adjustable end.
It can cater for row spacings from 1.53m to 1.83m. When the toolbar is drawn in it reduces the total width of the machine to less than 3.5m, making it legal for unrestricted road transport.
It is auto rate controller ready but can be set up for ground drive if preferred. The 5t bin and metering chambers are constructed from 4mm marine grade stainless steel with steep sides for easy flow of product.
A hydraulic bin lid provides easy operation as well as preventing moisture getting in.
A 600-litre tank and hydraulic pump for applying sugar cane grub pesticide, Confidor guard, makes the REEFA a dual purpose machine.
The REEFA is designed and manufactured by Michael Camilleri of Maalacan Engineering at Innisfail, Queensland.
About the inventor
Michael was born into a farming family. He describes himself as a second generation cane farmer who has always had a flare for engineering.
He grew up with a very creative older brother who was always designing equipment, and so Michael branched out into the engineering side of things to turn the designs into actual working equipment. As time went on he started fabricating his own designs as well.
As a current farmer he understands the demands that are placed on a machine in the field.
Inventing the REEFA
Constant monitoring is currently suggesting there are signs of nitrogen runoff leeching into the waterways, eventually finding its way into the Great Barrier Reef.
As a grower, Michael Camilleri wants his fertiliser to stay on the farm and ideally have 100 per cent uptake by the plant.
However, the machinery that was built to perform this type of application wouldn't really work in the red soils where Michael farmed.
After trialling the machinery that was available at the time, observing their problems and talking to fellow cane growers David and Paul Cecchi about what they hoped to achieve, Camilleri came up with the idea of incorporating a parallelogram system for mounting the coulter, tine and depth gauge wheel.
His inspiration came from seeing a parallelogram mount system used for a ripper on a Caterpillar dozer.
The parallelogram system holds the working angle of the disc and tine consistent, regardless of the height.
The REEFA difference
All the existing machines had just a swivel swinging arm. The problem with it is the working angle changes as the disc and tine enters the ground, and continues to change as the tine moves up and down through varying soil conditions.
There is also no way of controlling the depth of the tine and coulter in uneven terrain.
The parallelogram mount is what makes the REEFA stand in a class of its own, but that's not all. It can be raised and lowered at the rear on the transport wheels and also at the front on the drawbar.
This is how the working angle of the tine is adjusted. The downward pressure on the tine and coulter can be adjusted through the hydraulic accumulator.
It is set on about 400kg of downward pressure, which will allow a breakout if it encounters a rock under the ground.
Each of the assemblies is attached to the toolbar using a swivel bracket. This allows for sideways movement of the tine and coulter to keep it tracking straight if the machine starts to crab sideways on hills and through drains.
First impression
From the moment I laid eyes on the REEFA fertiliser applicator I got a strong gut feeling that it is a quality piece of equipment. It may sound odd, but first impressions are most often the best.
It had the appearance of being built twice as strong as it needed to be, so it wasn't going to break in a hurry.
Michael Camilleri of Maalacan engineering builds his machines to last. He uses quality componentry and installs grease nipples to every bush and moving part.
This trailing unit has been built for the Cecchi family, who have been sugar cane growers in far north Queensland for over a hundred years.
The neat and tidy appearance of their property and the array of well-maintained machinery stored under cover in machinery sheds is a good sign that they take pride in the workplace and are good managers of their time and equipment.
From what I've seen already, I reckon if I come back in 10 years' time their REEFA will still be performing well.
Machine setup
According to David Cecchi, the most important thing is to take the time to set the machine up properly before use.
"Getting the depth and working angle of the tine and coulter is a must if you want it to do the job right," he says.
"Once you've got it working right you can lift it up for turns, then when you lower it back down it automatically returns to the correct working position," he explains.
The front and rear height, as well as the depth wheel, is adjusted using threaded turnbuckles, so the settings are virtually infinite.
When quizzed about what size tractor is required to pull it, he says that his 135hp New Holland TS135 manages easily, but adds you need a bit of weight and good traction on hilly ground, especially when its fully loaded with 5t of fertiliser.
It should be noted that you are going to need an arrangement to service five lots of hydraulics, one each for the rear lift, front lift, tool bar extension, parallelogram system and the hydraulic motors on the metering units.
Cecci put a diverter valve off one of the lines to operate the bin lid.
My only criticism is the need for so many remotes. Perhaps a better design would be one or two sets of remotes servicing a bank of electronic diverter valves. This would allow a lower specced tractor to operate the machine.
My farming experience in Southwest Victoria certainly doesn't provide much insight into growing sugar cane, but it has given me a good appreciation for a quality piece of machinery doing a good job at what it's designed for.
Performance
Lowering the hydraulic rams on the front and rear of the frame is the first step, then we lower the parallelogram hydraulics down until the coulter discs hit the ground and continue to build the pressure until it reaches 300psi.
As we pulled away, the coulters effortlessly sliced straight down to the pre-set depth of 75mm.
The 760mm coulter and tine hardly leave a mark as the unit delivers 500kg/ha of fertiliser and Confidor Guard right into the root ball of the cane.
For this job we are working to a depth of 75mm, but it is capable of slicing down to 180mm. Confidor Guard must be placed at least 50mm below the surface to be effective.
Cecchi's only comment about improving the design relates to the thickness of the coulter disc.
He says that at 10mm it does a great job of slicing through his tough red soils, but if it were a bit thicker, say 12mm, it would allow the 20mm thick tine to follow along with fewer disturbances to the soil.
The bottom of the bin is divided into three metering chambers and each of these has two hydraulically driven metering units.
Because there are two metering units, the bin can be split into two sections with a divider. While fertiliser is dispensed through one section, another product like lime can go out through the other.
Camilleri's years of experience in the field led him to use a flexible rubber hose to dispense the Confidor Guard to the nozzles.
He says that the continuous vibration that the machine experiences soon cracks any form of rigid pipe.
Only at the end, where the pipe inserts into the tine for the delivery of chemical underground, does he revert back to about a 30cm length of stainless steel pipe with an oxy acetylene heating nozzle on the end.
He says the nozzle is more durable than other spray nozzles on the market and is less inclined to block up.
The Farm scan Ag auto rate controller delivers precise application rate regardless of speed, and Cecchi has installed a base station on his property to improve the GPS signal consistency even further.
Last words
The only thing more interesting than watching this simple but strong machine doing a complex and accurate job is listening to Arthur retell stories of growing up on a sugar cane farm during the 40s and 50s.
He recalls times as a child during harvest fondly, when cane cutters worked hard, were paid well and then sung and danced long into the evening.
It was like a carnival every night, with pay-packets won and lost over card games and betting. In the still air of the Queensland evenings, the groups, which could be miles apart, would sing to each other as a form of communication.
I am left wondering how these pioneering farmers would have marvelled at the REEFA and other machinery that men like Camilleri invent and the Cecchis use in modern day farming.
It's like Arthur says: "Never stop looking for that next innovation or technique that improves your operation.
"Sustainable farming is farming for our children's future."
Hits:                     
Parallelogram mount
Precise depth control
Stool splitting and side dressing
Stainless steel bin and metering chambers
Hydraulic lid
Auto rate controlled. (Farm scan Ag)
Misses:               
Hydraulic remotes required
Specifications
Bin Capacity: 5 tonne (mixed fertilizer)
Tank Capacity:  600L
Coulters: 3 or 4
Working Widths: 1.53m-1.83m row width x 3 rows
Bin Fill Height: 2.375m – min
Transport Dimensions: 3.5m width x 2.57m height
Tyre Size: 14.9 x 28
Ply Rating: 10
Wheel Spacing: variable from 1.52m-2.15m
Gauge Wheels: thread adjust
Gauge Wheel Tyre Size: 5 x 10
Frame Tubing: 125mm x 125mm x 9mm frame; 100mm x 100mm x 9mm hitch and toolbar
Drive: hydraulic – PWM valve controlled
Frame Control: hydraulic cylinder
Optional                                                              
Flashing & Warning Tail Lamps
Wash Tank
Lid
Hopper &/or Dispersion Box Camera
Ground Drive
Don't miss the comprehensive review in the March issue of Farms and Farm Machinery magazine, on-sale February 18.
Click on the link below to subscribe to the magazine and never miss an issue:

Subscribe to our newsletter
Sign up to receive the Trade Farm Machinery e-newsletter, digital magazine and other offers we choose to share with you straight to your inbox
You can also follow our updates by liking us on Facebook. 

Graders For Hire | Cranes For Hire | Telehandlers For Hire | Excavators For Hire