REVIEW: 2016 Kawasaki Mule Pro-DX EPS UTV
---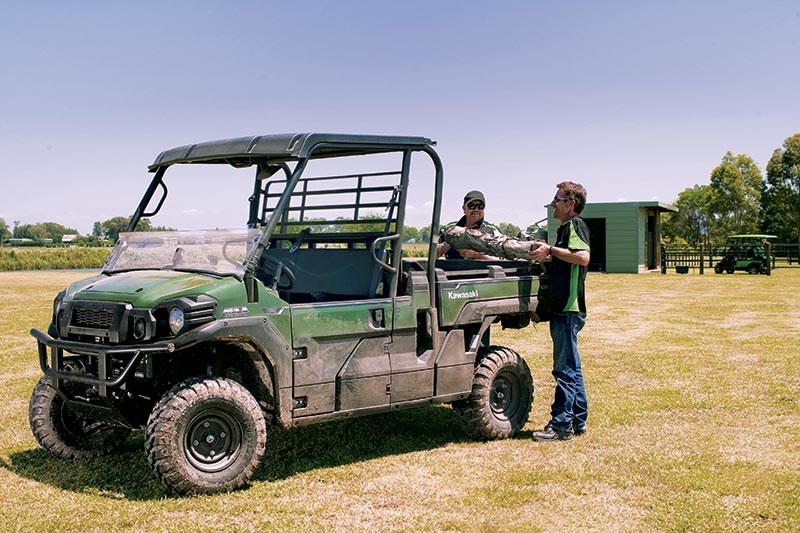 The Mule has been a reliable earner for Kawasaki. Now the company has upgraded it with a 1000cc Yanmar diesel engine, writes BARRY ASHENHURST.
The side-by-side market is going nuts. Everyone is throwing new models at us and it's wearing me out just keeping up with it all.
For example, Can-Am has introduced three new side-by-side models: the Defender, Defender XT and Defender DPS designed to take on the Polaris Ranger.
Kymco has been busy with side-by-sides as well with the recent release of its UVX 450i and UVX700i models.
Now that the brand is distributed by Mojo Motorcycles in Australia– the people who have done well with so many quads and motorcycles in a very competitive market –we can expect to hear more about Kymco and its new side-by-sides.
Kawasaki has also just released a Yanmar-powered diesel version of the long-serving Mule (Multi-Use Light Equipment) side-by-side, and that model is the subject of this overview.
We crawled all over the Mule – an awful piece of imagery, I admit – during a Kawasaki press day.
Several models were available for our inspection including the frighteningly fast Brute Force 750 ATV, but conditions at the site were unconducive to real-world testing on rough terrain. That's why we're calling this a product overview rather than a full-on product test.
But we did get friendly enough with one Mule in particular to judge its likely capabilities: The Mule Pro-DX diesel.
It has everything you'd expect in a machine of this type, and it's designed to compete in a market with high expectations. Like all genuine working ATVs, this one emphasises functionality and everything about it is dedicated to getting the job done.
Overview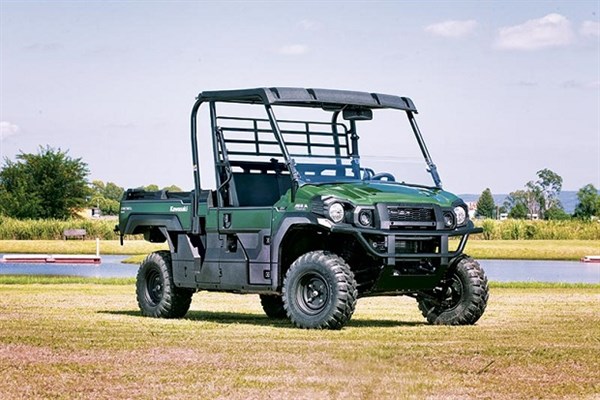 The $19,999 Pro-DX is a three-seater and our test unit was kitted with a half-windscreen and roof.
This seems like a sensible combination for users who don't like full windscreens, but do like weather protection.
Whacking a roof on a side-by-side usually turns the thing into an echo chamber – memories of the Arctic Cat side-by-side still ring in my ears – but the Mule was no louder than I was prepared to tolerate.
And if you like real weather protection the Pro-DX can be ordered with a fully enclosed cab (Kawasaki's list of accessories for the Mule is long enough to sharpen a pencil, so get on the company's website and check 'em out).
Engine and transmission
Kawasaki knows how to build engines, but this time it used a three-cylinder Yanmar diesel rather than an in-house product.
Access to the engine is uncommonly good; you lift the cargo tray and there it is. Access to daily maintenance items is pretty good, too.
The little Yanmar has a capacity of 993cc and is fed by an in-line injection pump. Kawasaki says the engine isn't governed in the normal sense of the word but intentionally limited to a top speed of about 50km/h.
Maximum power is said to be 17.8kW (24hp) at 3600rpm. Combine this with a vehicle weight of 826kg and you won't be taking it to the dragstrip anytime soon.
On the other hand, Kawasaki believes that deliberately limiting the Mule to 50km/h will help prevent accident and injury. We're not going to argue with that.
Like all these vehicles the Mule has an automatic transmission. Two and four-wheel drive selection is controlled by rocker switches on the dash, and the machine doesn't decide when you need four-wheel drive – you do.
Activation of the rear diff lock is also controlled by flicking the rocker switch.
Cab and controls
The entire thing is built for hard work, with no fancy-pants doo-dads. Each occupant gets a seatbelt, while the grab-handles are well-positioned.
And given our painful experience with the shoulder bolsters on the Polaris ACE, we'd like the Mule bolsters padded with something softer than steel.
The gear selector and handbrake levers are positioned close to the driver. Gear selection on the test unit was a bit notchy between high and low range, but it was okay in the rest of the gate – I'm not prepared to criticise this without further evaluation.
Every new ATV has notchy gear selection, with some far worse than notchy. It normally improves with run-in or workshop adjustment – or by switching brands.
The digital instrument window is tiny but packs a wallop. The brain behind it tells you everything you need to know about vehicle status and includes warnings for things like engine temperature and oil pressure.
Power steering
With power-steering the Mule is more car-like than ATV. You don't need special skills, or a government certification proving you're not an idiot, to drive it.
Kawasaki describes its styling as "simple and rugged" and that's dead accurate.
The Mule's electric power-steering is excellent and its weighting is perfect. You get more assistance when turning and at low speeds (when you need it most).
It doesn't have dual-stage power-steering like a Can-Am, but it doesn't need it (Can-Am doesn't need it, either, but that's another story).
It also doesn't have an oil pump, so it's about as uncomplicated as it can be. Score for that: 10 out of 10.
Storage
A glovebox on the passenger side, as well as three small pockets, gives occupants somewhere to stash odds and sods (the centre pocket is where you'd install the radio).
Lift the seat and there's space for a huge (optional) storage box, which would be very useful and something I'd be ordering with my Pro-DX.
Perhaps the most interesting feature of the Mule Pro-DX is that cargo tray. It's huge!
1375 by 1355mm is enough to accommodate a full-size wooden pallet, while the sides are low so you can load it easily.
It incorporates an adjustable divider (similar to the one Can-Am uses on its six-wheeler) that can prevent material from sliding about inside the tray.
It can also be positioned over the tailgate to increase the useable length of the tray itself.
The tray has a steel floor, a headboard attached to the ROPS, and a clip-system designed by Kawasaki that enables storage boxes to be secured at various positions inside the tray.
Now that's thinkin'!
Specifications
Kawasaki Mule Pro-DX EPS
Engine: 993cc three-cylinder four-stroke diesel
Transmission: Dual range CVT auto
Suspension: F/R Double-wishbones with gas shocks
Length/width/height: 3385 x 1625 x 1965mm
Wheelbase: 2345mm
Maximum permissible load: 733kg


Subscribe to our newsletter
Sign up to receive the Trade Farm Machinery e-newsletter, digital magazine and other offers we choose to share with you straight to your inbox
You can also follow our updates by liking us on Facebook. 

Graders For Hire | Cranes For Hire | Telehandlers For Hire | Excavators For Hire