REVIEW: Mercedes-Benz Zetros truck
---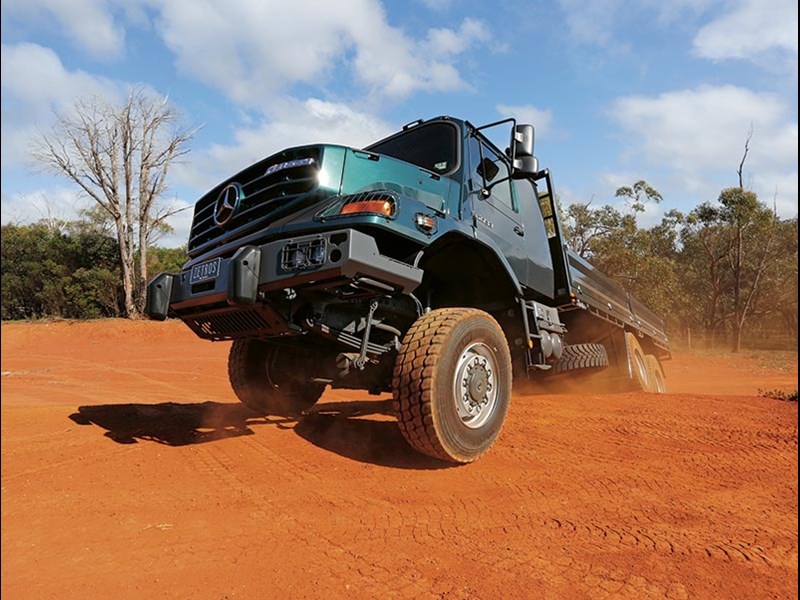 The Mercedes-Benz Zetros has been built to go where there are no roads.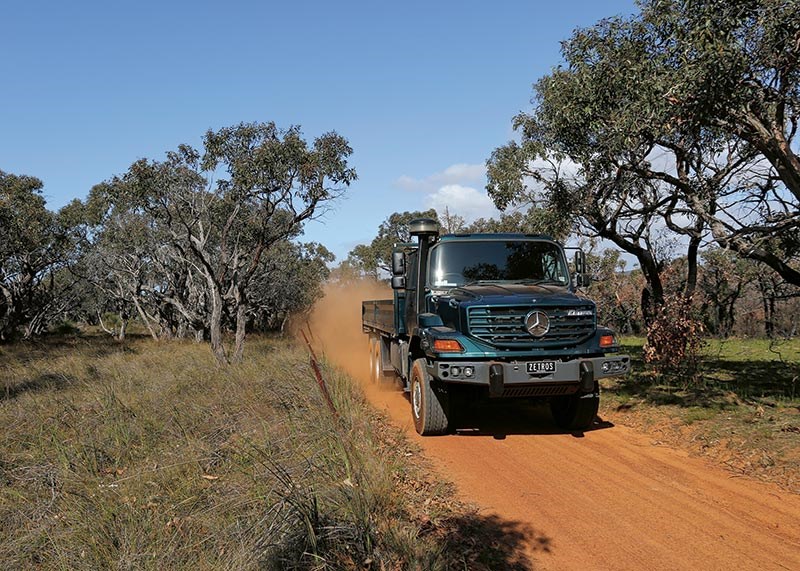 Having a bonnet out front makes for a pretty comfy ride off-road.

Specialised vehicles can be a profitable niche for truck makers. MATT WOOD gets behind the wheel of the all‑wheel drive Mercedes-Benz Zetros.

Vehicles with military heritage like the Zetros tend to have a look all of their own.
Function takes over from form very quickly, and you often end up with a vehicle that looks like someone has emptied a parts bin over the top of it.
I actually quite like the effect.
Take the Mercedes-Benz Zetros for example: it's kinda ugly, brutish and cool all at the same time.
The odd shaped cabin means that it will fit into the cargo hold of a C-130 Hercules and even a rail wagon.
Everybody needs a portable truck, don't they?
Zetros overview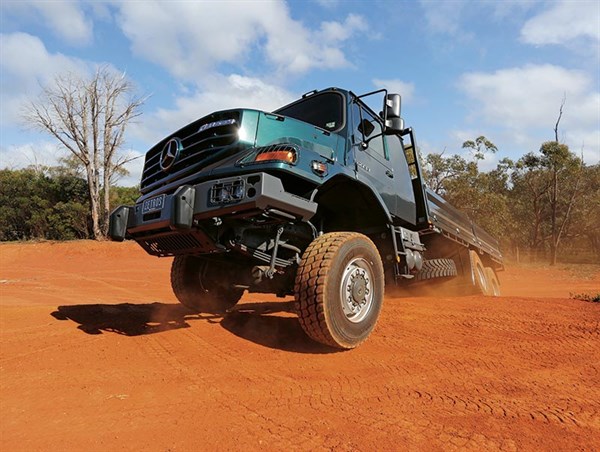 Much like its Unimog stable mate, the Zetros has been designed as a mounting point for all types of machinery – though the big Benz keeps its chunky rubber feet firmly planted in truck territory, rather than the 'Mogs implement carrying, part tractor, multi-tasking approach.
The Zetros features a smooth topped ladder chassis to allow versatility when it comes to fitting bodies and auxiliary equipment, such as cranes.
This can be quite tricky in a purpose built off-roader as the chassis still needs quite a bit of flex to allow for off-road articulation. 
The 6x6 and 4x4 Zetros off-roaders are an interesting combination of Benz components bolted together in a functional package.
The doors are Unimog, the engine is Atego/Axor, and the interior is pure Benz truck family.
There are familiar bits and pieces where ever you look.
The Zetros is a constant all-wheel drive that uses a 2-speed transfer case which gives you a choice of 1.00:1 for road use or 1.69:1 for belting around the bush.
All axles use a planetary hub-reduction drive and diff-locks are standard front, centre and rear.
Wading depth for the Benz is 800mm out of the box, but can be upgraded to 1190mm easily. 
The whole kit and caboodle sits on steel parabolic springs.
This all should mean that it's a pretty tough character.
Engine and Transmission
The Zetros uses a Euro 5, 7.2-litre OM926 LA engine, which provides 326hp (240kW) and 1300Nm.
Tranny options include a 3000 series 6-speed Allison auto or a hydraulically controlled 9-speed Benz synchro manual.
The Allison tranny behaved quite well and is a nice, quiet installation.
Though it didn't appreciate being fiddled with too much in the bush and was hesitant to make manual down changes at times.
But it's also hard to ignore the tractability benefits of having a torque converter in an off-roader like this one.
Having a bonnet out front makes for a much better ride than a Unimog and cab access is also very easy for a big off-roader.
The only downside is visibility compared to the 'mog, but it's also a much bigger truck.
But if you want a better vantage point you can always go for a walk on the bonnet as it's been fitted with non-slip material in places and is clearly been design for that purpose.
Performance
The trouble is the Zetros is a very hard truck to review, mainly because it's hard to find the limitations of a vehicle that is designed to go anywhere.
So, as I rolled along the freeway at 90km/h at 2000rpm, where the Zetros felt most comfortable, I began to fantasize about what I could do with this beast.
Driving though a house seemed like fun, but not many people would have a sense of humour about that.
The 4x4 cab chassis I first drove kicked and bucked as you'd expect an unladen truck to ride. But the 6x6 I later drove was carrying four-tonne on its back, which did a good job of planting it in the dirt.
Off the blacktop, it was simply a matter of twisting dial on the dash to grab the lower geared off-road mode and another dial to select diff-locks if needed.
This thing literally ate any obstacle I pointed it at.
It flattened mounds of dirt and climbed hills that would make a Landcruiser squirm.
In fact, it became very clear that the only way we were really going to unsettle this thing would've been with some IEDs and maybe some withering sniper fire.
One of the advantages of using heavy vehicle off road is that the extra weight helps keep things firmly planted on the deck.
Though, as experienced operators of off road trucks like this have told me in the past, if you do happen to get stuck, you are very, very stuck.
A remote tyre pressure control unit is also available to keep the wheels turning on loose surfaces like mud and sand.
Ground clearance is a quite respectable 428mm under the front diff, which is a pretty good number considering the Zetros doesn't use portal axles to drive the reduction hubs. 
The accelerator pedal position is a little awkward too as the switch to right-hand drive means that there's some wheel arch intrusion under the pedal area.
But to be honest at times I was too busy hanging on the steering wheel and making juvenile whooping noises to really notice.
In between evil chuckles I even managed to notice that the Benz donk did a nice job of hauling the Zetros down rutted tracks and up hillsides. 
Verdict
This thing ticks a lot of boxes for the infrastructure sector.
Some of those larger companies in Australia have in recent years been relying on ageing Mercedes-Benz and MAN fleets for their back of beyond work.
After all, specialised vehicles like this aren't exactly cheap to replace, especially once fitted with cranes and other equipment.
Powerline maintenance, rail maintenance and construction are all perfect roles for the mud-crunching Benz.
There are even some agricultural roles where the Zetros would do well.
And no doubt, there's an emergency service or two that could do with a vehicle like this.
Specifications
Make/Model: Mercedes-Benz Zetros 4x4 and 6x6
Engine: 7.2-litre OM926LA 6-cylinder turbo‑diesel with SCR
Power: 326hp (240kW); 1300Nm @ 1600rpm
Transmission: 6-speed Allison automatic or 9-speed manual
Drive: Constant All-Wheel-Drive
GVM: 4x4 model, 18,000kg; 6x6 model, 27,000kg
Read the full review in an upcoming issue of Farms and Farm Machinery magazine. Subscribe using the button below to never miss an issue.

Subscribe to our newsletter
Sign up to receive the Trade Farm Machinery e-newsletter, digital magazine and other offers we choose to share with you straight to your inbox
You can also follow our updates by liking us on Facebook. 

Graders For Hire | Cranes For Hire | Telehandlers For Hire | Excavators For Hire