REVIEW: Kuhn SD4000 seed drill
---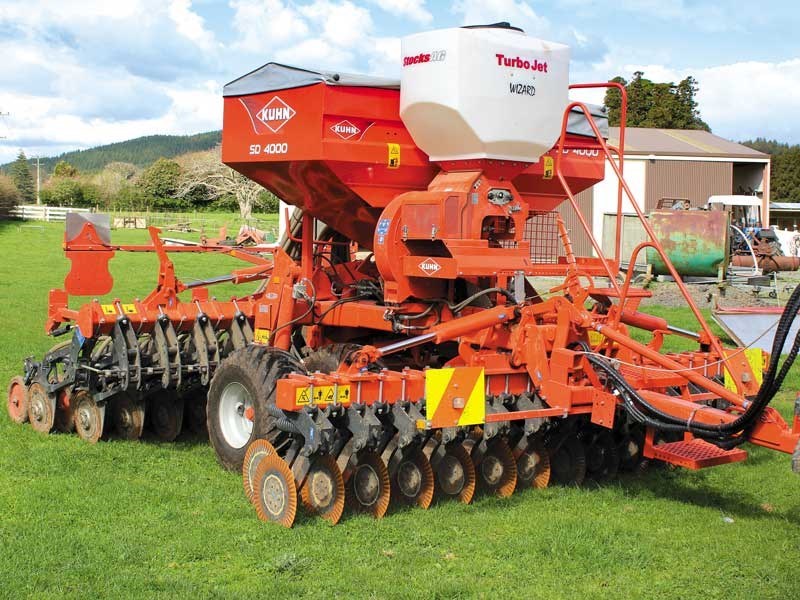 At first glance, one can see the Kuhn SD4000 is a seriously well-built and heavy-duty machine.

When it comes to buying a seed drill, New Zealand tester BRENT LILLEY reckons triple disc drills is the way to go. He checks out Kuhn's SD4000 direct drill.

Paul Hunter has developed an impressive farming operation near Te Awamutu in the Waikato that encompasses 230 hectares and is used to grow maize and grass silage that is sold on contract to nearby dairy farmers.
With a narrow window of opportunity to get grass in the ground before the onset of cooler winter temperatures, an effective drill to rapidly cover the ground is vital to the operation and it was this that led to the purchase of Kuhn SD4000 earlier this year.
With some outside contracting work taken on and all the maize ground re-sown, it has now drilled over 400 hectares and proved itself more than capable.
The drill is mainly pulled behind a Fendt 720 that is more than adequate for the task and after working on some steeper ground, has proved to be very stable.
The Kuhn SD4000 replaced another drill which struggled somewhat in undulating contours and wasn't able to maintain an accurate seed depth.
Even though the Kuhn is a metre wider, it has noticeably better contour following and depth accuracy.
Construction
Kuhn has been developing its SD range of triple disc direct drills for over 30 years now, so knows what works and what doesn't.
At first glance, you can see it is a seriously well-built and heavy-duty machine, testament to this is its weight of over six tonnes.
Interestingly, up the front, it hitches straight to the drawbar of the tractor rather than a two-point linkage like many other brands.
This makes it easy to hitch up and the drill can still be levelled with a turnbuckle adjuster between the drawbar and the main chassis.
Coulters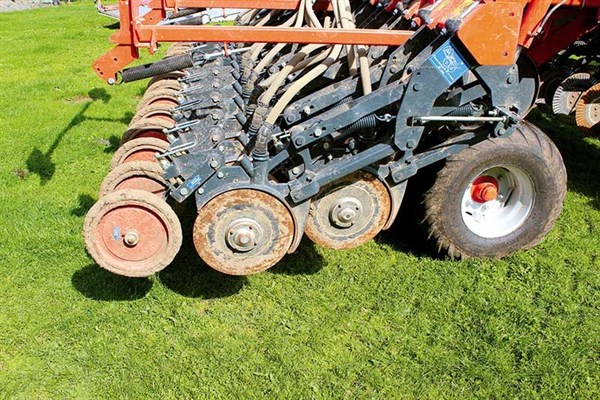 The Kuhn uses a triple disc setup which has 26 sowing rows spread across the four-metre width of the machine to give a row spacing of 150mm (six inches).
Up first at the front of the drill, the 430mm serrated discs are staggered in two rows across the width to prevent blockages and lead the way to open a slot for the following coulters, and their wavy design also helps create tilth for the seed to be sown into.
Each disc features an individual spring built into the carrier arm that allows the disc to move away from obstructions and can have up to 250kg of down force on it to ensure they will always penetrate the ground; the carriers are clamped to the box section wings that fold up.
The coulters at the rear of the machine use two plain 400mm diameter discs in a V shape that open the slot where the seed and fertiliser is accurately dropped into.
A parallel linkage setup, with a tension spring that offers an impressive amount of travel for excellent contour following, ensures the coulters remain in constant contact with the ground even in undulating conditions.
Metering and hoppers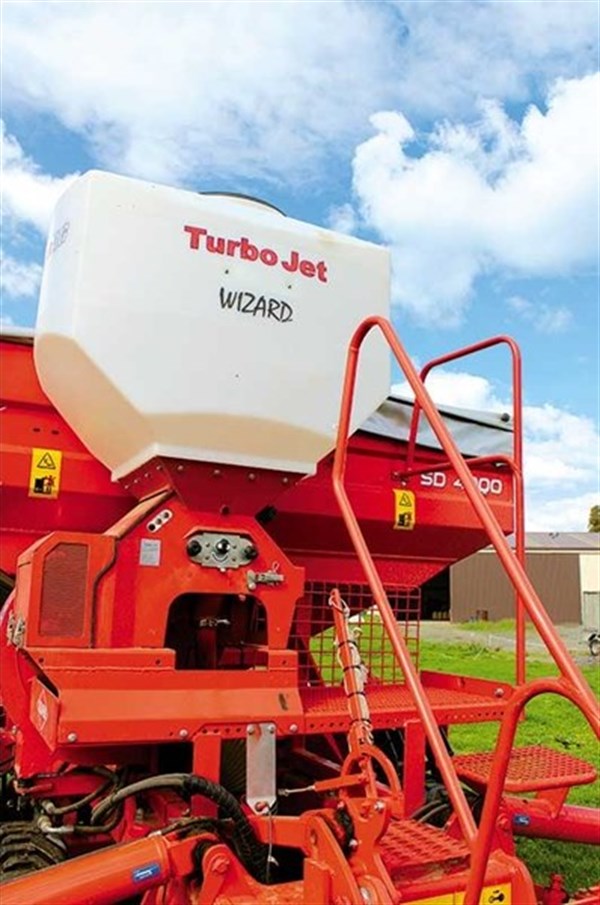 As standard, the SD4000 comes with a single metering unit and seed hopper that has a 2500-litre capacity.
While this will be adequate for some, many will want the ability to sow fertiliser down the chute as well as seed.
To cater for this, the team at Giltrap AgriZone has fitted a second 400-litre Stocks Ag hopper and metering unit to the front of this drill which allows fertiliser to be sown through the Kuhn hopper and seed through the Stocks Ag unit to provide an economical option as a double box drill.
Verdict
The Kuhn SD4000 is a fairly good example of a machine that can do a great job in a variety of conditions.
Its build quality is very good which is what you would expect from a European machine and its disc setup is well proven to give good results.
The fact the drill only comes with a single hopper and metering unit is a negative and I believe an option of a second hopper from the factory is something Kuhn should definitely look at for the future, but it's great to see the team at Giltrap AgriZone remedy this problem with the second Stocks Ag hopper.
The articulated frame between the two rows of discs is an exceptional idea which keeps the openers following exactly behind the leading discs.
The contour following ability of the coulters is impressive and helps maintain an accurate seed placement depth.
Overall, Paul says he's very pleased with the drill and has noticed a faster and more even establishment of grass last autumn and has used it for drilling chicory into permanent pasture this spring.
Hits:
Triple disc design ensures adequate penetration in all conditions
Serrated leading disc to create tilth for the seed
Articulated frame insures the rear coulters follow the leading discs
Parallel linkage mounted coulters and press wheels give impressive ground following
Four transport wheel provide a solid stable base for the drill
Solid robust construction
Misses:
Standard as a single box drill, although has been setup with a second Stocks Ag hopper
Separate control monitors for the hoppers with no integration between them
Subscribe to our newsletter
Sign up to receive the Trade Farm Machinery e-newsletter, digital magazine and other offers we choose to share with you straight to your inbox
You can also follow our updates by liking us on Facebook. 

Graders For Hire | Cranes For Hire | Telehandlers For Hire | Excavators For Hire