REVIEW: Kymco UXV 450i UTV
---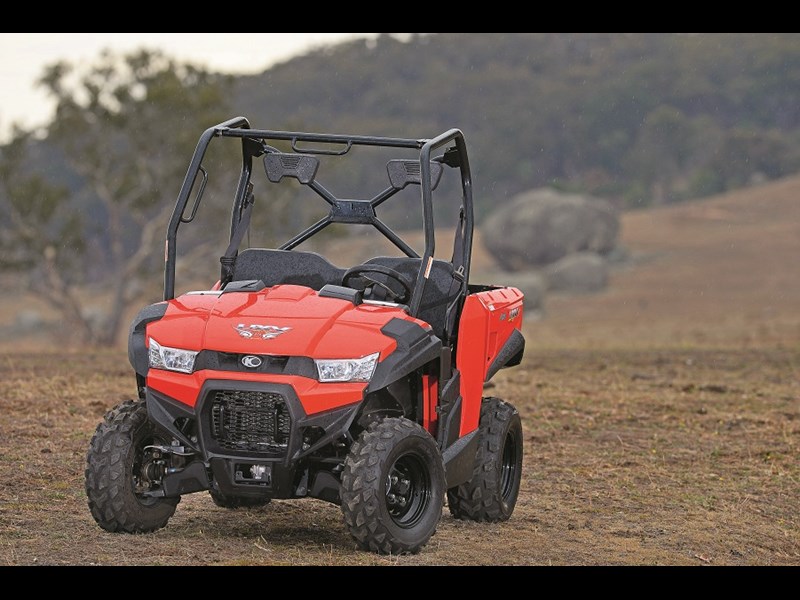 The Kymco UXV 450i is a good looking vehicle with a great engine.

Kymco's compact UXV 450i side-by-side looks the ticket for small property owners, and its mid-size engine shoves out more grunt than you'd expect, writes BARRY ASHENHURST.

Kymco has been in Australia for some time, but is yet to gain a foothold in the market. It's hard to get a foothold when you have the smallest foot, and the guys who got there first are always trying to step on you.
The 450i is the first in a range of utility side-by-sides that Mojo Motorcycles has for the Australian market.
The second, already released, is a 700cc side-by-side with power-steering, black alloy wheels, and a 1360kg (3000lb) winch.
The UXV 450i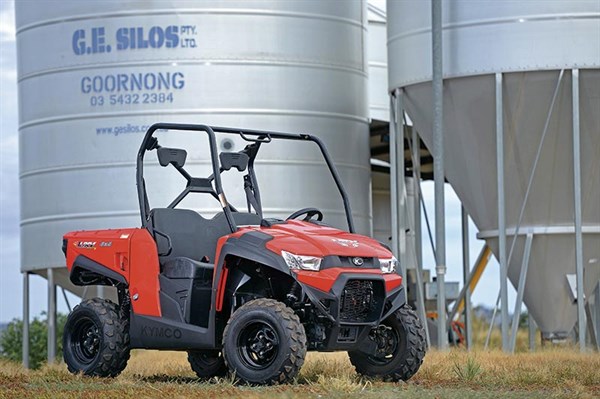 On the face of it, the UXV 450i looks like any other petrol-driven side-by-side, but one thing stands out – its size.
This ATV is so compact you could almost call it a mid-size utility vehicle. It's certainly mid-size if you compare it with Yamaha's three-seater Viking, or Can-Am's 72hp Defender.
Kymco says the 450i will fit in the tray of any full-size ute – which would be handy – but we couldn't test this theory.
The point is, Kymco deliberately made this thing compact to tempt people away from the average 4WD ATV.
It's a smart move and might just work, particularly for 'boutique farmers' who, by the way, now account for a large slice of equipment sales, but typically prefer pretty to practical.
Engine and transmission
The little red Tonka is powered by a 443cc SOHC four-stroke, EFI engine. It puts out 24.6kW (33hp), but we were, well, startled at how quick this 450 is.
Its acceleration was so unexpected that we were thinking, you know, maybe Mojo had slipped in a 700cc engine in it or something.
Not that a reputable company would pull a stunt like that, but at the end of the day we were wondering how the hell Kymco made this thing so fast with only 443cc. We're still wondering.
The transmission is the now familiar CVT auto, with the equally familiar H-L-N-R-P gear pattern.
The shift action is notchy, which is often the case on a brand new vehicle. We'll give this one the benefit of the doubt. It may free up after a few service hours.
Storage
One thing we certainly appreciate about this model is the storage space.
The people who designed this thing understand that you sometimes carry more than a just mobile phone when you leave the homestead.
There's a large storage bin under the seat, another under the bonnet, and a lockable glovebox in the cab.
There are 'beverage holders' too, but like any beverage holder in a rough-terrain vehicle, they're only useful when you're stationary.
Ride and handling
We test these vehicles on a hilly cattle property not far from Toowoomba in Queensland, which has plenty of rough stuff.
The Brisbane River runs through the property, so there's an opportunity for deep water testing, and since there's always stock in the paddocks, we invariably find out how the animals react when we turn up with an unfamiliar vehicle.
Anyway, we rock up in the little red Kymco and the cattle don't even notice. The 450 isn't loud, doesn't have a rasping exhaust note or anything, so it doesn't spook 'em.
In fact, it looks just like any other side-by-side they've seen us drive before, so they just look very cow-bored and keep munching.
We put the Kymco through the 'river test', though this time we have to share the river with the army.
They turned up and started driving their cammo Land Rovers through the river, setting up a nice bow wave and making a mess of our carefully planned photo op.
Some quads have fared poorly in this so-called river test. One lost a great chunk of plastic; we never found out why.
Anyhow, the Kymco managed to survive the army, the bow wave and the deep water, which means the breathers must be high enough. And we made it back to Reggie's garage with all hardware intact.
On medium terrain with a light load, the 450i is pretty much the equal of any other side-by-side we've evaluated. The bench seat was cushy enough, and the independent suspension did a decent job.
The shocks have preload adjustment front and rear, as usual. They also have dual mounting points, so ride height can be adjusted for light and heavy loads.
Ride quality is actually very good. Kymco describes the 254mm ground clearance as 'outstanding', but really it's pretty much what most side-by-sides have these days.
We weren't able to test this unit with a heavy load on very rough trails and big hills.
Verdict
The Kymco 450i retails for $13,000, and that puts it up there with brands that have gained a foothold in the local market and enjoy stepping on the opposition.
The machine has a two year warranty. The distributor says that if it's "serviced exclusively by an authorised Kymco dealer and retains accurate service history, you may be entitled to a further one year extension of the warranty period".
We're not sure what 'may' means.
At $13,000, and with features you'll find on pretty much any side-by-side, for this Kymco to succeed it will have to prove it can go the distance against established competitors. 
Specifications
Kymco 450i side-by-side
ENGINE
Type: SOHC four-stroke
Capacity: 443cc
Fuel delivery: Synerject EFI
Fuel tank capacity: 32 litres
DIMENSIONS
Length/width/height: 2700x1440mmx1849mm
Wheelbase: 1828mm
Ground clearance: 254mm
Dry weight: 490kg
Subscribe to our newsletter
Sign up to receive the Trade Farm Machinery e-newsletter, digital magazine and other offers we choose to share with you straight to your inbox
You can also follow our updates by liking us on Facebook. 

Graders For Hire | Cranes For Hire | Telehandlers For Hire | Excavators For Hire