Review: Big three American utes do battle
---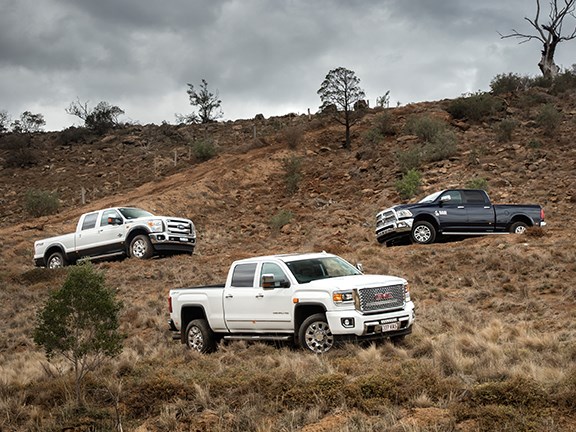 The big three American utes Ford F-250 Superduty, GMC Denali 2500 and Ram 2500 are put to the test by Matt Wood.
America's love affair with the pickup truck continues unabated, yet they remain a niche market here in Australia. Matt Wood gets hold of a GMC Denali 2500, a Ford F250 Superduty, and a RAM 2500 and puts them through their paces.

An icy feeling slowly radiated through my body like advancing dread. My hands grew hot and sweaty on the steering wheel as I squirmed in the driver's seat.
I was worried. Was I having some sort of allergic reaction to leather upholstery? Was I losing my nerve in the face of so much American heavy metal? Maybe that curry I had the previous evening was a bit past its use-by date. I wasn't sure what was going on.
One thing I did know was that I felt like I was sitting in a bucket of icy water with my hands on a barbeque. And then it dawned on me.
While I'd been fiddling with all the switches and buttons in this vehicle, I inadvertently switched on the seat cooler and steering wheel heater at the same time. The result was disconcerting to say the least.
If you've ever been on one of those camping trips where your arse ends up parked in an esky you'll have some idea of what I'm talking about.
THE BIG THREE
I was driving a GMC Denali 2500 pickup truck, the full-on luxo bus of the GM truck line up. And I wasn't used to such creature comforts in a giant load-lugging ute.
Along with the GMC, we also had the latest model Ford F250 Superduty and the recently arrived RAM 2500 – the latest incarnations of 4x4 heavy-duty pickups from the American big three.
One thing that all three certainly aren't lacking is visual impact. On Australian roads these things stand out like the proverbial canine appendages.
Some think they are cool, and others think they are crass. But whatever you may think, they do actually have their practical uses. Interestingly, carrying stuff in the tub isn't really one of them.
While they all do have a sizable load area, they all have an Australian payload that equates to the same as the average 'compact' 4x4 ute on the Aussie market – just under a tonne.
TOW MONSTERS
Where they do excel, however, is towing. These blinged up behemoths can tow between 6.5 and 7.5 tonnes with the right trailer hitch, and of course, trailer brakes.
Their automatic transmissions are equipped with massive trans coolers and have transmission tow modes to aid in pulling a load and with engine braking. And they're all fitted with exhaust brakes.
Not only that, all three are four-wheel drive with two-speed transfer cases. And as I found out earlier, they are also very well-appointed, with luxury features not usually found in locally available load luggers. They also have lots of buttons inside to fiddle with.
STEERING SWAP
None of these jiggers have been designed to be right-hand drive vehicles, though. As a result, those wanting to buy a big redneck hauler locally need to buy a converted one through one of the many businesses in Australia that specialise in switching the tiller to the business side of the truck.
This opens up an interesting conversation. Because, regardless of the badge on the grille, you are essentially buying a very expensive modified vehicle from a third party, that in some cases has no relationship with the original manufacturer at all.
This may not be such a big deal if we're talking about a car from the 1960s or 70s (not that you need to convert them these days anyway), but these trucks are now full of electronic gizmos and airbags that need to be recalibrated.
The last thing you need to happen in a bingle is for the airbags to blow the cup holders out of a side window rather than cushion the blow as intended. Or your satnav to send you to Punxsutawney, Pennsylvania, instead of your local supermarket, as delightful as Punxsutawney may be at this time of year.
So not only did we get three different trucks, we got them from three different converters. And all three businesses differ in their approach to conversions. 
GMC DENALI
Which brings me back to the aforementioned GMC Denali.
GMC is the premium GM truck brand that sits higher in the GM food chain than the Chevrolet Silverado. That didn't, of course, prevent me from constantly referring to it as a Chevy. My brain was clearly struggling with the concept.
The Denali sports a 6.6-litre Duramax V8 diesel that provides 402hp (300kW) and 1037Nm of torque, behind which sits a six-speed Allison automatic. It will take a tonne in the tub and tow up to 6.5 tonnes.
This truck came from Queensland-based Performax International, who specialise in RHD conversions on a range of American vehicles. As with all of the converters in this test, Performax has full volume compliance, which essentially means that the Australian Government recognises them as automotive manufacturers.
I have to come clean and say that from the start I wasn't nuts about the GMC's styling. The wheel arches looked as if they needed square wheels to fill them, and the front is just a little too garish Cadillac for my tastes.
The leather interior, however, is plush – it feels like a quality luxo bus inside. As mentioned earlier, there's heated and cooled everything, and a neat digi-dash that provides vital statistics such as coolant temperature and oil pressure. The display also changes when you select tow mode to display transmission temperature as well.
A touchscreen infotainment system dominates the centre console, though the satnav kept playing up. It refused to shut up no matter how much we tried to reprogram it. We ended up just removing the sim card for some peace.
Having the pedals sitting in what used to be the passenger footwell does make it a little cramped for the left leg on a long drive, and I found myself moving my foot around almost subconsciously to get comfortable.
The Denali also gets a safety pack that includes forward collision warning and radar cruise control.
Elsewhere inside, there is storage everywhere, and the seat bases flip up out of the way to create a flat floor space, which is no doubt handy if you've got luggage you want to keep out of the weather.
As you'd expect, the back seat is plush, comfortable and spacious. Three adults could lounge in the back comfortably.
As much as I disliked the Denali's styling, I had to admit that it was a lovely thing to drive, helped by an independent front-end that gives the GMC excellent road holding – whether loaded or empty.
The V8 had a suitably macho growl when booted, but at the same time was happy to idle along smoothly in traffic when required. The auto, in comparison, seemed a little harsh at times when shifting. It was much happier when actually towing a load.
I'm stating the bleeding obvious here, but these are big trucks and, as a result, they all have a planted feel on the open road. But the GMC was definitely the smoothest.
When it came to off-roading however, we had to bear in mind that these trucks were a little too wide for most bush tracks. Plus, we didn't want to scratch or dent some very expensive vehicles. But we did tackle a particularly gnarly hill climb, as well as some mild obstacles.
Shift-on-the-fly 4x4 is standard on all three trucks. Again, the Denali surprised, though it's worth mentioning that the GMC was fitted with aftermarket shock absorbers, which no doubt helped in the wheel articulation stakes.
The Denali is also fitted with an auto locker on the rear diff, which also gave it a helping hand as it jumped, roared and bounced up the hillside.
The chassis of the GMC felt very supple both on- and off-road, and I never thought I'd ever use those words to describe the handling characteristics of a pickup truck!
We then had to actually tow something. All of these trucks were fitted with 50mm tow balls, which meant a maximum load of 3500kg. So we stuck a relatively modest 3000kg behind all of these trucks to see how they hauled. Given the 3500kg benchmark set by the local ute market, that's still a pretty good load.
In short, the Denali towed beautifully and barely noticed the weight. The Allison tranny settled into a smooth shifter under load, and in tow mode provided intuitive shifts. Our tow test route was up and down the Brisbane Range in Victoria, and on descent the engine brake worked extremely well with the gearbox, downshifting early and holding high rpm to maximise exhaust-braking effect.
The Performax conversion does feel like a quality job, satnav niggles aside. But without pulling things apart, it can be hard to judge from the driver's seat.
Aside from footwell room, the only other jarring note is that the steering column is slightly off-centre with the seating position. Overall, the Denali itself is a smooth, cosseting hauler that would eat up the miles with ease – loaded or unloaded.
Of course, none of this comes cheap, especially when tied to the vagaries of the American dollar, and our GMC had a list price of $152,500 (this truck was also fitted with an optional long-range fuel tank). Performax vehicles also come with a four-year, 120,000km warranty and 24-hour roadside assistance.
FORD F-250 SUPERDUTY
America's love affair with pickup trucks doesn't look to be dissipating anytime soon. The Ford F-150, for example, has been the best-selling vehicle in the US since 1978.
According to last year's American sales stats, the second vehicle on the list is the Chevrolet Silverado 1500, and in third place is RAM. To put that in perspective, in 2015 nearly twice as many Americans bought F-150s than Toyota Camrys.
The F-250 Superduty is the steel-clad big brother to the now aluminium bodied F-150 and, if numbers on paper mean anything, it's a brute.
The 6.7-litre Powerstroke V8 diesel makes a whopping 440hp (328kW) and 1166Nm of torque, which gets power to the paws via a six-speed SelectShift automatic transmission. With the right hitch and braking, it will also haul 7600kg.
This truck comes from Harrison F-trucks, which uses Melbourne based F-series converter VDC for the steering switcheroo.
VDC specialises in Ford conversions and handles the whole F-series range. The company also has a subsidiary based in Detroit to handle conversions for the global market.
VDC has vehicle modification certification from Ford, which basically means that head office trusts them to mess with their stuff.
The VDC trucks are sourced from a Kentucky dealer, and just to make sure that the conversion passes safety muster, VDC has also crash-tested one of their converted trucks to make sure everything works should the worst happen.
Sitting in the leather lounge that is the interior of the 250, the truck feels every bit as big as it is. And I actually like that big chrome grille. The interior feels very much in line with Ford's global design, though the plastics feel a little hard-edged, which cheapens the feel of the cockpit.
As you'd expect, the rear seating has plenty of room, and there's lockable storage underneath as well. It's well laid out and less busy than the inside of the GMC.
The infotainment system and touchscreen is Ford's Sync 2 system, so anyone familiar with the Aussie Sync system will find their way around it easily.
The driver's footwell is a little cosy. As these trucks weren't designed to be right-hand drive, there tends to be more firewall intrusion into the cockpit on that side of the truck. That said, VDC has managed to gain some more left legroom over the last 18 months, but I still found myself hooking my left leg across the floor to rest behind my right foot.
Fire up that chunky bent-eight and you are rewarded with a subdued yet gruff rumble that emanates from the twin dump-style exhaust tips. It sounds and feels tough.
Put the foot down and the Effie launches, the rear wheels scrabbling on blacktop until the traction control grabs hold. Without a load on board, this thing's a beast. 
On road, the 250 was a smooth performer; the Ford tranny is a really nice bit of gear. However, the Ford doesn't steer all that great – it has a tendency to bump steer, which keeps your hands moving the wheel more than I'd like.
Off road, the F truck snarled its way up our hill climb with sheer brute force. Even without the rear diff-lock engaged.
It wasn't as composed as the Denali because it lacked the more supple, aftermarket suspension. Instead, it just growled and threw rocks at the climb like an enraged Neanderthal. There is just so much grunt on tap, you can't help but grin when giving the loud pedal a nudge.
Interestingly, the F truck has manually lockable front hubs as well as the now usual shift-on-the-fly setup.
With our trailer on board, the Effie treated our piddly load with the contempt it deserved. It hauled effortlessly. The auto's tow mode also worked well, providing excellent engine braking on our descent. The rear end felt planted, but again the front end doesn't feel settled. The rest of the truck is smooth, but perhaps not surprisingly it handles like a truck.
However, I'm told that even F series trucks in the States don't handle that well either.
Our F-250 Superduty Lariat has a list price of $152,990 and comes with a four-year, 130,000km warranty that includes three years of 24-hour roadside assist. The F-trucks VIN will also show up on an Aussie Ford dealer's database.
ASV RAM 2500 LARAMIE
In such lairy company, the Ram looks almost subdued. The styling certainly isn't lacking any visual impact, though.
In fact, the origins of the Ram's face go back to the recommendations of a French medical anthropologist who Chrysler employed to find out what evoked a tough, macho image. Apparently reptilian and snake-like works … go figure.
The Ram is still often referred to as a Dodge, but Fiat Chrysler has dropped the Dodge moniker and is using Ram as the badge for all its commercial offerings in the US.
The recently launched ASV RAM is the result of a joint venture between Ateco Automotive and Melbourne based Walkinshaw Automotive Group, called American Special Vehicles.
The conversion process was developed with the blessing of FCA head office in the States.
A right-hook steering box from the factory supplier is used and new dash panels are manufactured locally. The trucks are essentially remanufactured on the Clayton assembly line.
Unlike the other two trucks, the Ram uses six cylinders for motorvation in the form of a 6.7-litre Cummins turbo-diesel. This donk makes 375hp (280Kw) and 1084Nm of twist, which feeds into a six-speed auto. The 2500 will also tow 6989kg, and carry 913kg. 
Anyone familiar with the Jeep product will feel right at home inside the RAM. It feels the most like a factory vehicle out of the three.
Smattering of woodgrain panelling highlights a more subdued interior. A touchscreen provides access to the Uconnect infotainment system.  And, as you'd expect, the rear seats are roomy and accommodating.
All three trucks also have reverse cameras fitted as standard, a must for a vehicle this size. And it makes hooking up a heavy trailer a breeze!
The footwell conversion would have to be the best one that I've seen. The driver's footrest has even been moved to the right hand side. It looks like a factory job. As a result, legroom is the best of the bunch. The jarring note, however, is the park brake pedal.
All of these trucks have a foot-operated park brake. However, the Ram's park brake pedal hinges on the right hand side of the footwell, above the accelerator pedal. So if you have your foot on the brake, you have to switch feet and use your right foot to engage it. Either that, or put it in park first.
No doubt the reason it's there is because that side of the footwell has enough structural integrity to handle the pedal. But a rummage around in the Jeep/Fiat Chrysler parts bin would surely find a push-button electric park brake available, which I reckon would be a much better solution.
The Ram is also a good thing to drive on the open road. For some reason it feels more nimble than the other two trucks.
This truck was the only one with a coil-sprung rear end, which you may think would make it a bit softer than the other two leaf sprung trucks. However, the Ram had the stiffest rear end of all three.
While the Ram's power figures may seem a little modest when compared to the other two, the Cummins 6 has a great spread of usable torque. And while it wasn't the beast that the Effie was, I didn't find myself wishing it had more grunt.
The six is a little more grumbly than the V8s, which does make it sound a little more commercial.
The stiff suspension didn't help the Ram off-road. It made it up the hill climb, but it struggled to get power to the ground as it was prone to lifting its legs into the air, even though it does come with tru-lock differentials as standard kit.
The 68RFE automatic, though, was a great unit and an intuitive shifter. Though given the size and price of these trucks I doubt many will be beating through the bush in them.
With the trailer on behind it, the Ram's bum didn't actually get much closer to the ground. It tended to stand up and haul rather than squat and pull.
Performance was more than adequate when climbing, as the Cummins seems to have quite a low torque curve – it just lacked the V8 snarl of the other two trucks.
The exhaust brake and gear box tow mode worked well together, in fact the Cummins exhaust brake sounds a lot like a baby Jacobs engine brake.
The reality is such that, with a load on, it sat on the road better than the F-250. The Ram drives and feels like it's a factory truck.
The ASV Ram 2500 has a list price of $139,500 and is being sold through a national dealer network, often a part of an existing Fiat Chrysler dealership. The Ram also comes with a three-year, 100,000km warranty and 24-hour roadside assist for that period.
THE VERDICT
All these trucks have their pros and cons. While they are all 'real' 4x4s, most will be towing rather than rock crawling. The 4x4 capabilities are more likely to be tested in mud or sand.
There are only a handful of decent options for towing a big load long distances on the Aussie market. It's a niche market, but based on recent Ram sales figures, a growing one.
If it's an all-rounder you're after and you don't mind the styling, the GMC Denali does everything right. It's a great truck to drive on the open road, tows like a train, and is very well-appointed.
Though, for a truck that's over $150k, I'd like to see a better finish on the conversion. The footwell and the steering wheel location were annoying.
For sheer grunt and aural drama, it's hard not to like the Ford. The VDC conversion is a tidy one. It's handy off-road and tows like a meth-affected mule. It's a shame it's let down by comparatively ordinary on-road handling. At this price level of the market, you don't want your truck to drive like a truck. You want a luxury tank with a tow bar.
But the Ram impresses both on price and performance. Not only that, the ASV conversion is the neatest job I've seen yet. Fit and finish is superb.
It doesn't win the bragging competition in terms of power, but it has the goods when required. Park brake aside, it feels and looks like a production vehicle. And in my opinion it doesn't feel 12k cheaper than the other two trucks. 


If you're looking for utes for sale, check out the listings on our sister site whichcar.com.au


Subscribe to our newsletter
Sign up to receive the Trade Farm Machinery e-newsletter, digital magazine and other offers we choose to share with you straight to your inbox
You can also follow our updates by liking us on Facebook. 

Graders For Hire | Cranes For Hire | Telehandlers For Hire | Excavators For Hire