Review: Nissan Navara NP300
---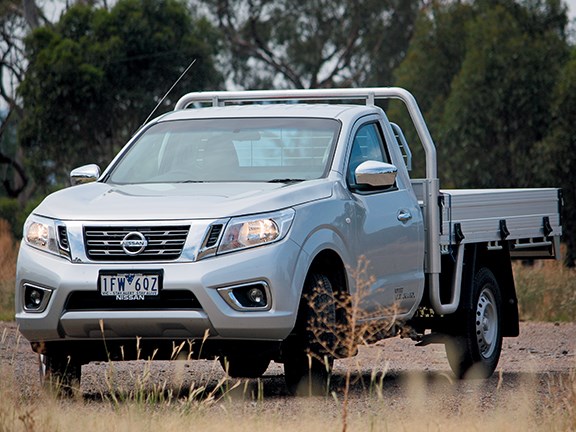 Not exactly striking in the looks department, but the base Navara models are well-appointed enough for most work assignments.

The Nissan Navara copped an all-new platform last year. Matt Wood has a look at the two base work-spec, two-wheel drive NP300 models.
The NP300 was launched last year during what may go down in history as The Year of The Ute – three all-new platforms were launched onto the Australian market – and as you'd expect in our current SUV-buying climate, it was the mid- to high-spec dual-cab 4x4 utes that garnered the most attention.
All of these new vehicles, however, have a plethora of lower-spec variants aimed at serious work rather than a lifestyle statement. And, as much as we may like the option of having a 4x4, the reality is that many work applications don't really need it.
So for this review, I planted my behind in the driver's seat of the two work-orientated base-model Navaras: the single-cab 4x2 diesel RX and the base single-cab petrol DX.
Navara diesel RX
My first vehicle was the diesel RX. The base diesel uses a single-turbo version of the top-spec 2.3-litre engine, and puts out 120kW (161hp) and 403Nm.
Standard equipment includes a 6-speed manual gearbox, seven bags of air, a driver's seat that can move in six different directions, an AM/FM CD player with Bluetooth, and all the usual connectivity that we've come to expect in new equipment these days.
The RX also rides on 16-inch steel wheels. But, perhaps more importantly, it can tow a braked load of up to 3500kg and carry a payload of 1362kg. Not bad figures for a base-model 'Tunna'.
My overall impressions of the NP300 interior from previous drives still rings true in the base model trucks. It's a well laid out and functional place to be.
The rubber floor mats have a nice deep lip on them to make sure they catch any of the dirt and grit that gets clomped into the cab on a pair of work boots.
The cloth-trimmed seats appear durable enough, though it's still not an interior that you can hose out. The interior plastics also appear durable but soft enough to avoid a cheap and nasty feel.
In-door storage, a console cubby hole, and the glove box provide adequate storage. My pet hate is uncovered storage areas on top of the dashboard, as I can't stand windscreen reflections.
There's also some wiggle room behind the seats if needed. It's the obvious spot for a newspaper to be chucked.
Being substantially lighter than its dual-cab 4x4 siblings gives the base Nav a shot in the arm performance-wise when it comes to the diesel. It is a smooth, quiet power plant, whether in range-topping twin-turbo form or single turbo like the one I drove.
Many of the smaller-capacity, high-output diesel engines that are hitting the market these days are prone to some turbo lag lower in the rev range, and the YS23DDT is no exception. However, for a workhorse it's still not noticeably lacking in the giddy up stakes.
The gearshift, however, isn't the best. It feels like the shifter out of a truck with a really long throw. As something to drive around town in a workplace role, it does become a little tiresome. The shift is also a little notchy.
The rev-happy-yet-torquey diesel forgives the interludes between cogs. A seven-speed auto is only an option on diesel 4x4 models.
Surprising ride
But I was surprised by the ride. There was very little of the clang and bang that I'd traditionally associated with the old faithful leaf-sprung tray back.
It pains me to say it, but I reckon the leaf-sprung Nav rides and handles better that the coil-sprung high-spec models. Yes, it still feels like a little truck, but it doesn't feel compromised like the other rear-end does.
Visibility is okay, but the new styling of the NP300 range means that the outside edges of the bonnet slope up rather than down. This isn't a huge issue on the road and around town, but in a paddock or on a building site it's nice to be able to see what you're about to run over when manoeuvring.
The perpetual pursuit of fuel economy sees the Navara equipped with quite tall gearing. A trip to regional New South Wales and back saw the Nissan behave quite well on a variety of rural road surfaces.
The only downside is that first gear can seem a little tall for loaded take-offs. However, this is a common trait among the current crop of manual transmission-equipped utes on the Australian market.
Crumbling rural roads didn't cause much bother at all, and where I was expecting some skip and bounce from and empty truck, I found a relatively sedate jitter. This, of course, is to be expected in an empty work vehicle.
Nissan is claiming an impressive 6.4L/100km fuel economy figure for the base diesel. My average, however, was closer to 8.5L/100km with a combination of rural and metro driving, which is still nothing to sneeze at in this type of machine.
The genuine drop-side alloy tray is massive and easy to use for loading and unloading. A combing rail around the tray makes for easy load restraint.
I next spent a few days behind the wheel of the base base model – the petrol-powered DX 4x2.
The humble DX gets a naturally aspirated 2.5-litre petrol engine that creates 122kW (164hp) and 238Nm. Payload is less than the diesel at 1228kg and towing is right back to 1588kg. Ground clearance is also lower at 194mm from the diesel's 215mm.
Old-school locks
There's no keyless entry on this baby, so it was back to manually locking and unlocking doors. Outwardly, however, the two vehicles are almost identical save for the DX's smaller 15-inch steel wheels. The DX consequently has a slightly lower stance.
The petrol powerplant is a smooth and rev-happy unit. However, with the same truck-like gear shift as the RX, it's not as forgiving when it comes to slow gear changes. A decent serve of throttle does get the DX moving, but it needs the tacho needle to stay high in the rev range to keep momentum rolling along nicely.
The bottom line
The manufacturer's list price for the petrol DX cab-chassis is $19,490, while the diesel RX cab-chassis comes in at $25,990. But, as a cab-chassis can't be registered without a body on it, the drive away price is more likely to be $24,993 (DX) and $31,698 (RX) when fitted with an alloy tray.
The base DX is a neat little ute for around-town duties and a competitive price point for courier work, though an auto option would add to its appeal, albeit at extra cost.
But the admittedly more expensive RX is a great little work package with a flexible yet frugal powerplant and slightly higher ground clearance, which makes it perfect for both the building site and the paddock. It's also the best base platform for service body applications.
If you do happen to go for a work-spec Navara, the diminutive key fob means you will also avoid lumpy pocket syndrome, which also saves you from having to lash out on a man bag. It doesn't matter how much you refer to a man bag as a satchel, nobody ever believes you.  
 
If you're looking for utes for sale, check out the listings on our sister site whichcar.com.au
Subscribe to our newsletter
Sign up to receive the Trade Farm Machinery e-newsletter, digital magazine and other offers we choose to share with you straight to your inbox
You can also follow our updates by liking us on Facebook. 

Graders For Hire | Cranes For Hire | Telehandlers For Hire | Excavators For Hire