Review: 1985 Steiger Panther CM-325 tractor
---
Tom Dickson hops on board a massive Steiger Panther CM-325 tractor which was born in 1985 and is still earning its keep on a South West Victorian farm

THE year is 1985. Our Prime Minister is the colourful and often controversial Labor leader Bob Hawke, Essendon wins the VFL premiership by defeating Hawthorn (26.14.170-14.8.92), the first Formula One Australian Grand Prix takes place on the streets of Adelaide — and who could forget Mad Max 3, Beyond Thunder Dome, the Australian post-apocalyptic action adventure film?
In the same year a 325hp Steiger Panther CM-325 rolled off the production line in Fargo, North Dakota. It turns out that my uncle Dan Dickson is running one on his property in South West Victoria, and it's still performing as well as on the day it was manufactured.
The CM-325 is an articulated 4WD with four sets of dual wheels, power steering, hydraulic disc braking and a Steiger Safari cabin which came standard with air-conditioning. Steiger set the standard and, in fact, led the race in high-horsepower tractors.
Back in the '80s, owning a Steiger got a man up on his toes and walking that little bit taller, making him the envy of all his neighbours. It was an indication that he was a serious operator.
To put it into perspective, today it would be like taking possession of a brand new John Deere RX series or Case IH Steiger Quadtrac. Both are quad tracks and both are serious, massive, high-horsepower pieces of equipment. The best of the best, you might say.
The most obvious difference between the two generations, with a 30-year age gap, is that you won't find any plastic on the more senior of the two. There is no need to add wheel weights when the mud guards and bonnet are manufactured out of 6mm plate steel.
The use of steel over plastic contributes to its overall weight of 15.5 tonnes — very similar to a 325hp John Deere 9230 and a bit heavier than a 2010 Case IH Steiger 335. 
Hard work
Though the paintwork on the Steiger Panther CM-325 may have faded a bit and there is the odd scratch and dent there is still something about this old girl that oozes power and reliability.
She sits quietly in the paddock with an air of self-confidence and you just know that when that big Cat engine fires into life — and belches out a cloud of black smoke just to clear her throat — she will dig in and pull just as hard as the new streamlined models on the market.
Sometimes we can take a lesson or two from the older generation what good, old-fashioned hard work is all about. It's certainly not about being flashy; it's about getting the job done.
The Steiger Panther just looks like a machine that won't call it a day until the job is complete.
Dollars and sense
So what are the factors that convinced Dan Dickson to consider buying a 30-year-old piece of nostalgia rather than one of the newer versions on the market with all the bells and whistles?
While new machines are a must-have for many farmers, Dan says he tends to lean towards used tractors.
He looks first at the purchase price and second at whether a feature is necessary for his needs. He spends when he has to and saves when he can.
"I have always been a fan of the Steiger tractors and believe them to be very reliable," Dan says. "I see them as machines that will get the job done without having to mortgage the farm to buy them."
Back in 1985 the price tag on a new Steiger Panther CM-325 was about $130,000 but today a second-hand one in good conditioned can be picked up for about $30,000.
Before buying the CM-325 Dan had owned a Steiger Cougar that had serviced his cropping enterprise, but that one got sold when he decided to have a crack at retirement.
After about a year he discovered that he wasn't ready for the life of leisure so he decided to go back into cropping.
He was intent on buying another Steiger, but this time one with a few more horses under the bonnet. After hunting around for a bit he decided on this Panther CM-325.
It has the reliability of a 325hp Caterpillar engine with 20-speed Spicer gearbox, and Dan only had to part with the bargain price of $20,000 to take possession.
The motor had only done 400 hours since being rebuilt. As far as total hours of operation go, Dan was a little unsure because the hour meter was reset when the motor was given its overhaul.
He suspects it could have 20,000 or 30,000 hours clocked up, but that didn't really concern him too much because he could tell from its overall condition that it had been exceptionally well maintained.
The dual wheels still had plenty of rubber on the tyres, the air-conditioner still worked and it even had a radio. What more could you want?
Well, to introduce a bit of 21st-century technology Dan spent a further $9,000 installing a Case IH auto-steer guidance system.
"The Cat engine runs well, the Spicer gearbox is tight and the tyres are good. Adding auto steering and a good set of lights has made a huge difference," Dan says. "I don't need a heap of luxuries, except a heater. I don't like the cold!"
Under the hood
Engine
It's a comforting thought knowing you have a massive Caterpillar 3406 engine under the bonnet. History says they don't require a whole lot of attention so long as you keep up regular servicing, and spare parts are easily sourced.
Daily maintenance is fine because it's easy to check the oil and fluids from the ground without having to lift the massive bonnet. That's a relief because Dan says the bonnet, like everything else on the tractor, weighs a tonne. Well, not actually a tonne but enough to cause considerable strain.
I don't doubt his honesty — I had a crack at raising the bonnet myself and nearly put my back out in the process.
The 14.6-litre, six-cylinder turbo diesel generates 325hp at 2100 rpm and 1423Nm of torque at 1200 rpm.
The grunt is needed as Dan is currently pulling a heavy-duty 12m tyne cultivator bar with six-inch-wide points on tough ground that hasn't been cultivated for at least 30 or 40 years.
Working in the paddock alongside Dan's Panther is a 420hp John Deere pulling a similar size cultivator. It's interesting to note that it's actually using more fuel per hour than the Steiger.
Compared to the smaller-horsepower Chamberlain tractors that Dan used to own, the 325hp Steiger is burning through about twice as much fuel per hour, but with its ability to travel 50 percent faster using implements twice as wide he is covering three times as many hectares per hour.
From an efficiency and economic point of view he is burning less fuel to get the same job done in a shorter time.
According to tests conducted in Nebraska, USA, the Steiger will consume up to 67 litres of fuel per hour when pushed to its maximum available power.. Dan says that he operates at a comfortable 50 to 75 percent of its available power so his consumption rate is generally in the vicinity of 40 to 55 litres per hour.
Another casualty of age is a dysfunctional tacho so there's a bit of guesswork involved in setting the engine to a comfy 1,800 revs. But years of experience has provided Dan with a good ear for engines, so if he says it's about 1,800 revs per minute then that's good enough for me.
Transmission
Dan says the selection of transmission type is one area that, given the chance, he would have done differently.
He says he bought this one because it has a Spicer manual transmission. The five-speed box has high and low range to provide 10 forward gears which is then doubled to 20 gears by a heavy-duty, two-speed transfer box.
"It's a really simple and strong setup," he says.
"I had heard that the Panthers had been released with power shift transmissions, which I did think would make operating these big tractors a lot easier, but I was a bit concerned about the reliability of a 30-year-old power shift."
He has since discovered that these same transmissions have been performing exceptionally well in Komatsu dozers and now thinks that the power shift would have been way over-specced for a tractor this size and would never have been pushed to the point of failing.
The high/low selector levers for the transmission and the transfer box are mounted on the dash just to the right of the steering wheel; the five-speed gearstick, with reverse, is floor-mounted between the driver's legs.
I did have a bit of a chuckle to myself listening to a bit of grating of the gears as Dan forced it into second. It's noises like this that gives away its age a bit.
But, Dan says, "once I select a gear and get down to work I might not change gears again for three or four hours so a bit of gear crunching at the start doesn't really bother me".
In the cabin
Inside the cabin is where the Steiger starts to show its age, but if you're not over obsessed with fancy luxuries it doesn't pose a problem.
Apart from the new auto steering with colour touch screen, the interior of the cabin bears little resemblance to its modern counterparts.
There is no fancy upholstery or moulded plastic panels, and colour-coded switches and levers hadn't been thought of when this old girl was rolled out.
Large, flat glass windows in the six-pillar cabin allow great visibility all-round and, most importantly, a direct line of sight to the drawbar hitch.
I can't quite work out if the seat is the original or a more recent retrofit but either way it incorporates spring suspension and delivers a nice, comfy ride.
It is fair to say that the noise levels are obviously a little bit higher than newer models but certainly not excessive and nowhere near unbearable.
Though there is lots of glass, and none of it tinted, the heater/air-conditioner keeps the cabin temperature at just the right degree.
Unfortunately you won't find a fancy Bluetooth stereo or a USB port to stream your favourite music or charge a mobile phone, but the old AM/FM radio will break the monotony.
The Steiger Panther CM-325 predates cabin suspension but it still has quite a smooth ride. Each time we crossed the drain that runs diagonally through the paddock only a gentle rocking could be felt.
The tractor's sheer size and dual wheel configuration seem to absorb varying ground conditions exceptionally well. Without the luxury of a passenger seat we found ourselves jostling for position as we shared the single seat.
The one feature the Steiger does share with its modern counterparts is the ability to carry a massive payload of fuel: a 1,010-litre fuel tank is built into its rear section.
The basics
There is no three-point linkage fitted and, by the look of the obviously shortened drawbar, its previous role may have been hauling a scraper, as was common for this style of tractor.
Dan has four sets of hydraulic remotes in operation to service his cultivation and air-seeding equipment. The pump delivers a total of 117.3 litres per minute of oil flow, which isn't a lot by modern standards.
He has installed a hydraulic valve that prioritises oil flow to the hydraulic fan on his air-seeder to eliminate a drop in pressure while turning or operating any of the other remote valves.
Promising outlook
Dan says that he won't be lashing out on a new tractor at this stage of his career. His Steiger Panther CM-325 is performing well and, all things considered, it will most likely see him through to his second retirement.
And by the sound of that big Cat purring under the hood I don't doubt it.
Specifications
Steiger Panther CM-325 tractor
Engine: Caterpillar 3406 6-cylinder
Mac power: 325hp
Transmission: Spicer SST 1010
Gears: 20 Forward/4 Reverse
Hydraulic flow: 117.3 l/min
Max speed: 37.2 km/h
Length: 6,440 mm
Width (singles): 2,430 mm
Width (duals): 4,050 mm
Height (cab): 3,420 mm
Weight: 15,422kg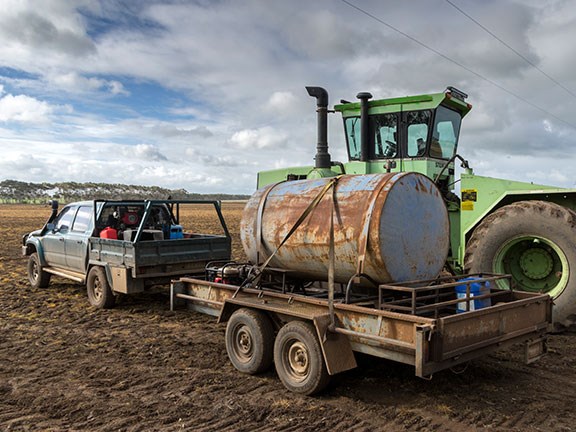 Each tank of fuel returns about 25 to 30 hours of work.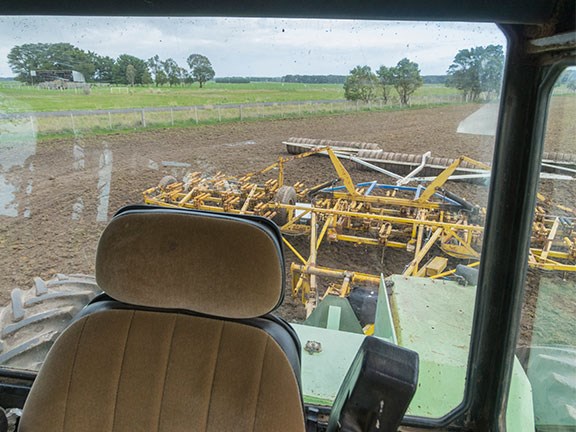 Visibility from the driver's seat is as good as you'll find on today's new tractors.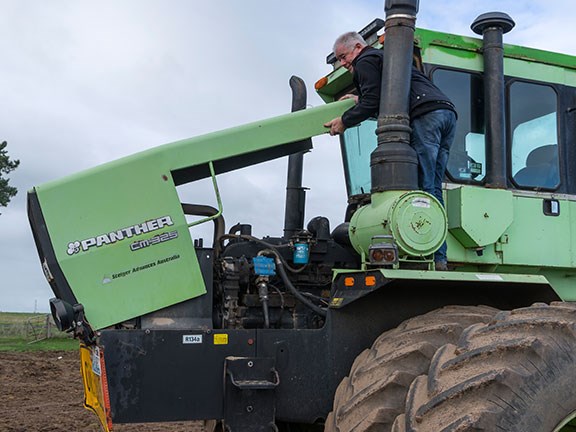 Lifting the bonnet is a back-breaking exercise.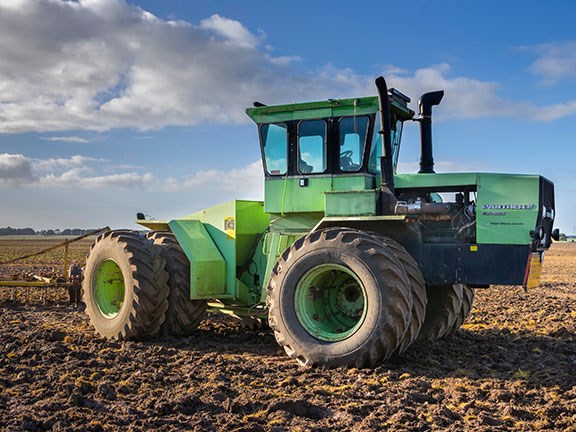 Dan Dickson says that his 30-year-old Steiger Panther CM-325 tractor is not overspeced and parts are readily available.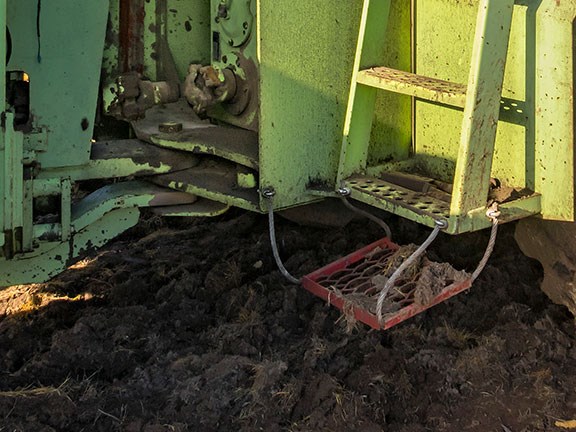 Flexible bottom steps weren't used in the '80s. This home-made version was fitted just last year.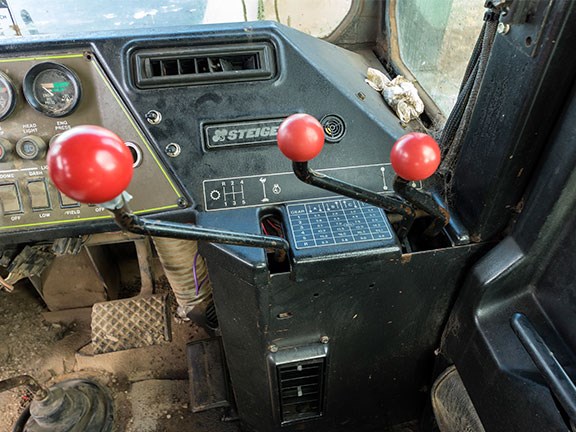 Recognise these levers? This how we used to change gears 30 years ago before CVT transmissions became the norm.

Subscribe to our newsletter
Sign up to receive the Trade Farm Machinery e-newsletter, digital magazine and other offers we choose to share with you straight to your inbox
You can also follow our updates by liking us on Facebook. 

Graders For Hire | Cranes For Hire | Telehandlers For Hire | Excavators For Hire