Review: CFMoto X500 Farm Spec ATV
---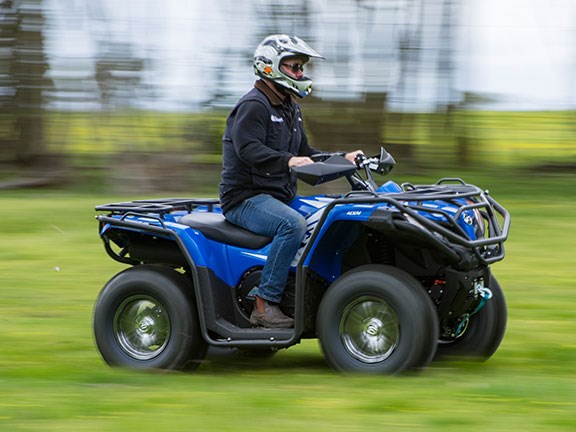 The CFMoto X500 Farm Spec ATV responds exceptionally well to a bit of encouragement on the throttle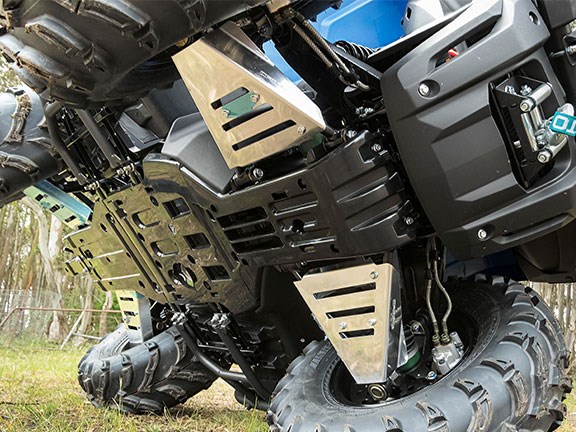 There's an extensive under-body protection package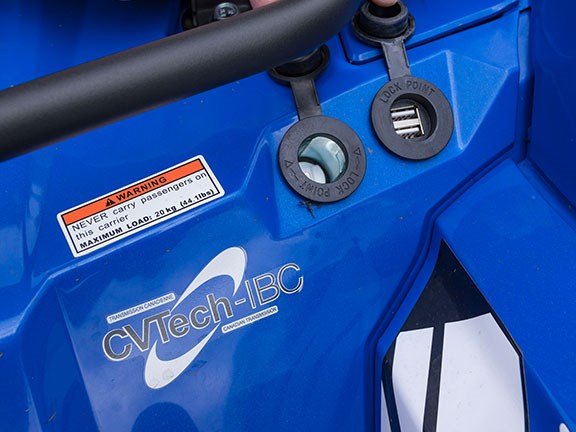 The X500 is fully specced up and ready for registration and use on public roads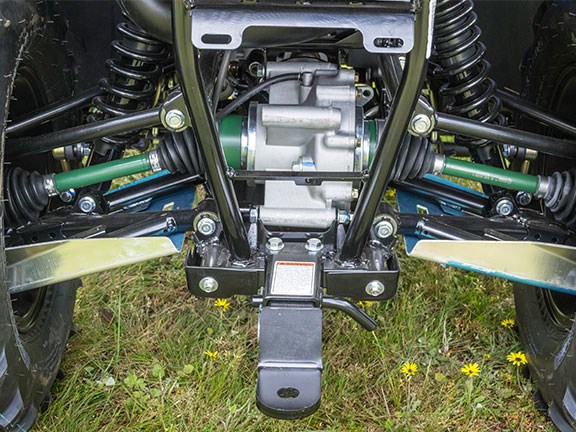 All four wheels are kept in contact with the ground for maximum traction and stability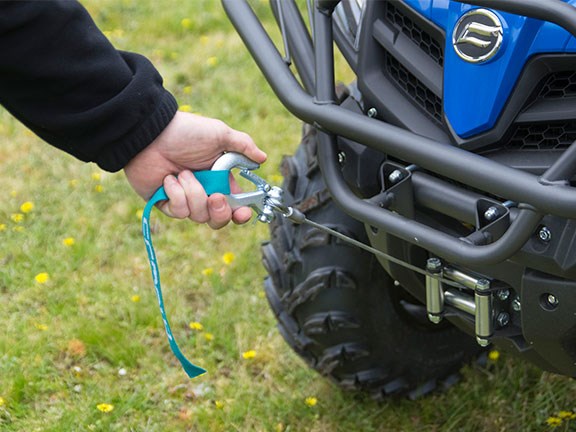 The 2500lb winch lets you get yourself out of sticky situations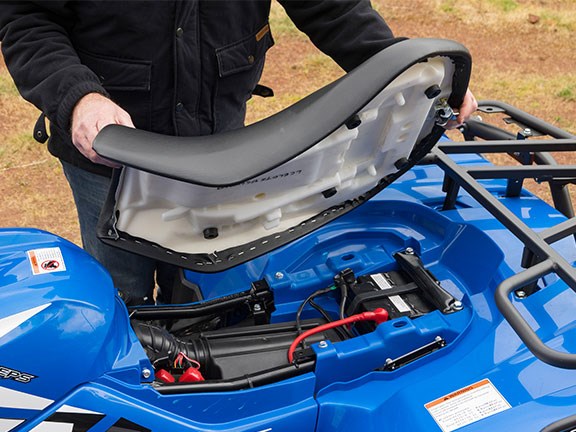 The air cleaner, battery and ECU are easily accessed by lifting the seat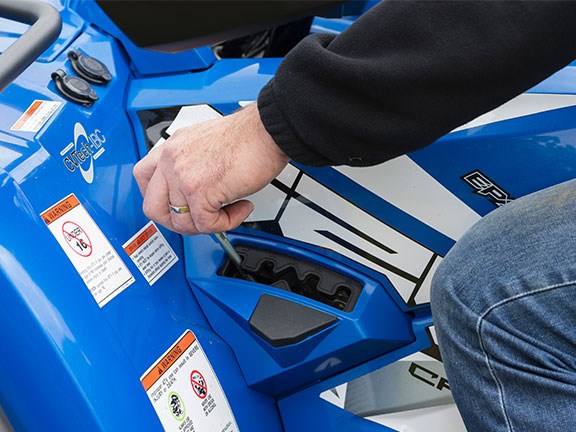 The X500 has Low, High, Neutral, Reverse and Park modes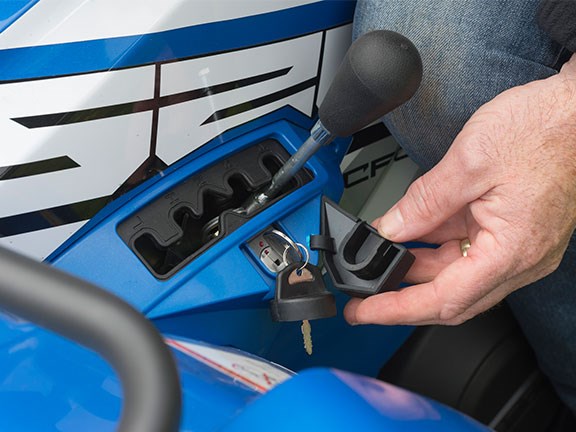 A key-operated feature locks the transmission in the Park position

Tom Dickson takes the feature-packed CFMoto X500 Farm Spec ATV for a spin on the farm, and says he has a very good gut feeling about this relative newcomer.

The CFMoto X500 Farm Spec ATV is, as the name suggests, specifically designed for use on the land.
The electronic fuel injection (EFI), 495cc quad bike features a CVTech transmission, electric power steering, selectable 2WD/4WD modes, independent front and rear suspension, and hydraulic disc braking on both the front and rear.
But what makes this stylish-looking Farm Spec model special are standard inclusions such as a 2500lb winch, wrap-around protector bars, tow pack, hand guards, alloy A-arm protectors, alloy wheels and 12-inch, 6-ply tyres.
As an extra bonus the X500 includes a complete lighting package including turning indicators, a horn, mirrors and even a 12-volt trailer plug, so for no additional cost it's all set up for registration and use on public roads.
Located in Hangzhou, China, CFMoto is currently the country's largest manufacturer and exporter of ATVs and UTVs. Latest records reveal that around 50,000 units are sold annually across the globe with around 2000 sold each year into the Australian market.
Distribution rights for one of the fastest-growing quad-bike brands in Australia have been in the hands of Australian-owned motorcycle company Mojo Motorcycles since 2009.
New look
My local Honda dealership, Roe Motorcycle and Mower in Warrnambool, Victoria, took on the CFMoto brand to provide a cheaper, yet still good value-for-money alternative, to its Honda range. 
Sales manager Wayne Grayson tells me they looked around for a while before deciding to stock CFMoto products.
"A few years ago the Chinese bikes were pretty square, boxy and unattractive looking things but CFMoto has done a lot with its design to produce a really nice looking bike," he says.
"Power steering and independent front and rear suspension has made them a really comfortable bike to ride.
"The last few years have been pretty tough on farmers financially so we've seen a lot more interest in this cheaper alternative," Grayson adds. "Smaller operators are seeing them as a much better value-for-money purchase as well."
Roe director David Reinheimer is so confident in the X500 Farm Spec's ability to stand up to a bit of scrutiny that he almost forced me to take it for a test and encouraged me to do whatever I liked with it.
That tells me that he is 100 per cent sure that the bike won't let itself down and I will be suitably impressed. We'll see.
Just loading it onto the trailer reminded me how handy a winch can be. While I was searching around the back of my vehicle for a tie-down strap Wayne ran out a couple of metres of the winch cable and attached it to front of the trailer.
With the ignition on he engaged the winch and pulled the bike firmly down onto the trailer with 2500lb of pulling force. It wasn't going anywhere and was ready for the trip in under a minute.

Engine
The new 495cc, 38hp, 4-stroke engine is lighter and more powerful than its predecessors. It's a liquid-cooled, single-overhead-cam powerplant featuring four valves and fed by a German-made Bosch fuel-injection system.
The end result is a high-performance ATV with high power, good acceleration and excellent fuel efficiency.
In my speed trial the engine responded exceptionally well to a bit of encouragement on the throttle and really leaped away from a standing start. There was absolutely zero lag as it took off, and it had me gripping firmly to the handle bars as we continued to gain momentum until it peaked at about 70km/h.
At the end of my speed trial I wasn't even tempted to apply pressure on either the front or rear disc brakes because the engine provided all the braking I needed to safely slow down to a respectable turning speed. Good engine braking is invaluable for maintaining safe control on hills and preventing wheel lock up and subsequent loss of control.
At full speed the engine is no noisier than the opposition but I found it hard to sneak around quietly at low speed because I had no alternative than to give the CVTech transmission a few revs to get it moving.
This is a common trait I have found with this style of transmission compared to a manual transmission that will move along quietly at low revs.
After about 10 minutes of searching I realised the X500 doesn't have a pull starter as a back-up starting mechanism. When I brought this to Grayson's attention he quickly reminded me that cars used to have crank handles too but did away with them once batteries and starter motors were invented.
He has a point, and CFMoto has placed its trust in Bosch for dependable ignition at the touch of a button.
The engine is virtually fully encased in plastic panels shielding it from excessive build-up of mud and grime.
The air cleaner, battery and ECU are easily accessed by lifting the seat, while a small removable panel on the lower left hand side of the bike gives access for engine oil inspection; it comes off really easily but tends to be a bit tricky to get back on.
The radiator, on the other hand, was a little more difficult to get at. It is located under a panel beneath the front carrier rack and as I couldn't work out how to get to it I decided to leave it alone for fear of breaking something trying.
Transmission
As mentioned before, this quad-bike has a continuously variable transmission which CFMoto sourced from Canada's CVTech.
It features Low, High, Neutral, Reverse and Park modes, and the transmission range lever slips easily between the five positions when you apply reasonable pressure on the foot brake. For child safety and security it has a unique key-operated feature that locks the transmission in the Park position.
I praised it previously for its quick response to revs but the nature of this type of transmission is that it needs revs to move slowly as well so, like most automatic quads, I had to continually tinker with the throttle to maintain slow movement.
The X500 has two electronic buttons mounted on the handlebars; one engages 2WD and 4WD modes, and the second locks the diff.
A word of advice: only engage 4WD when it's required. The ATV is fitted with electric power steering, so it steers just as well in 4WD as it does in 2WD and the temptation is there to leave it permanently in 4WD. But excessive use when not required only results in undue stress and premature wear on the whole driveline.

Protection
A sneak peek underneath revealed the installation of an extensive under-body protection package to defend the engine, transmission and suspension equipment from the inevitable abuse it will receive from rocks, stumps and other hazards it's likely to encounter on farms.
The main bash plate runs the full length of the bike and each of the independent suspension A-arms has a stainless steel protection plate to protect the most vulnerable piece of equipment.
Protecting the rider hasn't been neglected either, with hand protection guards installed on the handlebars.
On the job
A few things stood out for me when riding this ATV, and are definitely worth a mention.
It is an extremely comfortable bike ride for three reasons. The handlebars and seat are set up in a way that puts the rider into a comfortable, upright sitting position, and the seat has just the right amount cushioning.
The EPS is exceptional and can really be appreciated when moving around at low speeds.  Even with 4WD engaged the steering is still effortless, and after a full day of testing I had none of the aches and pains in the chest and shoulders that I used to get when riding ATVs without power steering.
Finally, the independent front and rear suspension gave a very smooth ride and kept all four wheels in contact with the ground for maximum traction and stability.
My old Honda 350 ATV had a rigid axle with basic single-spring suspension and had a tendency of bucking a bit and throwing the rear end up if I drove through a drain with a bit of speed, but the CFMoto X500 didn't misbehave at all through drains, on rough ground or while turning hard.
In addition to the comfort and stability that the suspension design provides, rider protection is well taken care of in other ways as well.
The mudguards are wide enough to prevent any water, mud or — worst-case scenario — cow s**t from reaching the rider, while the side intrusion bars help fend of uncooperative stock and add to the stability of the frame by connecting the front and rear carrier racks.
Speaking of carrier racks, the X500 is capable of carrying 35kg on the front rack and 70kg on the rear. Together with a 350kg towing capacity, this places the X500 on equal terms with other ATVs in its class.
Add the 2500lb winch and you've got a vehicle that can get itself out of even the stickiest of situations. I am convinced that every vehicle on the farm should be fitted with a winch because its uses are only limited by your imagination. (See http://bit.ly/TradeFarmwinch)
X500 Farm Spec price
I found lots to like about the CFMoto X500 Farm Spec ATV, such as rider comfort, light-as-a-feather steering, engine breaking and stability. The winch, full underbody bash protection and side protection bars complete what appears to be a great package.
I get a very good gut feeling about this relative newcomer on the Australian market but only time will reveal its true quality.
Apart from a few minor concerns I feel that CFMoto is having a serious crack at producing a great value-for-money ATV. Taking into consideration that you get the fully specced, road-registerable bike for only $8490 (which includes GST and a 2-year warranty) I think it is well and truly worth a look.
HITS
2500lb winch
Electric power steering
Underbody bash plate and A-arm protectors
Acceleration
Engine braking
Comfortable rider position
Independent front and rear suspension
Ready for registration
Side protection bars                                                                                                      
MISSES
Radiator access
Oil inspection point cover
Needs a few revs to maintain momentum  
SPECS   
CFMoto X500 Farm Spec ATV specs
ENGINE TYPE                     4 Stroke
DISPLACEMENT                  495cc
TRANSMISSION                  CVT
FUEL SYSTEM                     EFI (Bosch)
COOLING                          Liquid
STARTING                         Electric
DIMENSIONS                     (L x W x H) 2100mm x 1100mm x 1150mm
GROUND CLEARANCE           250MM
FUEL CAPACITY                  15 L        
If you're looking for CFMoto ATVs for sale, check out our listings.


Subscribe to our newsletter
Sign up to receive the Trade Farm Machinery e-newsletter, digital magazine and other offers we choose to share with you straight to your inbox
You can also follow our updates by liking us on Facebook. 

Graders For Hire | Cranes For Hire | Telehandlers For Hire | Excavators For Hire