First Drive: Machindra Pik Up
---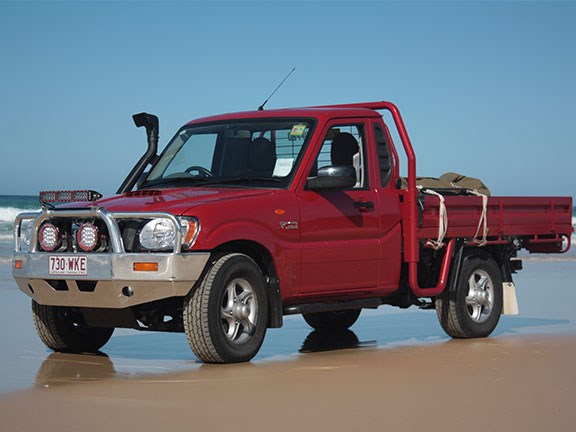 The Mahindra Pik Up is a pretty well priced, honest, tough, if left of centre, uncool little 4x4 truck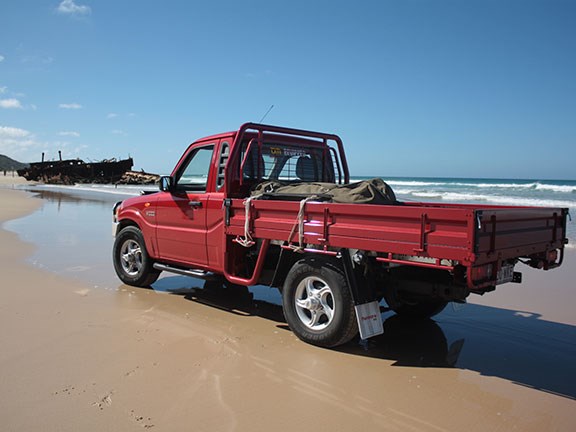 The run up 75 Mile Beach saw the Mahindra stretch its legs in 4x4 high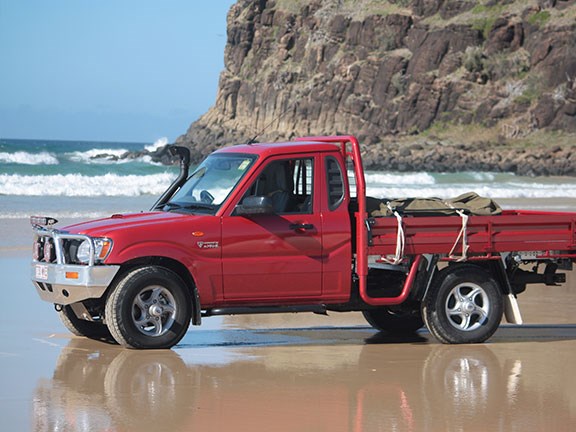 Our very red Mahindra 4x4 arrived with just 60km on the clock, a powder-coated steel tray and a bull bar glinting in the sun

Mahindra gave Matt Wood a Pik Up to play with for a few months, and he seems to be enjoying it so far...


So it's a bit left of centre, maybe even uncool. But the Mahindra Pik Up is a pretty well priced, honest, tough, if left of centre, uncool little 4x4 truck. And I for one have decided to run with the 'so uncool it's cool' tag.
And, to be honest, it's been quite fun observing the sneers of derision from those behind the wheel of heavily accessorised mainstream brands during the morning commute. Since when does bolting a Hi-Lift jack and some Maxtrax to your rig give you some off-road moral high ground?
Our very red Mahindra 4x4 arrived with just 60km on the clock and sat resplendent with its powder-coated steel tray and bull bar glinting in the sun. I have to admit it's probably the most over-capitalised Mahindra around, especially once I added the Big Red LED spotties and light bar for a product test.
Which, in the case of this Mahindra, was kind of like growing a beard to look a little more outdoorsy. No, I still haven't gotten over my failure to effectively grow a proper beard yet.
So, for a shakedown run we headed up the road to Fraser Island to see whether we could keep up with the Maxtrax and Hi-Lift jack sneerers.
---
---
As you'd expect of an emerging market 4x4 that shares its stable with some very popular tractors, the interior and spec is a little agricultural. Inside is more than a couple of generations behind what most would come to expect. Plus, it lacks the electronic anti-crashing tech that is standard fare in today's 4x4 market.
But the little Punjabi Prado proved to be a surprisingly capable little jigger, and a comfortable cruiser. The 88kW 2.2-litre common rail diesel donk has all the hallmarks of a great gen-set on paper, but it's actually quite a flexible little engine off-road – 280Nm would indicate that it's unlikely to pull a sick sapling out of a bowl of porridge, but keep the hoof planted and the rpm up and it still has an admirable crack at keeping up with the big boys.
That said, I've encountered better gearshifts on mining equipment, and the gates are that far apart that you could undergo open-heart surgery (and recover) between shifts. And the idle start/stop feature is horrid and should be immediately disabled to discourage frustratingly slow restarts at intersections. Failure to do so may result in you having your lights punched out by someone behind you in a Maxtrax and Hi-Lift jack-equipped Landtroluxara.
The run up 75 Mile Beach saw the Mahindra stretch its legs in 4x4 high; in fact, I didn't need low range until we hit Ngkala Rocks, which the Eaton autolocker-equipped Pik Up handled quite well apart from a little bulldozing in the sand. Suspension damping leaves a bit to be desired, hit a wash out and you're still bouncing for a while after.
The torsion bar IFS front end doesn't have a great deal of clearance. But then neither did the Navara that got stuck not long after I came through the rocks…
Price as tested: $32,990 Drive Away
Date Acquired: July 2016
Kilometres this month: 2144km
Fuel Average: 9.53l/100km

If you're looking for used 4x4s for sale, check out our listings.
Subscribe to our newsletter
Sign up to receive the Trade Farm Machinery e-newsletter, digital magazine and other offers we choose to share with you straight to your inbox
You can also follow our updates by liking us on Facebook. 

Graders For Hire | Cranes For Hire | Telehandlers For Hire | Excavators For Hire