Review: Polaris Ranger HD 1000 UTV
---
Polaris has reinvigorated the diesel Ranger with a new powerplant in a rear-engined layout. Barry Ashenhurst goes to work in the new HD 1000 to see if the changes make a difference
Polaris's Ranger line-up has done well in Australia because people trust the brand, and because there are few diesel models to choose from among hard-working side-by-sides. Rangers work on farms and in light commercial applications as payload and people movers, with seating configurations from three to six. Yep, the Ranger's versatile.
But like every other man-made device, it's a product of evolution – in this case, Polaris says, because Australian operators are tougher on equipment than their American counterparts. For Aussie farmers, TLC is not part of scheduled maintenance. We don't like to 'over-maintain' our tractors, apparently, for fear they might expect tender treatment in the future.  
The good bit is that Polaris acknowledges Australian farmers' miserly attitude to machine maintenance and equipped the Ranger HD 1000 accordingly. What Polaris calls a "special model variant" gets grease nipples where it needs them, and a more robust rear driveshaft. It also has sealed A-arm bushes. A-arm protection isn't bad, and radiator protection is pretty good as well.
One thing that did look a bit funky, though, was the long breather emerging from a hastily cut hole in the bodywork on the left-hand side of the cab. Obviously the breather was a Polaris part, but the way it'd been fitted looked a bit ordinary. And we're unsure how long those stick-on pre-filters will last.
WHAT ELSE HAVE THEY DONE?
The biggest change is to the drivetrain. The previous Ranger diesel had a mid-engine layout with the engine more or less under the seat. The new Ranger has a 1028cc, three-cylinder Kohler diesel, and it's under the cargo bed, so you'd be correct in calling this a rear-engine layout – just like a Porsche or Ferrari, but a different colour.  
The engine is quiet and hard-working. Top speed, flat knacker downhill, is 60km/h. Not that lack of speed is a disadvantage. This vehicle was meant to trundle, not terrify, and most farmers will drive it that way as they manage a property and carry out daily tasks that involve the movement of small loads. 
The only reference we can find for horsepower and torque for the Kohler is the brief mention of 24hp (17Kw) in an online spec sheet. In truth, 24hp is not a lot – most side-by-sides lob somewhere between 25 and 30hp. 
Conservative power isn't a problem when moving small loads around on flat ground, but we did find it a concern when trying to climb long, steep hills. The Kohler can actually run out of steam on a long climb, and since this can lead to a change in underwear coloration, we suggest that if you're worried that a hill looks a bit too long and steep for your liking, drive around it.
I know it sounds like it, but that is not a criticism of the Ranger itself. ATV accidents happen when the operator overestimates their own ability or that of the machine. The Ranger will carry out any job you ask of it as long as you don't force it out of the comfort zone it shares with every other all-wheel drive side-by-side.
A USEFUL OFF-ROAD WORKER
No doubt repositioning the engine altered vehicle dynamics, but because we're all bums around here, we wouldn't know how or why. What we can tell you is that the Ranger feels well balanced and stable on the kind of sloping terrain every farmer has to deal with, and is disinclined to do anything weird. 
It has the best drive system in the industry. You can have one-wheel drive (turf mode), push a button on the dash and get two-wheel drive, or lock in on-demand all-wheel drive and let the machine decide when you need all the wheels driving.
The farmer who owns the property on which we test equipment has a Ranger. He drives it everywhere in Turf mode. We don't know why, but that's what he does. So we tried his technique. We used one-wheel drive in all the water crossings during our evaluation, only once locking in two-wheel drive when the drive wheel started spinning on a gravelly bank. We're buggered if we know how this machine gets where it goes in only one-wheel drive, so everything we say about this from now on is a guess, but we think it has something to do with power distribution.
The Ranger is much more agile in one-wheel drive, but that's to be expected. The thing is, it also feels faster with only one wheel driving, and we're guessing it's because all the power is being delivered to only one wheel and not shared among two or four.
None of this means that the Ranger is any sort of compromise off-road. Ride is excellent, the power-steering is first rate, the chassis is flexible on whooped-out terrain where surface angles change constantly, and the Polaris is never lost for traction. It crossed the Brisbane River all day in turf mode, and its floor drained quickly.
We liked the safety nets too. Polaris has inserted a metal rod in the leading edge, which makes the net more manageable and easier to lock in position before you take off.
ANYTHING THEY COULD IMPROVE?
Yes. Since Neil, the farmer who kindly allowed us onto his property, has owned a Ranger for some time, we have first-hand knowledge of what else Polaris might like to improve on the next 'special variant'. Neil's biggest gripe is the seat.
Repeatedly dropping his 100kg-plus onto this plastic device has ripped off the locking pin and generally made a mess of the whole fandanglement. Neil won't buy a new seat because the new one is also plastic, and with his frugal outlook, that would constitute a vicious cycle. It seems logical that a metal seat frame would be superior. And less prone to Drop Bear Syndrome.
Much of the Ranger is made of plastic, presumably to save money in production and reduce weight, but that strategy hasn't worked everywhere. The floor in the Ranger is also plastic, and since the test vehicle was not fitted with a full-length bash plate, the plastic floor in front of and under the driver is unprotected.
It's not inconceivable that a sharp lump of hardwood, if struck at the required angle, could pierce the floor and enter the driver. Hitting a large rock with any impact might also fracture the floor. If you like the look of the diesel Ranger and plan to buy one, get the dealer to fit a full-house bash plate before you cart the vehicle home.
Much is made of engine braking in any discussion of ATVs, but here there's nothing to discuss. The Ranger's engine braking is first class. In low range, and with active descent control engaged, it negotiates steep descents better and more safely than any other side-by-side.
Some will tell you the engine braking is too aggressive, "so disconnect it". Horse hockey! Engine braking is a critical element in ATV safety. In the most extreme circumstance it could save your life, and in less lethal situations prevent you from doing something really stupid. Polaris has done a great job with engine braking on this machine, so leave it alone.
The Polaris Ranger HD 1000 diesel ATV is priced at $20,990 including GST, and $19,086 excluding GST.
SPECS
POLARIS RANGER HD1000 DIESEL
ENGINE AND DRIVETRAIN
Engine: Three-cylinder Kohler diesel
Displacement: 1028cc
Output: 24hp (17kW)
Drive system: On-demand AWD
Fuel system: Mechanical injection
Transmission: CVT auto
SUSPENSION
Front: Dual A-arms with 25.4cm travel
Rear: Dual A-arms with 25.4cm travel
Front/Rear brakes: Four-wheel discs with dual piston callipers
Park brake: In transmission
DIMENSIONS
Cargo Box dimensions (L x W x H): 93 x 137 x 29cm
Payload capacity: 680kg
Rear cargo-box capacity: 453kg
Vehicle Dimensions (L x W x H): 296 x 152 x 193cm
Wheelbase: 206cm
HITS
Reassuring stability
Excellent power-steering
Brilliant engine braking
Industry's best drive system
MISSES
Needs more power for long climbs
Driver's seat is flimsy
Needs aftermarket bashplate; the floor is plastic!
If you're looking for used Polaris UTVs for sale, check out our listings.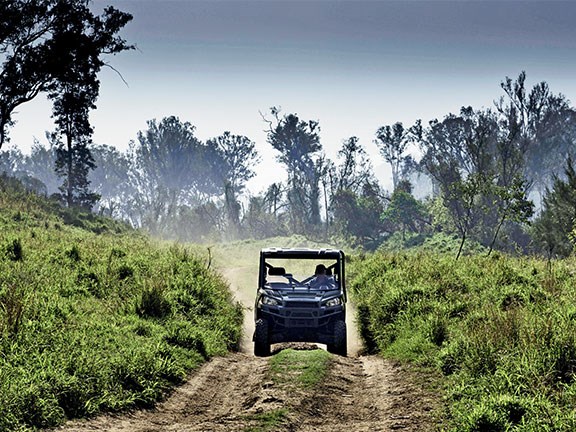 The Polaris Ranger HD1000 Diesel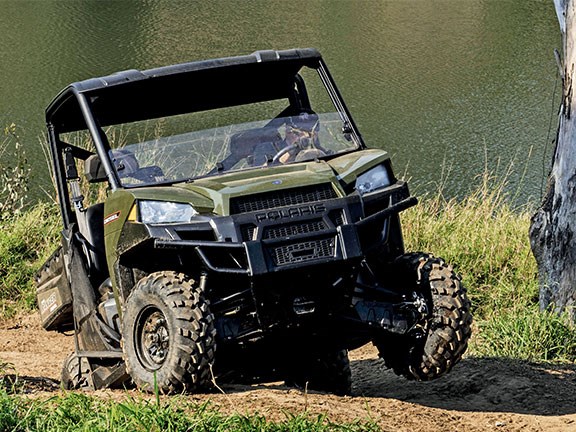 With supple suspension and the industry's best drive system, the Ranger diesel is happy off-road. We experienced no CVT slippage either, even after repeated river crossings (for research purposes)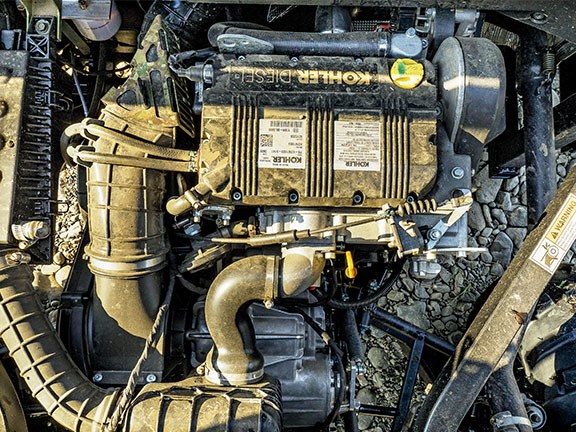 The 1028cc, three-cylinder Kohler diesel develops an unwhopping 24hp. There's enough grunt for day to day work but the engine struggles for breath on long climbs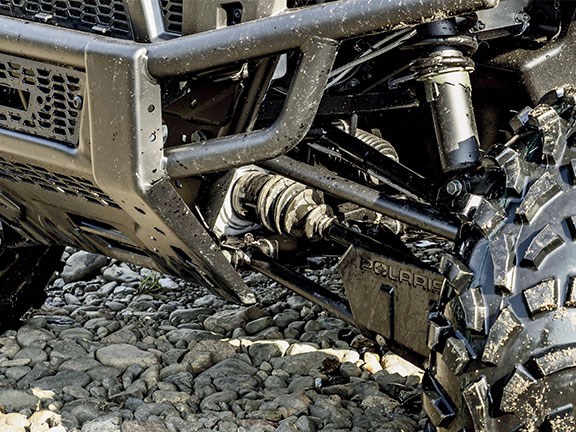 Front and rear suspension is Polaris' proven A-arm setup with coil-over shocks. Ride quality is excellent, even on undulating, potholed river flats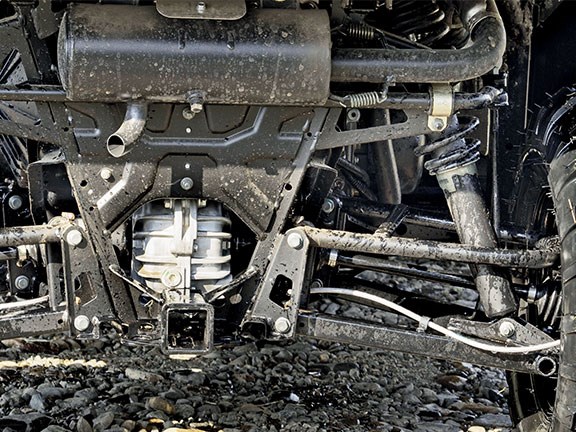 Front and rear suspension is Polaris' proven A-arm setup with coil-over shocks. Ride quality is excellent, even on undulating, potholed river flats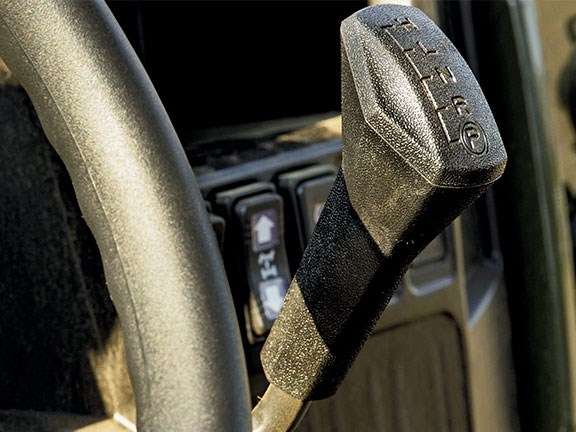 Here it is again, Polaris' ol' metre-long stick shift, which looks ancient but finds the right gear every time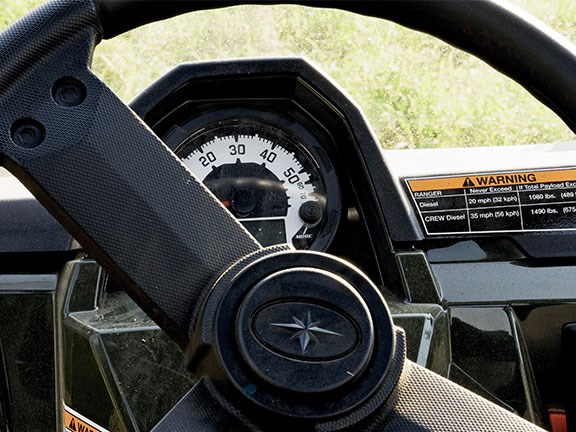 The digital readout is comprehensive but smallish. Still, it tells you everything you need to know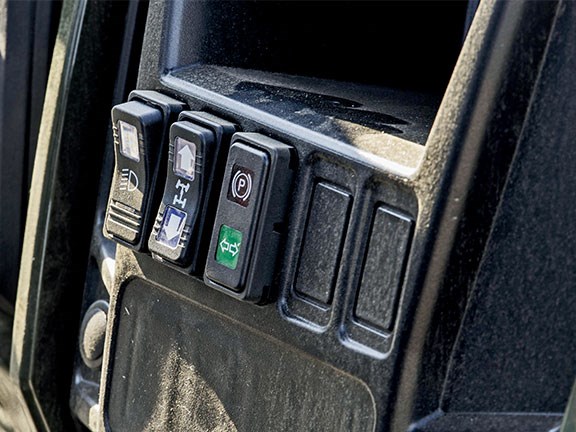 Push-switches replace rocker switches for transmission control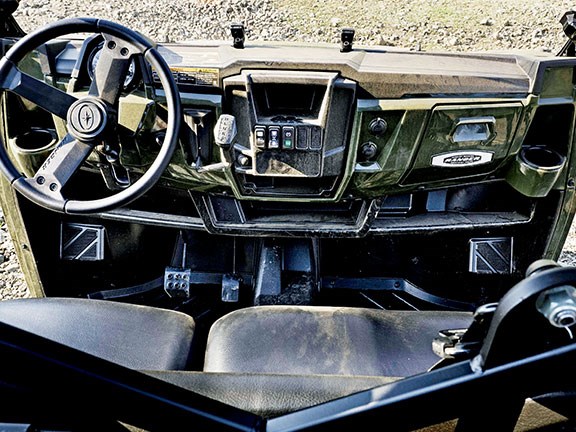 The cab is a three-seater with most of the storage space under the seats. Leg room is okay. A grab-handle in right front of the passenger would be nice

Subscribe to our newsletter
Sign up to receive the Trade Farm Machinery e-newsletter, digital magazine and other offers we choose to share with you straight to your inbox
You can also follow our updates by liking us on Facebook. 

Graders For Hire | Cranes For Hire | Telehandlers For Hire | Excavators For Hire