Review: Cat 924K wheel loader on feedlot
---
Ron Horner checks out a Cat 924K wheel loader being used on a cattle feedlot on the New South Wales/Queensland border

It never ceases to amaze me just how much earthmoving equipment crosses over into so many other industries.
If you are in the construction, mining and pipeline industries you will be well versed in how we totally depend on our machinery and equipment — without it we have no industry or job.
Familiarity breeds contempt and, funnily enough, some of us tend to think that all of the machinery out there can only work in construction.
This review is of a new Cat 924K wheel loader, but there's a twist: it's not involved in the construction, mining or pipeline industry but a cattle feed lot located about 60km out of Goondiwindi on the New South Wales/Queensland border.
This is a classic example of what I am saying about how machinery and its use have no boundaries.
Normally we would find such a machine located on a small quarry site, construction site, mine site or roadworks project, so when I found out that this one was working on a cattle feedlot I had to go and see for myself, not only for the review but to check out just what type of role it played.
I met up with Andrew Slack who is farm manager for Sapphire/Smithfield Feedlot and runs a 4000-head beef cattle feed lot on 4000 acres which is based just on the edge of the mighty McIntyre River.
The Cat 924K is a new addition to the lot's fleet, replacing Komatsu and Volvo loaders.
Andrew happened to be extremely busy when I first came to the property a few weeks earlier so we decided to take a rain check and catch up when he had run up about 100 hours of work on the rig.
Now for those not familiar with feed lot cattle, it is a practice where the property can sustain some crop growing (usually related to cattle production feed), has a good water supply for irrigation and stock and ideally located in close proximity to markets or with good road-train or B-double truck access.
The cattle have enough room for a quick trip to a paddock but are usually penned and fattened up with a high-protein cattle feed mix of various feed crops blended in exacting quantities.
Not all feed crops can be grown on the farm so extra varieties of high-protein feed are brought in. Along with a very controlled diet and the addition of molasses, this allows the cattle to gain maximum controlled weight and condition in a very short time.
On this particular farm a great deal of land is used for irrigation farming, and feed crops are grown here to supplement the costs and feed for the cattle.  A lateral (travelling) irrigator pulls water from the main water irrigation channel and can place an inch of water over the area in one night, which is invaluable to farmers in this and many other rural communities.
On the job
This Caterpillar 924K is engaged as the main, and only, production loader in this feed lot.
It is used to retrieve feed from eight concrete bulk feed bins located in the feed shed, haul it across the shed and load it into a truck-mounted RotoMix Mobile Feed Bin.
This material is then meticulously blended in the RotoMix prior to hauling and side-discharging into the concrete feed troughs at the cattle yards some 500m away.
This feed is quite a 'pharmaceutical blend' of sorghum silage, cotton seed, barley, cereal hay and cotton seed meal juiced up with a liquid molasses, all of which needs to be fed in exacting measurements for blending.
The loader has a big job ahead of it as the conditions in the shed are tough, even though it's out of the weather and has a concrete floor.
The loader works in an area with little ventilation and continual dust issues; it's engaged in continual movement at speed for hours on end; and the operator has to have excellent control over the bucket in discharging exacting measured quantities into the RotoMix.
The Cat 924K, which sits at close to 13 tonnes, has an Aussie-designed and locally manufactured (McCormack Industries of Oakey) 3 cubic metre lightweight bucket which is perfectly suited to this machine for this application.
The operator can pick up 2 tonnes of bulk feed with this quick release bucket, which means fewer trips, at lower cost and with more production … a win, win, win here on this job.
The Quick Release bucket is off in a flash when the forklift tynes are required. This is another reason to have a loader of this size and versatility. When the hay stockpile in the feed lot bays starts to run a bit short the forks are used to bring in hay bales for restocking.
Under the hood
There have been no mechanical or technical issues in the Cat 924K's first 100 hours of operation, and the operators love the automatic greaser, the fan which automatically reverses every five minutes (especially important for cleaning the extreme dust off the condensers during the shift) and the easy access to the engine bay.
All of the side covers lift in an upward motion which allows for good access for the operator or fitter to complete the compulsory daily checks and servicing and, even more importantly for this application, allows excellent access to the fan and intercooler.
The 140hp (105kW) Cat engine drives the loader with ease and, as it is coupled to the hydrostatic drive, is as effortless as they come.
In the cab
This little loader has four gears forward and reverse and can really get up and boogie at 80km/h in 4th gear.
It has a simple dash layout at the front of the steering wheel and has all of the controls located on the right hand side of the machine. There's a single joystick control which puts forward/reverse, hoist/lower, bucket crowd and dump at your fingertips.
On the side panelling upper is the air conditioning and radio(s), top front is the loadout scales monitor screen which relays information on the exact weight of each product to the operator, and located on the lower right side are multi 12v/24v outlets, ignition switch, park brake, etc.
The 924K has a set of neat, uncomplicated and easy-to-identify set of gauges and monitors, and offers operator-friendly controls and comfort in a machine delivering the goods for this application.
Overall it's a nice little setup in a well-glassed cabin with a pleasant design and shape.
The further I look into this operation the more I see that there is so little difference between the agricultural, cattle feed lot, construction, mining or whatever industry requiring earthmoving equipment … we all seek the same goals and machinery just happens to be the common denominator.
The bottom line
This Cat 924K wheel loader has certainly hit the mark down here at Yelarbon. It is only early days but already there seems to be a certain amount of confidence in the air that the owners have bought a good machine suitable of delivering many years of work in this tough environment.
"The price of the equipment to be used for our application has never been on the agenda, but servicing and spare parts availability is," Andrew Slack says. "Downtime is the killer here.
"We have 4000-6000 head of cattle all requiring feeding several times a day, so we can't afford to have any downtime … it is that critical.
"Hastings Deering has the ability to service us better than the opposition out here and that gives us a lot of confidence to move with the brand," Andrew says. "But it doesn't stop there.
"The single joystick control lever and great dash layout in the cabin are all favourable but the hydrostatic transmission is the winner for us. It's smooth and fast which, when combined with the single lever control joystick, makes our job so much easier."
From what I have witnessed here on my two visits, the smiles all round from the boys operating it, the application for which this loader has been purchased and my understanding of the history of Caterpillar loaders, think they are right on the money with this one.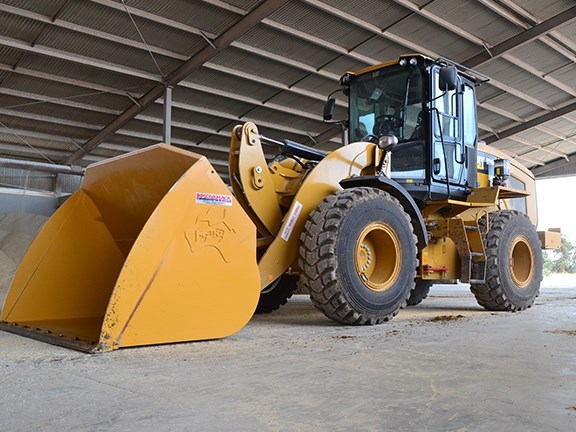 The Cat 924K loader in the Goondiwindi cattle feed shed.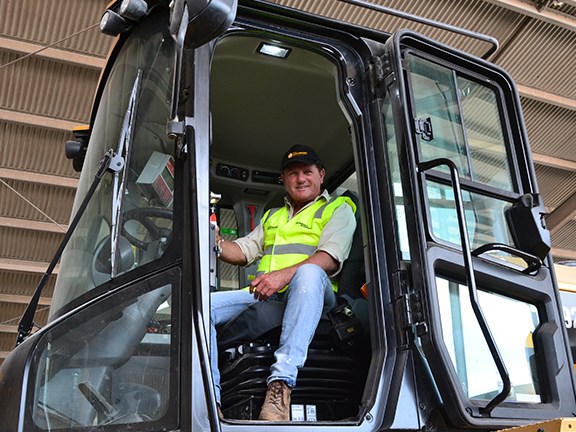 The Cat 924K loader's cab is well-glassed with a pleasant design and shape.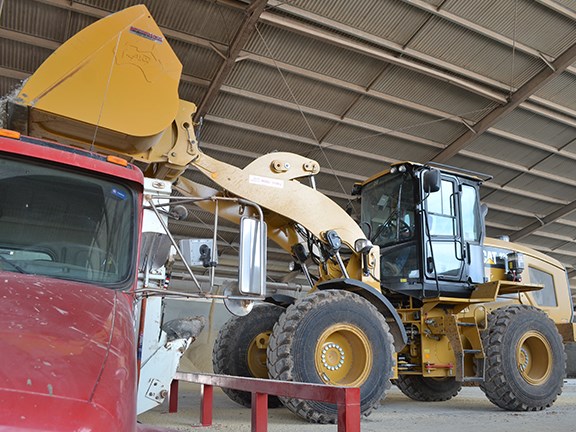 Loading the truck-mounted RotoMix Mobile Feed Bin.

Subscribe to our newsletter
Sign up to receive the Trade Farm Machinery e-newsletter, digital magazine and other offers we choose to share with you straight to your inbox
You can also follow our updates by liking us on Facebook. 

Graders For Hire | Cranes For Hire | Telehandlers For Hire | Excavators For Hire