New Holland T7.315 Blue Power Review
---
The new HD models in the New Holland T7 tractor line-up are bigger, stronger and smoother, but remain relatively compact and manoeuvrable. Tom Dickson tries out the New Holland T7.315 HD Blue Power to see if it lives up to the hype.
Tractor manufacturer New Holland has recently launched two T7 HD tractors – designated T7.290 HD and T7.315 HD – which are a bigger, stronger and smoother alternative to the previous eight models in the popular T7 series.
The latest two have a rated horsepower of 271 and 300 respectively, which means the 10 models in the T7 series now span a power range from 140hp to 300hp.
The T7.290 HD (heavy duty) and T7.315 HD tractors offer a 6 per cent higher lift capacity and 26cm longer wheelbase compared to the standard T7 range; the wheelbase is 11cm longer in the T7 Long wheelbase line-up.
Indicative of the importance of the new T7 HD range is the fact that New Holland built a brand new production line at its Basildon factory in the UK to accommodate them.
Intrigued by what the new machines have to offer, we headed to Birregurra near Geelong in Victoria to see Steve Lewer of Lewer Farm Services, who has been using New Holland tractors in his agricultural contracting business for the last seven years.
He was using the T7.315 HD with a Claas triple-combination mower – a Disco 3200 Profil in front, and a Disco 8500 Contour butterfly mower at the rear. (We'll be reviewing the mowers themselves very soon.)


Engine
The 6.7-litre Fiat Power Train (FPT) engine features Tier 4B-compliant technology called ECOBlue HI-eSCR. It generates up to a maximum 313hp while still delivering the same impressive fuel efficiency that FPT engines have become renowned for.
For the last eight years, FPT industrial has produced over 450,000 SCR engines for the agricultural, construction and haulage industries. A testament to their quality is the increasing number of manufacturers that are choosing them to fit to their machines. Lately it seems like every time I flip the lid on a tractor, it has a FPT engine under the bonnet.
To ensure top performance under a wide range of working conditions, New Holland has introduced a Variable Geometry Turbocharger onto the FPT engine. It has been introduced to maintain the maximum 1282Nm of torque across a 500rpm engine rev range.
To effectively deliver more power, the engine has been strengthened with extra sub-frame supports that have increased the maximum gross vehicle weight to 16 tonnes.
To optimise the engine's operating performance, Lewer has added the optional reversible fan, which virtually eliminates the risk of overheating and reduced performance from inadequate cooling system maintenance.
I witnessed first-hand its benefits when it was engaged and blew a cloud of dust and fine hay particles back out of the radiators and the front grille. It can be set to come on automatically at preset intervals or manually engaged.
While I am standing outside watching the tractor and mower complete strips up and down the paddock, I can hardly hear the engine over the constant drone of the Claas mowers. Once inside the cab, I am delighted to find that the engine noise and vibration are virtually undetectable.


Transmission
Designed and built by New Holland, the Auto Command continuously variable transmission is designed to match the most-used speeds during heavy draft work, secondary cultivation duties, high-speed paddock work, and high-speed road travel.
It has four different auto operating modes – cruise, manual and PTO – with three adjustable target speeds. The transmission is capable of propelling the tractor at a speed as low as 20 metres per hour up to a maximum 50km/h.
An important safety feature of the Auto Command transmission is the Active StopStart feature: when the tractor is brought to a halt, the transmission prevents it from moving backwards or forwards.
Even with a heavy load, there is no risk of roll-back when the transmission takes up drive. As a backup and to ensure complete security, there is an electronic park brake located on the forward/reverse shuttle lever.
CVT transmissions are quite the norm now in the medium- to high-horsepower tractors. They are basically all operated in a similar fashion, but the New Holland transmission control handgrip performs a little bit differently to some on the market.
To increase forward speed, you push the lever forward; to decrease forward speed, you pull it back. That's similar to every other machine on the market, but it differs by having to pull the lever backwards to increase reverse speed – which just makes sense to me, as opposed to some tractors where you have to push the lever further forward to go faster backwards.


Pimp my tractor
An exclusive Blue Power package upgrade is also available for owners who want their tractor to stand out from the crowd.
Seemingly inspired by the car detailing program Pimp My Ride, where cars are customised to the edge of non-recognition, the BluePower package includes distinctive metallic midnight-blue paint, chrome-coloured grill, silver wheel rims, three-dimensional bonnet decals, Blue Power comfort suspension seat, branded thick pile carpet, and silver surrounds on the cabin working lights.
The new aggressive styling package is supported by a beefed-up front axle with Terraglide front suspension, ABS braking and exhaust brake technology, reversible cooling fan, cabin suspension, and a fuel tank with capacity increased to 630 litres.
Driver fatigue is kept to a minimum thanks to a factory-installed IntelliSteer guidance system and optional headland turn sequencing system. An upgraded lighting package includes no less than 20 LED working lights.
Colac-based Steve Lewer completed his diesel mechanic apprenticeship at New Holland dealership Swayne and McCabe seven years ago, and says it makes sense to continue using the product that he had become so familiar with during his training.
Before buying the New Holland T7.315 HD, Lewer was looking around for a higher-horsepower tractor in the 300hp range, but didn't want to step up to the big, bulky, heavy-duty pulling tractors.
He says the T7.315 HD is perfect because it has higher power, increased weight and longer wheelbase, but remains relatively compact and manoeuvrable, and is suitable for every implement and service that Lewer Farm Services offers.
"I love the look that the BluePower package gives it," Lewer says. "In the competitive game of contracting, it's nice to be able to stand out from the crowd and be recognised as having smart-looking and quality equipment."
Luckily, he is more than happy for me to join him in the cab for a day's work cutting hay using the triple mower combo with an 8.5m cutting width.


Cost saver
I can hear all the critics out there screaming that a 300hp tractor is a bit overpowered for a set of mowers this size but, as Lewer points out, this is a tractor that will be used on a variety of machines that he uses, including his air-seeders and slurry spreaders.
It's fair to say that tractor horsepower is very similar to machinery shed size. Too much is never a problem and no matter how much you have, you will always find a way of using it in the future.
"The extra power that I have on hand allows me to run the PTO in 1000 economy, drop my engine revs, and make a massive saving on fuel usage on this job," Lewer says.
A quick glance at the IntelliView touchscreen monitor provides proof of his claims of reduced fuel usage. With the engine revs hovering around 1600rpm, the average fuel economy readout says we are only using 31 litres per hour and the tractor is operating at 75 per cent of its available power.
Lewer says the real fuel usage figure over the course of the day is probably a couple of litres per hour better than that.
"On a few occasions I've actually measured the fuel used at the end of the day when I'm refuelling to get an exact economy rate, and it's always better than what the computer says," he says. "I'm looking forward to getting it working harder on some of our cultivation equipment to give the engine a good run in."


On the job
Jumping into the driving seat and casting an eye over the familiar SideWinder II armrest makes me feel right at home. Not that I'm calling myself an expert or anything , but I've used it a few times before on other New Hollands I've driven and really liked its comfortable positioning and the intuitive layout of all the features and functions.
This Sidewinder console that operates the Auto Command transmission is something that has been run for about for about seven years now on New Holland tractors from 100hp and up.
With one hand on the steering wheel and the other sitting comfortably on the Sidewinder II joystick, I am finding it really easy to get in and operate the tractor and use the basic features. It just seems the perfect fit, like sliding your hand into a warm familiar glove.
In saying that, I mean, without any instruction, I can perform the basic stuff like speed and directional changes, lift and lower the linkage arms, and operate the hydraulics and PTO all from the armrest.
Continuity from one model to the next is really important for familiarity, and is something that is really appreciated by repeat customers. But even with my limited experience, I am quite confident I will quickly come to appreciate its ability to make the operating experience a pleasure.
The armrest has an electronic mechanism that moves it forward and backward so that you can position it perfectly to maximise your comfort.
Apart from controlling the speed of the tractor the hand grip, or joystick, features clearly labelled soft touch buttons for operating up to two sets of remotes, headland turn sequencing, autosteer engagement, rear and front linkage control, as well as a forward/reverse shuttle switch.
All the remaining operating function controllers are exceptionally well positioned and clearly labelled on the armrest. New Holland has got it right with the Sidewinder II armrest and I can see no reason why it should be changed in the foreseeable future.
The armrest control console is further enhanced by the big IntelliView monitor, which not only provides all the relevant information regarding the tractor's engine, transmission, linkage, hydraulic and PTO performance, but also performs GPS mapping, auto steering, and guidance duties.
Lewer has installed a second IntelliView screen into his tractor so that he can have one screen permanently open with guidance and mapping displayed, while the second one keeps him up to date with the tractor's performance and controls his ISOBUS-compatible implements.


The bottom line
The New Holland T7.315 HD Blue Power is a great tractor to be in, and by that I mean comfortable and quiet. The cabin is not a huge, but I prefer its compact nature as it provides a sense that all the controls are well within reach. And the visibility out of the four-pillar cabin is superb.
'Intuitive' is a word that gets thrown around a lot these days to describe whether or not the operating functions are self-explanatory. In this case, it perfectly describes the T7.315 HD. It is a very simple and unintimidating tractor to jump into and drive.
After a full day's scrutiny, I could only find a couple of features that could be improved on.
Firstly, the AdBlue fill point is recessed into the diesel tank, making it a little hard to access if you are trying to fill it with a fuel container.
Secondly, the steps leading into the cabin are a bit too steep, making entry into the cabin feel more like climbing a ladder. I found myself having to concentrate on maintaining my footing especially when making my way down. The problem would be exaggerated when carrying a lunch box or other item with a bit of weight.
And thirdly, we couldn't find the special tool used to open the bonnet, so had to improvise by jamming a pen into the mechanism to unlatch the bonnet.
To finish on a high note, I think the exhaust braking system Lewer has included is a massive advantage in improving safe operation. He says tractors with a CVT transmission have a tendency for over-running on descents, but this braking system prevents that from occurring, and it also helps maintain control when slowing the tractor down while pulling a heavy load.
I feel confident that anyone, even those with minimal driving experience, would be able to handle this tractor in no time.
HITS
Sidewinder II armrest
Blue Power package
Terraglide front-axle suspension
Reversible fan
Exhaust braking
IntelliView touchscreen monitor


MISSES
Steep cabin entry steps
AdBlue filling point position
Special tool required to open the bonnet



New Holland T7.315HD Blue Power Specs
Engine                                 
Make FPT                        
Rated hp 300
Max. hp 313
Cylinders (no.) 6
Capacity (cm³) 6728


Transmission
Type CVT
Max. speed (km/h) 50


Hydraulics                          
Standard flow (L/min) 165
Optional flow (L/min) 220
Remote valves rear 5
Remote valves front 3


Linkage                                
Max. lift @ ball ends rear 11058kg
Max. lift @ ball ends front 5821kg


PTO                                       
Type Auto soft start
4-speed 540/540E/1000/1000E


Dimensions                       
Fuel tank (L) 630
Length (mm) 5700
Width (mm) 2993


The pimped-up BluePower package includes metallic midnight blue paint, silver wheel rims, chrome coloured grill, silver light surrounds on the cabin working lights, BluePower seat, and three dimensional bonnet decals, making the T7.315 worthy of a second look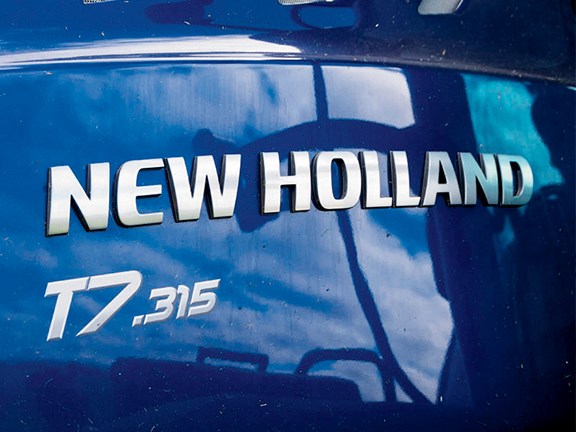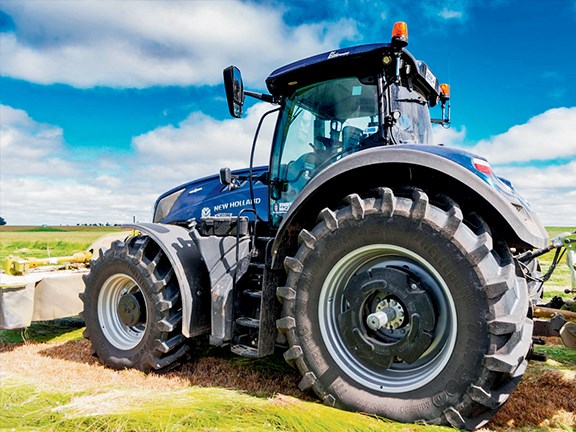 A seriously good-looking tractor. The heavy-duty T7.315 hardly raises a sweat running a set of 8.5m triple mower combinations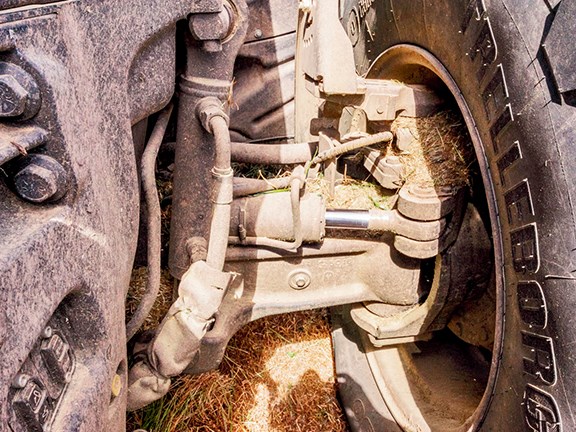 The T7 Heavy Duty range features a beefed-up front axle with Terraglide suspension to provide improved comfort and better load bearing capability, up to 16 tonnes gross vehicle weight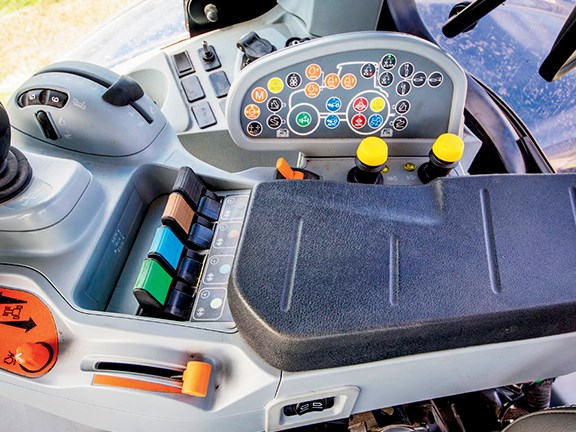 The SideWinder II armrest control console is, in my opinion, one of the best I've operated due to its intuitive nature and comfortable function positioning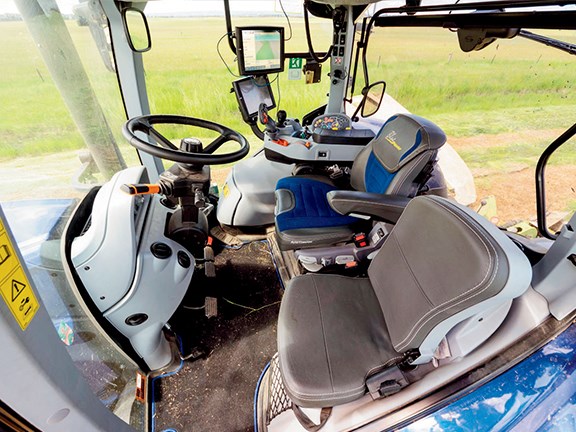 Uninterrupted views and an intuitive work console are complemented by a comfortable armchair ride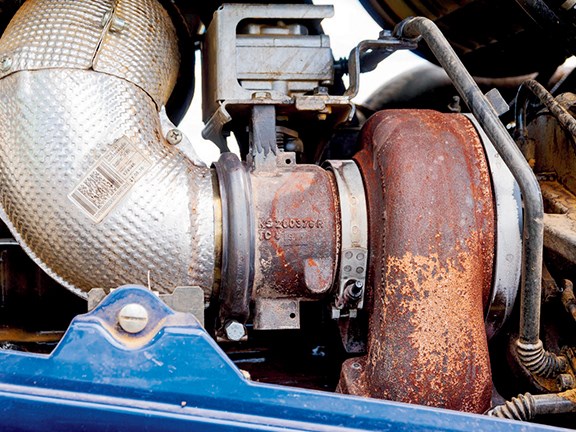 Subscribe to our newsletter
Sign up to receive the Trade Farm Machinery e-newsletter, digital magazine and other offers we choose to share with you straight to your inbox
You can also follow our updates by liking us on Facebook. 

Graders For Hire | Cranes For Hire | Telehandlers For Hire | Excavators For Hire