Suzuki 500 KingQuad AXi ATV Review
---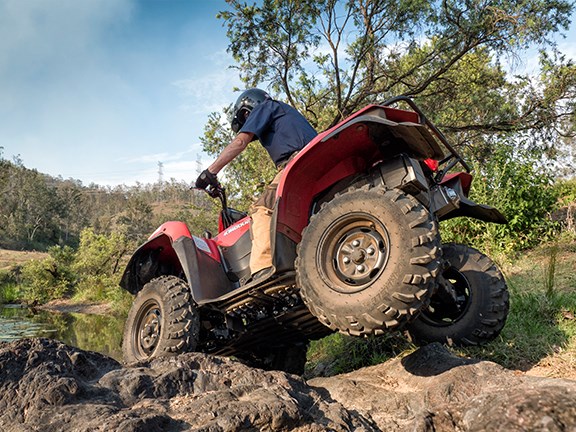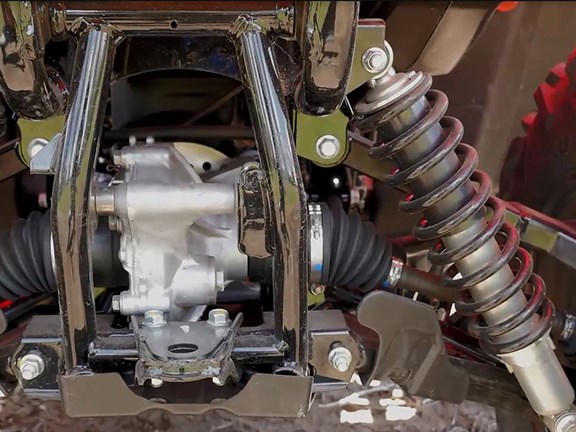 Front suspension is the usual independent setup but gives a supple ride and excellent off-road performance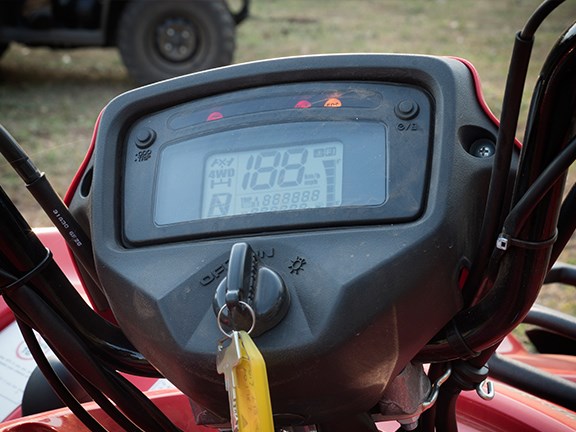 The digital readout is big, fat and easy to read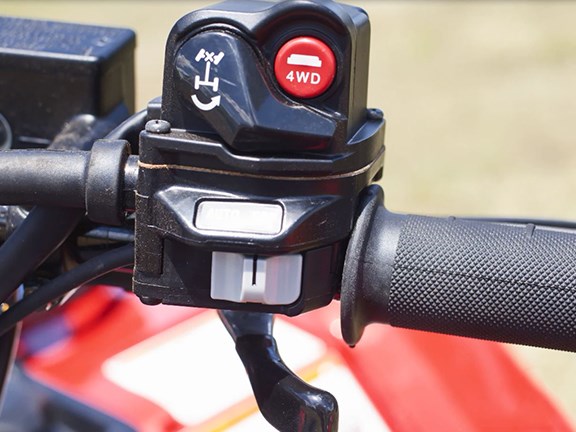 When you hit the diff lock button it engages four-wheel drive with a diff lock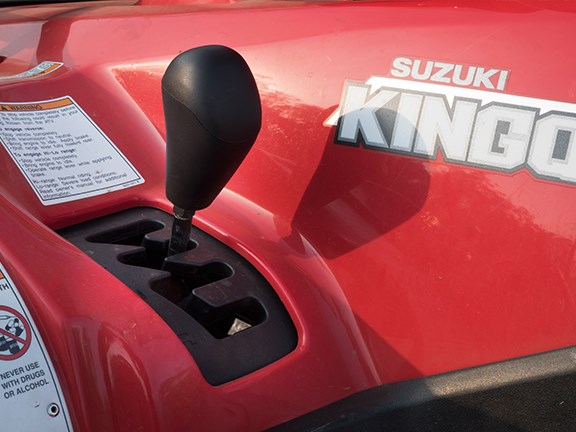 Shifting isn't cranky like it is on some quads. The selector moved smoothly through the gate all day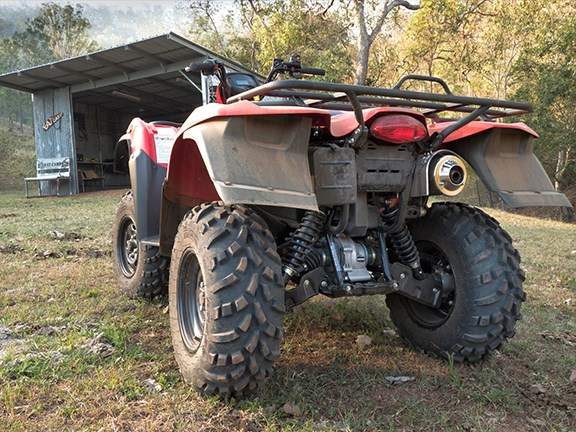 Real mudflaps as standard equipment, and serious Carlisle off-roaders

Suzuki's 500 AXi makes a virtue of being uncomplicated. It's also one of the most comfortable and capable ATVs Barry Ashenhurst has ever tested

We haven't tested a Suzuki KingQuad for ages so it was good news when Suzuki's Lewis Croft arranged the delivery of the 500 KingQuad AXi to our testing ground at FAT Camp near Ipswich (Queensland).
Lewis was helped in this endeavor by Ultimate Motorbikes in Ipswich, so right here and now we'll thank these guys for carting quads around so we could write about them. 
Ultimate Motorcycles also delivered the tough little 400 auto to the 2000-acre cattle property we use as a testing ground. We gave the 400 a savage serve, so stay tuned for that review.
We can tell you that we've always liked Suzuki ATVs. They've never been market leaders in Australia – the factory's reluctance to build a UTV may have helped shorten its shadow – but you can always count on Suzuki quads and motorcycles to be comfortable, to handle nicely, in fact, to feel as if some dedicated Japanese technician had hand-crafted the machine just for you.
Suzuki has a knack of coming up with an indefinable quality that people waste too much time trying to define.
What we find interesting is that Suzuki can do this without being conspicuously different.
The 500 AXi draws from the same basic parts bin as every other manufacturer: CV auto transmission, independent suspension, and so on and so forth.
There's nothing unusual here, nothing you can point to and say, "That's what makes this quad so damn good." Obviously the 500 AXi is more than the sum of its parts, but we couldn't begin to explain why without making mud soup of it. 
In a nutshell, though, it seems that the manufacturer has gone all out to keep this model uncomplicated and functional.


There's no glitter, no bling. The instruments are large and easy to read – which can't be said of every ATV – and the four-wheel drive system is simple. When you hit the 4WD button you get three-wheel drive and when you engage the diff lock you get four-wheel drive with a diff lock.
The drive mode selector moves smoothly through the gate – can't say that about every other machine either; some of them sound like a Milo tin full of marbles - and this machine never needs rocking or rolling to get it into or out of gear. Everything does what it's supposed to do without making a fuss about it.
This quad has better ergonomics than even the Honda FA6. It's not as well finished as the Honda but more comfortable. The T-shaped seat is drop-dead cushy but still manages to give you support.
Handlebar height feels a little higher than we're used to but has the advantage of giving you more leverage over the machine. Power-steering is neutral in the sense that you're not aware of it, and no-one can do better than that.
A tow hitch is standard and so is a 12-volt accessory outlet. There's storage too, in the shape of a square box at the rear of the machine (held closed with a flexible rubber strap) and a 2.8-litre, water-resistant bin on the right front guard.
Suzuki opted for a simple lever lock for the park brake rather than a P position in the transmission. The lock clamps the left-hand lever to the bars and activates the rear brake. This means that the bike can't slide backwards down a hill.
The mechanism is simple, it works, and it's a lot easier to apply than the two-fisted park brake on the Honda FA6.
The airbox and breathers are as high as the factory could get them, which is good, but the air filter itself is a little fiddly to get at since it's under a plastic panel held in place by four plastic screw thingies.
We mention this because, in our experience, anything that complicates maintenance only encourages a farmer to ignore that piece of maintenance. (The air filter on the 400 is much easier to get at.)



A few more points to consider:
The front brakes felt fine. The rear wet brake felt a bit doughy but it is adjustable.
We think the radiator is vulnerable to penetration damage but fitting a winch in the space provided would solve that problem.
It was our impression when beginning this test that the engine could be started only with the park brake applied and the transmission in neutral. That wasn't the case. With the park lever pulled in the engine will start in any gear.
The underside is protected by a plastic skid-plate – polypropylene, actually - but it does run the full length of the vehicle.
Turning circle is very good, even with the diff lock engaged.
The Suzuki comes with fair-dinkum rear mudflaps that help keep you clean and dry in filthy conditions.
There are no grease zerks on the front suspension.
Front and rear racks are steel. That's interesting. American and Canadian manufacturers have switched to plastic racks, for safety reasons we imagine, or because it's easier for them to engineer cargo box accessories in plastic than in metal.
However, as far as we know, all Japanese manufacturers still fit steel racks to their ATVs and we have no problem with that. It's easier tying down an object to a steel rack than to a plastic one that has a whole lot of storage mounting fixtures on it.


On the job
The KingQuad is excellent off-road, but again, nothing obvious explains why. One strong point is its very good ground clearance. Another is the manageable power delivery.
This quad isn't what you'd call fast. Its top speed is about 115km/h and, frankly, we have no idea why you'd want to ride any faster on a property. But the machine crawls confidently and quietly over lumpy ground without dragging its coccyx on everything.
Throttle response is good when you're riding hard and easy to meter when you need subtle throttle control. The suspension is cushy without wallowing like jelly on a spring.
That, the brilliant riding position, and a very quiet engine mean you can work on this thing all day without feeling totally shagged at the end of it. It's such a nice quad to ride.
Engine braking, often a measure of an ATV's safety in the field, is first class. On steep descents the 500 restrained its speed to 2km/h, and that's a lot better than the majority of its competitors could achieve on the same downhill.
The Kawasaki 750 Brute Force is one of our favourites but could do no better than 7km/h.


Suzuki KingQuad AXi 500 Price
The Suzuki 500 AXi price is $13,340 (plus dealer delivery charges), which is close to the price Honda charges for its best-selling FA6 4x4.
To some, that will make the Suzuki look expensive, and on a sales chart maybe it is. But that's not the whole story.
This quad goes about its work quietly. It's not a loud-mouth, not flashy, and it doesn't have USB ports everywhere or a built-in satellite phone, but if you buy another 500 without seeing this one first, you might wish you hadn't.


Suzuki KingQuad 500 AXi Specs
Engine: Single-cylinder 4-stroke
Displacement: 493cc
Transmission: V-belt, CVT auto, hi-lo, 2WD-4WD, diff lock
Front suspension: Ind. A-arms with adjustable shocks
Rear suspension: Ind. A-arms with I-beam with adjustable shocks
Front brakes: Twin 200m discs- lightweight calipers
Rear brakes: Sealed oil-bath, multi-disc
Fuel capacity: 17.5 litres
Length/width/height: 2165 x 1250 x 1285mm
Wet weight: 302kg
Wheelbase: 1285mm
Front rack capacity: 30kg
Rear rack capacity: 60kg
Max towing capacity on uneven ground: 180kg
Max towing capacity on even ground: 450kg
Maximum vehicle loading: 172kg
Warranty: Three years
Subscribe to our newsletter
Sign up to receive the Trade Farm Machinery e-newsletter, digital magazine and other offers we choose to share with you straight to your inbox
You can also follow our updates by liking us on Facebook. 

Graders For Hire | Cranes For Hire | Telehandlers For Hire | Excavators For Hire