Kawasaki Brute Force 750 ATV review
---
The Kawasaki Brute Force 750 ATV is exactly what its name implies. A powerful engine coupled to a great off-road transmission adds up to an ag/rec hybrid that's tough to beat and huge fun to ride.

Kawasaki's Brute Force 750 doesn't pretend false modesty. It's a big 'Super Black' beast with an aggressive stance, go-to-hell acceleration and go-to-hell everything else.
It'll tear up the ground like a stick of dynamite if that's what you want, but in the right hands it has a subtle talent for reducing difficult obstacles to an exercise in throttle control.
As far as we know, this is the only ATV with a lever-action front diff lock with benefits that can be applied incrementally. It's like asking for more traction and getting it. And then, when you've finished with it, you put it back in the box.
When Ultimate Motorbikes delivered our review Brute Force 4x4i, it didn't appear to be hiding any secrets. It looked the way all full-size 4WD quads look; square, chunky, full of barely contained energy and slightly bored – apart from the bright yellow diff lock lever, it had no real distinguishing features.
That changed when we fired it up. The 749cc V-twin in this machine is manufactured in Lincoln, Nebraska (US) and makes this the first Japanese 4WD ATV to sound like a Formula One car in a bottle. A big bottle.
But this is not the largest or heaviest ATV on the market. Compare the Brute Force with the Polaris Sportsman 850 SP and you'll find that the Polaris is still chunkier with a dry weight of 349kg. Since 'dry weight' means with no fuel or oil, you could probably add another 20kg to that.
The reason we mention this is because the Kawasaki's power steering feels a little light to us, as if it were designed for a heavier quad. Then again, the fact that it accelerates so fast and has a top speed of about 120km/h is a valid reason for the power steering to feel slightly twitchy. It has a big job to do, keeping the machine's propensity for pillage under control.
Genius little lever
Control is one of this machine's strong points, and much of it swings on learning to use that little lever on the handlebars.
We've heard riders complain that a modulating diff lock is a waste of time: "Just another control you have to mess around with." We beg to differ.
Granted, extending a single finger might sound like too much hard work for some people, but we believe the diff lock on this machine is a bright yellow stroke of genius. When you learn to use it properly, you too will realise the benefits.
 And what might they be? Well, there's always the big log test. In our video of the Brute Force (Reggie's Day Off), you will see Reg Grant and the Kawasaki climb over a large pile of logs, the remains of a long-dead Eucalyptus punctata.
The quad hesitates as it tries to get the front wheels over the first log, at which point Reg extends his finger and pulls in the lever. The front wheels grab traction and the quad then crawls up and onto the first obstacle. Having done the hard bit, Reg then releases the diff lock lever and has no further need for it on his way through the jumbled pile.
Reg made it look easy – and, for a rider of his ability, it is. The only evidence he'd crawled over a nasty object was a scrape mark on the skid plate, a three-piece plastic device which promises little protection for riders who have to negotiate rocks, creek boulders and other defiant objects.
Fortunately, Kawasaki has genuine aluminium skid plates. For a complete set, protecting everything between the front and rear CV joints, the price will be very close to $1300. If you can afford it, or even if you can't, we'd recommend it.
Money can't buy everything, of course, but you get a lot for the money with this machine.


Looks the part
We're tempted to say the Kawasaki Brute Force 750 ATV shares with the Suzuki 500 AXi an indefinable quality that adds to its appeal. True, you need more than star quality to carry and tow heavy loads, but having a machine that looks capable of doing it easily makes the task itself seem easier.
This quad is actually what the industry now likes to call a hybrid. It has all the tough bits for carrying, towing and going off road, but also the fun bits for riding fast, sliding through gravel corners and blasting up hills.
You'll never need more power than this engine gives you. Few Japanese ATV manufacturers quote engine performance figures but Kawasaki isn't shy about it. The fuel-injected V-twin develops 50hp (37kW) at 6750rpm and maximum torque of 59Nm at 5250rpm. And yep, that's enough.
 The tow rating is 567kg but, to be honest, we have no idea how manufacturers determine tow ratings. You'd expect a larger, heavier machine like the Polaris Sportsman 850 SP to have a higher tow rating, and it does, but at 680kg it's more than 100kg higher. Maybe manufacturers give their machines a tow rating they believe the market will bear. Maybe farmers hook up whatever they believe their machines will tow.
There's certainly plenty for the V-twin to do here but, oddly, the only thing it can't do well is slow the machine on a descent. The V-twin has less engine braking than we expected. Where the Suzuki 500 Axi engine happily restrained its downhill speed to 2km/h with no brakes, ol' Super Black whistled down the hill at 7km/h and counting. This was disappointing and the only weakness we found in the 750 Brute Force, a quad we liked very much in every other respect.
Settle down
Off-road the Kawasaki has no chinks, unless you consider the little plastic skid plate to be less-than-ideal farmer armour. There's nothing unusual or innovative from the CV joints at one end to the CV joints at the other. (There are no grease zerks, either.)
The suspension is what you'd expect on almost any 4WD ATV – independent suspension front and rear, and shock absorbers with preload adjustment only.
Ride quality on the Kawie is firm, definitely not as plush or 'settled' as the last quad we evaluated on the same territory – the Suzuki KingQuad 500 AXi.
It's not harsh as such, more the ride you'd expect on a hybrid with gobs of power and a suspension setup designed to keep it all right side up. You wouldn't want a Brute Force 750 with sloppy suspension.
The 25-inch, rather than the more common 26-inch, six-spoke cast aluminium wheels look a bit small but don't seem to effect ground clearance in any measureable way, and we know from experience that the Duro rough terrain tyres on this machine are capable and durable.
The front brakes are strong, no surprise there, but the wet rear disc feels a little weak – as most wet brakes do. Butterfly adjustors are there to remove any slack in the lever, and they succeed, but you're still riding with the same type of brake and living with its inherent weakness. Adjust away. It's still a weak brake.
Storage space is quite good, with a small pocket on the back of each front guard and a larger but rather shallow waterproof box at the front of the machine, where on most ATVs you'd find the radiator top-up point.
The air filter is easy to get at, so is the engine oil filler point, and the racks are steel.
To engage 4WD you push the button and get 3WD – didn't know that, did you? – but when you haul in the diff lock lever you actually do get 4WD, and plenty of it. The Brute Force broadcasts the message that nothing short of a tank trap will stop it. 
Kawasaki Brute Force 750 Price
RRP: $13,999 plus dealer delivery charges.



Kawasaki Brute Force 750 Specs
Engine: 749cc V-twin.
Fuelling: Fuel injection
Bore/stroke: 85x66mm
Transmission: CV with reverse, selectable 4WD/ diff lock
Frame: Double-cradle, high tensile tubular steel
Suspension: Double wishbones front/rear with adjustable shocks
Front travel: 169mm
Rear travel: 190mm
Ground clearance: 240mm
Front tyres: AT25x8-12 tubeless
Rear tyres: AT25x10-12 tubeless
Front brakes: Dual 200mm discs /2-piston calipers
Rear brakes: Enclosed wet multi-plate
Park brake: Enclosed wet multi-plate
Dimensions: (LxWxH): 2195x1180x1220mm
Wet weight: 315kg
Load capacity (front-rear): 40/80kg
Towing capacity: 567kg
Colour: Super Black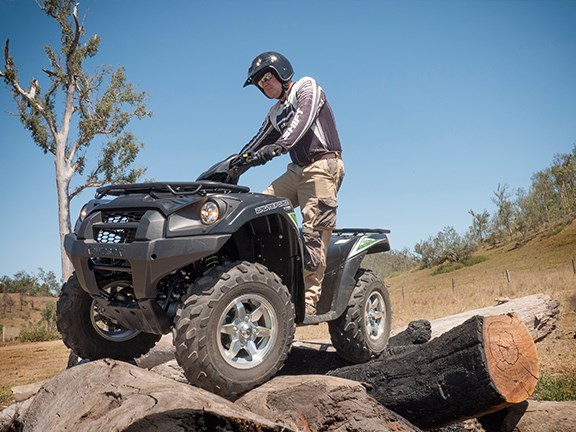 Looks kinda chunky, but this is one of our favourite 4WD ATVs. It does need a decent skid plate, though, and that'll set you back about $1300 if you buy locally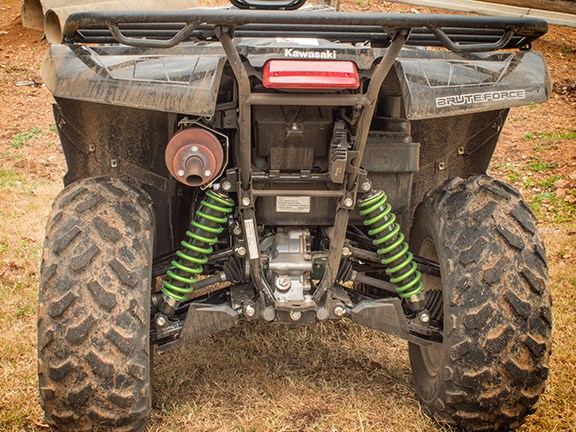 Looks the same as any other rear end, doesn't it? And it is. Ride is firm, but, with so much power, it needs to be. Riding this thing with sloppy suspension wouldn't be much fun at all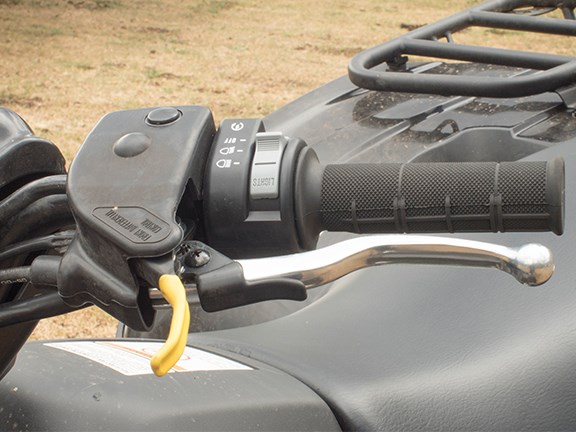 The diff lock on this machine is a bright yellow stroke of genius
Subscribe to our newsletter
Sign up to receive the Trade Farm Machinery e-newsletter, digital magazine and other offers we choose to share with you straight to your inbox
You can also follow our updates by liking us on Facebook. 

Graders For Hire | Cranes For Hire | Telehandlers For Hire | Excavators For Hire