Review: David Brown 990 Selectamatic tractor
---
Tom Dickson tracks down his family's 1970s-era David Brown 990 Selectamatic tractor, and says the old girl is still capable of hard work


Farmers all over Australia reckoned the post-1970 David Brown 990 Selectamatic tractor was reliable and hardworking. I know this for a fact because we had one and it was a ripper.
The two-wheel drive did jobs that I thought would be way beyond its capability – and, despite getting zero maintenance, it's still working today.
The fact it has never been parked in a shed during its 47-year life has certainly contributed to its deteriorated appearance, but not its performance.
For the last 10 years of its time with us, we only pulled it out of retirement on a biannual basis. Each winter it provided PTO drive to a saw bench for firewood, then in the summer months we hitched it up to a 20-foot trailer to cart in rolls of hay.
The starter motor was buggered so it took about 10 minutes of towing to get some fuel flowing through the system before it would fire up. Once it burnt off all the water and muck that it had sucked in through the broken oil-bath-type air cleaner, it ran like a dream.
When it last left our property about 12 months ago, the battery was stuffed, the brakes were jammed, the air-cleaner was full of water, the power steering pump was shot and the rear linkage was frozen up.
So you can imagine my surprise when I discovered that it is up and going again and performing hay-cutting duties thanks to a bit of handy work by Peter Gardiner from Colac Tractor Wreckers.
Who says miracles don't happen anymore?
Not so simple
Manufactured by David Brown in its Huddersfield factory in England, the 990 Selectamatic has a 3.2-litre, 4-cylinder David Brown engine producing 58 net engine horsepower and tests 45.6hp and 53.77hp at the drawbar and PTO respectively.
The partially synchronised transmission has three forward gears and one reverse in each of four ranges: high, high slow, low and low slow. All up we had a total of 12 forward and four reverse gears to play with.
It has Category 2 rear linkage, 2-speed PTO, hydrostatic power steering and features a David Brown Selectamatic hydraulic system.
The gurus at David Brown claimed that the selectamatic hydraulic system brought simplicity to the system which included lift, hold, drop, height position, TCU (weight transfer) and certain external hydraulic equipment.
A three-position pointer is used to alternate between the various systems.
It incorporated a full-flow paper element suction filter as well as magnetic filters to maintain proper operation of the high-pressure hydraulic valves.
Maximum hydraulic oil flow was only 28 litres per minute, which is pretty ordinary in today's terms but it seemed more than adequate for what the implements demanded back then … and we didn't know any better.
The rear linkage can be locked in the top position when not in use or as a safety measure when parked with a raised implement.
A dump valve was incorporated into the hydraulic system to reduce the restriction on the oil flow. It allowed for rapid lowering of a tipping trailer or loader after discharge.
The new system switched hydraulic flow from the hydraulic couplers to the linkage and various modes of operation. While it may have improved reliability, it was anything but easy to operate. Simplicity is not the word that springs to mind when I reflect on my experience of trying to master control of its operation.
The linkage height control lever and the select lever had to be in the correct position before the desired hydraulic function would work. After ages of mucking around putting the levers in all different positions I always got the desired result but I could never remember how I did it, and 35 years later I am still no closer to mastering the correct procedure.

Who is David Brown?
My father bought his David Brown second hand but it was only a couple of years old so it still looked brand new. As a mere 10-year-old I had no idea of the journey that David Brown, the company, had travelled prior to our acquisition.
David Brown partnered with Ferguson to produce its first tractor in 1936, but the company had a long history in the production of gears, bearings and shafts dating back to 1860. It was during both the first and second world wars that saw massive expansion of the company when it commenced production and supply of propulsion units for warships, gun training and elevating mechanisms and trench mortar bombs.
World War II saw another massive increase in production for the company, when the aero division produced over 500,000 gears and the gearbox division produced over 10,000 tank transmissions and was the sole supplier of gears for the Spitfire fighter plane for a period during the Battle of Britain. Both these divisions belonged to the Tractor Company, a subsidiary of David Brown.
David Brown was entrusted with planning and coordinating the production of tank transmissions components by all other British firms. The workforce, including tractors and foundries, grew to almost 7000.
Looking back, I have come to the realisation that the David Brown 990 was indeed well ahead of its time. It was already implementing power steering, flow control on the linkage, suspension seats, synchro gear shifting, the transmission had four ranges, and a few extra gauges were included to what used to be a fairly bare instrument panel. It even had lights blinkers and a review mirror.
While most of these features were manually operated – as opposed to modern-day electronic operation – it proves that David Brown was forging ahead, giving us an insight of what tractors might be capable of in the 21st century.
In 1972 the tractor operations were sold to Case, resulting in David Brown forever losing its identity in the tractor market. You could say David Brown was swallowed up then spat out by Case.
The 990s manufactured between 1971 and 1980 went all upmarket with a new deluxe instrument panel design. It provided much more information than the previous run of 990s that were built from 1965 to 1970.
There was no speedo, but an accurate indication of forward speed could be read from the tachometer. If it gave a true indication, the top speed was a very healthy 16mph or, in today's measure, about 25km/h. It also provided a clear indication of the engine rev requirements for the desired PTO speeds to be achieved.
The needle on the fuel gauge used to flick around as the diesel sloshed in the tank but it provided a rough indication of what percentage of fuel was left in the 68-litre tank. It meant we could throw away the fuel tank dipstick that everyone had stashed somewhere on the tractor.
Looking back, it seems so basic and unimpressive but at the time it seemed to be so advanced. We never imagined in a million years that tractors would be so technically advanced as they are today.
The 990s weren't a very heavy tractor, so it was common to fill the tyres to about 75 per cent full with water. This was an effective means to increase traction and stability. Today's radial tyres don't handle water quite as well as the old ones because the wire that is used to strengthen the walls deteriorates quickly and rusts from the water.
Boys to men
One of my earliest memories of the 990 that my father proudly arrived home on is sitting on the square-top mudguards with my sisters and heading off down the track.
I certainly wouldn't recommend popping your kids precariously on the mudguards now, but those were the times. The 990s manufactured post-1970 did away with the shell-type guards and replaced them with the big square-type ones, inadvertently creating a platform for passengers to ride on. It could be said they created the first farming-family people mover.
When it comes to tractors, or all farm equipment for that matter, occupational health and safety regulations have been the single greatest factor in reducing injury and death on farms. Gone are the days when you would throw your eight-year-old son into the driver's seat and send him off ploughing for the day, cutting hay or god forbid any of the other high-risk operations that occurred on properties.
There was little in the way of safety protection fitted to tractors in the early '70s. Only those with a cabin had any sort of hope of survival if the tractor toppled over. For safety reasons, and a bit of peace of mind, we fitted and installed a ROPS bar sometime during the late '80s or early '90s. 
My first lesson in driving came behind the wheel of an old grey Fergie. I remember having to get it turning over then flick the decompression lever off to fire up the engine. It was a great little tractor that made me feel, at the tender age of seven, like I was six feet tall. It was a different time when operating heavy and dangerous equipment quickly turned boys into men.
While the little Fergie introduced me to driving, it was on our David Brown that I mastered the art. Double clutching to reduce the gear crunching on downward shifts, engine braking and using mirrors because we even had a little rear-view mirror mounted on the mud guard. And, because the power steering was stuffed, I learnt quickly the ramifications of overcorrecting on the steering wheel and how easy it is to break a thumb if you rest it on the inside of the wheel.
That tractor of ours did thousands of hours pulling a shearer plough, a 28-disc offset harrow, New Holland baler; a Delarue mower then fed out rolls of hay all winter. When the starter motor or battery chucked it in, we would park it on a hill each night ready for a reliable roll start the next morning.
One night after we had left it rolled off down the hill and started because someone had left the ignition and fuel on. When we found it next morning it was nudged up against a tree, engine still running. The rear wheels had continued to turn all night just about burying it.
A real life skill I quickly learnt from that tractor as a young fella was how to bleed the air out of a diesel fuel system. The only way to get it going again after it ran out of fuel was to crack the couplings on the fuel pump and injectors and completely expel all the air.
Under the hot summer sun, our only protection was a wide-brimmed hat. In the long, wet winter months I clearly remember wearing a singlet, tee shirt, flannelette shirt, two jumpers, a coat, and my final layer was an extra-large oilskin coat pulled on over the top in an attempt to stay warm and dry. 
All day I would bounce around on its primitive-style suspension seat enduring bouts of rain, hail and sunshine, but never once contemplated going home till the job was done.
Perhaps my biggest criticism, and fear, of that old tractor was that every time I'd jump off, I always seemed to trip or get my full-length oilskin coat hooked up in a gearstick, clutch pedal or any of the numerous other levers and getting dragged back under the wheel.
The kids of today don't appreciate just how comfy they have it now with modern suspension, heating, cooling and the entertainment packages that come standard.   

Renovator's delight
While I wouldn't want to give up the luxuries that the modern-day tractors offer, I would recommend a David Brown 990 as a great tractor for restoration purposes.
Ours proved that the motor, gearbox, hydraulics, PTO and linkage remained basically sound even after pretty ordinary treatment and zero maintenance, meaning a restoration may only entail some rust removal, a spray paint, a visit to an auto electrician, and a new bearing or two.
Hits and Misses
HITS
Power steering
Reliability
Oil bath air cleaner
4-range gearbox
25km/h
Partially synchro transmission
Information provided by the tachometer
MISSES
Starting after running out of fuel
Selectamatic hydraulic system operation
David Brown 990 Selectamatic Specs
Type: Two-wheel drive
Engine: 4-cylinder David Brown
Power: 58hp
Hydraulics: Open centre Selectamatic
Flow: 28L/min
Linkage: Cat II
Max. Lift kg: 1927
PTO: 540/1000
Wheelbase: 208 cm
Weight: 1938kg-2667kg
Fuel tank: 68 litres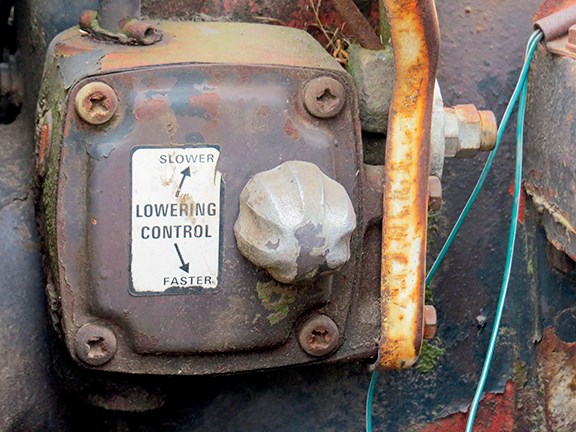 Linkage speed control is standard on all tractors now but in the 1970s it was a real innovation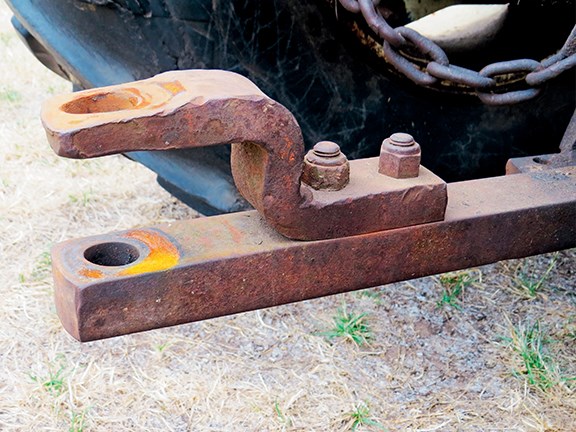 A severely worn drawbar is generally a good indication that the tractor's done a lot of hard work over the course of its life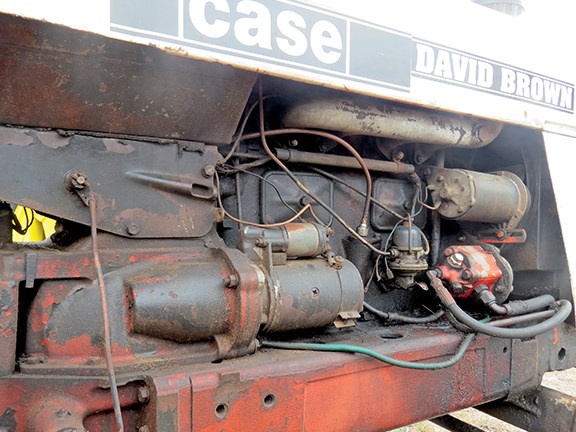 To our amazement, the David Brown 58hp engine runs as well today as it did 45 years ago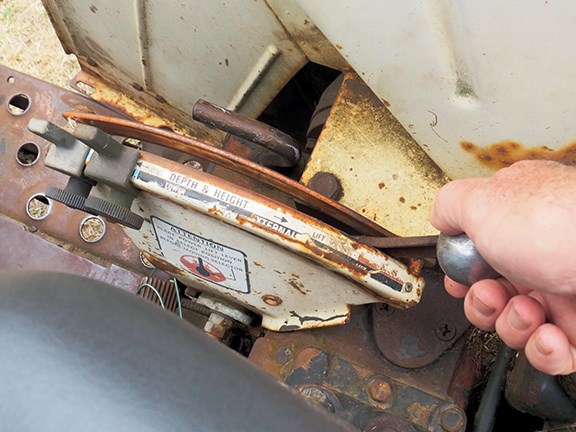 The selectomatic hydraulic system on the David Brown tractors was capable of centralising all the hydraulic and linkage functions to the one lever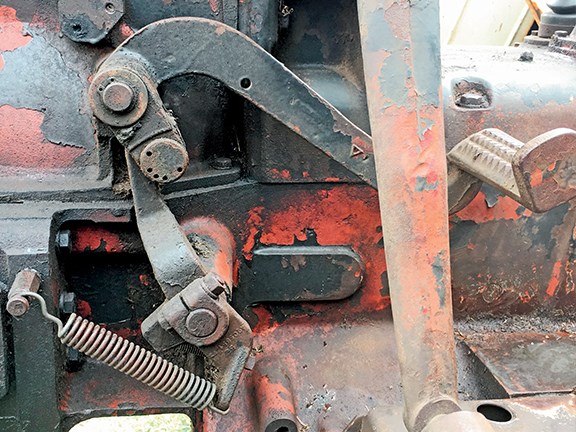 Depressing the two-stage clutch lever half way down stops drive to the transmission, while the second half of the stroke engages the PTO clutch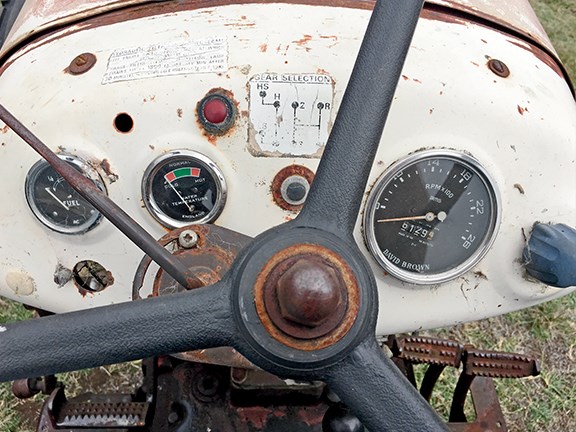 In addition to the relevant engine performance information the instrument panel included gear and range lever positioning for the 12-speed transmission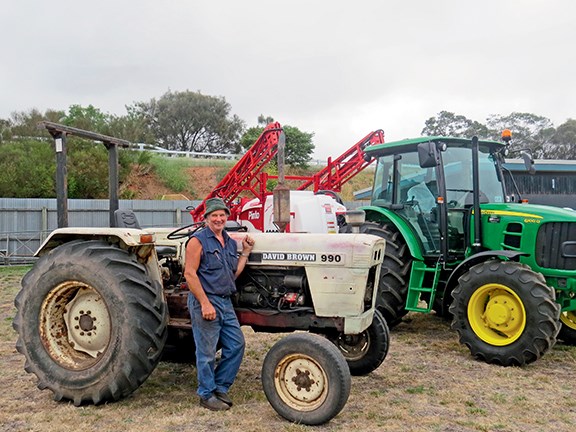 Peter Gardiner of Colac Tractor Wreckers with the 1972 David Brown 990. He reckons tractors from this era were the most reliable ever built

Subscribe to our newsletter
Sign up to receive the Trade Farm Machinery e-newsletter, digital magazine and other offers we choose to share with you straight to your inbox
You can also follow our updates by liking us on Facebook. 

Graders For Hire | Cranes For Hire | Telehandlers For Hire | Excavators For Hire