Review: Honda CTX200 farm-spec motorbike
---
Honda's tough CTX200 farm-spec motorbike has a price so low it'd leave many prospective buyers questioning its capability. Chris Thompson took one to a dairy farm to find out if you really can make a quality bike cost so little.
We watched – and offered to help – as Farms & Farm Machinery technical editor Tom Dickson unloaded the Honda CTX200 motorbike from the trailer hooked onto his car.
For a 'farm-spec' bike, it didn't look incredibly agricultural. In fact, it almost looked sporty.
We were outside the sheds at John Anderson's dairy farm just east of Warrnambool. This was to be the staging ground for a Farms and Farm Machinery rarity – an off-road bike review. That's right, two wheels.
The Honda CTX200, also known as a Bushlander, was on loan to us from Roe Motorcycle and Mower in Warrnambool.
It's a fairly basic bike, with a 197cc single-cylinder engine that provides more power than most farm use would require.
First impressions
This Honda CTX200/A wasn't built in Japan, but in Brazil by one of Honda's overseas plants. That doesn't seem to have made a huge difference in terms of the build quality, but we did spot a few aesthetic imperfections such as metal parts that weren't perfectly rounded off, and weld marks that didn't look 'Honda-perfect'.
Small things like these probably wouldn't have made it off the end of a Japanese Honda production line. Still, no real faults or problems. I'm just picky.
It was good to see the bike fitted out with guard and racks that would come in handy for bush riding and transporting bits and pieces around the farm, but I thought the engine-and-foot guard could have done with an extension to also protect the bottom of the bike and the rider's feet.
Once you get the thing started – which is very easy thanks to the electric starter – it's easy to hear that the muffler was designed to keep the volume low as to not spook animals or anyone you're sneaking up on.
As we chatted over the more obvious features of the CTX200 while it warmed up, we checked out the clutch lock, which allows you to dismount while the bike is still in gear.
While it isn't as high-tech as I initially thought it might be, it's an effective mechanism. All it really needs to do is hold the clutch lever in so that it's disengaged, and that's all it does.
A nice bonus is that, if you're particularly keen on neutral, you get the luxury of a little green light to let you know when you've found it.
While we're on the subject of lights, if you accidentally leave the headlamp on, you'll probably drain the battery. The upside to that is that the CTX has a backup kick-starter, which we definitely didn't need to use during the review. We're professionals, after all!
On the job
Before you even get onto the CTX200/A, you can see the ride height is lower than most off-road bikes. What you can't see is that the seat has extra cushioning and the suspension has quite a long travel – 158mm, to be exact.
It became obvious soon into the test ride that comfort and ease of manoeuvring were at top of mind when Honda put the CTX onto paper. A particularly uneven hillside paddock at the Anderson property was no problem, even under a rider who's more at home on a road bike.
Mercifully, I wasn't testing the CTX for speed as there weren't many long, smooth straights to utilise, and I had no goggles to wear with my helmet. Still, I reckon anyone keen enough could get it going well past my tentative 80km/h.
Since I'm sure most of you are now wondering why I'm going on about top speeds, let's move on to the real extreme here – low speed.
The Honda CTX200 has a very low, creepy crawly first gear which is ideal for following a herd without startling them. John Anderson's dairy cattle had never really seen a bike before, as quads are the norm on his property, but even the cows weren't worried by the brave 'new' world of two-wheeling.
This is where the clutch lock and the low seat complement the low first gear. They make following cattle a lot easier, especially when you need to stop and put your foot down every minute or so.
The CTX has a 21-inch front wheel, which I'm told leaves plenty of options for tyres that will be both capable and comfortable in a range of applications.
We found a valley with a track and a few hundred trees on the property, and decided to test out the CTX's rough-terrain capabilities.
I'm no expert in trail riding, but even I was able to get the CTX up and down a steep, rocky track with relative ease. Its light weight also makes it easy to pull out of a rut if you accidentally stick the front end into a deep track. It happens …
Formed for function
A few design features of the Honda CTX200 stand out as being particularly advantageous when it comes to farm use.
The most obvious additions are the front and rear carry racks, though I think they could do with a little bit of tweaking.
The front one is great; it's the right size and has a clip for holding something in place. But the rear rack is just a little too wide, and I found myself kicking it while mounting and dismounting the bike.
It's not the biggest concern, but if you're half as clumsy as I am, you're likely to go wrong-end up.
The chain is clearly visible and not covered up with a sealed enclosure. Some people would argue that this leaves it more susceptible to becoming muddy – and they're correct. The alternative, however, is a closed container, which quickly becomes a mud catcher on a particularly rainy day.
We asked Wayne Grayson from Roe Motorcycle and Mower about the chain, and he agreed that a closed cover could be an impediment when maintenance time comes around.
"A lot of people like to see an ag bike with an enclosed chain, which is the worst thing you can put on an ag bike," he says. "You can see the chain, admittedly it's in the mud, but you can oil it."
The nitty-gritty
When it comes to owning pretty much any vehicle, for farm use or otherwise, road use and registration is an important thing to check. As most off-road motorcycles can be road registered, they need to have specific features to improve safety and functionality for road use.
The CTX we tested, however, was not road registerable. As it doesn't feature mirrors, and has very rudimentary lights that wouldn't quite cut it on an open road, it doesn't meet ADR requirements. You can buy a nearly identical CTX200 which does, but it'll set you back a few dollars more. About $500, that is.
And that's the primary reason Honda made this decision. Few off-roaders actually end up being road registered, so by removing the extra costly ADR-necessary features, Honda was able to drop the price to $5199.
The non-ADR CTX200 is still able to be registered as a primary producer vehicle, which is cheaper than regular road registration.
The bottom line
To put it simply, the Honda CTX200 is a great bike when you consider the price.
Sure, you don't get the creature comforts a pricier bike would provide, and it's mechanically very basic, but that's often all you really need for farm use. If you can save yourself a few thousand dollars, why wouldn't you?
When we picked up the bike, I asked Wayne what he thought the CTX's biggest advantages were, and price was high on the list.
"This probably costs about half as much as a UTV or an ATV, with a third of the running costs," he says, and I reckon he might be right.
Hits
 - Low crawl speed is beneficial
 - The clutch lock is surprisingly convenient
 - The open-chain guard when oiling time comes around
 - Light weight makes it easy to manoeuvre
 - Suspension and seat provide a comfy ride
 - The price!
Misses
 - Rear rack could be narrower
 - Could do with more guards underneath
 - A few minor visual imperfections, but nothing important
SPECS
Honda CTX200/A
Engine:  197cc single-cylinder air-cooled OCH 2-valve 4-stroke; carburettor fed
Ignition:  Electric starter with backup kick-start
Transmission:  5-speed, constant mesh
Fuel capacity:  8.5-litre total (including 1.8-litre reserve)
Dimensions:  2196mm (L) x 938mm (W) x 1152mm (H); 823mm seat height; 238mm ground clearance
Tyres:  80/100 – 21-inch (f); 100/100 – 18-inch (r)
Suspension:  37mm telescopic fork with 158mm travel (f); single shock with 150mm travel (r)
Brakes:  240mm single hydraulic disk with 2-piston calliper (f); mechanical drum (r)
Kerb weight:  135.8kg
Price (RRP):  $5199 (non-ADR); $5699 (ADR approved)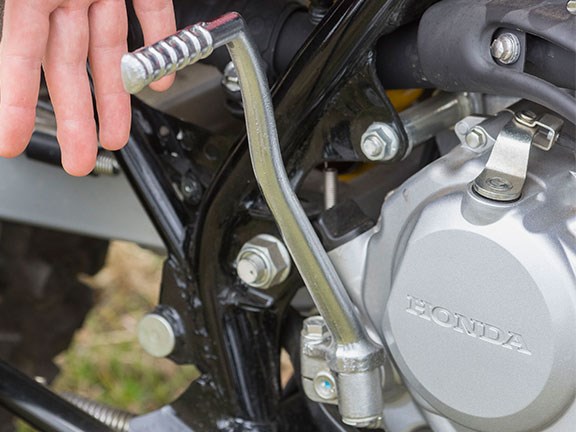 The backup kick-start. Use your feet, though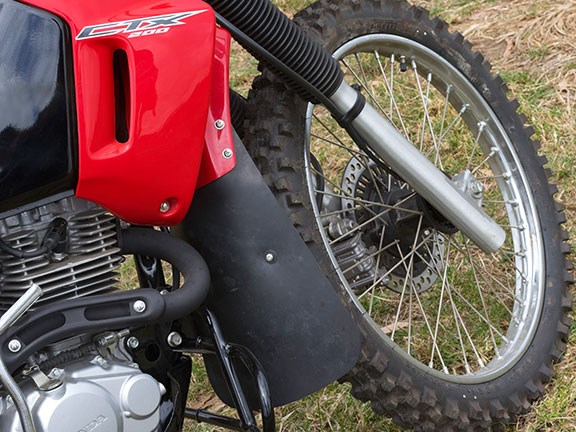 158mm of front suspension travel makes for a comfy ride

Hand guards prevented my office-hardened hands from copping a stray branch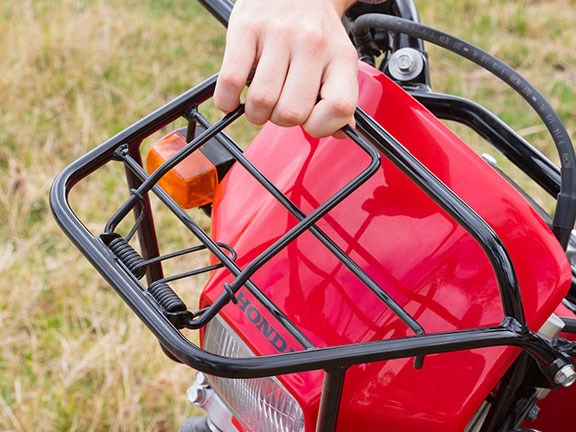 A clip on the front guard helps secure anything relatively flat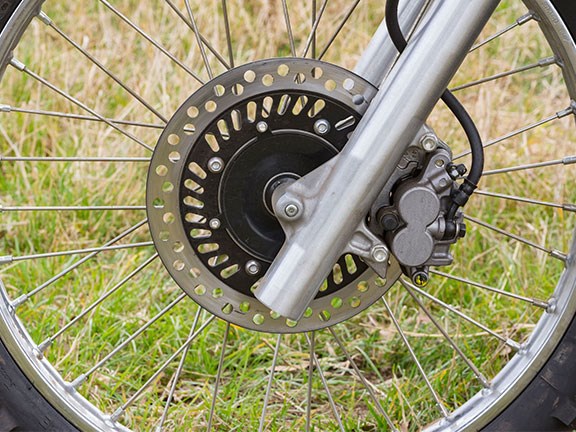 A disk at the front brings the light CTX to a smooth but rapid halt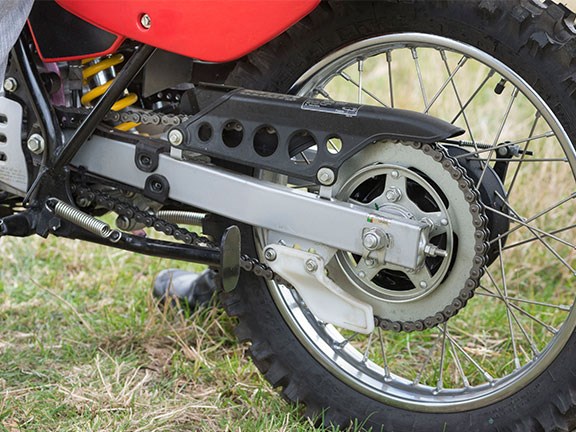 Very few places for mud to collect here, plus the open chain is easier to oil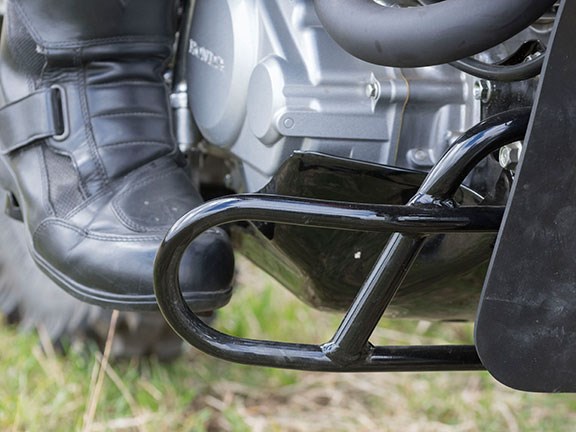 We reckon a bit more frame here could have kept both motor and feet just a little safer

Subscribe to our newsletter
Sign up to receive the Trade Farm Machinery e-newsletter, digital magazine and other offers we choose to share with you straight to your inbox
You can also follow our updates by liking us on Facebook. 

Graders For Hire | Cranes For Hire | Telehandlers For Hire | Excavators For Hire