Review: Suzuki KingQuad 400 ASi 4X4 ATV
---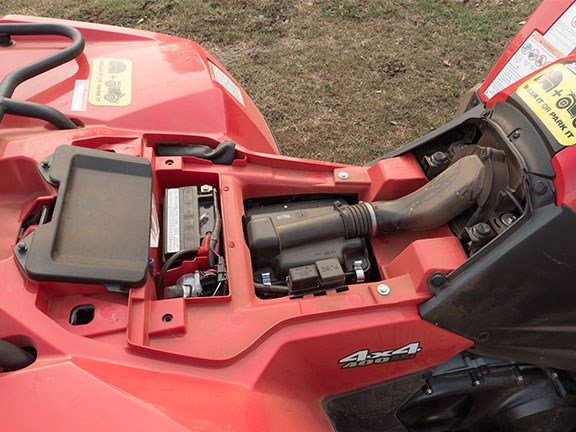 If you're interested in such things, air filter access is pretty good.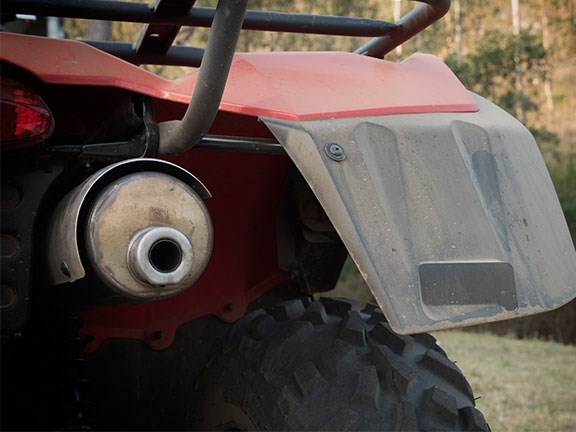 Standard equipment included mud flaps and we like that.

The Suzuki KingQuad 400 ASi 4X4 ATV is worth scoping out if you're after a midsize auto for around 10 grand, writes Barry Ashenhurst
Suzuki has two 400cc KingQuads: the ASi auto and a FSi five-speed manual. Both are considered 'midweights' by current industry standards, which means they're physically smaller than 'full-size' 500 and 750cc models and lighter by about 10kg.
Is there an advantage in being smaller? Yeah, there is. A smaller quad is generally more manoeuvrable than a longer, heavier one, with or without power steering, and that helps if you're working in heavily wooded terrain or constantly changing direction.
This type of ATV is designed for moving around smaller properties where there's less emphasis on speed, power and overall carrying capacity.
But in an age of automatics, why would anyone want a manual? Easy. It comes down to price and complexity.
Quads with manual transmissions and less bling are cheaper. And a manual transmission has fewer electronics than a modern CV auto. That's a good thing because, however well protected, electronics are still prone to failure on machines that work hard all day in tough environments.
(According to rural dealers we've spoken to about this, dairy farms, with all that corrosive cow poo lying around, are the most challenging environment for any ATV – manual or auto.)
Manual quads also seem to be lighter than their automatic counterparts. For example, the manual KingQuad 400 weighs 286kg while the auto weighs 292kg.
And there's a bit of new stuff on these two. The factory has given the 400 engine new fuel injection with 3D ignition maps (whatever they are), so these engines have better cold start. 
The engine also has a new cam profile "for more useable power", Suzuki says, and a redesigned exhaust system to make the whole pizza-mobile more efficient.
Pizza-wise, we have no beef with the power this engine puts out. It behaves as you'd expect a 400 to.
The power delivery is manageable, which makes it easier to ride and handle on rough terrain, and although you wouldn't call it a muscle machine, it gets the job done. It never feels as though it's gasping for air or running out of puff, even when it's on steep terrain where the four-wheel drive system's working hard and the revs are up there.
In control
About the only things you'd call electronic on this machine are the instrument panel and the 12V power socket.
The LCD display is set in the robust-looking assembly that houses the headlight. It shows the usual operational parameters: the fuel level, time, tripmeter, odometer, an hour meter, various warning lights and so on and so forth. The only reason we looked at the display was to record that the 400 had a top speed of 84km/h (compared with the 500's 115km/h).
There's not much push-button stuff on this quad, proof that manufacturers aim midsize ATVs at more tight-fisted customers who don't want or need all the bling you get on full-size machines.
The KingQuad's four-wheel drive selector is the standard stick-in-the-slot, and works very smoothly. However, to engage four-wheel drive, you don't push a button but pull down on a small lever on the right side of the bars (see pic).
The rear brakes are drums so, of course, they have cable-operated adjustors.
On the job
The rear end is another example of Suzuki keeping it simple. No independent suspension for the 400 – it gets two skinny little shock absorbers and a solid axle. Suzuki says this setup gives the 400 "agile handling and plush responsiveness".
Agile handling, yes. Plush responsiveness, no.
A quad with a solid rear end will never ride as plush as one with independent suspension, proven again when you climb from the independently suspended 500 AXi to the rigidly suspended 400.
Does this setup affect rough-terrain ability? No.
Many would, though, and they'd be wrong. It might ride slightly rougher than the 500 AXi but, in our experience, the 400 will go anywhere the 500 goes.
We had them at the same time (you can read our review of the 500 AXi at http://bit.ly/TradeFarm500axi) and rode them through the same rivers and creeks and over the same hills and trails on a stinking hot day.
We had no trouble using the air-cooled 400 as a gear gopher that followed the 500 everywhere and back again. It was a good little worker.
We never know what to expect with engine braking. Some killer engines have mediocre engine braking – the Brute Force 750 comes to mind – while a mild little quad like the Suzuki 400 has terrific downhill braking.
The machine lacks power steering because PS bumps the price. Okay, so I'm a pussy for saying this, but power steering makes a quad easier to control and that was made evident again, to me anyway, when I had to carry a dirty big video tripod in one hand and steer with the other. Getting enough leverage on the bars was difficult.
On the other hand, it's not often you have to steer with one hand, so I suppose I've said something only a pussy photographer would say.
The 400 has reasonable ground clearance, though. Interesting, really, since it wears 25-inch rather than 26-inch tyres. The plastic skid plate seemed to work okay, and just as well since there's no aftermarket aluminium skid plate from Suzuki. If you want one of those you'll have to get it somewhere else.
Up front is a beefy tubular steel bumper with space behind it for a quick-install winch.
The air filter was easier to get at than the filter on the 500. The 400 doesn't have a lot of storage space, though. We crawled all over it and the only box we could find was the under-seat compartment.
In its favour, it wore a plastic cover and is said to be water resistant, which is not quite the same as waterproof but close enough.
The bottom line
Typically you'd look at a midsize ATV like this one if you don't want to spend $14,000 on a full-size machine, if you don't give a damn about bling (power steering, independent suspension and so on), and you don't have to carry a lot while riding long distances every day.
SPECIFICATIONS
Suzuki KingQuad 400 ASi 4X4
Engine: 376cc air-cooled single
Transmission: CV auto
Fuel capacity: 16 litres
Front suspension: Double wishbones/coil springs
Rear suspension: Swingarm with coil springs
Front brakes: Twin discs
Rear brakes: Drums
Seat height: 840mm
Length: 2160mm
Width: 1200mm
Height: 1220mm
Wheelbase: 1270mm
Wet weight: 292kg
Front rack capacity: 30kg
Rear rack capacity: 60kg
Maximum loading: 172kg
Colours: Flame Red
Warranty: Three years
Price: $10,640
HITS
•             Solid little worker
•             Good in the rough
•             Agile
•             Strong engine braking
MISSES
•             Rides a little rough
•             Little storage space
Subscribe to our newsletter
Sign up to receive the Trade Farm Machinery e-newsletter, digital magazine and other offers we choose to share with you straight to your inbox
You can also follow our updates by liking us on Facebook. 

Graders For Hire | Cranes For Hire | Telehandlers For Hire | Excavators For Hire