Review: Branson 6225Ch tractor
---
Technical Editor Tom Dickson jumps aboard the 100-percent-Korean-made Branson 6225Ch tractor – the premium model in a range aimed at the fast-growing hobby and lifestyle farmer market
Years ago, there was a definite reluctance to even look at Korean products but that is not the case anymore.
With a little bit of research I quickly discovered that many of the major tractor manufacturers – including Case, John Deere and New Holland, to name a few – build some of their models in Korea or have some form of affiliation with the country.
So the days of getting all high and mighty about where machinery is manufactured are gone. The world is becoming a much smaller place, with companies basing themselves wherever they can get the best return on investment.
With that in mind, I was very interested to find out what the 100 per cent Korean-made Branson 6225Ch tractor had to offer.
This 60hp, hydrostatic-drive cabin tractor features a 1500kg lift capacity, 2-speed PTO, dual hydraulic pumps, as well as a sealed cabin with air-conditioning and entertainment package. 
It is classed as the premium tractor in the Branson range aimed at the fast-growing hobby and lifestyle farmer market.
The versatile compact tractor comes with a self-levelling loader with a four-in-one bucket, and a joystick controller with a third function. Rounding out the package is the inclusion of a BH76E hydraulic backhoe. 
Walkaround
A quick walk around the tractor reveals a better quality of build and finish than its price tag would suggest.
The rear end is constructed from cast iron, which helps push its overall weight up to 1968kg and increases stability on hills and for loader work.
All the panel work is of a modern design with excellent finish to the paintwork.
An industrial tyre package with less aggressive lugs is fitted to reduce tearing up the ground, but there is also the option of agricultural or turf tyres. 
A quick look at the front-end loader, in particular its design and the heavy-gauge steel used in its construction, provides a clear indication that strength and quality has been the aim when putting this little machine together. Again, it exceeded what I expected to see.
Engine                                    
The genuine, Branson-built, Kukje Machinery Co, 4-cylinder, water-cooled, turbo-charged diesel engine produces 60hp at 2600 revs. It has a 94mm stroke length which, in principal, is designed to produce more torque at lower revs.
The maximum forward speed of 33.2km/h is achieved at 2850rpm.
It's a punchy little engine when the right gear for the job is selected. First range was good for slashing on hills where extra power was required during uphill climbs, while second was okay for working on flat ground.
I tried using 540E PTO speed but it was a bit too draining on the motor; in regular 540 speed it had ample power to run the 1.5m (5-foot) slasher.
Pleasingly, the bonnet has a one-touch opening lever that doesn't require a special tool or key for entry. It lifts well out of the way to provide good access to the engine.
The battery, radiator and air cleaner are mounted forward of the engine for easy servicing and cleaning.
The engine oil dipstick, however, is positioned deep in the engine bay and is a little trickier to get at among the frame work of the front-end loader mounting assembly.
It seems to be common for tractor manufacturers to forget to factor in the addition of a front-end loader into the original design. It's like the left hand often doesn't know what the right hand is doing.
Transmission
The three-range hydrostatic drive transmission provides virtually unlimited speed selection from 0-33.2km/h. First and second are best suited to handling work while third appeared only really suitable for shuttling around from A to B with a bit of speed.
The range selector is conveniently placed beside the seat and can only be shifted when the tractor is stationary and there is no load on the hydrostatic drive.
Two directional foot pedals are mounted beside each other for use with the right foot. Each is clearly identified with an arrow pointing in the direction it propels the tractor – the left pedal initiates forward movement and the right pedal is for reverse.
Speed can be increased by applying increased downward pressure on either pedal. The electronic cruise control feature maintains the desired speed, allowing the driver to relax and remove foot pressure from the pedal.
A hand throttle lever allows the revs to be set to achieve the desired PTO speed and can be used to set a minimum rev limit, which prevents the engine from dropping back to low revs when transitioning from forward to reverse.
The hydrostatic transmission is my preferred option for front-end loader work and other jobs with lots of directional changes purely because of its ease of operation, but I found it to be extremely noisy in our test.
It's definitely not engine noise because the whine only began when I started putting oil flow through the transmission to start moving; the faster I went the noisier it got.
If you plan to do a bit of slashing, grading, harrowing and the like with less changing of direction, my suggestion would be to look at the manual 12-speed transmission option.
It only takes a few minutes to get used to having no clutch and that the brake, left and right turning, is on the left-hand side.
A benefit of hydrostatic drive is that the tractor won't move until either of the drive pedals are pushed so it holds steady when stopped on a slope.
Linkage
The three-point linkage consists of Category 1 ball ends using telescopic stabiliser arms with holes and drop-in locking pin. It is allows for quick, simple and tool-free width adjustment of the lower linkage arms.
An electronic PTO shutoff is included as an extra safety feature when using PTO-driven implements attached to the rear linkage. For example, when I raised the slasher to complete a turn, the PTO drive was shut off temporarily then automatically returned when the slasher was dropped down into the working position for work to start.
Its 1500kg lifting capacity should be ample for the customer that this tractor is aimed at.
The linkage control consists of position and draft control levers as well as a flow-control dial for fine-tuning the speed of descent.
PTO
A 2-speed PTO is standard on the Branson 6225Ch. The spec sheet says it's either 584 or 1088rpm but the lever inside the cabin reads 540 or 540E. I suspect that the two are the same.
From what I found during a bit of slashing, the most suitable PTO speed will be 540, which will keep your engine speed high and reduce the stalling effect on the engine. Only under low-drag operations could I see 540E being up to the task, perhaps running a pump or generator or the like.
Hydraulics
The 6225Ch is fitted with two hydraulic pumps to guarantee steering effectiveness is not sacrificed during front-end loader work or other times when there is a demand placed on the hydraulic system.
The steering pump delivers 19 litres per minute, while the main pump offers 42L/min for all the other hydraulic requirements.
Two sets of remotes service the rear, with independent hydraulic plumbing for the front-end loader.
In the cab
It would be fair to say that the cabin is not huge. While that does bring all the controls close for easy operation, it also means there is not a lot of head space, which could cause a few headaches – literally – on rough ground. 
But what it lacks in size it more than makes up for in the way of style, finish and creature comforts. My preconceived expectations for a tractor in this class have been far exceeded.
The door opens nice and wide for easy access. It has smooth and solid hand rails to assist with entry and, most importantly, it closes firmly, giving the indication that it creates an air-tight seal.
A radio and MP3 player, heater, position- and weight-adjustable suspension seat, front wiper, adjustable steering wheel, and an exceptionally effective air-conditioner (that nearly froze me and had to be switched off) create a really pleasant working environment.
A slide-out storage compartment helps keep the cab clutter-free and a 12V outlet allows you to keep all your electronic devices fully charged. There is even a built-in cup holder to allow you to enjoy life's little luxuries while working on the farm.
The cabin door opening has a 15cm-long bracket either side to latch the door semi open. It allows for the flow of fresh air through the cabin when heating or cooling is not required.
The cabin doors seal well and may be dust-proof, but this is certainly not a sound-proof environment so it might be worthwhile keeping a set of ear plugs handy.
A mandatory retractable seatbelt is fitted and, while it will help protect life and limb in the event of an accident, it is poorly positioned directly above the handbrake lever. Every time I went to apply the handbrake I had to, annoyingly, brush it aside.
The bottom line
Overall, the Branson 6225Ch tractor is a really impressive little unit. While at 60hp it doesn't have a huge reserve of power to draw on, it does have enough to handle everything the hobby farmer and small operator will require.
The hydrostatic-drive transmission makes loader work a breeze but there is no hiding from the fact that it's a bit noisy in the cab.
The addition of the backhoe that the package is currently offering is a real bonus. It has a 2.3m digging depth, 3m reach, 180-degree swing arc and stabiliser legs to support its weight while working.  
It is easy to operate after a bit of practice, using the two fingertip control joysticks for all hydraulic movement.
Most importantly, it is easy to attach. Two mounting rails connected to the backhoe run underneath the chassis of the tractor with quick-release connection points at the front and rear, as opposed to hitching to the three-point linkage.
All those backbreaking tasks can now be done with ease, leaving you with more time and energy to do the things that you enjoy.
The linkage arms have to be removed to fit the backhoe. On our debut run, we removed the backhoe and had the linkage arms refitted ready for the slasher in less than half an hour. Not bad for our first attempt, and I would assume it would only get faster.
I found it essential to remove the backhoe on a solid, flat surface, ideally a cement-slab floor.
The tractor is well appointed, has loads of features I wasn't expecting to find, and has a high-quality finish both in and outside the cabin.
You can get your hands on this little workmate, including the front-end loader, for $42,990 (inc. GST) and, if you throw the BH76E backhoe in as well, the complete package will set you back $51,740 (inc. GST).
Buy a slasher, grader blade and maybe a set of pasture harrows, and you will have everything you need to take care of your block of land.
Hits
Hydrostatic transmission good for loader work
Self-levelling loader with 4-in-1 bucket
Cabin
Air-conditioner performance
Brackets to hold door semi-open
Three ranges
Styling and finish
Good lighting
Industrial tyres to minimise surface damage
Backhoe                                                                                               
Misses                             
Noisy transmission
Not much headspace in the cabin
Seatbelt positioned over handbrake
Specs
Branson 6225Ch
Horsepower: 60
Transmission: Hydrostatic
Drive type: 4X4
Steering: Hydrostatic
Turning Degree°: 56
Speed (km/h): 0 - 33.2
Remote valves: Mid: 4 / Rear: 4
Hyd. Flow (l/min): Main: 42 / Steering: 19
PTO: 540/540E
3 point linkage: Cat I / II
Length (mm): 3511
Width (mm): 1650
Height (mm): 2500
Weight (kg): 1968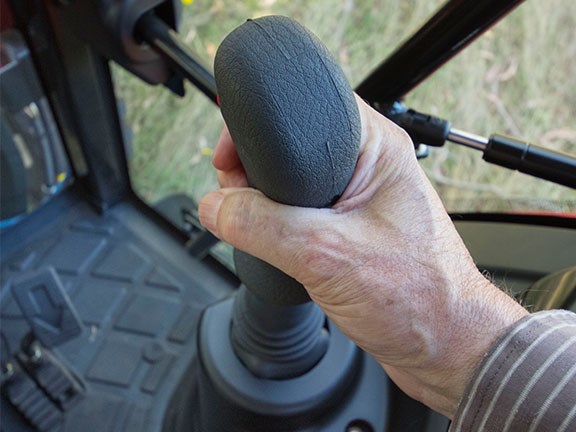 The front-end loader's single-joystick controller has electronic press-button third-function control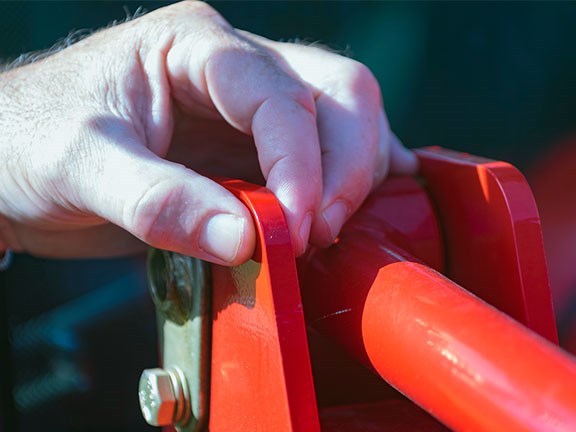 The BL25R loader is manufactured from a decent gauge of steel, indicating that it will be up for a bit of hard work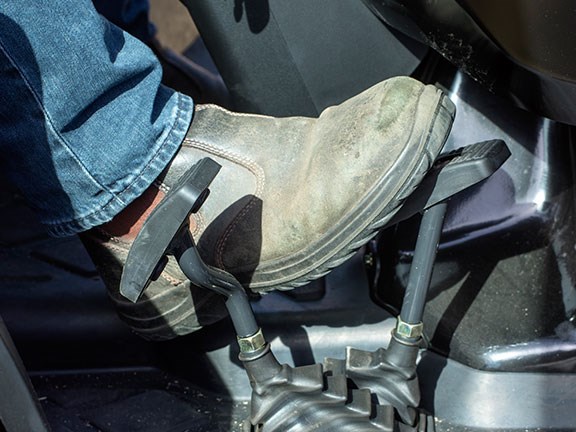 Hands-free shuttling between forward and reverse is a breeze with the two-pedal hydrostatic-drive transmission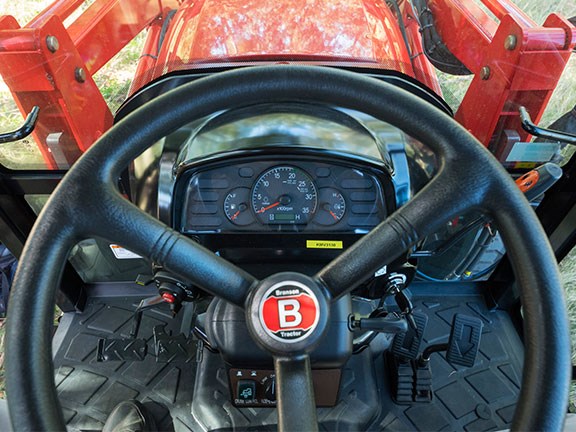 The cabin interior is very well finished and includes all the basic controls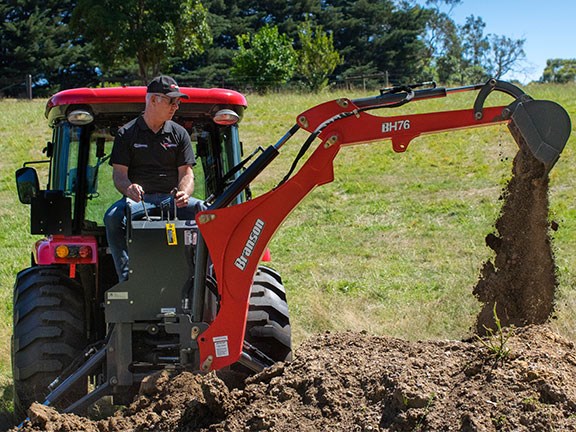 The BH76 backhoe makes light work of digging, ripping and trenching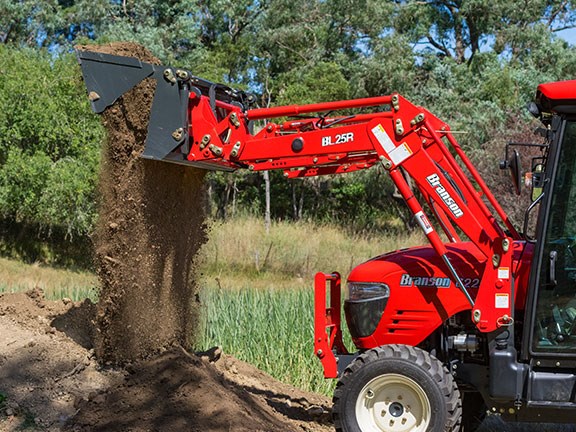 The quality and performance of the BL25R loader, which included a 4-in-1 bucket, far exceeded expectations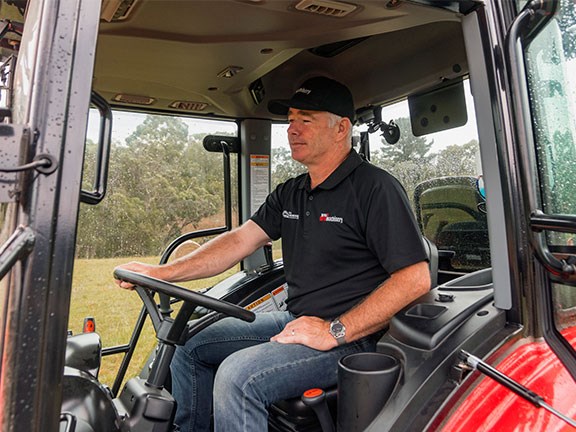 Farms and Farm Machinery's resident reviewer, Tom Dickson, thinks the well-appointed cabin has everything in the way of creature comforts but lacks a bit of head space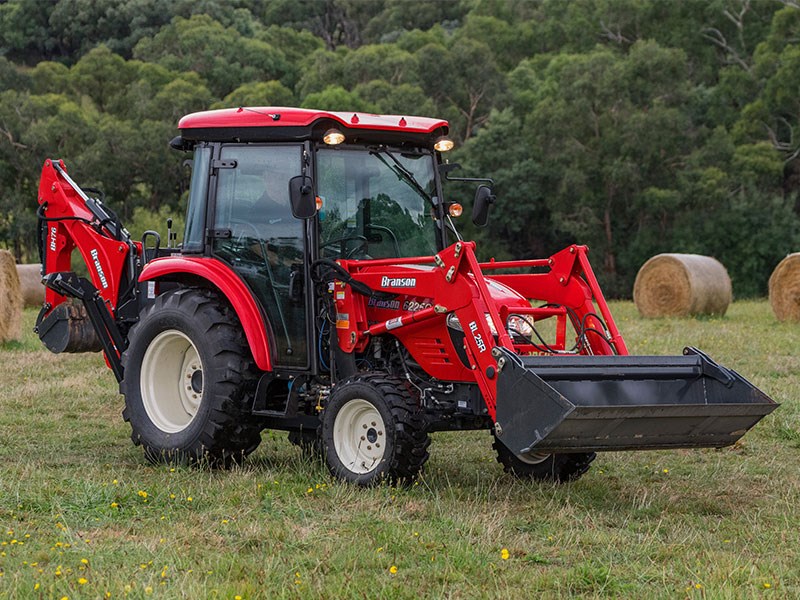 The Branson 6225Ch tractor as seen with the BL25R loader and BH76 backhoe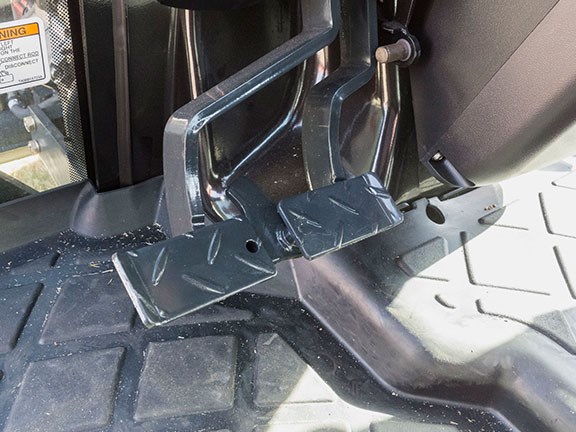 The wet multidisc braking system includes both left- and right-turning brakes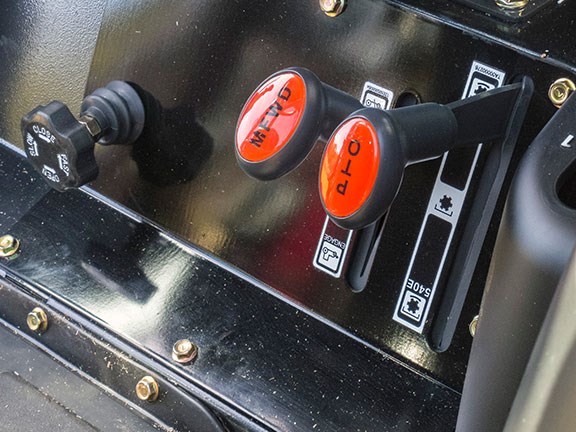 Jumping on the diff lock with your left foot will help pull you through some sticky situations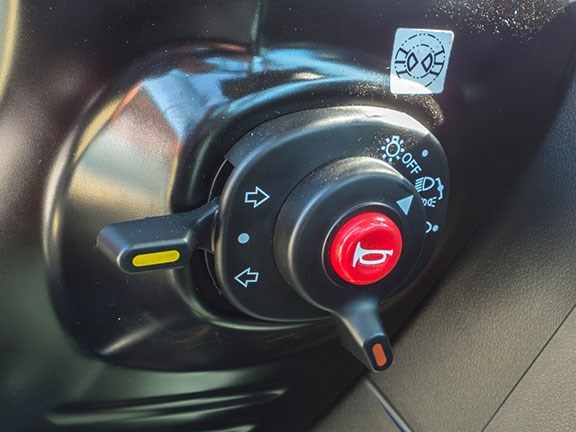 Lights, blinkers and a horn fulfil all the requirements to obtain registration for legal road use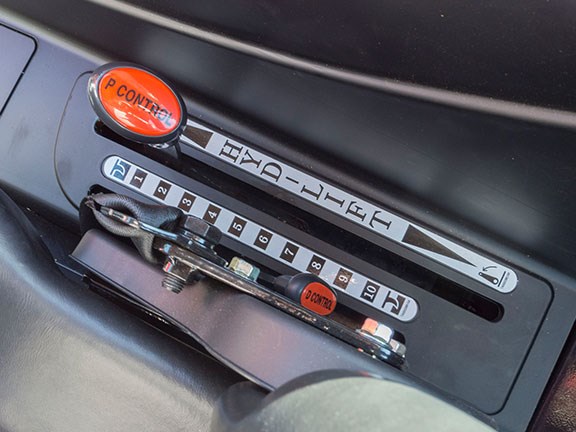 The three-point linkage and draft controls are clearly labelled and easy to reach on the right-hand side of the driver's seat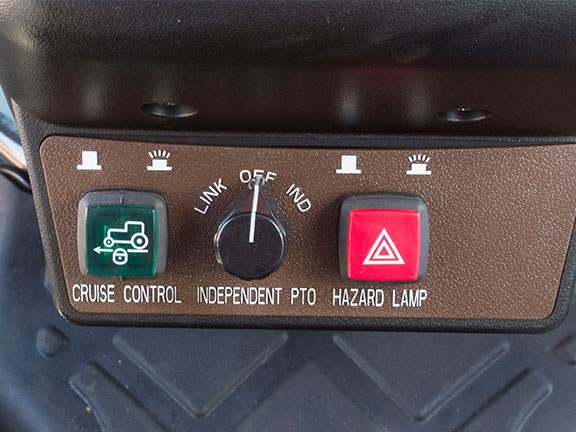 The 6225Ch features electronic cruise control and three-point-linkage-linked PTO operation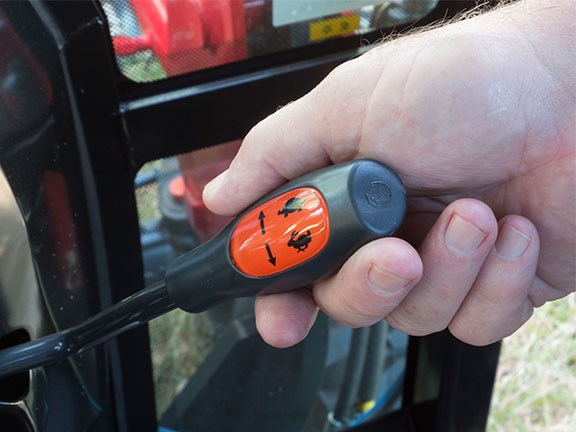 Engine revs can be manually set for maintaining constant PTO revs or setting a minimum rev limit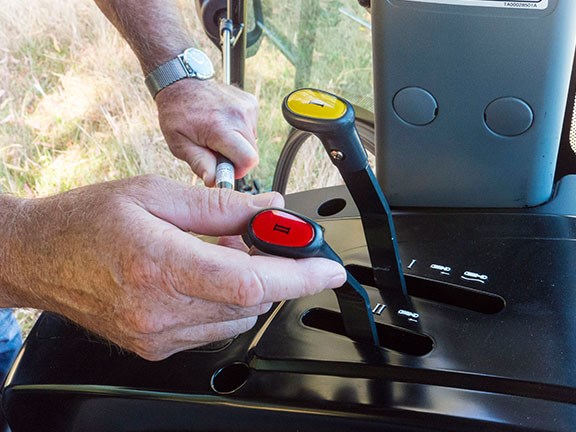 Hydraulic control levers, one with constant flow, are convenient located on the right-hand side console

The seat belt is poorly positioned directly above the handbrake

Subscribe to our newsletter
Sign up to receive the Trade Farm Machinery e-newsletter, digital magazine and other offers we choose to share with you straight to your inbox
You can also follow our updates by liking us on Facebook. 

Graders For Hire | Cranes For Hire | Telehandlers For Hire | Excavators For Hire