Review: Emu EBH 760 Linkage Backhoe
---
With a name like Emu, you could be forgiven for presuming the Emu EBH 760 three-point linkage backhoe is an all-Australian-made implement but that's just a clever marketing ploy, I assume, aimed at building confidence in the product on Australian soil.


Although it is a little digger, it's not an Aussie digger, and it's actually the Koreans we have to thank for introducing us to this particular Emu.
Its sole purpose is to help make the back-breaking task of digging, trenching, stump removal plus a variety of other tasks a hell of a lot easier than the old-fashioned technique of rolling up your sleeves and getting stuck in by hand.
Perhaps best described as a lightweight linkage backhoe, it is designed to couple with tractors in the 30-45hp bracket, though not limited to that class.
A full day's hard manual labour could be exchanged for a couple of hours of fun.
I have always had the belief that operating machinery quickly turns boys to men, but I reckon jumping behind the controls of this little unit might just do the opposite.
Grown men will revert to little boys reliving fond childhood memories of playing in the sandpit with their toys.
The walkaround
The EBH 760 sits right in the middle of the Emu backhoe range of three. The smaller 660 model is recommended for tractors in the 20-30hp range, while the larger 860 is aimed at 45-60hp tractors. At $8500, including GST, the 760 is a match for 30-45hp tractors. Those recommendations are purely a guide and I see no reason why the EBH 760 could not be hitched to any tractor across the board, within reason, so long as it is used with a bit of common sense.
There is no real limiting factor to what size tractor it can be attached to other than it requires either Category I or II three-point linkage and one set of hydraulic remotes that can be locked in the open flow position.
When you jump into the driver's seat, a set of operating instructions are prominently stuck to the machine just in front of your knees at the base of the lever controls. It's about now that I suggest you give yourself a brief moment to familiarise yourself with each one so as not to cause a disaster – like poking the bucket through anything that may be within its 2845mm reach.
It quickly becomes apparent that if you push too hard on any of the hydraulic boom or bucket levers, regardless of tractor revs, you are going to get a very abrupt and jerky response.  A smooth and gentle nudge on the controls will quickly have you operating like a professional.
In addition to its 2845mm outstretched reach, it is capable of digging to a depth of 2285mm and a loading height of 2006mm for filling trucks and trailers or just creating a pile.
It has a full articulation, or swing arc, of 180 degrees, allowing it to work at right angles to either side of the tractor. Two rubber bumpers attached to either side of the frame prevent the boom from clashing metal on metal when it hits full articulation on either side.
On the job
Attachment
Taking it off and putting it back on is quite a simple operation. Its three-point linkage attachment design means you only have to extend the boom out and rest the bucket on the ground then take the weight of the machine with the stabiliser legs. After the linkage pins and hydraulic hoses are removed, the tractor is ready to be driven away.
Our first attempt took about 15 minutes but I'm sure it would get quicker after a few goes. It is essential that a concrete pad or, at the very least, a stable, flat area is used to aid with the removal and attaching process.  Best of all, the whole operation can easily be done on your own.
Stabiliser arms
The stabiliser legs have a total span width of 2185mm when in the down position, giving it a really solid footing when working and taking the stresses away from the linkage and thus the rear end of the tractor.
Each leg has a joystick controller located with the main control levers in front of the operator. A gentle touch on the levers moves the legs steadily for exact positioning, which is crucial when putting the implement on and off the tractor.
Operation
Keep in mind that this is designed to couple up with tractors of around 30-45hp, so don't expect to move mountains. But if its molehills you want to move, digging a trench for pipes, cleaning out drains, ripping the odd rock or two, or maybe even clearing scrub or rampant blackberry bushes growing wild around your place, then this is perfect and more than capable of the task.
The hydraulic pressure required to run it is 2350psi. An easier way of explaining its needs are that I had the little 45hp EastWind tractor running at medium revs and that provided all the power I needed to completely fill the mud bucket  while cleaning up around a little water storage dam.
A padded operator's seat places you in a really good position to see exactly what's around you and the bucket is always in full vision. There is a seatbelt installed, though I really can't foresee any circumstances that would require harnessing yourself in.
Only two levers are required to operate all the digging functions. Forwards and backwards movement on the first lever moves the main boom up and down while sideways movement swivels it a full 180 degrees from one side to the other. Using a human skeleton as a reference, this would be the shoulder and top part of the arm.
The second lever extends the second arm of the boom and the bucket, or, in relation to the human skeleton, the elbow, lower arm, wrist and hand.
Once you become familiar with the controls, sending hydraulic oil coursing through the network of hoses like blood through the veins, you can quickly have the backhoe replicating the movements of a child's arm and hand digging in a sandpit but on a much larger scale.
Even at mid revs, the response of its movements is excellent and it provided more than enough grunt to penetrate compacted soil.
A variety of buckets are available to best suit the job at hand, ranging from about 800mm wide down to approximately 150mm wide for narrow trench work, as well as a hook for grubbing out rocks and tree stumps and the like. All the buckets and attachments are locked in with the installation of a single pin and no tools are required.
The Emu EBH-760 includes boom lockout pins that, when installed, mainly during transport, prevent the boom from dropping due to a loss of hydraulic pressure. They also provide a safe environment when working on the machine.
One concern is that. after jumping in and out of the operating seat a number of times throughout the test, I discovered that the step where you put your foot to mount the machine had no form of grip.
We were operating in dry conditions so it didn't really pose any problems, however in wet, muddy conditions where these types of machines are often used, the risk of slipping would be very high. I think this is one area that needs to be improved. A piece of steel grating or rubber tread would easily rectify the area of concern.
The bottom line
The target market is, obviously, not large properties or the mining industry – it's small hobby and lifestyle property owners that want to avoid the back-breaking tasks of manual labour.
Its quick and easy attachment and simple operation means virtually anyone, even the older generation, can take on jobs that are otherwise beyond them and would otherwise require the costly engagement of a tradesperson or contractor. For around $8500, it's well priced for its capabilities.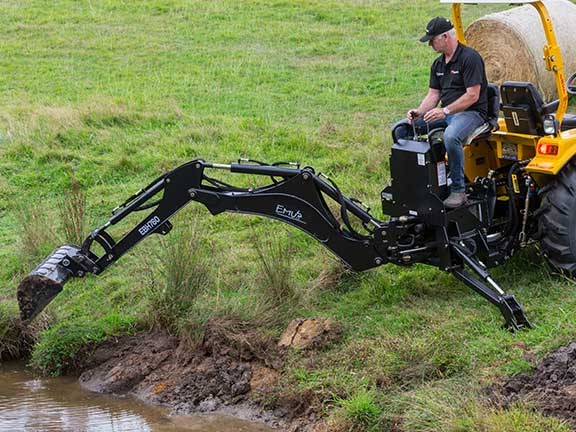 Tom Dickson says with a bit of practice and patience you can achieve the previously impossible without raising a sweat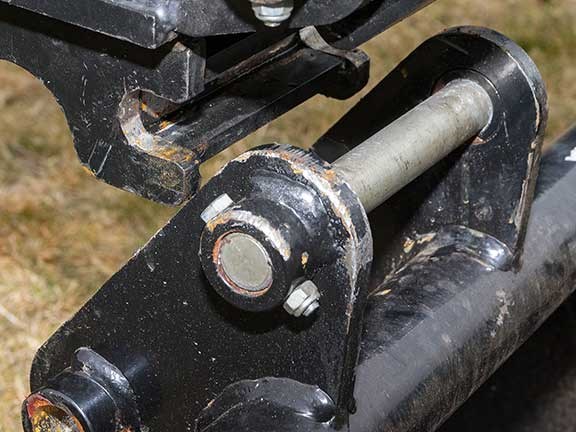 All backhoe attachments are designed to be easy to interchange and no tools are required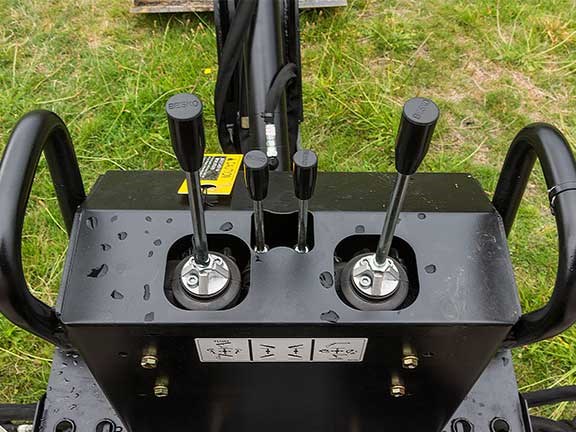 The two central levers raise and lower the stabilizer legs. The larger left and right levers control all of the other functions of the backhoe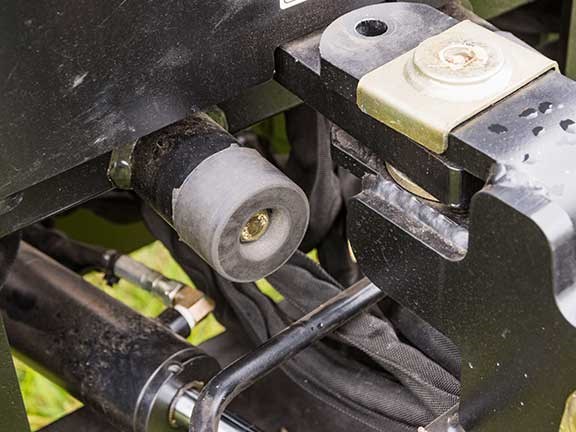 Rubber blocks provide a bit of cushioning when the boom is swung to its full articulation both left and right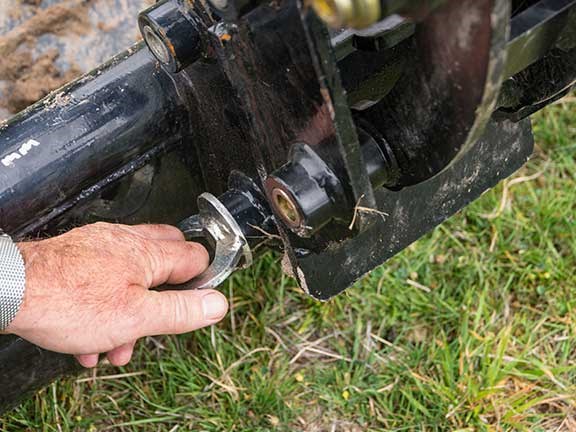 Rubber blocks provide a bit of cushioning when the boom is swung to its full articulation both left and right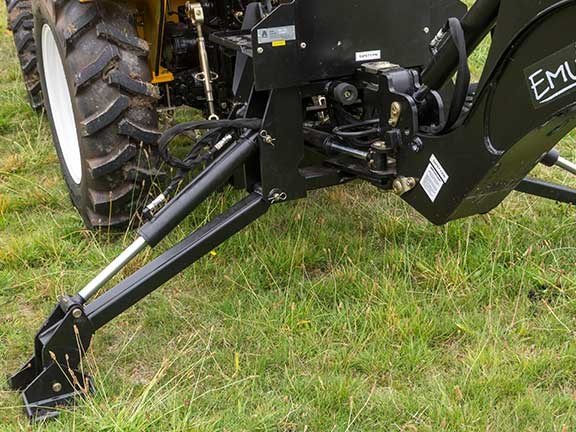 With a spread of 2185mm, the stabiliser bars provide a firm base in which to work from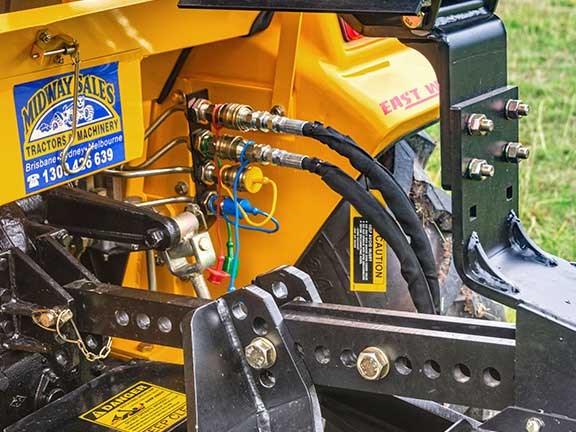 Only one set of remotes is required to operate the Emu EBH 760

Subscribe to our newsletter
Sign up to receive the Trade Farm Machinery e-newsletter, digital magazine and other offers we choose to share with you straight to your inbox
You can also follow our updates by liking us on Facebook. 

Graders For Hire | Cranes For Hire | Telehandlers For Hire | Excavators For Hire