Review: Fendt 716 S4 tractor
---
Is the Fendt really the Rolls Royce of tractors? If I told you now, you wouldn't have to keep reading, but I will say this – the new forest green colour scheme is a nice touch.

Quality five-pillar cab
VarioActive steering standard
Fully integrated Varioguide
Double acting rear linkage
Tightest turning circle
Separate hydraulic and transmission oil
To begin our review of the 160hp Fendt 716 S4 tractor let's start up front, where all the noise and commotion comes from.
Although Fendt updated its 700 series last year to meet Stage 4 (Tier 4F) emissions, visibly from the outside, square lights and a slightly higher bonnet are all that tell the S4 apart from the previous SCR.
The 6-cylinder Deutz TCD 6.1-litre engine is the same. The SCR system has been tweaked to combine a passive particulate filter, and to deal with the additional heat is a 15 per cent more powerful cooling system.
The Fendt combines exhaust gas recirculation, selective catalytic reduction, and a passive diesel particulate filter. To be fair, this does regenerate while driving, doesn't use any additional fuel for regen, and is a 'life of the tractor' part.
The Fendt 716 did provide plenty of capacity between stops, though with a sizable 400-litre diesel and 38-litre AdBlue tank.
Transmission
Personally, I think this is where the Fendt does stand out over some of its rivals, without the 'my transmission is better than your transmission argument'.
The well-refined engine/gearbox control was the clincher for me. The benefits of this were particularly evident when pulling a Herron trailer (weighing in at 21 tonnes). While there was too much play in the towing eye to be strictly street legal, pulling it at top speed through a paddock did show how smooth the uptake and deceleration was on the Fendt, even in both driving functions – stick and pedal mode.
However, the Fendt is one of the only tractors I've tested that requires a manual range change while stationary. I can see why they do it, as it does give you more precision at lower working speeds and quicker uptake, but if other brands don't need this, is it a little old school? 
Serviceability
Fendt labels the bonnet as one-piece. I don't know if I would stretch it that far as there are two side panels that need to be removed for servicing. But to be fair, this is not for daily maintenance. A big plus is that you do not require tools to open the side panels.
The new ZF front axle over the previous Dana still gives great comfort, with the self-levelling front-axle suspension providing 100mm suspension travel (50mm +/- midpoint).
The main advantage is the allowance for a higher payload. The Fendt 716, with a maximum weight of 12.5 tonnes and a tare weight of 7.38 tonnes, allows a healthy load of more than five tonne to be added. This new front axle sets the Fendt apart, making it one the most nimble of all tractors with an impressively tight 11.3m turning circle.


In the cab
The cab is probably one of the most important aspects of any tractor. Although not the biggest, the Fendt does have a nice, well-refined cab.
I'll start with my favourite feature: the large 300-degree wiper, closely followed by the five-pillar cab. Fendt calls it the 'VisioPlus cab', which essentially is a large one-piece front windscreen and allows for exceptional forward visibility, particularly handy for those wanting to fit a loader.
In terms of controls, the joystick is well laid out and easily provides the most functions on any joystick of all the tractors tested, with two spools, two separate headland management sequences, two engine pre-set rev buttons, two cruise control settings, plus directional change. Best of all is that these can all be controlled using one thumb.
The 10.4-inch Vario terminal is good and, as you would expect from Fendt, is well finished and boasts the new borderless LCD display, 800x600 pixels, 16 million colours, plus a full glass front and a new-age look, so this thing is the daddy.
However, it must be said that others are easier to navigate around, particularly when starting from no previous experience.
From a functionality point, controls can be switched to different locations (which includes front and rear hitches), and Quick Key operation allows specific functions to be pulled up quickly (hence the name). Different operators can set up the machine for different implements and store to reboot later, as settings for up to 25 implements are available.
In terms of ride comfort, the Fendt 716 is top notch, one of a few to have four-point air-cab suspension as standard. These machines now come standard with air-cab suspension as well as tractor and trailer brakes (both on air) for increased comfort and braking safety.
A hydraulic trailer brake is also standard. The right-hand armrest was comfortable and had adjustment for individual operators – along with the foot-operated height and tilt-adjustable steering column, which proved to be a favourite.
Hydraulics
The separate hydraulic and transmission oil is a real plus, and with 64 litres of available hydraulic oil as well as an in-cab electronic indicator, daily checking is kept to a minimum.
Up to five rear and two front spools can be specced. The model we tested had five spools. The flow rate on one spool is limited to 102L/min. This was shown in our own independent testing, with 100 litres per minute recorded.
Switching controls to the desired position on the monitor is easy. External controls are limited to one spool and only on the left-hand side (PTO and linkage are on both).
Other tractors can have up to two, as well as controls on both rear mudguards. Also, when a timer is set on the spool, you only have the timed control, either +/- or float, with no proportional control in between.
Linkage/PTO
The new S4 now offers a full 4-speed PTO with both 540 and 1000 plus eco modes. Speed and control for the PTO is all electronically selected and soft start-up is standard.
The force is mighty on the Fendt 716 when it comes to the updated backend, where new geometry allows for an 85cm lift range and rated 10.3-tonne lift capacity. Although the tractor only weighs 7.4 tonnes, this should prove more than ample.
Performance
Given that the Fendt is a smaller tractor, you would be forgiven for thinking it was battling. However, although it can't match the big boys which boast twice the horsepower, it isn't the poorest performer when pulling a 3.5m Sumo Trio or Herron trailer, either. Although underpowered in all the tasks thrown at it (including a 21-tonne loaded trailer), it manages to punch above its weight.


Verdict
So back to my original question – is the Fendt 716 the Rolls Royce? There is no denying this is a well-made machine with high-quality components, excellent build quality, and high levels of operator comfort.
The Fendt is Profi Plus as standard, so comes with VarioActive steering and fully integrated VarioGuide. In that respect, the answer is yes. It is something of a Rolls Royce.
Poor PTO performance and high litres per horsepower per hour figures were disappointing (although the machine had only done five hours, which does make a difference).
The higher price tag is something individuals must weigh up for themselves. High residual values are an upside of this, but during our test we established they may not be an ideal fleet machine due to others being better to 'jump in and go'.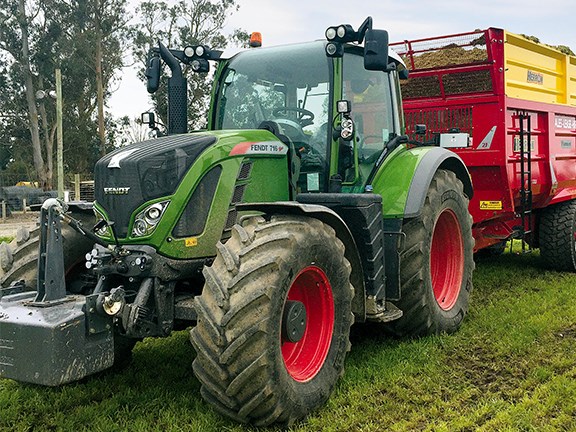 The Fendt 716 S4 tractor pulling the Herron trailer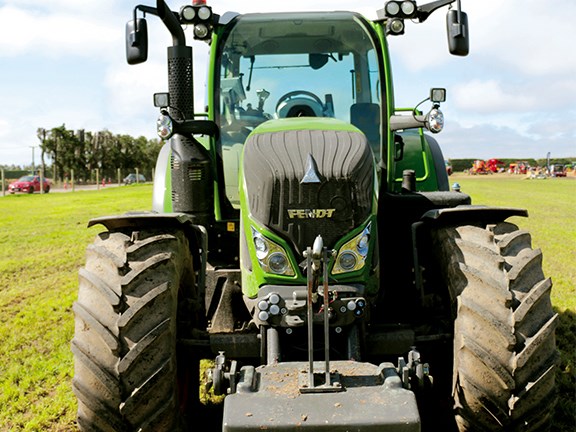 The 1250kg weight block was the perfect ballast for the Fendt during our testing

There's a lot to point out on this machine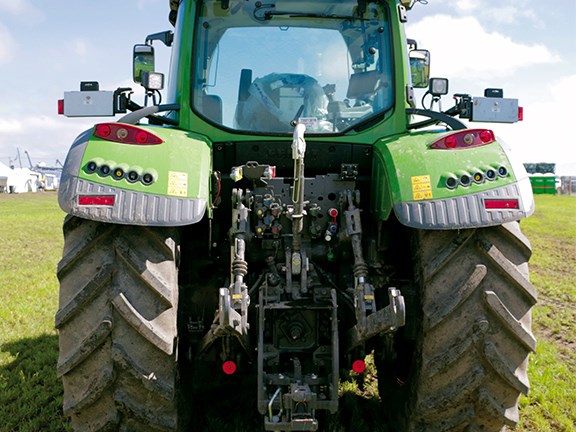 An impressive lighting package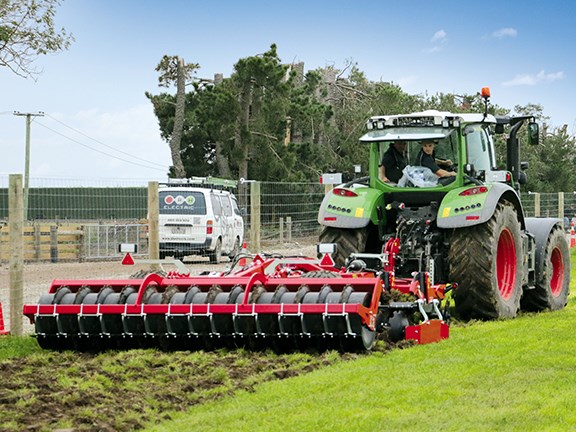 The maiden Sumo Trio run in stony soil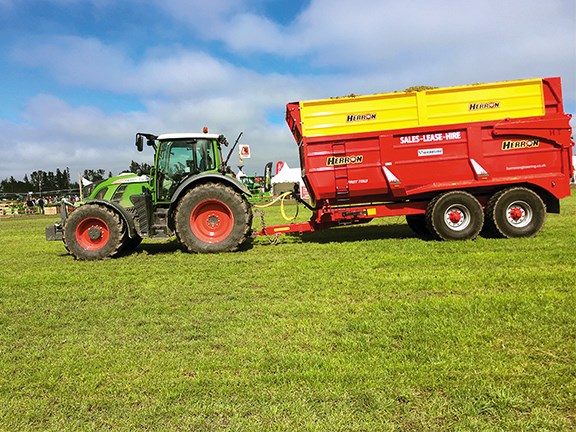 The Fendt 716 S4 tractor pulling the Herron trailer
Subscribe to our newsletter
Sign up to receive the Trade Farm Machinery e-newsletter, digital magazine and other offers we choose to share with you straight to your inbox
You can also follow our updates by liking us on Facebook. 

Graders For Hire | Cranes For Hire | Telehandlers For Hire | Excavators For Hire