REVIEW: Deutz-Fahr 6165 TTV Agrotron
---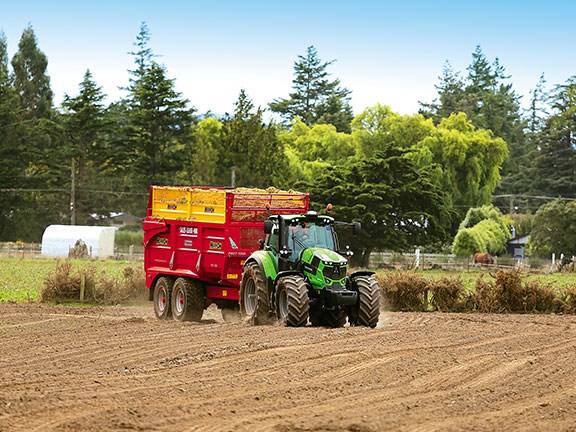 the Deutz-Fahr 6165 TTV managed to successfully put the 21-tonne Herron trailer through its paces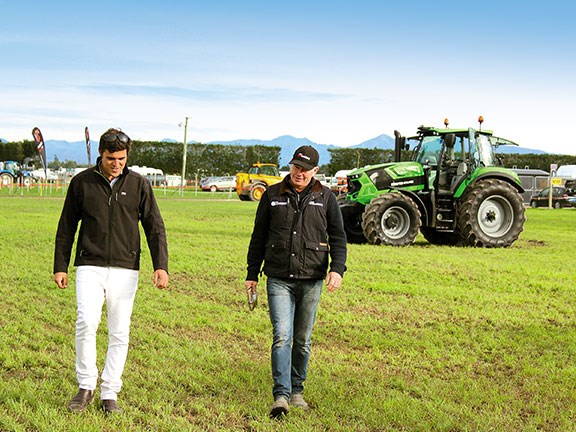 Deutz-Fahr's Alistair Horrocks and tester Tom Dickson discuss the finer points of the 6165 TTV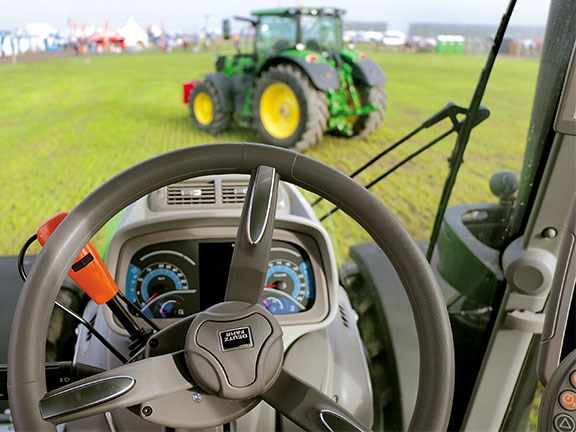 The new hood design allows an impressively clear front view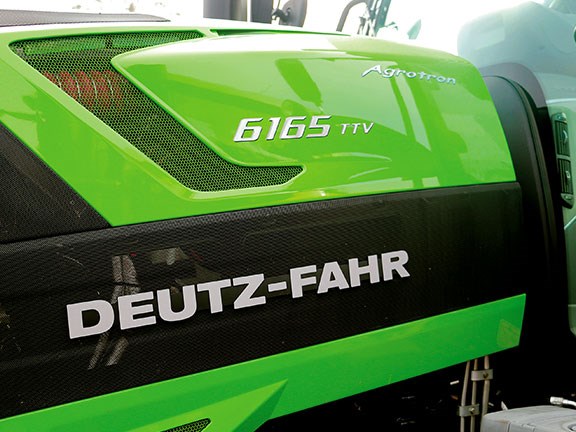 The futuristic looking 6165 TTV has a new bonnet designed specifically to reduce heat and noise levels in the cabin

The Deutz-Fahr 6165 TTV Agrotron tractor is one of the best-looking machines around.
Monitor user-friendliness
Transmission serviceability
PTO speed options
The subtly aggressive-looking 6165 TTV Agrotron tractor has an unmistakably Italian-inspired design, which has been developed and refined in collaboration with Giugiaro Design.  
It looks as though the Deutz is about to morph into the robotic character Megatron seen in the science fiction Transformers movies.
Movie buff or not, it's a look that represents a combination of strength and technology and quite possibly a glimpse at what tractors are going to look like in the near future.
During the last five years, Deutz-Fahr has invested approximately 98 million Euros into the construction of a new plant in southern Germany, as well as significant investment into research and development. This investment is a sign of the commitment to its high horsepower range.
At only 165hp, the 6165 is classed as one of the babies of the brand's future line-up of tractors. Within the next 18 months, Deutz-Fahr will be launching a front-wheel assist tractor that exceeds 500hp.
The walkaround
The 6165 TTV is the short wheelbase option. It puts out 165hp, maxing out to 171hp with boost.
A quick trip to a DPS dyno testing station to check its actual horsepower rating revealed it was, in fact, generating a lesser figure of 144hp. That was no surprise, as many tractors we scrutinise come up with a horsepower rating less than what was promoted.
The 6.1-litre Deutz Ag engine is actually a carry-on from the previous-generation tractors. Deutz-Fahr has an ongoing allegiance with the Deutz Ag product due to its vested interest in the Deutz Ag engine company.
The six-cylinder turbo diesel engine incorporates EGR, DPF, and SCR to achieve Tier 4 final emissions standards.
The diesel particulate filter unit requires a regeneration burn but it's only every 500 hours. It sounds an alarm to alert that a burn is required, which can be deferred by up to 24 hours, but at that point the tractor must be stopped and the burn initiated.
The burn takes one hour, so every  500 hours you only have one hour of inconvenience.
Specifications
A new addition is the inclusion of a butterfly type exhaust brake, which is claimed to improve braking by up to 40 per cent. It is operated using an extra foot pedal inside the cabin.
To the front of the engine is the new cooling system incorporating the radiator, hydraulic cooler, intercooler, and air-conditioning condenser all into the one fold-out package. It is easy to clean and its lightweight aluminium construction provides a maximum dispersion of heat.
It is complemented with an electronic variable-speed viscous cooling fan that only operates when required to prevent unnecessary horsepower drag on the engine.
The compact design of the engine, radiator package, and air filtration system has allowed for a well-sculpted bonnet, which allows a degree of visibility from the cabin that I believe to be the best in its class. This is especially valuable when operating loaders and front-mount implements.
Four front and four rear roof-mount work lights, as well as the standard road lights, maintain visibility levels at night. A further set of front spots is thrown in if front linkage and PTO is included. Dual-pane electronic adjusting mirrors with built-in heaters mounted on both sides of the cabin provide wide-angle vision.
A camera is also fitted as standard to provide clear vision to anywhere that the mirrors don't show. Adding to its already exceptional visibility is the lowering of the SCR exhaust stack.
Feeding the system is a 35-litre AdBlue tank matched to a 280-litre diesel tank. The diesel tank is referred to as a saddle tank with a filler point on both sides of the tractor. Recommended service intervals on the engine are 500 hours coupled with 1000-hour intervals on the transmission.
A comprehensive full two-year 2000-hour warranty is provided but, for peace, a further one-, two- or three-year extension, referred to as AgriCare, can be taken up. Based on lubricated componentry, the full extension will cost about $8500.
Transmission
Running a ZF Ecom 1.5 four-stage transmission, this is a carryover from the previous generation tractor. With a maximum input from the hydrostat of 40 per cent of the total drive, the four-stage transmission is not relying on the hydrostat as heavily as some of the other tractors in the competition.
The transmission is well protected because the tractor runs a separate hydraulic oil reservoir, thus eliminating the risk of foreign bodies coming in from an implement that you've borrowed from the neighbour.
There is a sight glass as well as a dipstick and a filler point on top of the transmission oil reservoir. The benefits of running dual tanks should not be underestimated if only to provide peace of mind.
The Deutz-Fahr 6165 comes standard with just a front weight assembly but can be specced up to include front linkage with 4.1-tonne lift capacity and PTO.
The front end has a new sculptured design to help provide a better turning circle and manoeuvrability. Dynamic front fenders, which are self-adjusting, prevent guard rubbing during full steering lock turns.
As part of our process of putting tractors under the microscope, I took out the measuring tape and discovered that its improved 52-degree steering lock achieved an outside turning circle of 14.10m. The result wasn't the worst but trails behind other options.
Suspension
The other, and perhaps more relevant, reason of the new design is to accommodate the new suspension system.
The swing-arm design transfers right the way back and connects under the sump of the engine measuring about 980mm in length. The arm travels under the Carraro-made axle and connects to the front of the tractor using two hydraulic rams each with 120mm of travel.
When the brakes are engaged, the suspension rams automatically cut out, which completely eliminates the front dive effect under braking, giving it really good ride and control especially out on the road.
Complementing its front axle suspension is the four-point mechanical cabin suspension and a fully adjustable air suspension seat.
Design
A new bonnet design shows a huge difference between the previous series.
Now you can see a divide between the engine cowling at the rear of the bonnet and the front of the cabin. This 10cm gap will assist in reducing heat and noise transfer into the cabin, which has been an issue in previous models.
My turn behind the wheel occurred during relatively cool conditions, so heat wasn't an issue, but I do believe it is a much quieter cabin than the previous-generation Tier 4 Interim machine.
The cabin retains all the trademark Deutz-Fahr features such as clear concise labelling and colour coding of functions, but I would definitely say that it has a much more stylish, luxurious, and comfortable-looking workspace equal to or better than its competition.
Its durable light grey upholstery appears resistant to tearing and easy to keep clean.
Performance
The tractor comes GPS-ready with a 62L/min steering pump, hydraulic steering valve, the wiring harness and the switchgear fully integrated into one system. The 6165TTV is set up with the latest ISOBUS 3 system and Tractor Implement Management (TIM) and capability.
At the rear of the tractor there is linkage, PTO, and hydraulic remote-operating buttons. Any set of remotes on the tractor can be assigned with the full set of buttons replicated on both sides of the tractor. I found it remarkably impressive due to the quality, versatility, and usability of the hydraulics, including the exterior controls.
A small fixture worthy of discussion, both negative and positive, was the ease in which the outer cowling and cap on each of the five rear remote quick couplers pulled off in your hand without using tools.
While some feel that this is a fairly flimsy design, I actually believe it to be a positive feature because it allows easy cleaning.
I have found from experience that dust and grime quickly accumulate in this area and trying to clean it out while it's still attached only pushes the muck further into the coupling. This style allows quick removal, a thorough rinse, and reattachment and helps prevent contamination entering the hydraulic system. 
Rear lift on the Cat 3 hook ends is 9.2 tonnes and the hydraulic pump on this particular tractor provides 120L/min to the couplers with a separate 62L/min allocated to the steering.
Results from our DPS dyno test revealed maximum hydraulic oil flow from one set of remotes is 94L/h. It must be noted that the 120L/min pump is not standard for the Australian and New Zealand market, and future tractors going to those countries will be fitted with a 170L/min pump.
As a matter of interest, the free flow return runs straight into the tank, as opposed to having the flow restricted by running back through a filter.
In addition to horsepower and hydraulic oil flow, the dyno testing also revealed that its fuel consumption was 35.5L/h. 
A 4-speed PTO provides every opportunity to run the tractor in the most effective and economical fashion.
In the cab
Deutz-Fahr tractors are best known for their modern, intuitive, and luxurious cabin layout, and I can confirm that the new 6165 TTV is everything and more in this department.
While the CVT transmission takes all the hard work out of selecting the optimum driving style, the joystick controller on the armrest is key to its ease of operation and more.
The newly designed armrest makes the 6 Series even more relaxing and intuitive to operate. All routine functions can be automated.
The easy-to-navigate MaxCom joystick on the armrest controls everything from driving speed, direction of travel, and cruise control selection to the ComfortTip system, rear and front lift controls, and two sets of remotes.
The only function that left me a little bewildered was the operation of the electronic handbrake. I worked out after several attempts that pushing the switch engaged it, so I thought pulling it should disengage it. Wrong! Pulling it actually engaged the emergency brake.
After consultation, I was made aware that pushing it engages it and another push disengages it. In a cabin space that is renowned for intuitive design, this was not. But that's my only gripe.
The bottom line
When it came time to pull a 3.5m Sumo Trio and a fully laden 21-tonne Herron trailer, the Deutz-Fahr, unfortunately, came up a little short. Hooked up to appropriate-sized equipment, however, I confidently believe it would be an exceptional tractor to operate, and its performance, efficiency, comfort, and longevity would match any in its class.
An area where it excelled was its good braking performance due mainly to the assistance it gets from its engine-braking feature.
I still came away impressed with it as an all-round tractor package. It gets a big tick from me. 

DEUTZ-FAHR 6165 TTV AGROTRON SPECIFICATIONS
Engine: Deutz Ag 6.1L 6-cylinder Tier 4 Final
Rated engine power: 165hp
Dyno PTO horsepower: 144hp
Torque: 699Nm
Hydraulic flow: 120L/min (rated)
Hydraulic flow: 94L/min (tested)
Transmission: 4 - Range CVT (0–50 km/h)
Fuel tank capacity: 280L/35L AdBlue
Suspension travel: Mechanical cab suspension/ 120mm hydraulic front suspension
Service interval: 500hrs engine/1000hrs transmission
Turning circle: 14.10m
Weight: 7610kg
Subscribe to our newsletter
Sign up to receive the Trade Farm Machinery e-newsletter, digital magazine and other offers we choose to share with you straight to your inbox
You can also follow our updates by liking us on Facebook. 

Graders For Hire | Cranes For Hire | Telehandlers For Hire | Excavators For Hire