Review: New Holland T7.225 tractor
---
We test the reasonably priced 185hp New Holland T7.225 tractor and it's an excellent all-round performer

Top features
Service interval and warranty
Seating for operator
Field/road L/hp/hr efficiency
Manoeuvrability, turning circle, with ABS headland turning features
On jumping behind the wheel of the standard-wheelbase New Holland T7.225 tractor for this test in New Zealand we were immediately impressed by the manoeuvrability provided through a tight turning circle of 11.8m and some fancy features for tight headland turns incorporated into the Auto Command CVT transmission.
Comfort in the form of New Holland's high-quality seating package was another standout feature. When coupled with the Terraglide front-axle suspension and two-stage mechanical cab suspension, the comfort level for operators doing long days is well taken care of.
The four-pillar Horizon cab offers plenty of visibility with new high-spec mirrors as standard, while the rear view and low-angle wide view allow improved vision for road or implements. Thanks to LEDs, modern tractors have enjoyed much improvement when it comes to lighting. This is particularly noticeable on the T7.225, making visibility during night-time operations even easier.
Engine
The heart of any tractor is the engine, and the New Holland T7.225 boasts one of the latest Tier 4B compliant engines.
The 6-cylinder FPT engine has a 48-litre AdBlue tank, which uses slightly more AdBlue than previous models, but the trade-off plays out in terms of lower diesel consumption.
Based on dyno performance, the New Holland recorded max boosted horsepower at 188.3hp measured at 1000rpm, which falls nicely within the 185hp rated, 225hp boosted manufacturers claims.
Serviceability
New Holland has been a leader in this area for some time, offering 600-hour engine and 1200-hour transmission service intervals, which has continued with the T7 models. The three-year 3000-hour warranty is also a great vote of confidence from the brand.
When it comes to maintenance and serviceability, engine oil is easily checked from the ground on the left-hand side of the tractor without removing any panels. Transmission oil has a clear sight glass at the rear with separate filler. The one-piece bonnet allows access to the radiators and air filter.
Up front, radiator packs can pivot out to get between for cleaning, although with the reversible fan and plenty of mesh incorporated into the bonnet design, cooling issues are minimised. The reversible fan can also alter pitch to allow more airflow for greater cooling or less, depending on conditions, thus saving on fuel consumption.
Transmission
The New Holland T7.225 did well in both these ease of use and functionality, incorporating good safety features as well as technology and systems to get the job done faster and more efficiently.
In this model, you need to press the clutch pedal to engage transmission. This is a safety feature that most other brands have gone away from.
Another feature worth mentioning is the active StopStart, which holds the tractor and prevents roll back on inclines even when loaded. For parking, there is an electronic brake on the shuttle lever, which you can hear engage/disengage.
Three working target speeds allow for the right speed range for the job at hand, and three settings for transmission aggressiveness also allow the operator to set the tractor to the best setting.
Fuel savings can be made using the droop control dial to limit upper engine revs while maintaining the set-forward speed. This also works with PTO operation, adjusting how much PTO speed can reduce before forward speed needs to decrease.
Four driving modes are available – PTO, manual, cruise, and auto – and this transmission's ease of operation of is one of the tractor's big pluses.
Braking
Being able to stop is more important than getting started, and the T7.225 New Holland has this well sorted.
For heavy towing jobs, there are hydraulic trailer brakes. Easily fitted is the option of exhaust brakes, using a butterfly valve to close with a dedicated pedal to control.
The New Holland T7.225 models with 50km/h transmission have integrated front-brake hubs as another feature. Being able to lock the transmission by pushing the shuttle button provides engine braking, allowing the tractor and trailer to slow at the same time, reducing the risk of jack-knifing with heavy trailed implements.
The tractor can be optioned with the ABS SuperSteer system, making for safer road travel and improved headland turning ability in the field.
In the cab
A revised cab is one of the benefits of the new T7.225. Key features include the new lighting package with LEDs becoming standard issue, offering better lighting with lower power requirements.
Up to 20 lights can be optioned, giving 360 degrees of light. Working through the darkness has never been so easy.
With long days, operator comfort has also been thought of. The pivoting headrest allows for comfortable seating position to monitor implements at the rear on either side. The cloth/leather seat offers two heating options.
The Horizon cab is a four-pillar unit offering great visibility around the tractor. Creature comforts such as climate control air-con along with lighting panel and Bluetooth radio are built into the cabin roof on the right. For contractors, there are additional slots for radio telephone (RT) if required.
The one area which was a little dated was the large fixed centre dash, which does the job but is of less importance given the functionality of the 26.4cm-wide Intelliview touchscreen monitor, which I tended to look at 90 per cent of the time.
Aside from the monitor, functionality of the armrest controls and control lever are important. The controls are colour-coded; yellow for PTO function and orange for transmission and drive functions. The armrest has an electronic adjustment to suit driver comfort.
The CommandGrip controller is standard across New Hollands, also used in the forage and combine harvesters, which makes things simple when operating a variety of machines. Backlight on the buttons also helps with work after darkness.
Control for linkage, two remotes, direction, as well as speed, headland management and auto-steer – if available – can be controlled without moving your hand from the controller.
Monitor
Advances in technology lead to greater function and options to maximise performance. Major updates to the 26.4cm Intelliview monitor include improvements to headland management programming functions, making things easier while still giving the option to record these as you go.
All tractor functions available on the centre dash are found in the Intelliview colour touchscreen. Tractor monitors have been ISOBUS capable for the last few seasons, allowing implements to be controlled from the tractor without extra monitors.
The New Holland T7 Auto Command tractors have gone a step further with ISOBUS III, which will allow ISOBUS implements to control the tractor speed/revs to maximise output.
For example, when baling, sensors on the baler will say when crops are heavier and the tractor needs to slow down or speed up. Pretty clever!
The ability to operate three tractors or implement mounted cameras as well as auto-steer guidance systems on one screen is going to suit operations making the most of these tools.
Hydraulic functions can be set, assigning different remotes to different controls, altering flow rates to make operation as simple as possible.
Hydraulics
Neither the 21-tonne Herron trailer nor the 3.5m Sumo Trio disc harrows tested put the hydraulic systems under pressure. The measured oil flow of 92 litres/min, tested by a hydraulic flow meter, should be sufficient for most tasks. Lift capacity of 3.5 tonnes at the front and 8.25 tonnes at the rear should be plenty for implements mounted to a tractor of this size. 
On the job
The T7.225 is mid-range in several aspects. Despite not being the biggest or heaviest tractor there, it still handled the heavy Herron silage trailer well, showing good acceleration with a full load and smooth handling characteristics. The optional exhaust brake would be the only real improvement that could be made here.
The change to the rear ladder hitch is a new feature offered by New Holland on this range of tractors. The large ball coupling system is becoming favoured, particularly in baling and other PTO drawn implements, as it helps reduce the slop in connection, decreasing wear and tear on the tractor, implement, and drive shafts.
The 3.5m Sumo Trio is a sizeable piece of machinery. That said, on the flat paddock we had for testing, the New Holland performed well under the conditions.
Being able to shift hydraulic remote functions around to suit is a handy feature. Headland functions are all easily programmable through the monitor, making headlands no drama at all.
Options
Depending on your planned usage, the T7 series comes ready to spec up to suit your requirements. The addition of exhaust braking is easily made, which is helpful in transport applications and improves safety while operating on the open road with heavy loads.
Being guidance-system ready makes the addition of this technology easy to fit to increase productivity in the field, saving on inputs and increasing accuracy. As this isn't an overly heavy tractor, weighing in at 7340kg, you aren't carting extra weight you don't need around.
For tillage applications, ballast can easily be added through tyre weights and front weight pack options. Tyre standard set up is Michelin 650/65 R36 rear and 540/65 R28 front. These can be changed to suit individual requirements. 
The bottom line
The top end of the tractor playing field is highly competitive. We found the New Holland T7.225 to be an excellent all-round performer from specs and pricing to performance and driveability.
With the sharp price offering a decent bang for your buck and horsepower for your dollars, it is well worth considering for your arable farm operation or contracting work.



NEW HOLLAND T7.225 SPECIFICATIONS
Engine: 6.7-litre FPT common rail turbo diesel
Engine power: 185hp (rated)
Engine power: 225hp (boosted)
Dyno PTO horsepower: 165.9hp (rated)
Dyno PTO horsepower: 188.3hp (tested)
Torque: 1341Nm
Hydraulic flow: 92L/min (tested)
Transmission: New Holland Auto Command
Fuel tank capacity: 330 litres
Suspension: 2pt mechanical
Service interval: 600/1200
Turning circle: 11.8m
Weight: 7340kg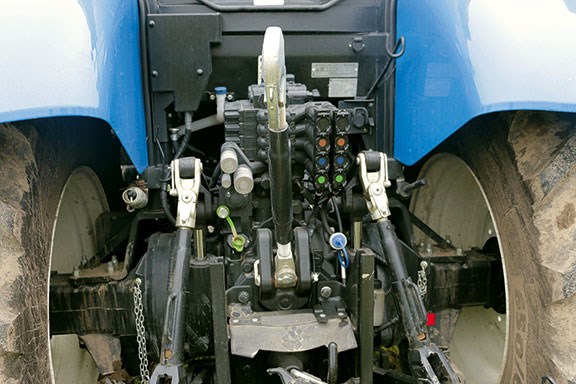 Four rear spools and power beyond are standard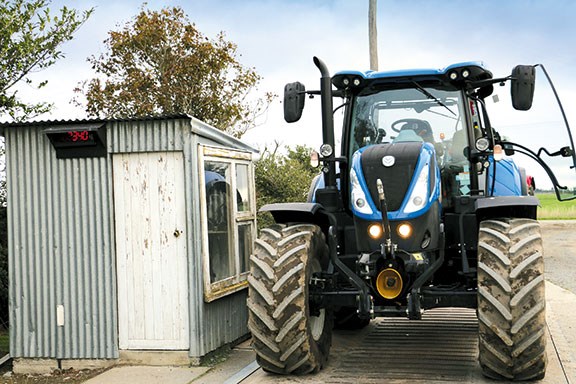 The T7.225 weighs in at 7340kg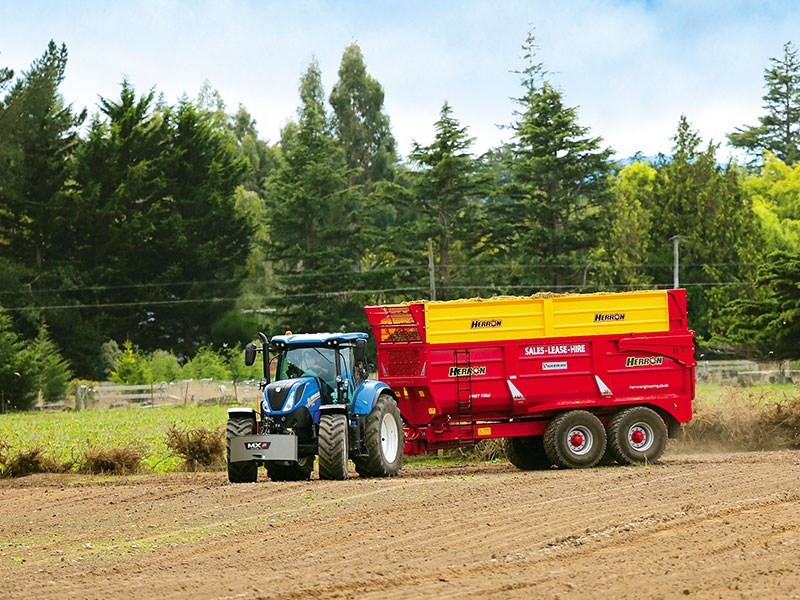 The New Holland T7.225 tractor is put to the test with a 21-tonne Herron trailer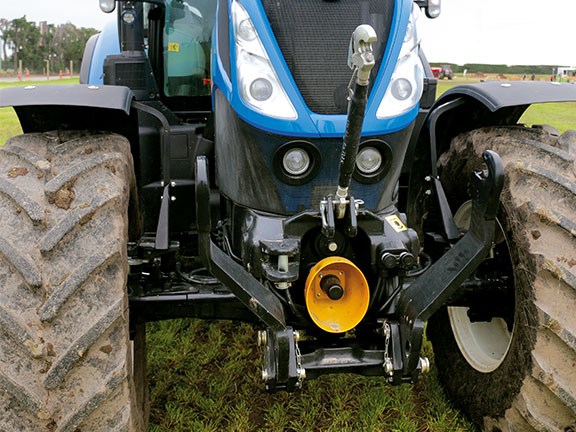 Integrated front linkage and PTO makes the New Holland ideal for front mowing applications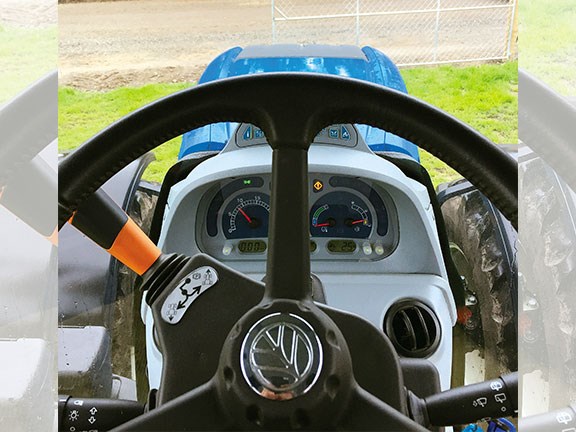 The new shaped slim bonnet allows good forward visibility

Subscribe to our newsletter
Sign up to receive the Trade Farm Machinery e-newsletter, digital magazine and other offers we choose to share with you straight to your inbox
You can also follow our updates by liking us on Facebook. 

Graders For Hire | Cranes For Hire | Telehandlers For Hire | Excavators For Hire