Review: East Wind YCT356S-S compact dozer
---
The East Wind YCT356S-S compact dozer not only pushes, cuts and levels it also takes on many of the tasks of the farm tractor.

2-speed 540/1000rpm PTO 
4-cylinder, 35hp engine
lifting capacity of 750kg
First developed for the Australian market in 2007, the East Wind YCT dozers have the traction of a mini dozer and the features of a tractor.
The versatile little 35hp YCT356S-S rough-terrain tractor/dozer is perfect for lifestyle and hobby farmers who own properties that traditional-style tractors struggle to operate in. It also presents itself as one machine capable of doing the job of two.
The 35hp steel track dozer features a 2.16-litre, 4-cylinder diesel engine, manual 4-speed transmission with high/low range plus a six-way front blade with single joystick controller for light earthmoving duties.
Additionally it is fitted with a three-point linkage, rear hydraulic remotes and a 2-speed PTO, giving it the added versatility to drive a slasher, ripper, post hole digger or any other implements you would couple with a small-horsepower wheeled tractor. The giant footprint afforded by the long, wide tracks combined with the low centre of gravity gives you increased traction and stability.
A well-engineered and -constructed ROPs frame provides little in the way of weather and noise protection but does offer excellent operator injury prevention in the unfortunate event of a rollover. A metal roof as well as front, side and rear intrusion cages prevent branches and other debris from entering the operator's workspace.
Engine
Made by Chinese engine manufacturer Laidong, the 4-cylinder direct-injection diesel motor generates its maximum 35hp at 2350rpm and maximum torque of 120Nm at 1650rpm.
At these revs it generates a fair amount of noise, so without the luxury of a sealed cabin you'll need to invest in a good set of ear muffs to prevent premature hearing loss.
Checking the engine oil is done by removing a side panel and grabbing the dipstick, but all other service checks can only be done with the bonnet raised. That wouldn't normally be an issue, however to open the bonnet you have to first swing the front intrusion bars up and out of the way and remove the air cleaner bowl. It's a bit inconvenient but I think most reasonable people would agree that a safe working environment is more important than a few saved minutes.
Transmission
The dozer has a 4-speed manual transmission with high/low range to give you the selection of eight forward and two reverse speeds. That's more than enough choice for a machine this size.
While gears can be selected on the move, it was much easier and took less effort if the machine was allowed to stop before making the change in either direction. Changing between high and low range is only possible when the machine is brought to a stationary position.
Top speed is a very sedate 11.5km/h, which is probably ample given the type of rugged terrain it is predominantly going to be working in.
The basic rule of thumb for range selection seemed to be low range for all work activity and high range for getting from A to B.
A couple of times the machine jumped out of low range when I was slashing, which caused a bit of concern, but it turned out that this was because I had failed to engage the low-range locking mechanism that prevents the stick from bouncing out of gear when high torque levels are placed on the drive train.
In the seat
As I climbed aboard East Wind YCT356S-S dozer for the first time, I was pleasantly surprised at how comfortable the driver's seat is. It has a generous amount of cushioning, has slide and tilt position adjustment, high back and shoulder support, as well as built-in adjustable suspension.
In the absence of a steering wheel, there is a sturdy bar to hold onto with your left hand while operating the front blade joystick and rear linkage and hydraulic controls with your right.
On the floor between your feet are three foot pedals. The one in the middle is the clutch, which needs no explaining, while the two outer ones are the left and right turning pedals, which act as a clutch and brake for the corresponding track.
Pressing down on the right pedal turns the dozer right while the left pedal turns it left. The harder you step on the pedal the sharper the turn, to the extent that it will do a complete 180 on the spot.
An obvious advantage it has over a wheeled tractor is that it is more capable of manoeuvring around in densely treed bush and scrub.
At the rear
The rear-end functions are what make this such a versatile little asset because it allows the dozer to do the job of a small-horsepower tractor as well.
Its Category I three-point linkage has a lift height of 720mm at the hitch point and a lifting capacity of 750kg. Both lower arms have manual height adjustment as well as hydraulic downward pressure and float.
A gear-type hydraulic pump delivers up to 28L/min to two sets of hydraulic remotes, one of which provides constant flow.
A 2-speed, 540/1000rpm PTO and tow hitch completes the package.
On the job
With each working test I put the YCT356S-S dozer through, I came away thinking that it has definite advantages over a small tractor. It glided over wet and muddy ground without looking like getting bogged; in fact, it hardly left a footprint compared to the boggy mess that an accompanying tractor left.
The effective traction that the tracks provide mean every ounce of available horsepower gets to the ground, and the dozer's low centre of gravity made it feel very stable on steep slopes.
The 1.8m-wide front blade has the added advantage of angling to the left and right as well as tilting up and down on each side so it could cut small drains and form tracks and firebreaks.  
I drove over scrub, fallen tree branches and rocks – and even pushed up a scrap metal pile – without having to worry about blowing a tyre.
Headlights plus one rear and two front work lights provided good-enough light to get us home safely at the end of the day.
However, one area that I felt wasn't up to standard was the selection of spring clips and fasteners. Many were undersized, lacked the ability to hold sufficient tension, or simply fell out during the course of the test.
The bottom line
After moving a bit of dirt around, pushing out some stumps and knocking down some long grass with the 1.2m Emu slasher that Midway Sales had sent with the East Wind YCT356S-S compact dozer, I am more than confident that it is capable of handling all the demands that a hobby farm and lifestyle property would throw up.
It's fair to say that this is not a replacement for a tractor on all small acreage and lifestyle properties, but if yours happens to be fairly inaccessible by traditional means due to steep hills, rocks and trees then it may well be just what you're looking for.
HITS
Three-point linkage
Traction
Stability
PTO
Hydraulic remotes
6-way blade
Suspension seat
ROPs
MISSES
Noisy
Clips and fasteners not up to scratch
Struggles in top gear
EAST WIND YCT356S-S SPECS

| | |
| --- | --- |
| ENGINE |   |
| Make | Laidong |
| Horsepower | 35 |
| Cylinders | 4 |
| TRANSMISSION |   |
| Type | Manual |
| Gears | 8 forward/2 reverse |
| Speed range | 0.9 to 11.5km/h |
| Drive type | Track |
| Steering type | Foot pedal |
| Fuel capacity (L) | 28 |
| Blade width (mm) | 1740 |
| Overall length (mm) | 2980 |
| Overall height (mm) | 2370 |
| Weight (kg) | 3130 |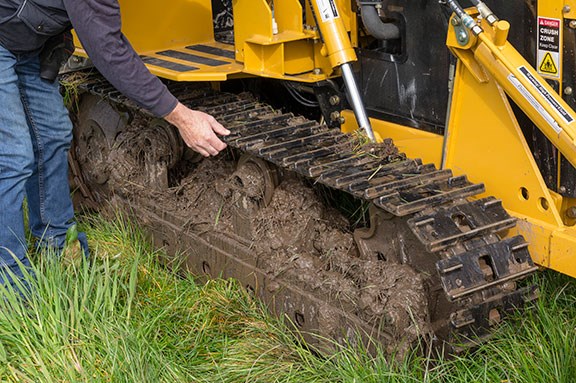 The track assembly is an extremely effective way of getting engine power to the ground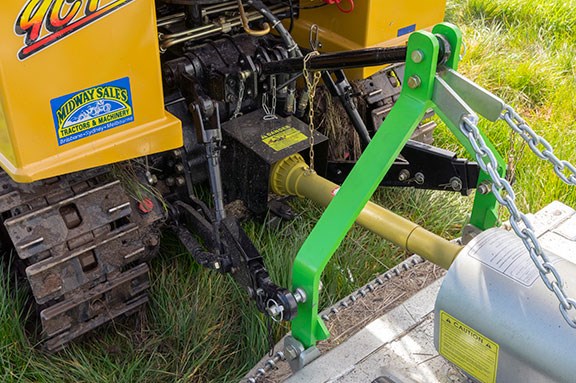 The YCT dozer range has all the features of a tractor at the rear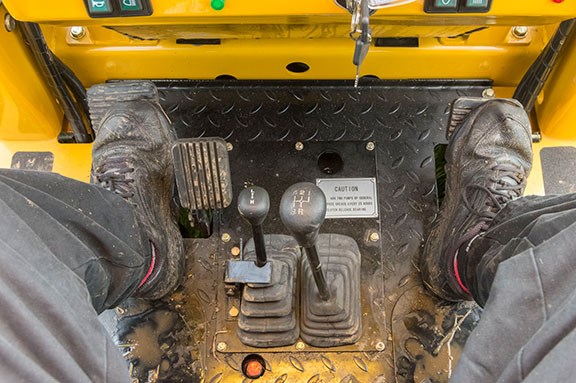 Left and right foot pedals control the steering, leaving both hands free to operate the machine's hydraulic functions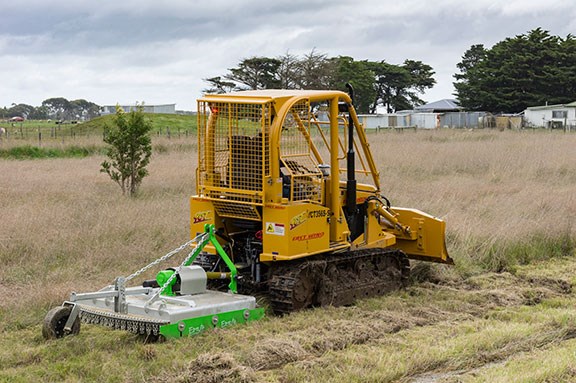 Proving it's not just pretending to be a tractor we tested the dozer with a 1.2m Emu slasher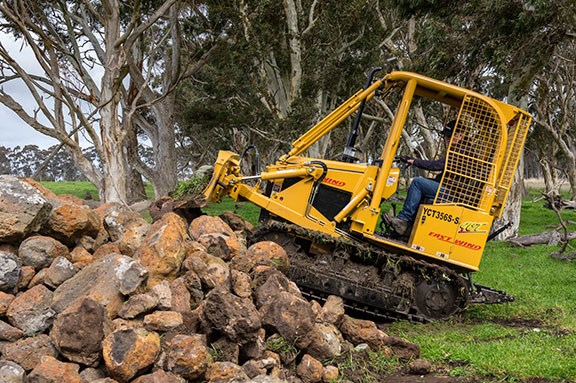 It effortlessly climbs whatever you place in front of it

Subscribe to our newsletter
Sign up to receive the Trade Farm Machinery e-newsletter, digital magazine and other offers we choose to share with you straight to your inbox
You can also follow our updates by liking us on Facebook. 

Graders For Hire | Cranes For Hire | Telehandlers For Hire | Excavators For Hire